Healthy Homemade Peanut Butter
I feel like I have made nut butters out of every single nut in existence (almond, walnut, pecan, macadamia, pistachio)…  I guess you can say I have a nut butter addiction.  I hold peanut butter to the highest standard, though.  It has to be perfectly sweet and salty, rich, smooth, and creamy, and all natural.  I was at Costco and passed by bulk-sized tubs of natural Skippy.  I picked up the (seemingly 20lb) two-pack and looked over the ingredient list.  Although the peanut butter I was holding as "all natural," I didn't like how it had added palm oil and refined white sugar.  I put the containers back, went to checkout, and immediately rushed home to make this all natural, sugar free, low carb, gluten free, and vegan Healthy Homemade Peanut Butter!
I wanted my homemade peanut butter to be sugar free so I sweetened it with natural sweeteners.  And to make the nut butter just as creamy and smooth as the storebought kinds I added one single tablespoon of organic coconut oil (don't worry, the peanut butter won't taste like coconut, just 100% peanuts!)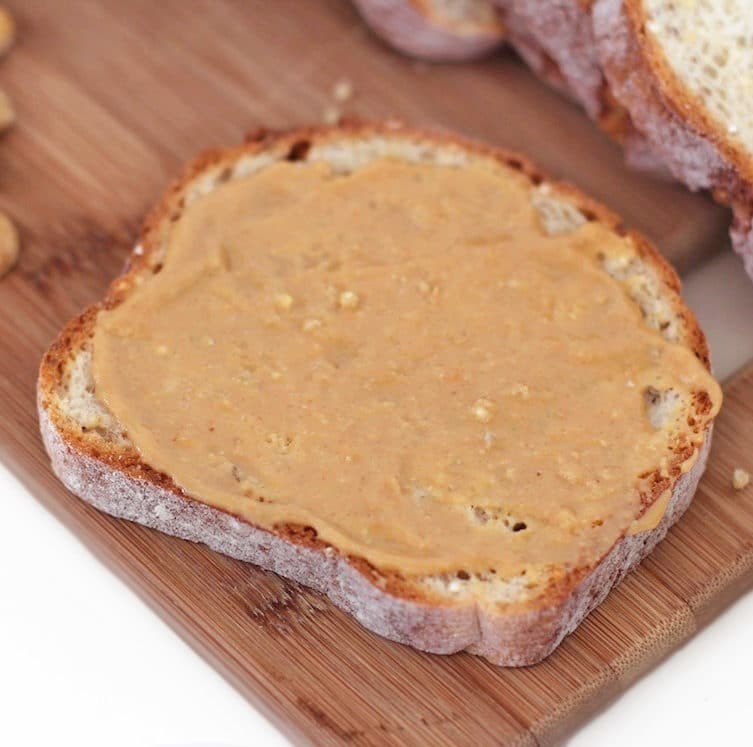 I spread some of this peanut butta on a slice of whole grain bread.  Look at how creamy it is!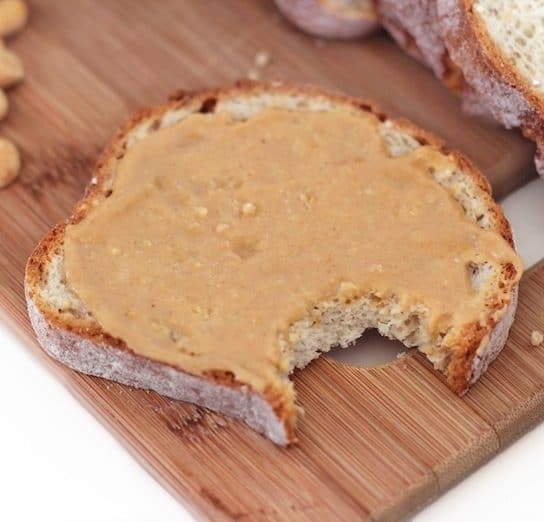 Can you taste how delicious it is?  Oh wait, no you can't…  technology hasn't caught up with Wonka Vision yet.
BUT…  if you make this homemade peanut butter you will experience the addictiveness for yourself.  It's sweet and salty, and so good you will eat it off of your fingers a spoon!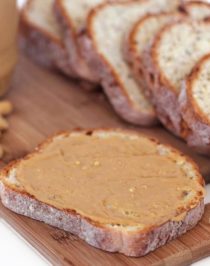 Print Recipe
Pin Recipe
Healthy Homemade Peanut Butter
This homemade peanut butter recipe is super easy to make, and is sugar free, low carb, and vegan too!
Ingredients
Instructions
In a

food processor

, add all of the ingredients. Pulse until crumbly and flour-like, then grind constantly until the mixture is smooth and buttery, scraping down the sides of the bowl as needed (depending on the processor you use, this could take anywhere from 5-15 minutes).

Pour the mixture into jars, seal tightly, and refrigerate to store.
Nutrition Facts
Healthy Homemade Peanut Butter
Amount Per Serving (2 tablespoons)
Calories 190
Calories from Fat 144
% Daily Value*
Fat 16g25%
Sodium 18mg1%
Potassium 210mg6%
Carbohydrates 6g2%
Protein 7g14%
Calcium 20mg2%
Iron 0.7mg4%
* Percent Daily Values are based on a 2000 calorie diet.
Compared to Skippy's Natural Peanut Butter, my homemade recipe has less saturated fat, less sodium, and no added sugar.  Skippy's contains 3g per 2 tbs…  that's nearly an entire teaspoon of sugar…  almost ⅙th of the 2 tbs serving is sugar!
I meeeaaan, don't we all use peanut butter totally IMmoderately??  This creamy stuff can add up on our plates (or spoons) like free toppings at an ice cream parlor.  Seriously, c'mon, who only eats 2 measly tablespoons??  If you're like me and scoop peanut butter out of the jar like it's edible gold (edit:  peanut butter IS edible gold!), then that 3g of sugar from a jar of Skippy will turn into 6g or more.  And added sugar is unhealthy.  I have done so much research (both academically and personally) on the risks and side effects of processed white sugar and it's just plain scary.  I don't want any of you consuming unnecessary sugar and getting hurt from it later on.  I love you!  Okay, not love love, but I do love y'all  😉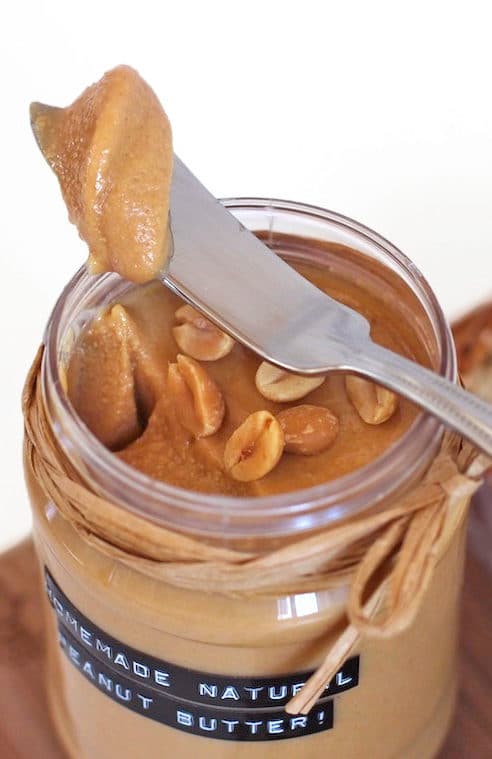 Mmmm.  Delicious, nutritious, high quality, and homemade.  Homemade peanut butter is always the way to go!
.
With love and good eats,
.
– Jess
.