Healthy Homemade Pecan Butter
A giant bag of pecans + 10 minutes = super easy, inexpensive, and DELICIOUS healthy homemade Pecan Butter.
WINNING!
One 8oz (1 cup) jar of Artisana Pecan Butter costs $13.48, while three 12oz bags of Pecans costs $23.58 (these 12oz bags have the capability of making you ~4.5 cups of nut butter)…  that means this homemade nut butter will only cost you $5.24 per cup.  Let's do that math:
$13.48 – $5.24 = $8.24 in savings, PER CUP!
*makes shocked face*
Choppin'
Grindin'
Butterizin'
A few more blends, and TA DAAA … I got this:
Smooth, rich, creamy and nutty!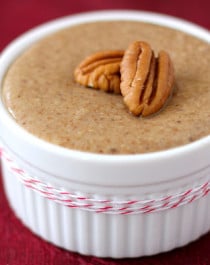 Print Recipe
Pin Recipe
Healthy Homemade Pecan Butter
Ingredients
2

cups

Pecans

(unsalted; you can use raw or roasted)
Instructions
In a 

food processor

, add the walnuts. Pulse until crumbly and flour-like, then grind constantly until smooth and buttery, scraping down the sides of the bowl as needed (depending on the processor you use, this could take anywhere from 5-10 minutes).  Feel free to add salt to taste or 

stevia

 to sweeten.

Pour the mixture into jars, seal tightly, and refrigerate to store.
So how can you use this homemade pecan butter?
Spread it on warm toast with a drizzle of pure maple syrup and a dash of cinnamon
Jazz up your morning oatmeal with a spoonful as topping
Top a bowl of Butterscotch Pumpkin Overnight Dessert Oats with it
Pecan Butter Cookies (use this nut butter instead of PB and add 1 tbs oil if needed)
Spread it on some tasty Raisin Bran Muffins
Eat off 

your finger

a spoon
Buttery Toffee Blondie Batter (use this nut butter instead of almond butter)
In any recipe that uses a nut butter
It's totally perfect for the ever-so-close starting of Fall  🙂
.
With love and good eats,
.
– Jess
.