Healthy Butterscotch Pumpkin Overnight Dessert Oats
I can't believe this is healthy.  It tastes like pure sin.
One bite and you'll be hooked.  It'll feel like you're "cheating" on your diet, even though you're not straying one bit.
"This has got to be bad for me," you say.  But the little angel on your shoulder tells you otherwise…  wait, that's not an angel, that's just the ingredient list!  😉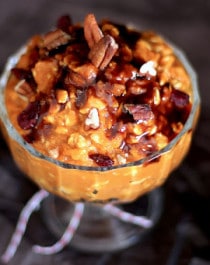 Print Recipe
Pin Recipe
Healthy Butterscotch Pumpkin Overnight Dessert Oats
Instructions
In a medium-sized bowl, stir together the oats, protein powder, sweetener, cinnamon, and nutmeg.

Stir in the pumpkin, then stir in the milk, molasses, and butterscotch flavor. Cover and refrigerate overnight. Enjoy in the morning!
Recipe Notes
Sprinkle with dried cranberries or pecans if you wish!
This breakfast bowl is pretty big, so look forward to a whole bunch of spoonfuls that look like this!  I know what I'm making for breakfast all next week tomorrow  😉
.
With love and good eats,
.
– Jess
.