Healthy Pumpkin Orange Velvet Cake with Chocolate Frosting
I really don't want to disclose the length of time I've spent trying to perfect a healthy Red Velvet Cake recipe, so let's just leave it at… okay, okay… it's been a year and a half.
Phew.
Now that's off my chest I can get on with the post.  So, my first trial went surprisingly well (surprise surprise!).  I based the recipe off my Citrus Pound Cake recipe, since that is the recipe most requested by friends and family.  However, the red velvet cake didn't have much flavor (it needed more cocoa and I accidentally left out the vanilla), wasn't bright red, and the frosting was terr-i-ble.
The second trial was horrendously embarrassing, and I don't really want to talk about the third trial either.  However, I should mention that trial #3 was gluten-/dairy-/soy-free due to my allergies.  I tried out a new type of natural food coloring but it ended up turning the cake a faded burgundy color… gross.  The fourth trial was close to perfection, however I ran out of food coloring after 1.5 tablespoons.  Seriously.  Why must everything go wrong?  Why is the universe preventing me from perfecting this darn Red Velvet Cake recipe?  Ugh.
That's when I peered out the window and looked at the trees.  The leaves were green, yellow, orange, red… it was beautiful.  I glanced down at my Red Velvet recipe and realized I should simply modify it to suit the season.  Instead of applesauce, I used pumpkin…  instead of red food coloring, I used orange…  and then I tossed in some apple pie spice.  The batter was vibrant and beautiful, like those orange leaves scattered around the yard.
This cake was delicious!  My taste-testers adored it.  It was dense and a tad bit fudgy in the center, kind of like chocolate cake.  It tasted like it was full of butter, egg yolks and unhealthy stuff when it was comprised of whole grains and natural sweeteners.  The frosting is light and fluffy, which contrasts the cake in the most perfect way, making the cake satisfying with every guilt-free bite!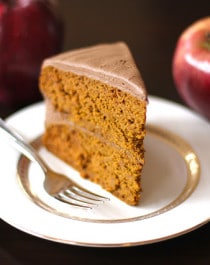 Print Recipe
Pin Recipe
Healthy Pumpkin Orange Velvet Cake with Chocolate Frosting
Ingredients
Cake:
738g

(3 cups)

100% Pure Pumpkin Puree

96g

(½ cup)

Granulated Erythritol

96g

(½ cup)

Sucanat

1½

cups

Egg Whites

(fresh, not cartoned)

42g

(3 tbs)

Grapeseed Oil

1

tbs

Liquid Stevia Extract

2

tsp 

Natural Butter Flavor

1

tsp

Vanilla Extract

320g

(2 cups)

Brown Rice Flour

240g

(2 cups)

Oat Flour

20g

(¼ cup)

Unsweetened Natural Cocoa Powder

5

tsp

Apple Pie Spice

2½

tsp

Baking Soda

1

tsp

Salt

¼ cup

+ 3 tbs

Unsweetened Vanilla Almond Milk

1

tbs

White Vinegar
Instructions
For the Cake:
Preheat the oven to 350 degrees Fahrenheit and spray two 9" cake pans with cooking spray (I also lined the bottom of the cake pans with parchment paper circles).

In a stand mixer bowl with whisk attachment, add the pumpkin, erythritol, sucanat, egg whites, oil, natural food coloring, stevia extract, butter flavor, and vanilla extract on medium-low speed.

In a medium-sized bowl, whisk together the brown rice flour, oat flour, cocoa, apple pie spice, baking soda, and salt in a bowl.  Add the dry ingredients to the stand mixer.  Scrape down the sides of the bowl, then return to mixing.

Add the almond milk, then add the vinegar.  Pour batter into prepared cake pans, tap pans on the counter to level them out, then bake for ~40 minutes, or until surface springs back when touched. Flip cakes onto wire cooling racks and let cool completely before frosting.
For the Frosting:
In a small bowl, whisk together the protein powder and cocoa.

In a large bowl, stir together the almond milk, syrup and stevia. Add the dry ingredients and whisk together.  Frost the cake.  Slice and serve!
Recipe Notes
If you want a less dense cake, you can try reducing the pumpkin by 1 cup and increasing the almond milk by 1 cup.
Nutrition Facts
Healthy Pumpkin Orange Velvet Cake with Chocolate Frosting
Amount Per Serving (1 slice = 1/16th of recipe)
Calories 260
Calories from Fat 45
% Daily Value*
Fat 5g8%
Sodium 420mg18%
Carbohydrates 39g13%
Protein 16g32%
Vitamin A 5500IU110%
Calcium 100mg10%
Iron 3.6mg20%
* Percent Daily Values are based on a 2000 calorie diet.
I sliced the cake into 10 slices, but I would recommend slicing it into 12 or even 16.  Because this cake is high in fiber and protein, it is incredibly filling.  You see that giant slice of cake in the pictures?  I would say that has the same fullness factor as two giant bowls of oatmeal!
Oh, and don't worry, I'll perfect that Red Velvet soon enough  🙂
EDIT:  I finally perfected a Healthy Red Velvet Cake!!!
.
With love and good eats,
.
– Jess
.