Healthy Homemade Peanut Butter Cups
GUESS WHAT I DID LAST WEEK??  I made Peanut Butter Cups.  Healthy Homemade Peanut Butter Cups!  Totally nutritious, sugar-free, low-carb, gluten-free and guilt-free.  Soooo I obviously ate like, four in a row 😉
And I sure loved sharing the eats with you here and here on Twitter.
These Homemade Peanut Butter Cups will restore your faith in everything — the super creamy peanut butter filling, the rich and sweet milk chocolate coating.
It's like comfort on top of comfort.  You know, for those extra tough days.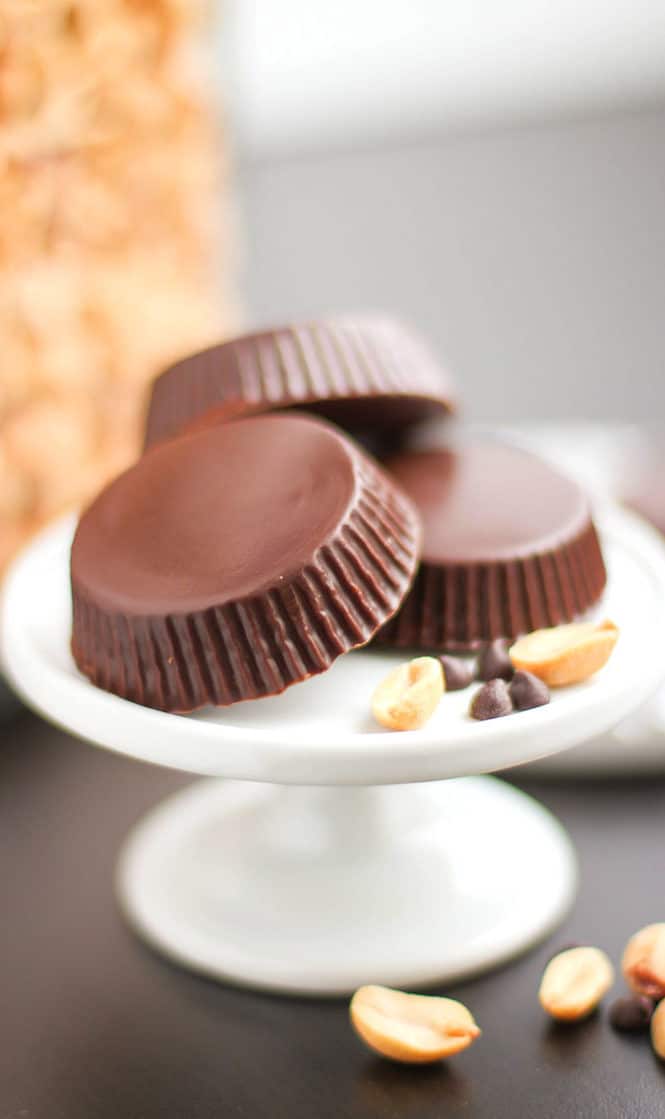 These are comforting, rich, sweet and decadent — just like the storebought version — but without the excess calories, fat, sugar and strange additives (PGPR) and preservatives (TBHQ).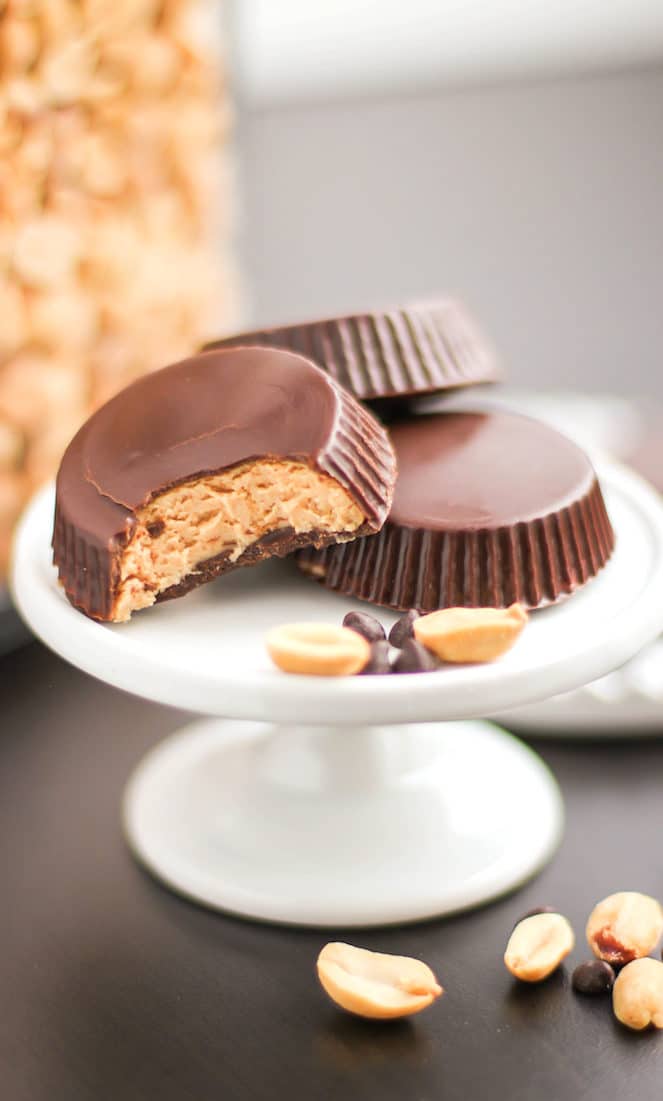 You know, I can resist some things but definitely not these Healthy Homemade Peanut Butter Cups.  Far from it.
I had a hard time NOT eating every single one of these in five seconds flat…  ummm, I kinda finished them all the same day I made them.  But that's not a problem, they're healthy and totally guilt-free.
It's pop quiz time:
Question:  What's better than one Peanut Butter Cup?

Answer:  TWO Peanut Butter Cups!
… Or four  😉
Take it from me — always keep a batch of these on hand!  Why?  In case of emergencies, duhhh.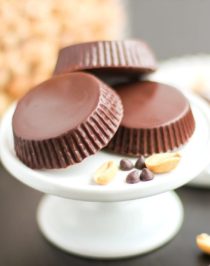 Print Recipe
Pin Recipe
Healthy Homemade Peanut Butter Cups
These healthy homemade Peanut Butter Cups are totally nutritious, sugar-free, low-carb, gluten-free and guilt-free!
Instructions
Spoon ~1 teaspoon of the melted chocolate into 8 cavities of a peanut butter cup mold. Rotate the tray at an angle to coat the cavity "walls" with the chocolate. Place in the freezer while you make the filling.




In a medium-sized bowl, whisk together the erythritol, peanut flour and salt. Stir in the yogurt. Mixture should be thick, like frosting.

Scoop the filling into the chilled chocolate cups. Do not overfill.


Spoon the remaining melted chocolate over the filling. Refrigerate until firm. Serve immediately, or store in a tightly sealed container in the fridge for up to 1 week.
Recipe Notes
I originally wasn't going to share the recipe here because I worked so incredibly hard on publishing Naughty or Nice.  But I wanted to provide it here because that way, you can determine whether or not the cookbook is for you!
Nutrition Facts
Healthy Homemade Peanut Butter Cups
Amount Per Serving (1 PB Cup)
Calories 80
Calories from Fat 54
% Daily Value*
Fat 6g9%
Sodium 45mg2%
Carbohydrates 5g2%
Protein 4g8%
Calcium 40mg4%
Iron 0.7mg4%
* Percent Daily Values are based on a 2000 calorie diet.
Recipe republished with permission from the Naughty or Nice Cookbook!
Enjoy  🙂
.
Be happy.
Live fully.
Feel naughty, eat nice.
.
– Jess
.