Healthy Homemade Pistachio Butter
Homemade Pistachio Butter?  What?  I thought you were the PEANUT BUTTER type??
Oh, I am.  Trust me.
These pistachios were actually an impulse buy.  I passed a giant bag at the grocery store and grabbed it (I think it was the packaging… it was just so pretty!).
So even though I was never really a fan of pistachios, I knew that they always added beautiful colors and presentation to a dish.  Even though this is green, it's gorgeous.  Not to mention, incredibly delicious and amazingly addicting!
Yes, even to a peanut butter lover…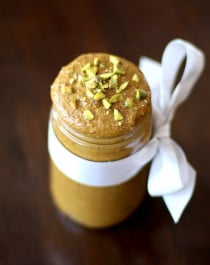 Print Recipe
Pin Recipe
Healthy Homemade Pistachio Butter
Ingredients
4

cups

Pistachios

(unsalted; you can use raw or roasted)
Instructions
In a 

food processor

, add the pistachios. Pulse until crumbly and flour-like, then grind constantly until smooth and buttery, scraping down the sides of the bowl as needed (depending on the processor you use, this could take anywhere from 5-10 minutes).  Feel free to add salt to taste or 

stevia

 to sweeten.

Pour the mixture into jars, seal tightly, and refrigerate to store.
Now where can you use this healthy homemade pistachio butter?
Top your morning oatmeal with it
Spread it on toast with a drizzle of honey
Spread it on my Pistachio Cake Bars!
Pistachio Butter Cookies (use pistachio butter instead of peanut butter, and erythritol instead of sugar)
Chocolate Pistachio Butter Cookies (same thing, just chocolatey!  You can try my DIY Brown Sugar too!)
Pistachio Butter & Jelly Uncrustables — did someone say, scare the kids??
Make my green cookie dough a little more green  🙂
In any recipe that uses a nut butter
Finally, Lemon Pistachio Krispy Treats!
.
With love and good eats,
.
– Jess
.