Healthy Pistachio Snacking Cake with Citrus Glaze
Many of you probably know how challenging it is to get kids to eat their veggies, right?  Well, with some adults, it can be just as difficult.  Someone very close to me — aka, my dad — has despised veggies for the majority of his life (he even refuses to drink my green monsters because of their color).  Old habits die hard right?  Well, I sure got him with this Pistachio Hidden Veggie Snacking Cake!
One day, my family and I went grocery shopping. As we passed by the bakery section, I saw a neon green muffin with a label below it:  Pistachio Muffin.  I showed my dad and he said it "looked cool."  I was a little shocked. He hates the color of my fruit smoothies but likes the look of a totally artificial muffin? A muffin! Of all things.
Anyways, as I thought of ways to sneak vegetables to my veggie-starved family, those "cool"-looking Pistachio Muffins from the store came to mind. Maybe I could bake those?  Hmmm…
I will sneak spinach in it!!!  It's green anyways, right? I looked for some Pistachio Muffin recipes, but like most others, they contained loads of sugar and tons of butter.  Because I didn't want to formulate a whole new recipe, I cheated and copied my Citrus Pound Cake recipe.  I changed a few ingredients and crossed my fingers hoping for the best.
These bars remind me a little of sponge cake.  Spongey, firm, moist, sweet… just green.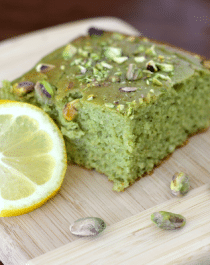 Print Recipe
Pin Recipe
Healthy Pistachio Snacking Cake with Citrus Glaze
Ingredients
Cake:
1

cup

Baby Spinach

(packed)

182g

(⅖ of package)

Lite Silken Tofu

123g

(½ cup)

Unsweetened Applesauce

113g

(½ cup)

Plain, Nonfat Greek Yogurt

42g

(2 tbs)

Raw Honey

28g

(2 tbs)

Coconut Oil

2

tsp

Liquid Stevia Extract

1

tsp

Green Tea

(contents of a packet of green tea, optional)

2

tsp

Vanilla Extract

½

tsp

Lemon Flavor

180g

(1½ cups)

Whole Wheat Pastry Flour

60g

(¾ cup)

Whey Protein Concentrate

48g

(¼ cup)

Sucanat

(or dry sweetener of choice)

24g

(3 tbs)

Arrowroot Starch

1½

tsp

Double-Acting Baking Powder

½

tsp

Baking Soda

¼

tsp

Salt

¼

cup

Chopped Pistachios
Glaze:
84g

(¼ cup)

Raw Honey

1

tbs

100% Orange Juice

¼

tsp

Lemon Zest

¼

tsp

Orange Zest
Instructions
For the Cake:
The night before, put the spinach, tofu, applesauce, yogurt, honey, oil, stevia, tea and extracts into a blender and liquify until the spinach is completely liquified. Refrigerate overnight (for the green tea, just cut open a teabag of green tea and measure out 1 tsp of the leaves).

The next day, take the blender mixture out of the fridge an hour before baking.

An hour later, preheat the oven to 325 degrees Fahrenheit and spray an 8" brownie pan with cooking spray, set aside.

In a large bowl, whisk together the dry ingredients.

Chop the pistachios and put into a small bowl.

Pour the blender mixture into the large mixing bowl with the dry ingredients and fold. Pour the batter into the prepared brownie pan, sprinkle with the chopped pistachios, and bake for ~30 minutes or until a toothpick comes out clean and edges should pull away from the pan.
For the Glaze:
Zest the lemon and orange and put into a small bowl, then add the honey.  Cover with plastic wrap and leave overnight at room temperature.

When bars are done baking and cooling, add the orange juice to the honey mixture and stir.
Nutrition Facts
Healthy Pistachio Snacking Cake with Citrus Glaze
Amount Per Serving (1 bar)
Calories 210
Calories from Fat 45
% Daily Value*
Fat 5g8%
Cholesterol 10mg3%
Sodium 240mg10%
Carbohydrates 30g10%
Protein 11g22%
Vitamin A 1000IU20%
Vitamin C 1.7mg2%
Calcium 200mg20%
Iron 4.5mg25%
* Percent Daily Values are based on a 2000 calorie diet.
This Pistachio Snacking Cake is similar to Clif Bars, only fresher, healthier, and lower in sugar!  Even without adding vitamins, these bars are high in vitamin A, calcium and iron.
Aren't these naturally green bars so much better than those artificial, neon-colored muffins at the grocery store?
Yes, they are.  So bake them soon!
.
With love and good eats,
.
– Jess
.