Healthy Homemade Peanut Butter and Jelly Uncrustables
Unlike the storebought version, these Healthy Homemade Peanut Butter and Jelly Uncrustables are all natural and whole grain with no sugar added!

PB&Js and I go way back…  probably from before I was born!  I blame my peanut butter obsession on my mom.  I wonder if she ate PB&Js when she was pregnant with me?  I mean, she did tell me she ate three chocolate bars a day when I was in her tummy, which definitely explains my chocolate addiction).
I even remember buying Uncrustables from the store when I was only six years old.  I was the pickiest eater and hated bread crusts, so they seemed like the perfect solution.  Aka, mom hears less whining from me.
But, since my crustless childhood, I have become a health fanatic, and my diet has no room for the unhealthy, storebought sandwich pockets that I used to buy so often.  Know why?  Look at their ingredient list!  I underlined dirty ingredients, like hydrogenated oils, refined sugars, and preservatives:
BREAD: UNBLEACHED WHOLE WHEAT FLOUR, WATER, WHEAT GLUTEN, HIGH FRUCTOSE CORN SYRUP, PARTIALLY HYDROGENATED SOYBEAN OIL, SALT, YEAST, DOUGH CONDITIONERS (DISTILLED MONOGLYCERIDES, SODIUM STEAROYL LACTYLATE, DATEM, ENZYMES [AMYLASE, LIPASE, ASCORBIC ACID, CALCIUM PEROXIDE, AZODICARBONAMIDE, WHEAT STARCH].

PEANUT BUTTER: PEANUTS, DEXTROSE, SUGAR, CONTAINS 2% OR LESS OF: PARTIALLY AND FULLY HYDROGENATED VEGETABLE OILS, SALT, MOLASSES, MONO AND DIGLYCERIDES (PALM AND/OR SOYBEAN OILS).

STRAWBERRY JAM: STRAWBERRIES, HIGH FRUCTOSE CORN SYRUP, CORN SYRUP, SUGAR, CONTAINS 2% OR LESS OF: PECTIN, CITRIC ACID, POTASSIUM SORBATE (PRESERVATIVE).
Why buy from the store if you can make an exact duplicate in as little as two minutes?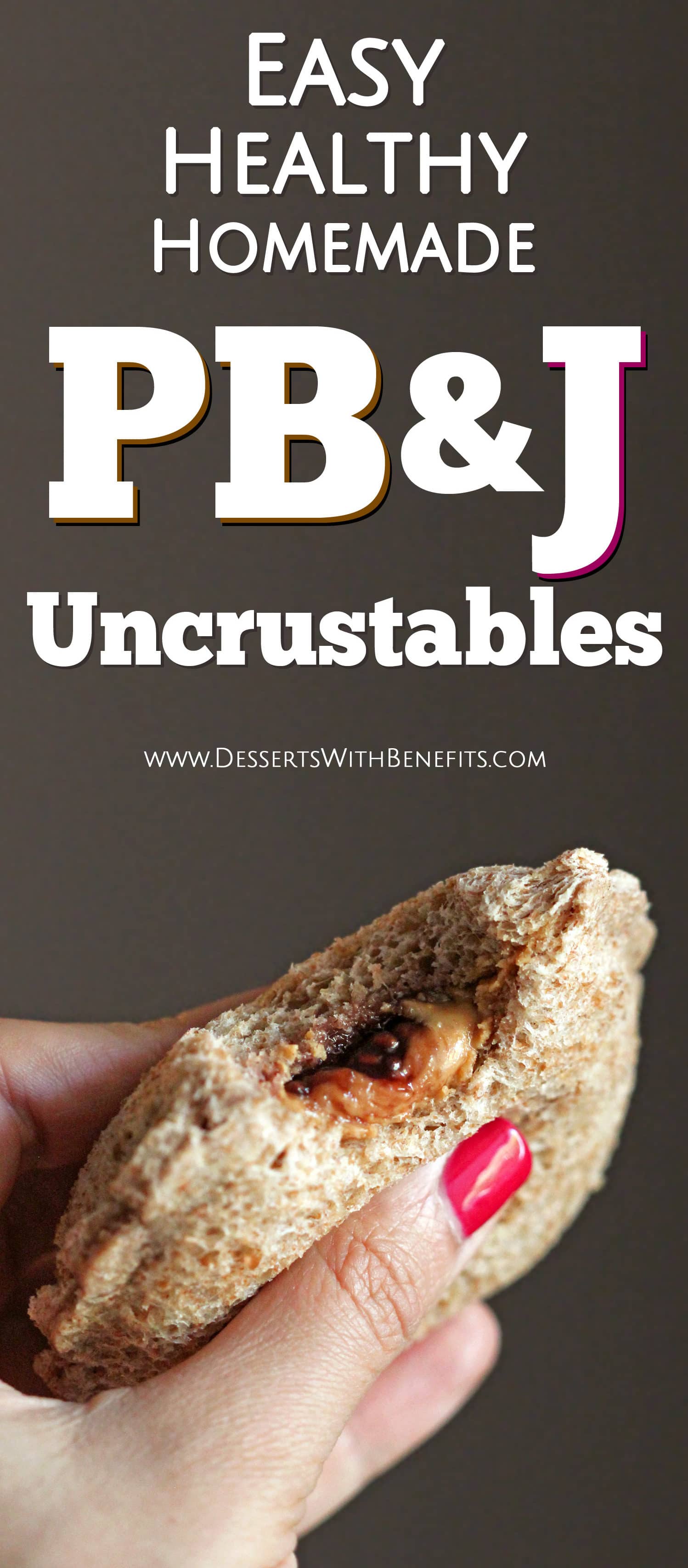 Healthy Homemade Peanut Butter and Jelly Uncrustables
Prep Time: 10 minutes
Cook Time: 0 minutes
Total Time: 10 minutes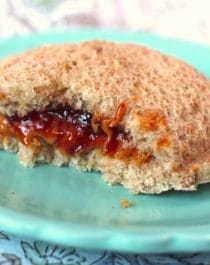 Ingredients:
10 slices 100% Whole Grain Bread (gluten free, vegan, etc.)
5 tbs Natural Peanut Butter
5 tbs 100% Fruit Strawberry Fruit Spread
Directions:
Spread the peanut butter in a circular fashion in the center of five slices of bread.
Spread the fruit spread in a circular fashion on top of the peanut butter.  Use however much you want. If you want more peanut butter, use more peanut butter, if you want more jam, use more jam!
Place the remaining slices of bread on top of the coated slices.
Notes:
I honestly don't really measure the filling ingredients, I put as much peanut butter and jelly as my heart desires!  I like the filling way more than the bread, and I always felt like the storebought version never had enough filling.  Adjust these to your taste, and it doesn't hurt if it takes two trials to perfect, if ya know what I mean  😉
All images and text ©
.
TADA!  A healthy, fresh, homemade crustless PB&J sandwich without the harmful ingredients!
And because these Healthy Homemade Peanut Butter and Jelly Uncrustables are so much fun to make, I made a little stop-motion video for y'all.  Hope you like it!
If my boyfriend and I share one thing in common, it's the fact that we both love PB&Js.  Like, we LOVE THEM, love them.  He came over when I was shooting the stop-motion video and was hinting (very strongly) that he couldn't wait until I was done so he could try one.  He was hungry (he's always hungry).  I honestly didn't really want to share because, for real, what's this thing called sharing???  Never heard of it  😉
.
With love and good eats,
.
– Jess
.