Healthy Peanut Butter and Jelly Blondies
Happy Peanut Butter and Jelly Day!  Let us celebrate this majestical, delicious day with Healthy Peanut Butter and Jelly Blondies.
They're dense.
They're fudgy.
They're rich.
They're delicious.
They're 100% addictive stuff.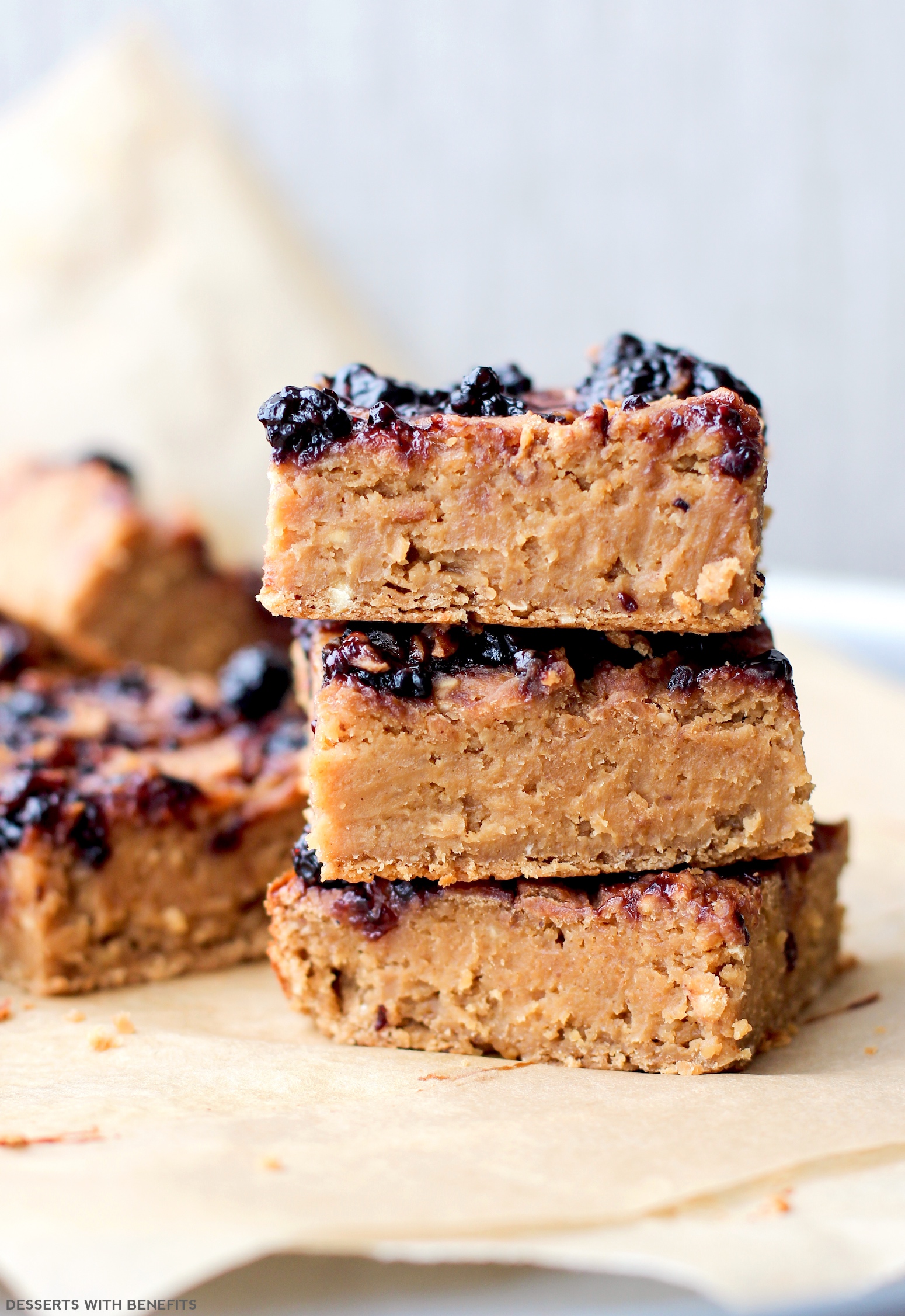 No matter what age I am, peanut butter and jelly always brings school memories to mind.  I'm not talking about the notebooks, the textbooks, the homework and the mean old teachers, I'm talking lunchtime.  With mah PB&J's.
But the sandwiches get boring after a while, so we gotta spruce up that PB&J!  That's why I made DIY PB&J Uncrustables.  And now, these PB&J Blondies.
Clarification:  HEALTHY Peanut Butter and Jelly Blondies!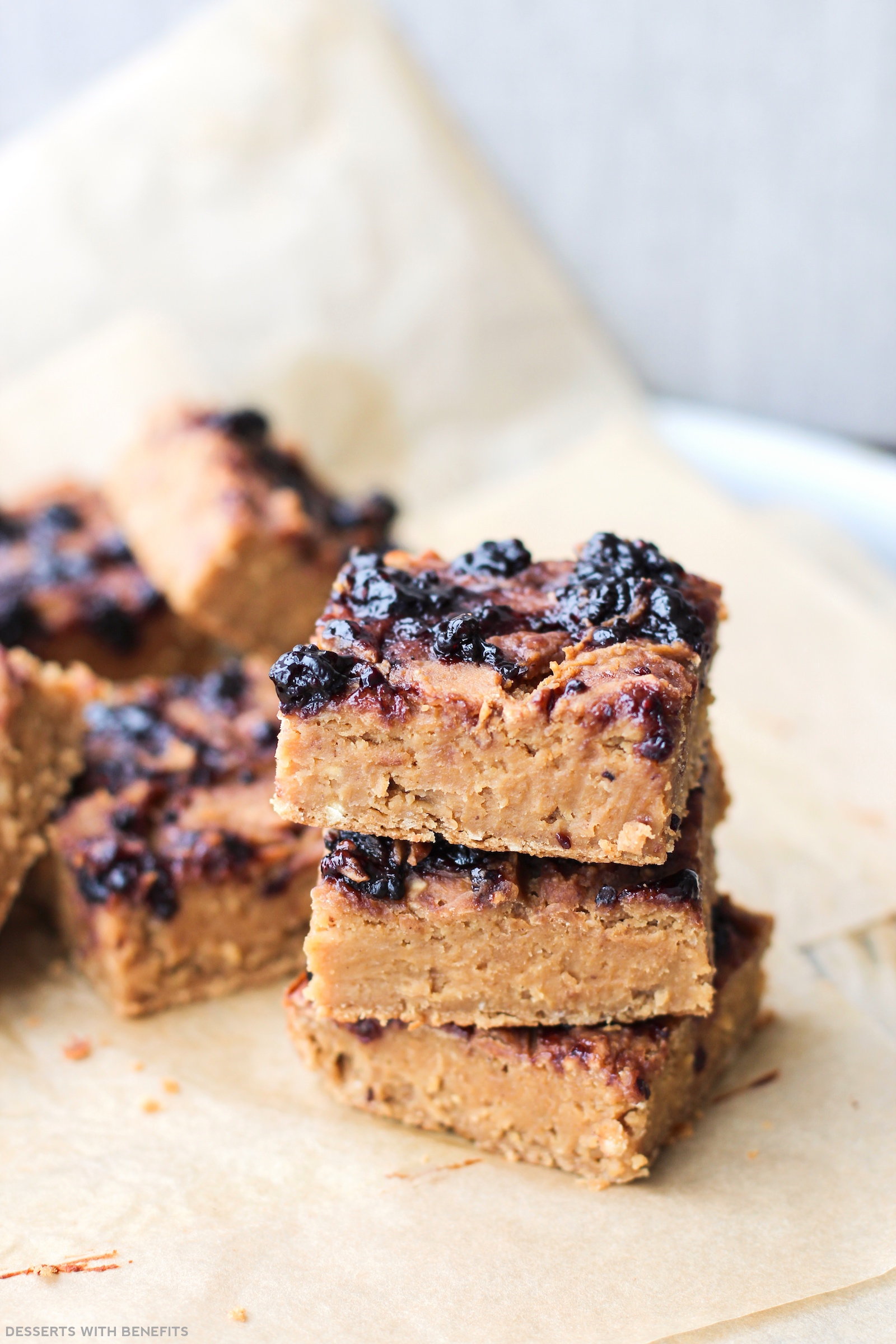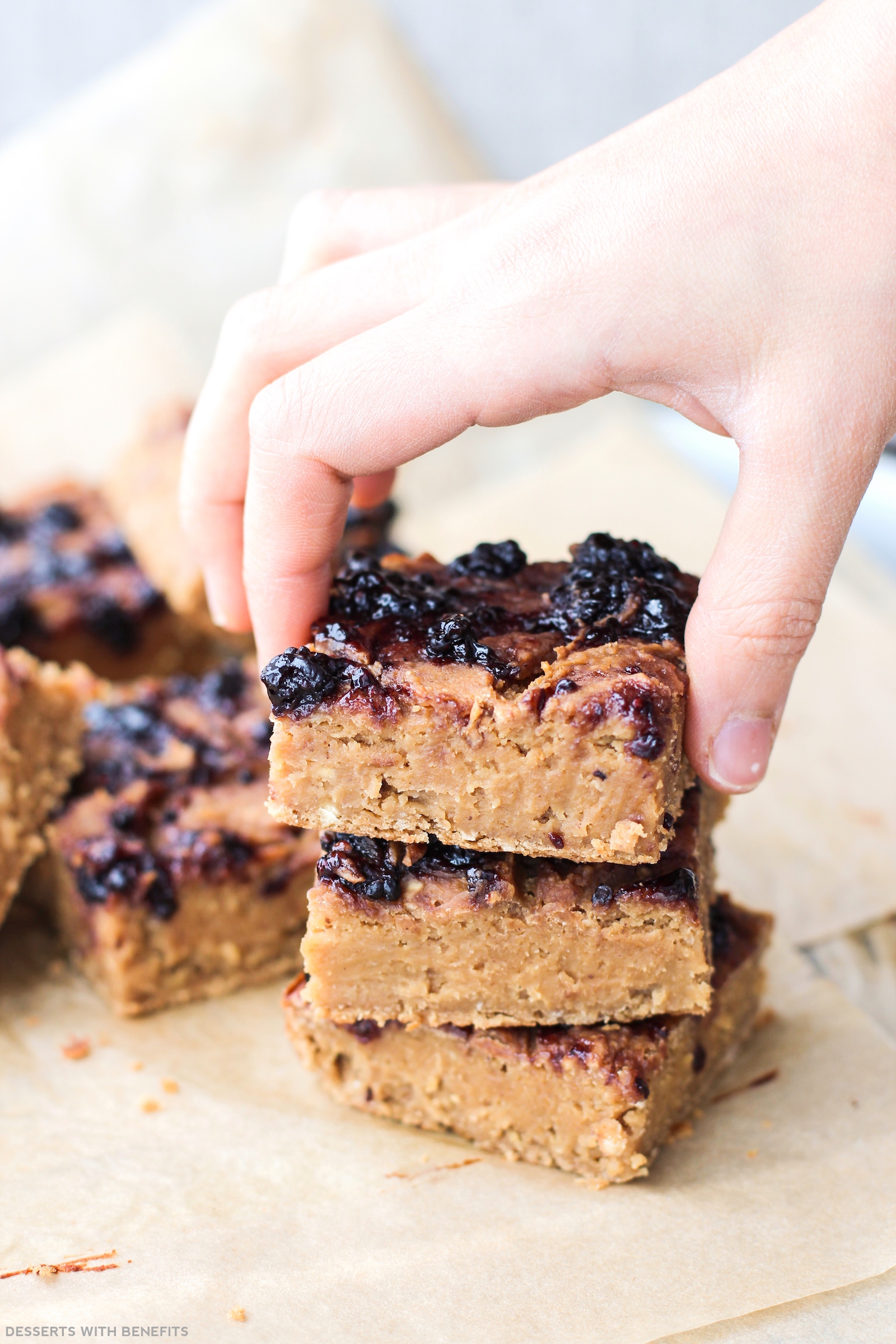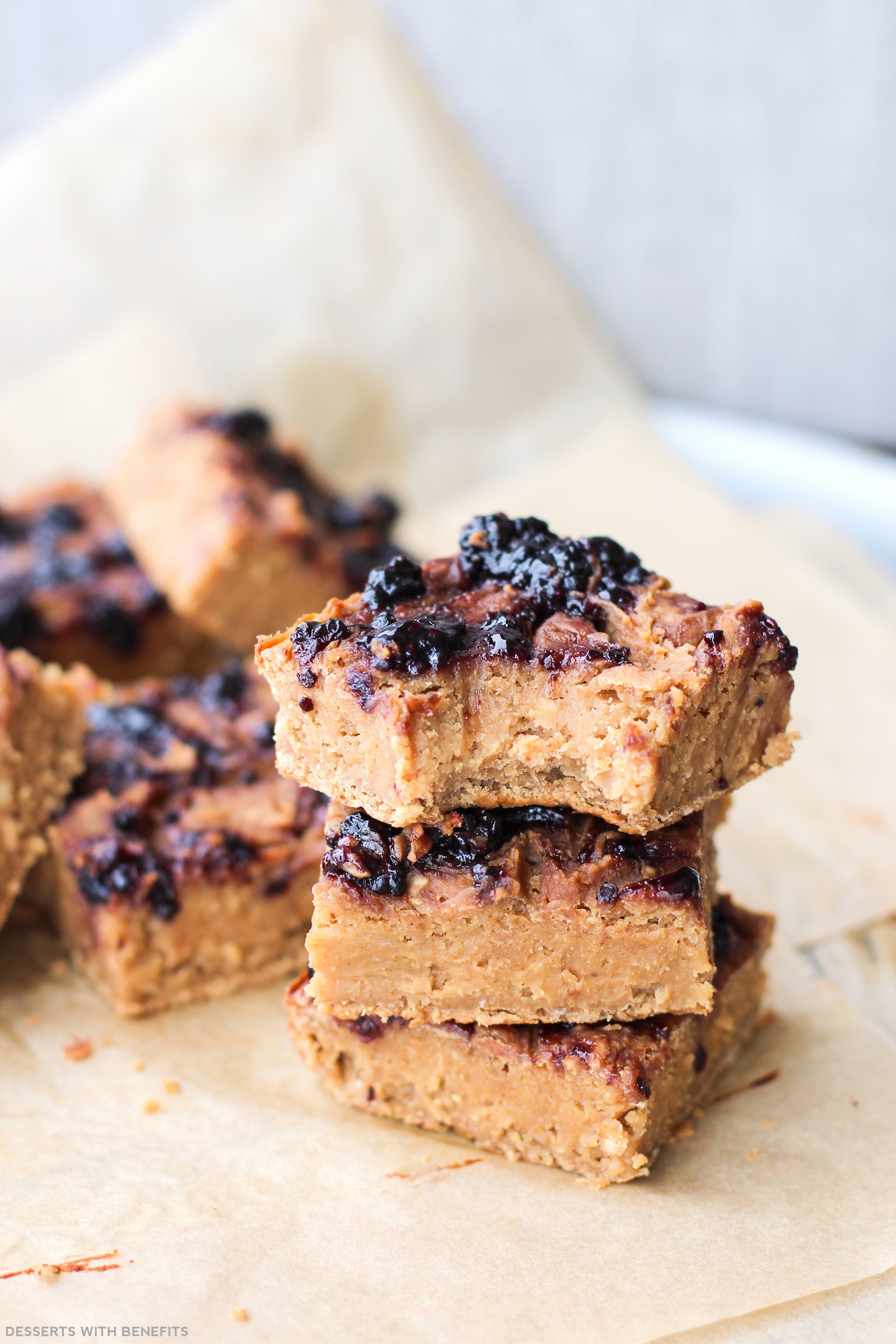 Healthy Peanut Butter and Jelly Blondies
Prep Time: 20 minutes
Cook Time: 45 minutes
Total Time: 1 hour 10 minutes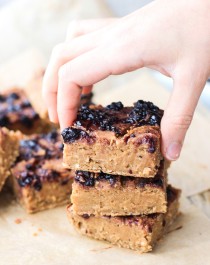 Fat per serving: 4g
Calories per serving: 150
Ingredients:
246g (1 cup) Unsweetened Applesauce
270g (1½ cups) Garbanzo Beans, drained and rinsed well!
1½ tsp Stevia Extract
240g (2 cups) Peanut Flour
96g (½ cup) Granulated Erythritol
¾ tsp Salt
1 tbs Double Acting Baking Powder
¼ cup 100% Fruit Spread, swirled in (I used St. Dalfour Blackberry)
Directions:
Preheat the oven to 350 degrees Fahrenheit and line an 8″ brownie pan with parchment paper both ways.
In a food processor, add the applesauce, garbanzo beans and stevia extract.  Blend until completely smooth.
Blend in the peanut flour, erythritol and salt.
Last, add the baking powder.
Scoop the mixture into the prepared pan and spread it out (it should be super thick…  I used an offset spatula to spread it out).
Drop spoonfuls of the fruit spread over the blondie batter and swirl it in using the offset spatula or a butter knife. Bake for 45-50 minutes, or until firm. Let cool completely, then slice and serve!
All images and text ©
.
The peanut flour provides that classic peanut buttery richness, but without all the calories and fat.  The fruit spread topping cuts the salty twinge and peanut butter richness and brightens up the overall flavor.  These secretly guilt-free blondies are the perfect snack to have on hand for when you're craving both a PB&J and dessert.
.
Here is the recipe's nutrition label: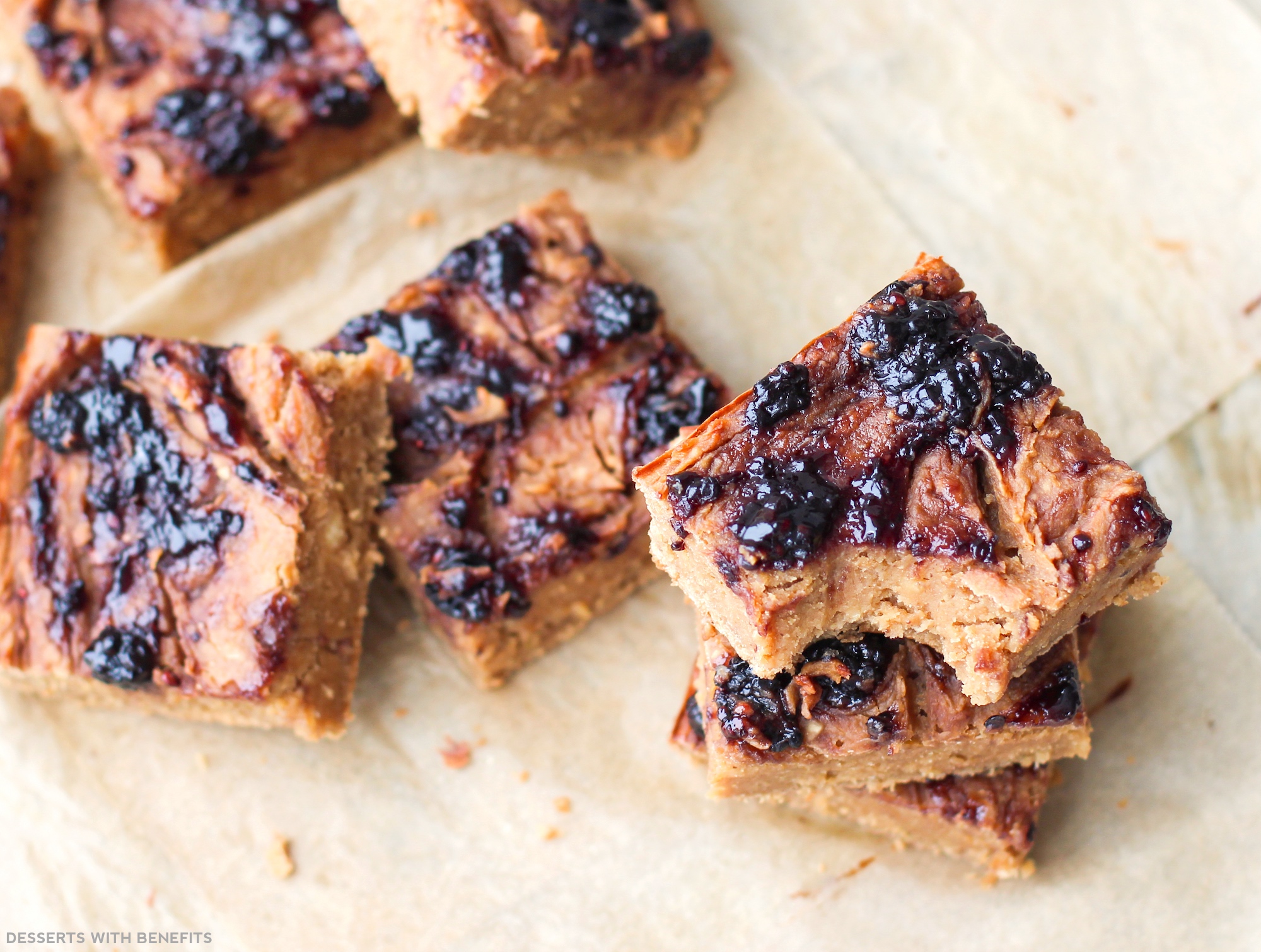 Dense, chewy, fudgy, DELISH!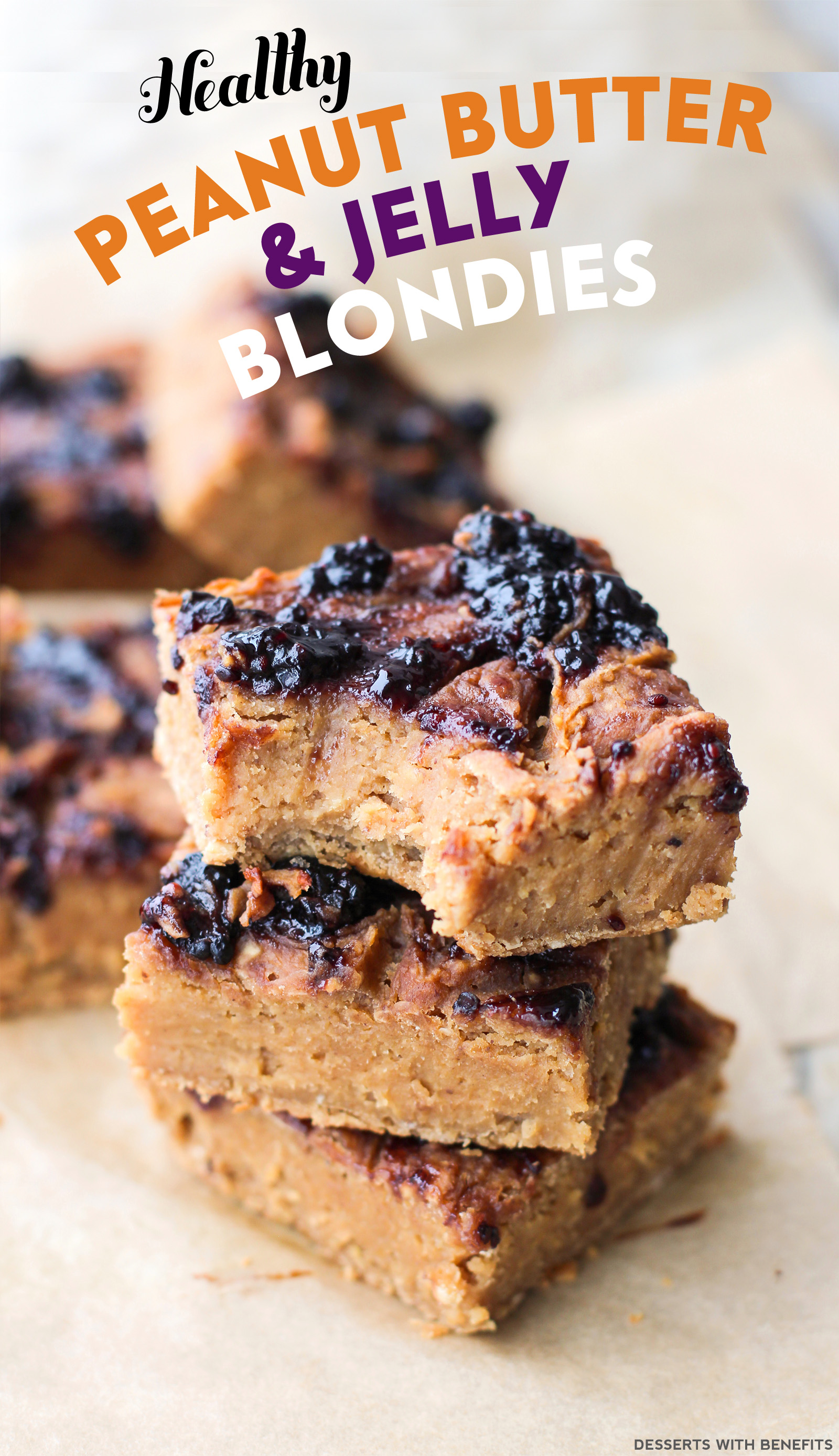 Mmmm, I could inhale all of these right about now  😉
.
With love and good eats,
.
– Jess
.