Healthy Lemon Pistachio Krispy Treats with Honey-Vanilla Fondant and Strawberry Jam
I know I've gone a little crazy on the krispy treats lately, but they are just so. good.  Plus, I needed to find a way to get my sister to stop hogging all my pistachio butter!  I looked around my pantry and the rice krispies stuck out right away.
*grabs cereal box*
But what to mix it with?  That's when I searched "pistachio" into Foodgawker, only to find a long list of the most amazing-looking desserts (that in itself makes my heart skip a beat).  A lot of recipes paired pistachios with citrus, and I thought of lemon!
*grabs lemon extract*
Hmmm… what will take the treats over the top?  Frosting!  My brain's reaction time between "over the top" and "frosting" was, let's just say, a pretty quick one.  I love frosting — always have, always will.  I used to eat the Pillsbury frosting out of the tub all by itself.  Anywaaays… I made a fondant instead, as that seemed to suit these better anyways.  Still sweet, still decadent, still yum!
But something was missing.  These Lemon Pistachio Krispy Treats needed a burst of color!  So I opened the fridge and saw 100% fruit strawberry jam.  Would it work?  Oh yes it would.
*grabs jelly jar*
And the rest was like a fairytale dream.  Each bite had the perfect blend of flavors, from the lemon to the pistachio, from the honey to the strawberry.  Each ingredient so unique and distinguishable.  Each bite was as rich as you would imagine.  The delicate crunchiness and the addictive chewiness, the mild sweetness and the aromatic nuttiness.  Perfection.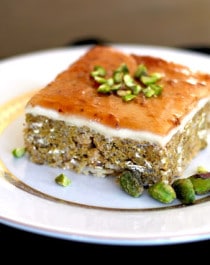 Print Recipe
Pin Recipe
Healthy Lemon Pistachio Krispy Treats
Ingredients
Krispy Treats:
5

cups

Crispy Brown Rice Cereal

½

cup

Old Fashioned Rolled Oats

2

tbs

Ground Flaxseed

¼

tsp

Salt

210g

(½ cup + 2 tbs)

Brown Rice Syrup

132g

(½ cup)

Pistachio Butter

½

tbs

Vanilla Extract

1

tsp

Lemon Flavor

(or Lemon Zest)

¾

tsp

Liquid Stevia Extract

62g

(2 scoops)

Vanilla Whey Protein Powder

1

tsp

Green Tea

(contents of 1 tea packet; optional)
Toppings:
⅔

cup

100% Fruit Strawberry Spread

2

tbs

Chopped Pistachios
Instructions
For the Krispy Treats:
Line an 8" brownie pan with parchment paper both ways.

In a large bowl, stir together the crispy rice cereal, oats, flaxseed, and salt.

In a large, microwave-safe bowl, stir together the brown rice syrup, pistachio butter, vanilla extract, lemon flavor, and stevia extract. Microwave at 20-second intervals, stirring between each one, until mixture is warm and runny. Stir in the protein powder and green tea. Dump in the rice cereal mix and fold together.

Scoop mixture into the brownie pan and flatten it out.
For the Fondant:
In a small bowl, stir together the protein powder, honey, and melted coconut oil. Scoop over the krispy treats and spread it out with the back of a spoon.
For the Toppings:
Spread on the jam and sprinkle with pistachios.  Refrigerate for 2+ hours, then slice and serve.
.
With love and good eats,
.
– Jess
.