Healthy Homemade Brown Sugar (Refined Sugar Free and Low Calorie!)
Did you know that brown sugar is even more processed than regular ole' granulated white sugar?  Yet another reason to avoid both brown sugar and white sugar.  And that's a pretty easy thing to do when this Healthy Homemade Brown Sugar is around!
If you love the taste of brown sugar but don't want all the calories, carbs, and sugar, or the sugar rush and sugar crash, you gotta make this Healthy Homemade Brown Sugar!  It doesn't taste refined sugar free and low calorie in the slightest.
Compared to storebought brown sugar, this:
has ⅐th the calories and carbohydrates
is low glycemic (safe for diabetics)
is just as sweet and just as tasty!
Super soft, super fluffy, and full of flavor!  It even "packs" like real brown sugar, which is a big plus to me.  Not to mention, you can use it in any recipe to take place of brown sugar (yes, that means coookieeessss!!!).  So add this to your tea, sprinkle it over your dessert-for-breakfast, and use it in your desserts!
Healthy Homemade Brown Sugar
Prep Time: 5 minutes
Cook Time: 0 minutes
Total Time: 5 minutes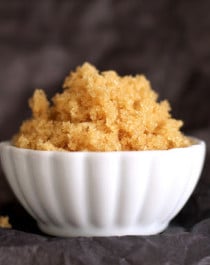 Calories per serving: 7
Ingredients:
Directions:
In a medium bowl, add the erythritol and the molasses on top.  Stir with a fork until molasses is fully mixed in.
Store in an airtight container, as you would with regular brown sugar.
Notes:
Erythritol is a natural, calorie-free sweetener that looks and tastes exactly like sugar. I'm sure granulated xylitol would work but I've never tried it.
All images and text ©
.
.
Here is the (entire) recipe's nutrition label:
That's right.  An entire CUP of this Healthy Homemade Brown Sugar has just 110 calories.  That means that 1 tablespoon has 7 calories.  As a reference, 1 cup of storebought brown sugar has 770 calories…  so 1 tbs has 48 calories.
Enjoy!
.
With love and good eats,