Healthy Oatmeal Raisin Cookie Overnight Dessert Oats
Y'all, these Oatmeal Raisin Cookie Overnight Dessert Oats.  I'm speechless.  It really does taste like a crumbled oatmeal raisin cookie dunked in milk.  It's so decadent and sweet and sinful tasting, I feel like it shouldn't even be in the "breakfast" category.  But, then I remember what it's made of:  100% healthy, wholesome, natural ingredients!  So duh, of course it's breakfast-worthy.
Oh, and as if it couldn't get any better, this recipe is high in protein and fiber, and also free of added sugars.  It's surprisingly filling, so another sweet craving won't strike for hours.  Trust me, this fills me up and keeps me satisfied all morning.  And my metabolism is cheetah-like and I'm the kind of person who has a 24/7 desperate need for sugary-sweet snacks  😉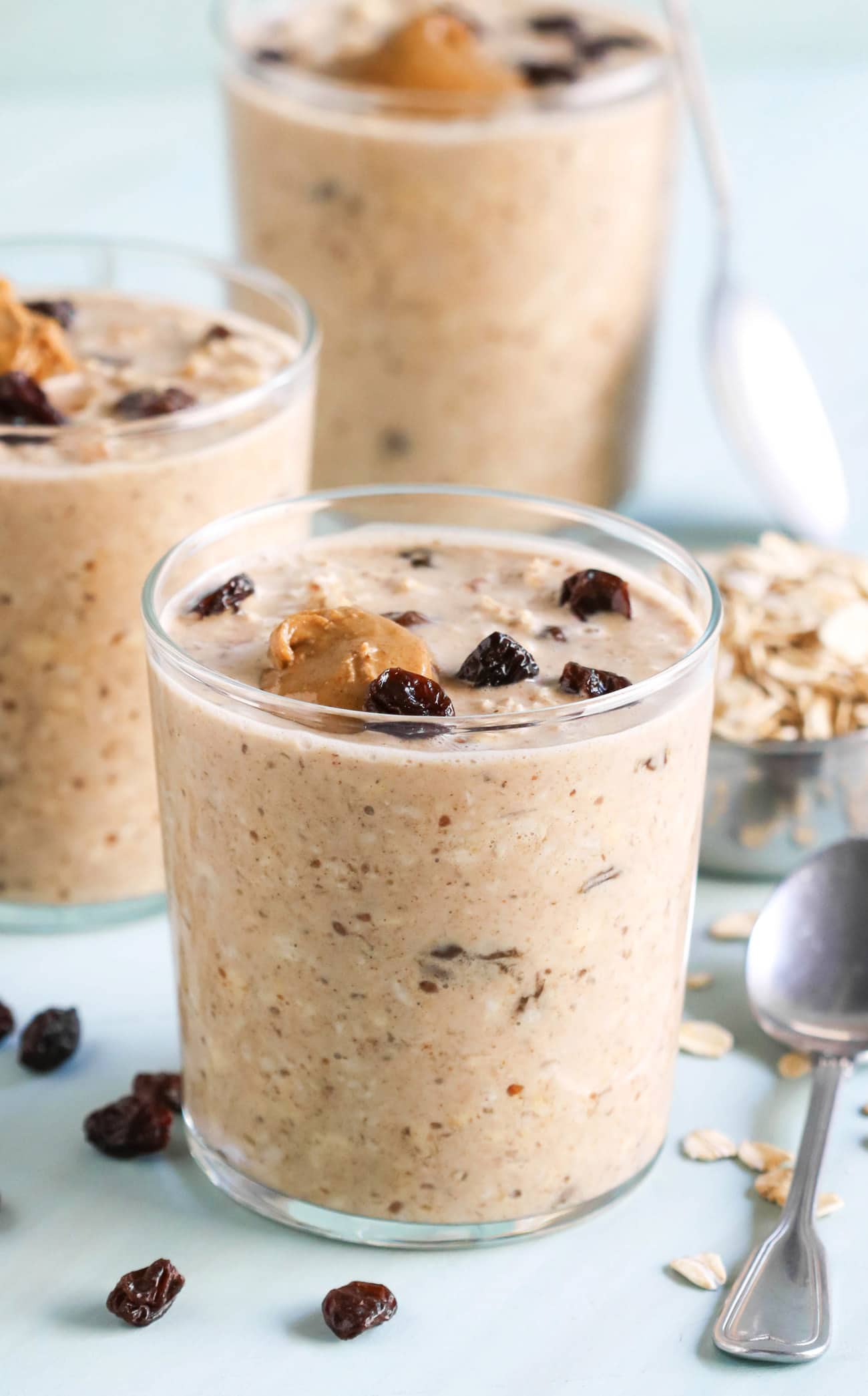 If I'll be honest, no joke, every night for the last two weeks I've made a bowl of these Oatmeal Raisin Cookie Overnight Dessert Oats.  It's seriously the best because breakfast is all ready and done come morning time.  You'll always wake up in a good mood because you know what's waiting for ya in the fridge — a big bowl of sweet, sweet, cookie-flavored oats.  I usually jump off my bed and run to the kitchen.  When I open the door it's like there's a choir of angels.  Like life is too good to be true.
I mean, it's dessert…  for breakfast!
*faints with joy*
And to me, there is nothing better than the thought of dessert for breakfast.  Wait, yes there is:  the flavor of this dessert!  I mean breakfast  😉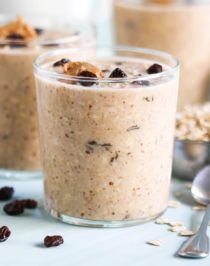 Print Recipe
Pin Recipe
Healthy Oatmeal Raisin Cookie Overnight Dessert Oats
This healthy Oatmeal Raisin Cookie Overnight Dessert Oats recipe is sweet, delicious, and easy to make. You'd never know it's sugar free and dairy free!
Ingredients
Instructions
In a large bowl, whisk together just a splash of the almond milk with the almond butter and vanilla extract. When it's perfectly smooth, whisk in the remaining almond milk.

Stir in the oats, ground flaxseed, stevia packets, cinnamon, and salt. Once combined, stir in the raisins.

Cover and refrigerate overnight. Enjoy in the morning!
Recipe Notes
**If you want to stay fuller for longer (and enjoy thicker oats), add a scoop of vanilla protein powder along with a little splash of extra milk.
Nutrition Facts
Healthy Oatmeal Raisin Cookie Overnight Dessert Oats
Amount Per Serving (1 serving)
Calories 330
Calories from Fat 99
% Daily Value*
Fat 11g17%
Sodium 290mg13%
Carbohydrates 44g15%
Protein 11g22%
Vitamin A 300IU6%
Calcium 300mg30%
Iron 2.7mg15%
* Percent Daily Values are based on a 2000 calorie diet.
The first time I tried overnight oats was in college.  I was desperate to find a breakfast that would keep me full all throughout my 4-hour Bio lab.  I wanted to make microwave oatmeal (as I didn't own a pot or saucepan) but my dorm's kitchen was a mess.  Like, Panda Express had exploded all over the microwave and no one cleaned it up.  NOODLES EVERYWHERE.  Sooooo overnight oats it is!  It took a lot of trial and error to make a bowl that didn't look like barf and taste like sand. A LOT.  But I'm happy to report that I finally perfected the best overnight oats ever.  Oatmeal Raisin Cookie Overnight Oats, to be exact!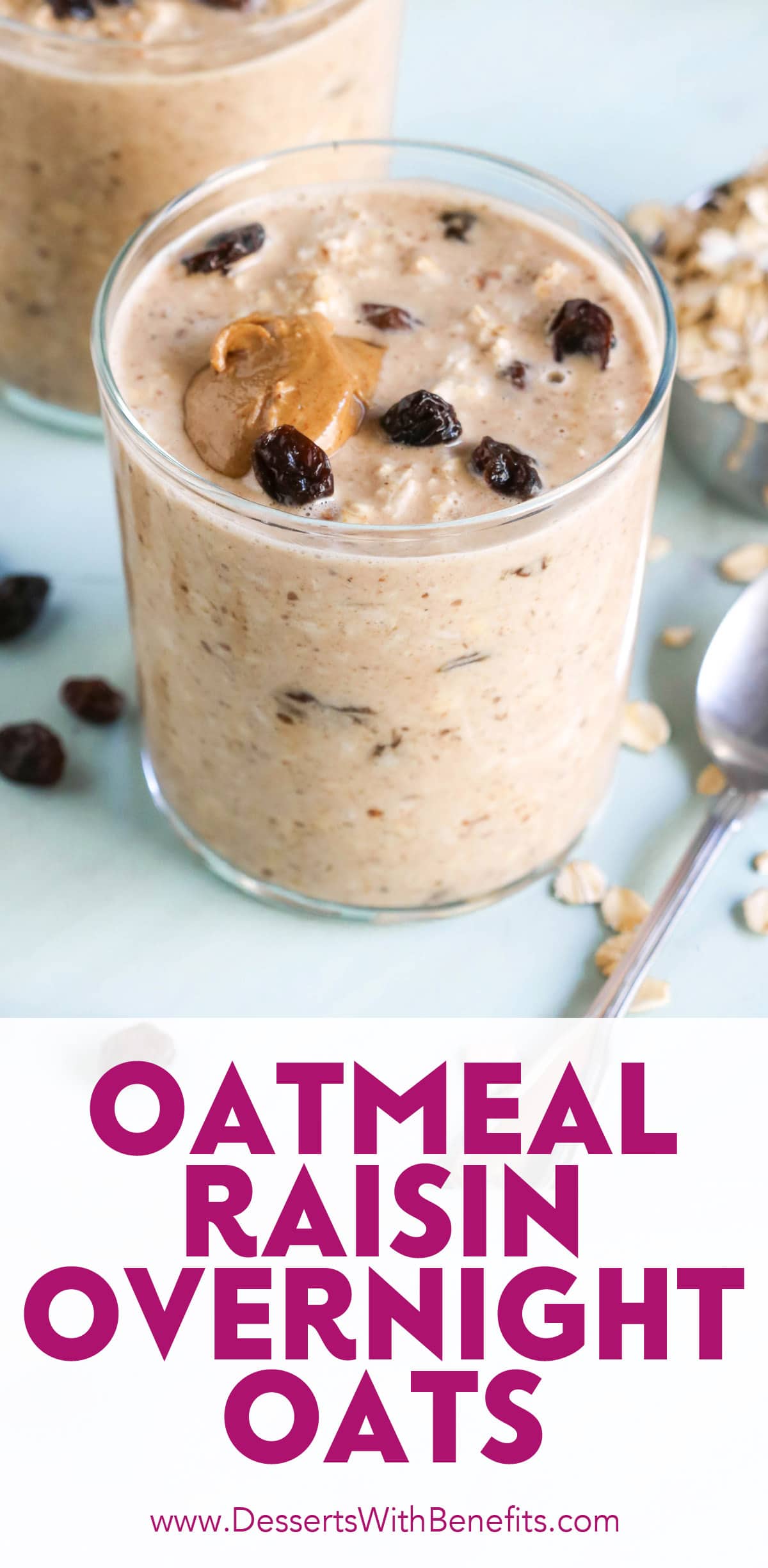 Have you ever made overnight oats before?  Or do you prefer stovetop-cooked oats?  Whatever you prefer, you gotta give these Oatmeal Raisin Cookie Overnight Dessert Oats a try!
.
With love and good eats,
.
– Jess
.