Healthy Matcha Green Tea Shortbread Cookie Dough
Don't run away!!!  It's green because of the matcha!
I promise, there's no spinach in this.  Unlike these  …  so, you'll stay?  🙂
YAY!  So, I've kind of been obsessing over Kirbie's Cravings' matcha recipes lately (not to mention her photography, her pictures almost made me take a bite out of my computer screen), and I thought I could healthify those Matcha Tea Shortbread Cookies, but sadly, my attempt at doing so was a failed attempt (to say the least!)
Rather than showing you pictures of what I think were supposed to be cookies, I'll give you something else:  cookie dough!  I swear, despite how it looks, this is probably one of my favorite cookie doughs so far.  It's pretty much neck and neck with the PB Butterscotch Oatmeal Cookie Dough.  It doesn't taste bland or musky like plain matcha alone does.  Instead, it was sweet with a delicate, light almond flavor and a seemingly real butter taste.  I was somewhat shocked when I first tasted it.
Make this, and you won't regret it.
Green = YUM!  (I swear)  😉
Healthy Matcha Green Tea Shortbread Cookie Dough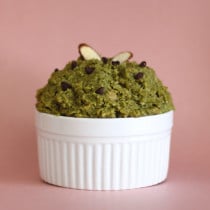 Ingredients:
Dry:
96g (1 cup) Old Fashioned Rolled Oats, (measure, then blend to a flour)
40g (¼ cup) Brown Rice Flour
39g (3 tbs) Sweet Matcha**
32g (1 scoop) Vanilla Whey Protein Powder
2 tsp Green Tea (the contents of 1-2 green tea packets)
Wet:
Directions:
Add the dry ingredients to a large mixing bowl and stir to combine, set aside.
In a blender, puree the wet ingredients until smooth (no chunky chickpeas here!). Scoop this over the dry ingredients and fold together. Refrigerate covered overnight for the best texture (trust me, it gets 9284x better overnight!).  Top with mini chocolate chips, white chocolate chips, and/or sliced almonds.
Notes:
I tried to hand you a spoonful to taste, but instead, my computer screen just got a face-full of green goodness.  Yes, I said goodness.  This stuff may be ugly, but it's dang tasty!  Did I mention it's healthy too?
Open wide!
Ehem, don't mind if I dooo  😉