Healthy Snickerz Candy Cups
Have you ever caught yourself dreaming of a Reese'z and Snickerz morphed into one?  Or was I totally alone on that?  I sure hope not…  ANYWAYS, whether you've dreamt of it or not, IT. JUST. HAPPENED!  Snickerz Candy Cups.  And they're secretly guilt-free too, shhh  😉
These healthy Snickerz Candy Cups are like Snickerz candy bars but in the shape of Reese's — they're sweet, they're satisfying, they're chocolatey, they're peanut buttery, they're caramelly.
They're the bomb.  They taste so good it's hard to believe they're actually good for you.  They're incredibly rich and smooth with the occasional crunch from the peanuts.  You will like/love/ADORE them.  They're 100% addictive stuff.  Literally ate four in a row…

Healthy Snickerz Candy Cups
Prep Time: 1 hour
Cook Time: 0 minutes
Total Time: 1 hour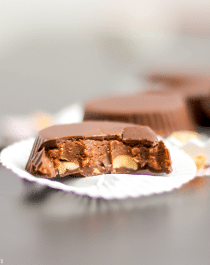 Fat per serving: 7
Calories per serving: 120
Ingredients:
Directions:
Spread some of the melted chocolate in this Peanut Butter Cup Mold (or Silicone Cupcake Molds), creating a base and "walls" of chocolate. Refrigerate until chocolate has hardened.
In a small bowl, stir together the caramel sauce and almond milk.  Stir in the peanut flour.  Mixture should be thick, like cookie dough.  Fill the chocolate cups with the mixture and spread it out.
Press the peanuts into the filling.
Spoon the remaining melted chocolate on top to coat.  Tap the tray/liners on the counter until the chocolate levels out. Refrigerate until firm. Pop the cups out of the mold, then serve and enjoy!
All images and text ©
.
.
Here is the recipe's nutrition label:
WOW, only 120 calories plus 5g of protein??  Not too shabby!  I think I'll take a couple more of these Snickerz Candy Cups  😉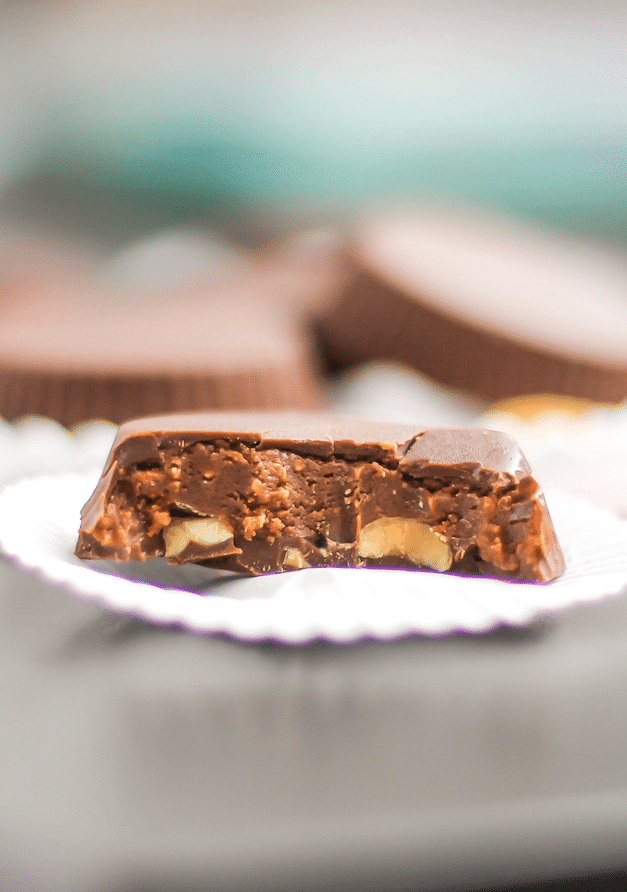 Enjoy!
.
With love and good eats,
.
– Jess
.