Healthy Canadian Peanut Butter Chocolate Cups
I'm Canadian, born and raised (woohoo!) so it's normal for me to have an obsession with maple syrup…  right?  Just like how my chocolate obsession is normal.  Or at least that's what I tell myself…
So I combined my obsessions along with some peanut butter to make Peanut Butter Cups on crack.  You would be crazy to ever go back to the storebought kind after trying these Canadian Peanut Butter Chocolate Cups.  Super sweet and oh so creamy, they just melt in your mouth.
Just look how cute this little guy  is!
Healthy Canadian Peanut Butter Chocolate Cups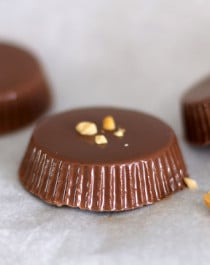 Ingredients:
Directions:
Spread some of the melted chocolate in this Peanut Butter Cup Mold (or Silicone Cupcake Molds), creating a base and "walls" of chocolate. Refrigerate until chocolate has hardened.
Fill the chocolate cups with the Canadian peanut butter, then spoon the remaining melted chocolate on top to coat. Refrigerate until firm. Pop the cups out of the mold, then serve and enjoy!
All images and text ©
.
You must double (quadruple?) the recipe.  This is one serious crowd pleaser, people will come back again and again!
You will fall in love with these adorable treats, even if you aren't Canadian  😉
.
With love and good eats,
.
– Jess
???
.
Be sure to follow @DessertsWithBenefits on Instagram!  If you try this recipe, make sure to snap a picture of it, tag me @DessertsWithBenefits, and hashtag #DessertsWithBenefits.  I'd love to see it and feature you on #FanFaveFridays!
.