Healthy Maple Butter Pecan Krispy Treats
These Healthy Maple Butter Pecan Krispy Treats beat those lame-o storebought treats, by a long shot!
These are flavorful.
These have texture.
These are… healthy?
Oh yes.
Sweet, rich and decadent treats that are also whole grain, refined sugar free and gluten free (but you would never know!)  Totally different than the "food-like" products at the grocery store, you know, that "stuff" in the blue wrapper?  Those are 100% artificial, full of refined white sugar, high-fructose corn syrup and unhealthy fats.  Grrrross!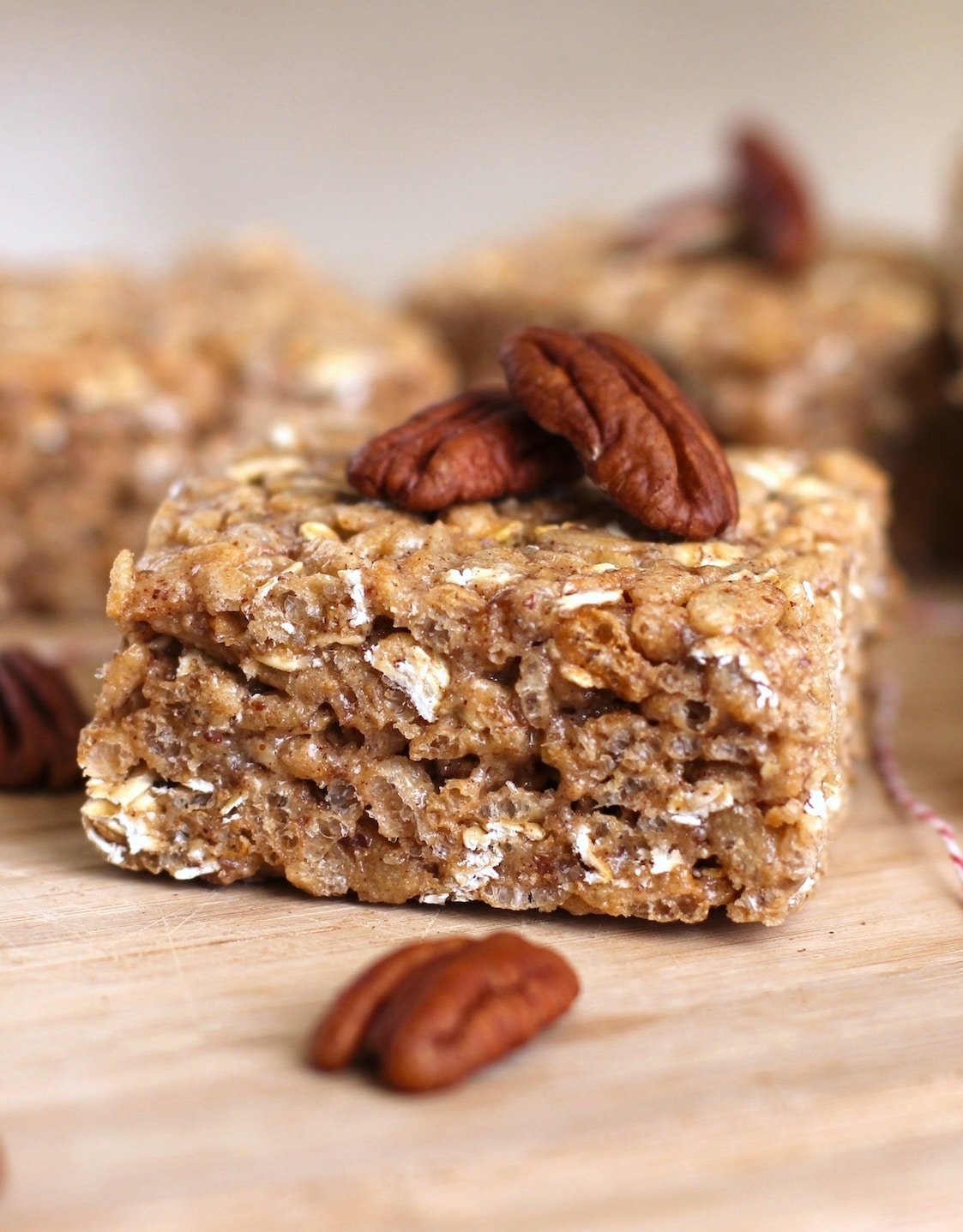 These are supremely chewy and ultimately sweet.
These are some healthy snacks that you can sink your teeth into.
Healthy Maple Butter Pecan Krispy Treats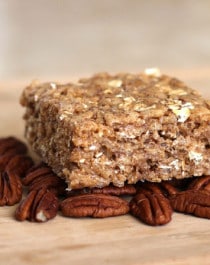 Ingredients:
150g (5 cups) Crispy Brown Rice Cereal
72g (¾ cup) Old Fashioned Rolled Oats
2 tbs Ground Flaxseed
¼ tsp Salt
1 tsp Ground Cinnamon
⅛ tsp Ground Nutmeg
⅛ tsp Ground Cloves
128g (½ cup) Raw Pecan Butter
126g (¼ cup + 2 tbs) Pure Maple Syrup
84g (¼ cup) Brown Rice Syrup
1 tsp Stevia Extract
1 tsp Maple Flavor
½ tsp Natural Butter Flavor
64g (2 scoops) Vanilla Whey Protein Powder
Directions:
Line a 9×9″ brownie pan with parchment paper both ways.
In a medium-sized mixing bowl, stir together the rice cereal, oats, flax, salt and spices.
In a large microwave-safe bowl, stir together the pecan butter, maple syrup, brown rice syrup, stevia, maple flavor and butter flavor. Microwave for 30 seconds, stir, then microwave for another 30 seconds. Then, stir in the protein powder.
Dump the dry ingredients over the wet ingredients and fold together. Feel free to fold in some chopped pecans!
Scoop the mixture into the prepared pan and flatten out.  Cover and refrigerate for 3+ hours.  Slice and serve!
Notes:
If you want an extra kick of maple and protein, top these treats with this Maple Icing!
All images and text ©
.
These would make a great gift to the people you love and care oh so much about.
My family adored them  🙂