Healthy Peanut Butter Frozen Yogurt
How do you tailor a basic Vanilla Frozen Yogurt to fit your needs?  Your peanut butter needs, to be exact?  Add TWO sources of peanut butter to the recipe, of course!  This healthy Peanut Butter Frozen Yogurt contains both natural peanut butter and peanut flour to achieve the decadent, rich, and delicious peanut butter flavor you crave so much.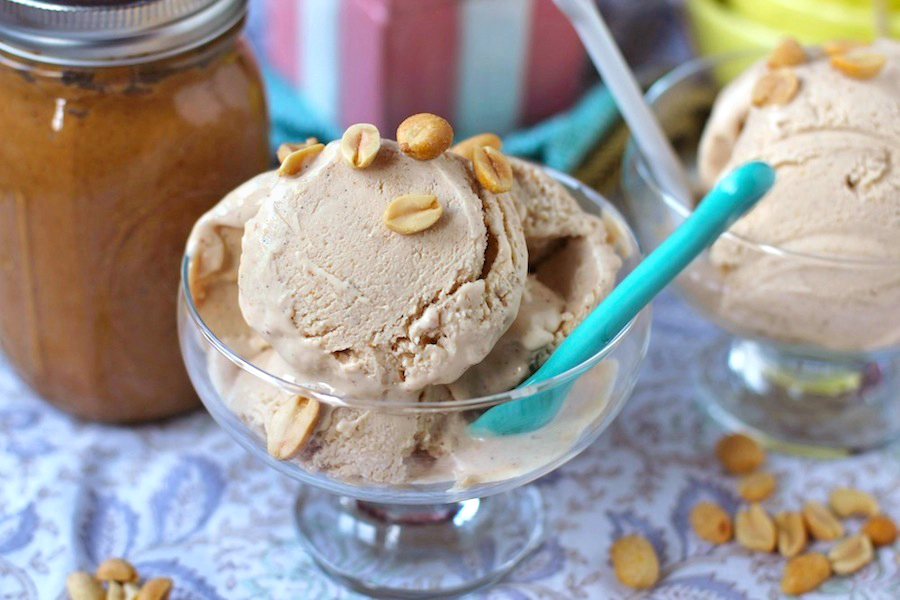 To cut the salty twinge of the peanuts I added some of this raw Hawaiian honey my sister got for me a few months ago.  It is so thick, creamy and dreamy, it tastes just like frosting!  We sometimes eat it straight out of the jar as a little treat.  Just look at its deliciousness:
If you don't have this honey on hand you can definitely substitute it with regular honey or pure maple syrup.  Both of those sweeteners go perfectly well with peanut butter, as seen here  🙂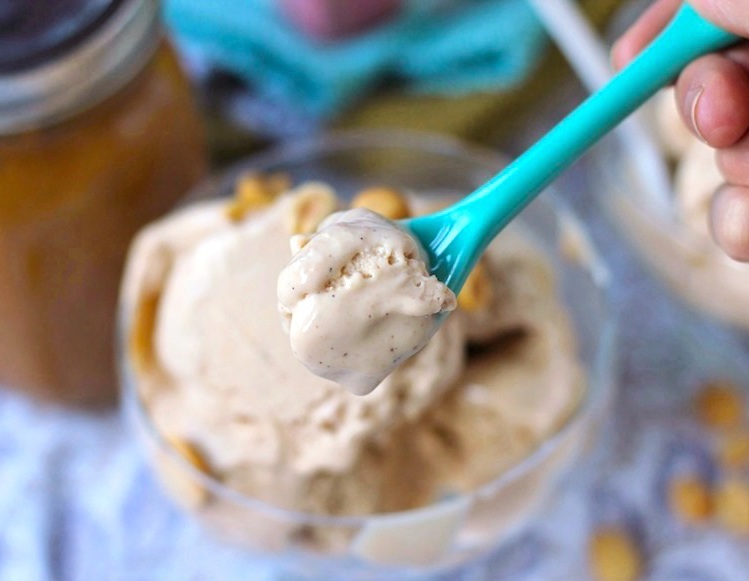 Healthy Peanut Butter Frozen Yogurt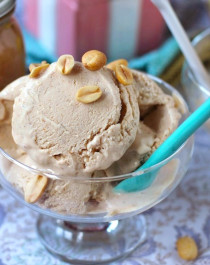 Ingredients:
Directions:
Freeze your ice cream maker bowl for 24+ hours (I used my KitchenAid ice cream maker attachment).
In a blender, add the yogurt, honey, peanut butter, vanilla paste, stevia extract, and butter flavor. Blend until smooth.
In a small bowl, whisk together the peanut flour, xanthan gum, baking soda, and salt.  With the blender running, slowly add in the dry ingredients.  Blend until smooth.
Place the frozen ice cream maker attachment onto the stand mixer and turn on the "stir" speed. Pour ice cream mixture into the ice cream bowl and churn until soft-serve consistency.
Transfer the ice cream into a freezer-safe dish. Cover and freeze until it's the texture you prefer (~3-5 hours). Serve and enjoy!
All images and text ©
.
I decided to compare my healthy Peanut Butter Frozen Yogurt to another fro yo that some people think of as a "healthy treat," but trust me, it's NOT.
**Pinkberry's nutrition label is on the left, the Desserts with Benefits nutrition label is on the right**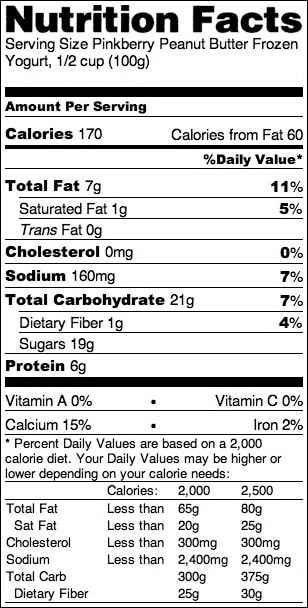 The labels might not look that different, but trust me, there are a few key discrepancies that set my healthy homemade fro yo far above the Pinkberry version.  My version is:
Lower fat, lower saturated fat and lower sodium
Lower carb and lower sugar (and refined sugar free too!)
Higher protein
Plus, the ingredients used in my recipe are higher quality and more nutritious than the Pinkberry ingredients, shown below:
Nonfat milk, sugar, peanut butter (peanuts, sugar, peanut oil, salt), nonfat yogurt (pasteurized nonfat milk, live and active cultures), nonfat yogurt powder (nonfat milk, culture), dextrose, carrageenan, guar gum, maltodextrin, mono- and diglycerides, rice starch.
Three sources of refined sugar in just a little bit of fro yo?  No thanks.  I'll take the homemade version, thank you very much  🙂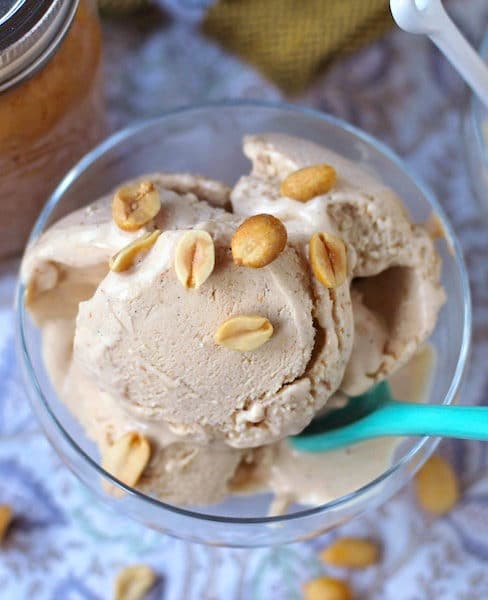 A bowl for me…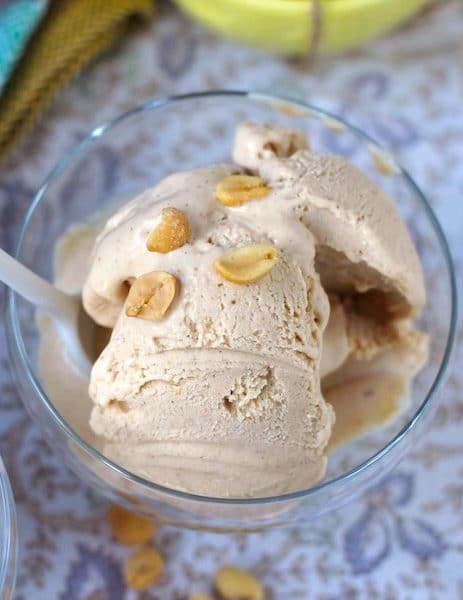 And a bowl for you!
Are you on your way to the kitchen yet?  Go grab that peanut butter jar!
.
With love and good eats,
.
– Jess
???
.
Be sure to follow @DessertsWithBenefits on Instagram!  If you try this recipe, make sure to snap a picture of it, tag me @DessertsWithBenefits, and hashtag #DessertsWithBenefits.  I'd love to see it and feature you on #FanFaveFridays!
.