Healthy Homemade Fruit Paste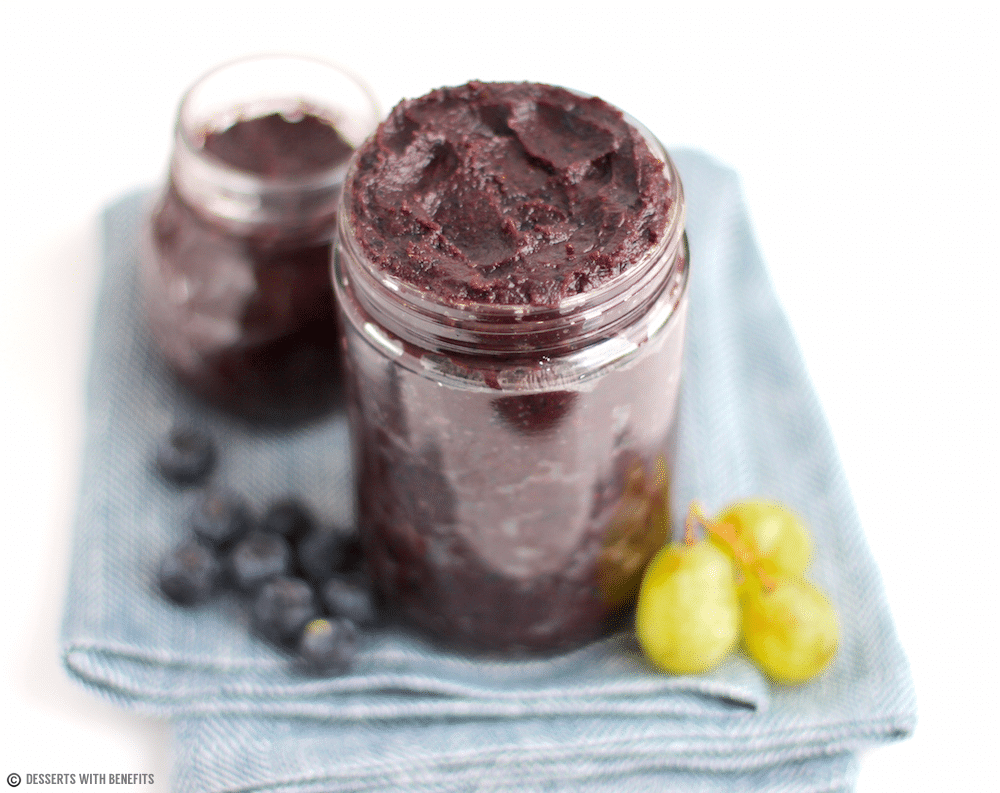 Looking for a nice and healthy all-natural sweetener for your sweet tooth?  Something that'll satisfy your cravings but without the refined white sugar and/or high-fructose corn syrup?  Well, you found it!  This Healthy Homemade Fruit Paste is perfectly sweet and it's 100% fruit.  HECK YES!
And did I mention it requires only 3 ingredients?
This is a must-make  🙂
If you've ever used Date Paste, this Fruit Paste is similar to that.  The only difference really is that this Fruit Paste is made of 3 dried fruits (dates, blueberries and raisins), rather than just 1 (dates), because quite frankly, I hate the taste of dates by themselves.
I feel like everyone likes dates but I really can't stand them.  If you like them, feel free to use all dates in this recipe.  The recipe should work with any dried fruit too — feel free to try dried apricots, figs, prunes, cranberries, cherries, etc.  🙂
Whatever combo you choose, adjust the amount of water depending on how dry or moist your fruits are.  My dried dates, blueberries and raisins were pretty dry so I needed to use a little more water than typical Date Paste recipes.  If you use apricots, figs or prunes, which are typically moist, you won't need to use as much water.
Healthy Homemade Fruit Paste (no sugar added, fat free, vegan)
Ingredients
235g (8¼ oz) Pitted Medjool Dates
150g (5¼ oz) Dried Blueberries*
65g (2¼ oz) Raisins
1+1/4 cups Water
Instructions
In a high-speed blender (I used my Vitamix), add the dried fruits and pour the water on top. Cover with the lid and let the mixture sit for 2 hours to soften.
Puree the mixture and use the tamper to mix the the ingredients together. Increase the speed and blend until COMPLETELY smooth.
Scoop the mixture into serving jars, tightly seal and refrigerate.
Notes
*Make sure your dried blueberries don't have any sugar added. Typical dried fruits from the grocery store contain added sugars. I use Bob's Red Mill because it's added sugar-free! Note that these blueberries are pretty dry and firm.
This recipe is: fat free, refined sugar free, gluten free, vegan!
https://dessertswithbenefits.com/healthy-homemade-fruit-paste/
www.DessertsWithBenefits.com
The Fruit Paste will thicken slightly in the fridge.  The fruits will continue to absorb the water and after refrigerating overnight, it should look like this: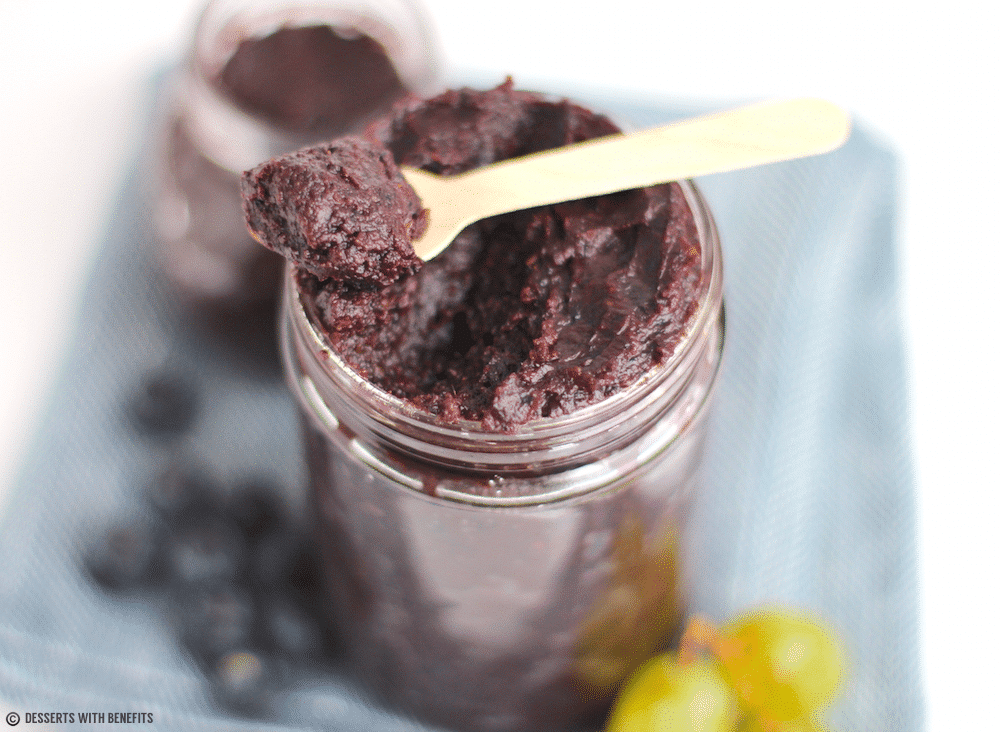 If your Fruit Paste becomes too thick the next day, you can stir in a tablespoon or two of water, or until it looks like the picture above.  If you feel like your Fruit Paste isn't thick enough, put it back in the blender with a few more dried fruits and blend it up again.  This recipe is really flexible.  I'm definitely going to make this again using dried apricots for a nice light orange color.
This Healthy Homemade Fruit Paste is delicious used to sweeten recipes (both sweet and savory), and it's amazing spread on toast instead of jelly.
HINT:  It's crazy delicious with peanut butter  😉