Healthy Cinnamon Roll Almond Butter
This Healthy Cinnamon Roll Almond Butter is incredibly rich, buttery, and sweet, but without the butter, sugar, and artificial ingredients. It's creamy and 100% spreadable, perfect on toast, swirled into oatmeal, and even spooned over ice cream!
Like Cinnamon Rolls?  Then you'll LOVE this Cinnamon Roll Almond Butter!
And yes, it's also great on a spoon, of course  😉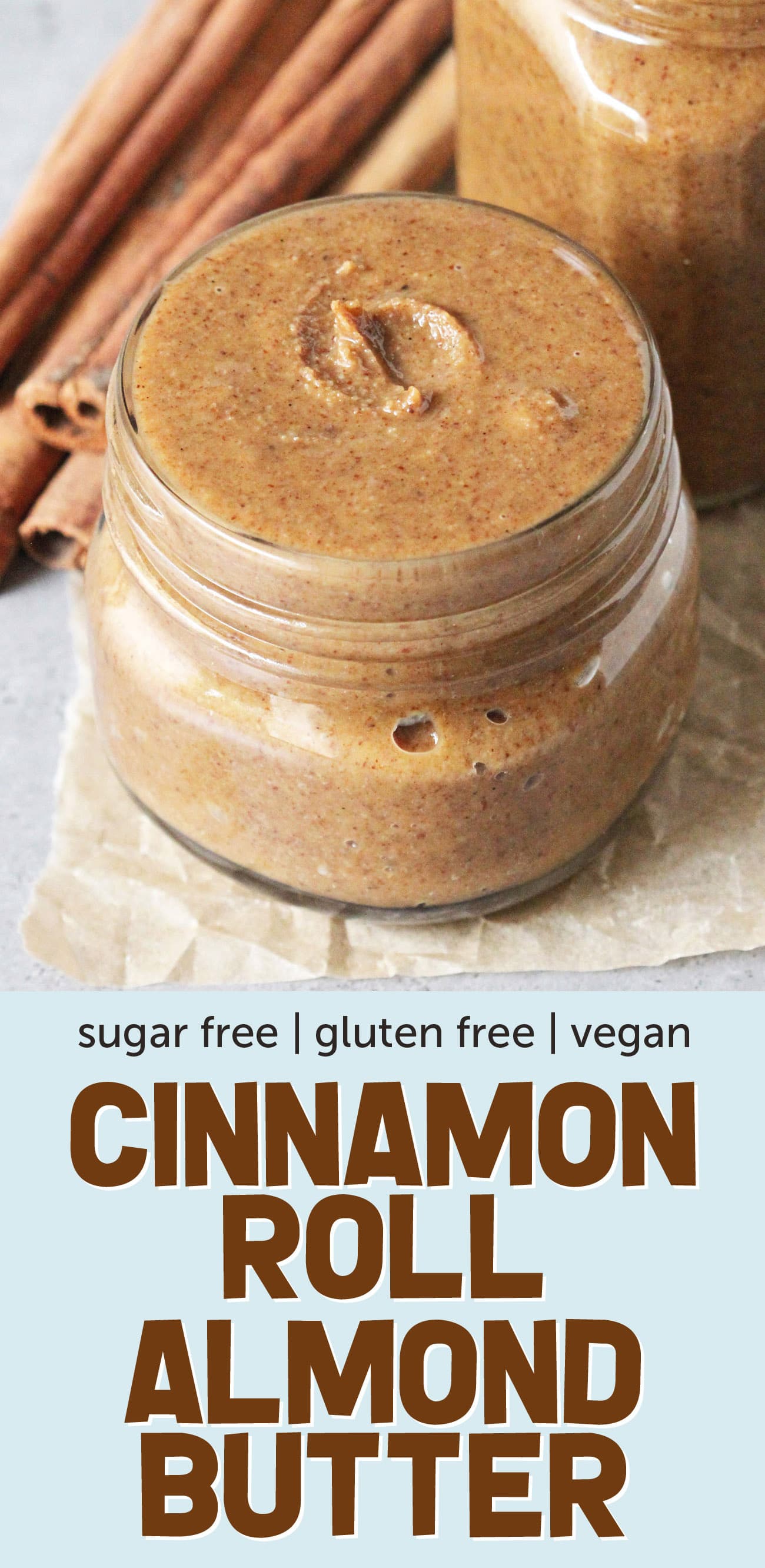 All the flavor of Cinnamon Rolls in a decadent, sweet spread.  Absolute perfection.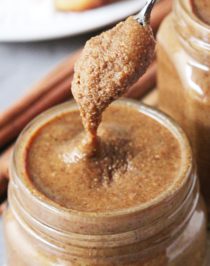 Print Recipe
Pin Recipe
Healthy Homemade Cinnamon Roll Almond Butter
This Healthy Cinnamon Roll Almond Butter has got all the flavor of cinnamon rolls but in a decadent, sweet, spreadable form! Perfect on toast AND a spoon.

Instructions
Preheat your oven to 350 degrees Fahrenheit.

Sprinkle the sliced almonds onto a large baking sheet and spread it out evenly. Bake for ~10 minutes, or until fragrant and until the almonds get a nice toasty color (keep watch on them -- they can go from perfectly toasted to burnt and useless in less than a minute!). Let cool completely.

In a high-speed blender or food processor (I used my Vitamix), add the sliced almonds and coconut oil. Blend until smooth and creamy (~5-7 minutes), scraping down the sides of the blender when needed.

Blend in the cinnamon, molasses, butter flavor, vanilla paste, stevia extract, and salt. Blend until completely smooth.

Scoop into serving jars and seal tightly. Store in a cool, dark place for a few weeks, or you can refrigerate to extend its shelf life.
Recipe Notes
**I haven't tried it, but I'm sure vanilla extract would work just fine instead if you don't have vanilla paste!
Nutrition Facts
Healthy Homemade Cinnamon Roll Almond Butter
Amount Per Serving (1 serving = 2 tbs)
Calories 170
Calories from Fat 135
% Daily Value*
Fat 15g23%
Sodium 15mg1%
Potassium 170mg5%
Carbohydrates 6g2%
Protein 4g8%
Calcium 70mg7%
Iron 0.9mg5%
* Percent Daily Values are based on a 2000 calorie diet.
Some other nuts that could work in this recipe in place of the almonds include walnuts, pecans, hazelnuts, and cashews!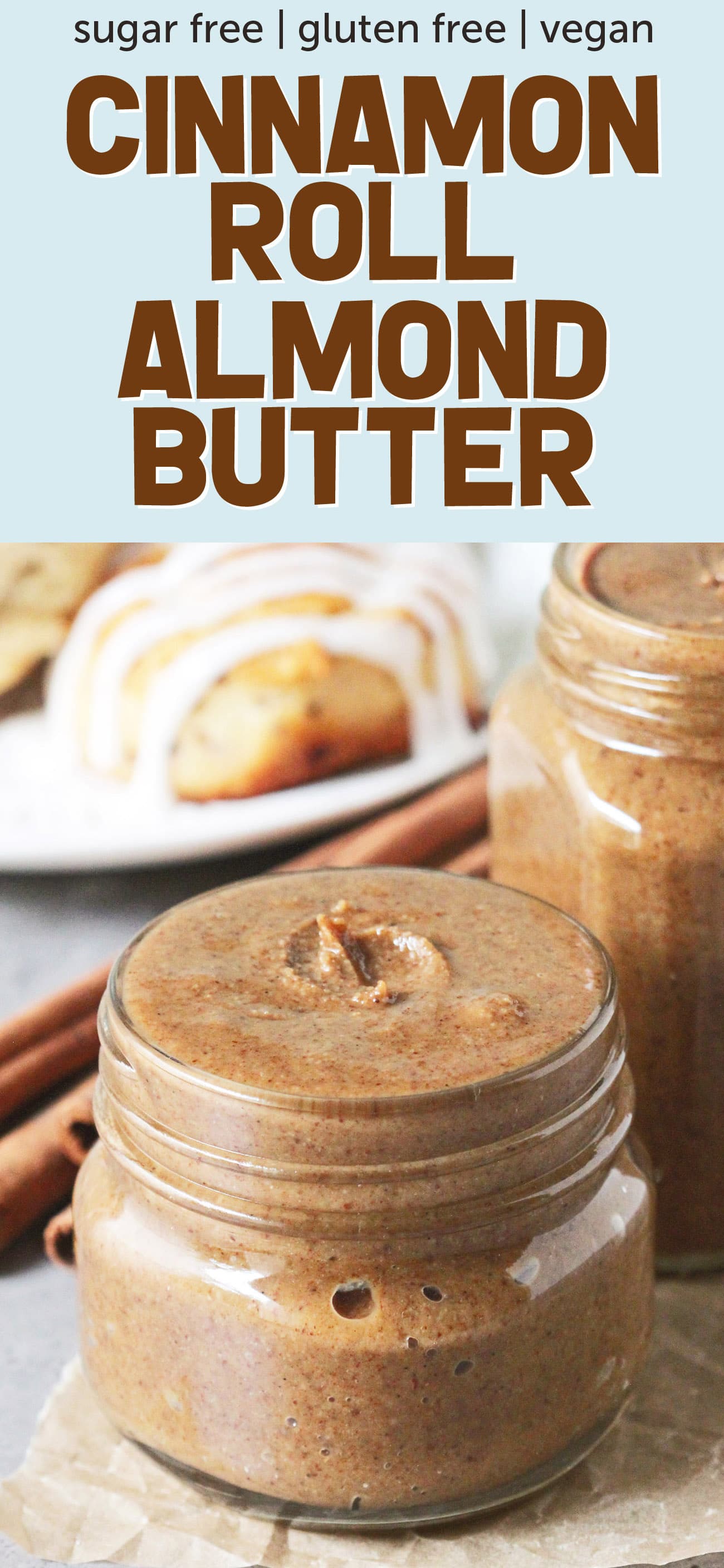 This…  THIS almond butter though, I mean, WOW.  It's amazing.
Dare I say…  it's better than peanut butter.
*GASP*
I'm not making this up people, this stuff is the bomb.  Like, so-good-I-could-eat-it-off-the-spoon-and-out-of-the-jar-and-probably-off-the-floor-so-good…
Don't look at me like that!  I bet you would too  😉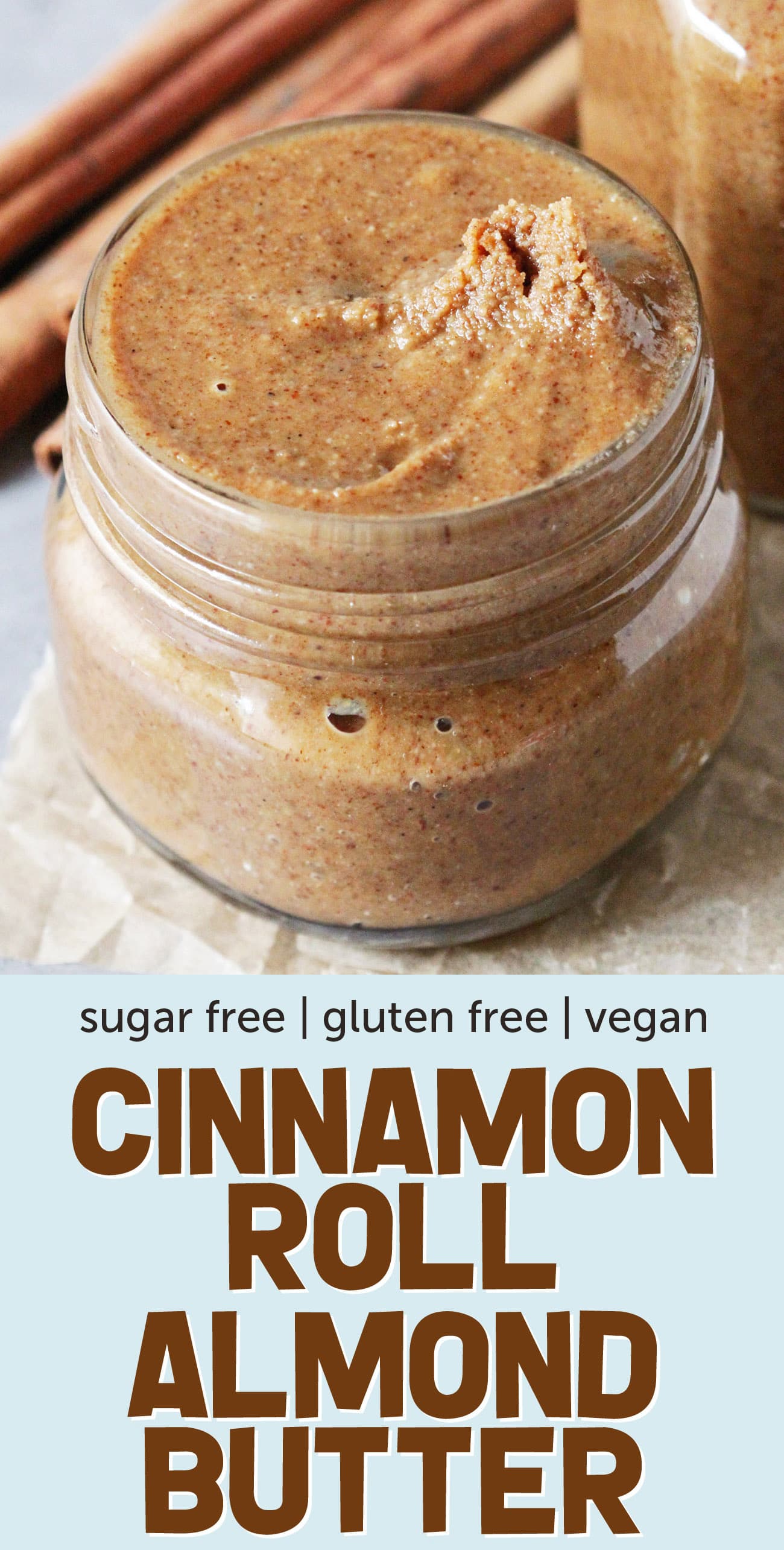 But we should probably stick to graham crackers for now…
Enjoy!
.
With love and good eats,
.
– Jess
.