Healthy Apple Pie Cheesecake Dip
This Healthy Apple Pie Cheesecake Dip is like a mixture between a super sweet, spiced Apple Pie and a rich, decadent Classic Cheesecake, but without the hassle of baking (and cleaning a bunch of dishes)!  It's so flavorful and creamy it's hard to believe this dessert dip is actually good for you.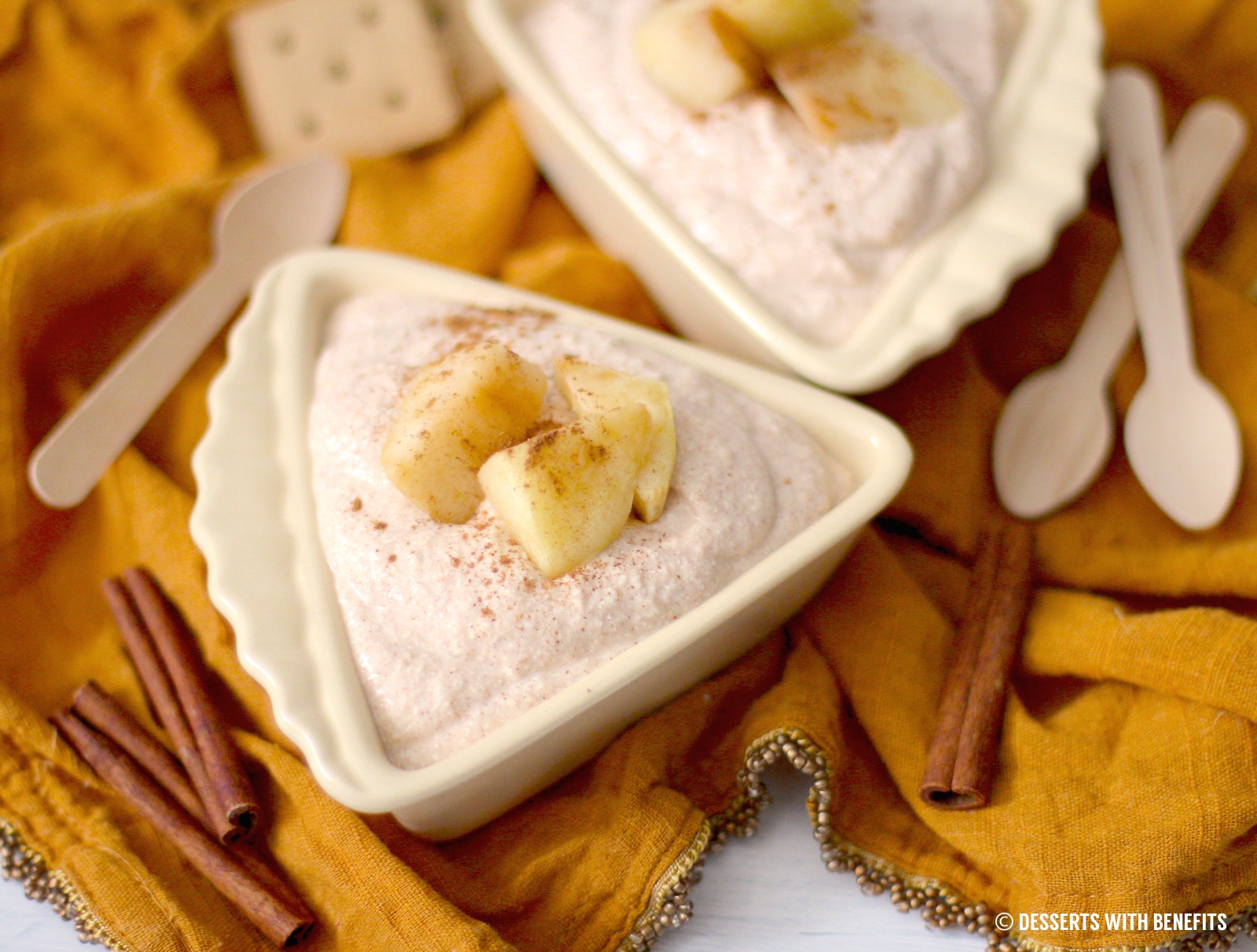 Perfect for dunking in freshly sliced apples, whole grain graham crackers or spoons alone.
People seem to like the "spoons alone" option the best, but I like to use gluten-free graham crackers as dippers.  Partially because they add some crunch and partially becaaauuseee…  it's not as easy to inhale the entire bowl in five seconds…  😉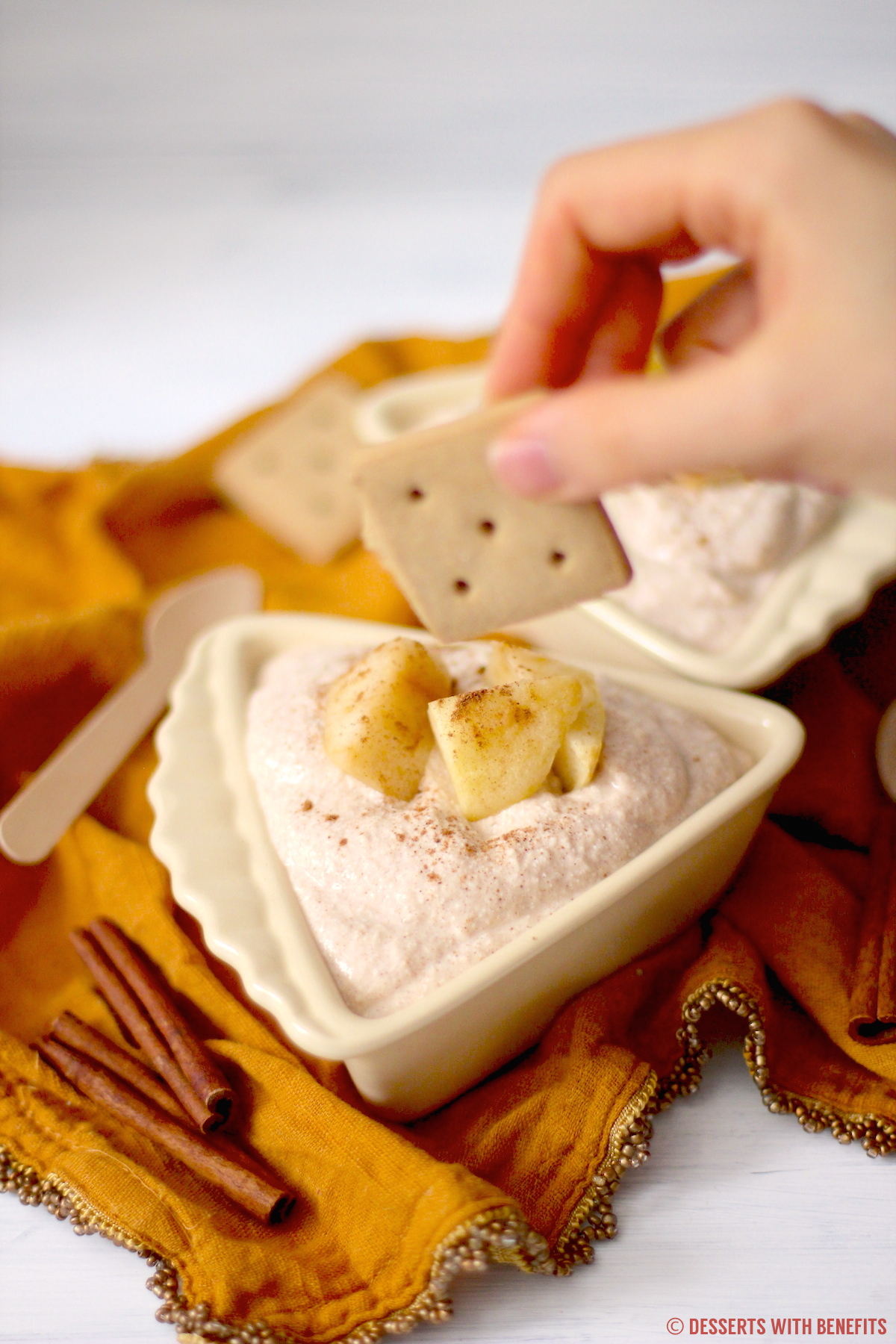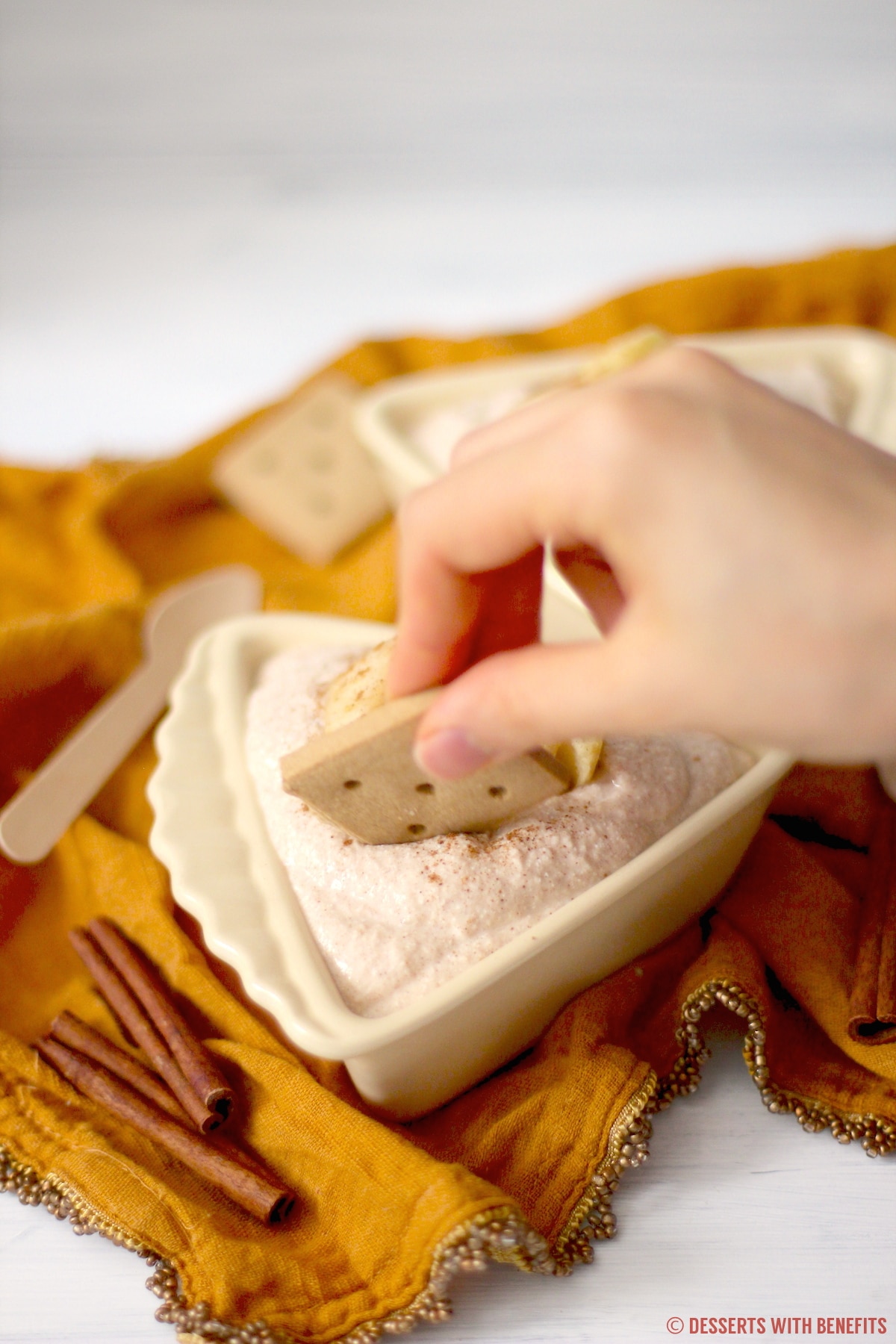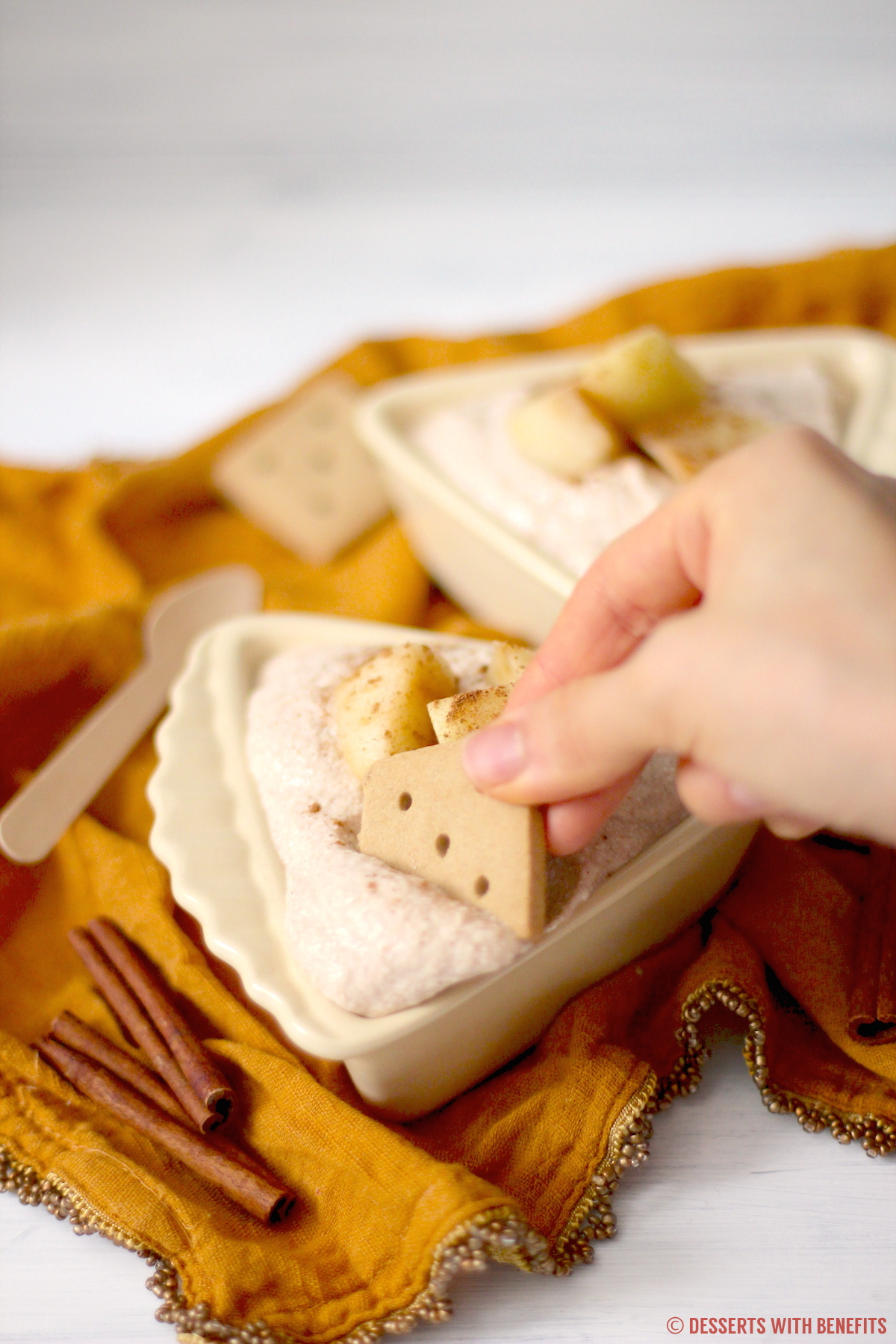 Believe me.  One dip (or giant scoop) and you'll want the entire batch to yourself.
Sharing was never fun anyways.
Healthy Apple Pie Cheesecake Dip
Prep Time: 5 minutes
Cook Time: 0 minutes
Total Time: 5 minutes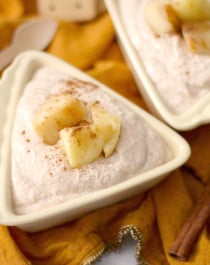 Fat per serving: 2.5
Calories per serving: 160
Ingredients:
2 cups Low Fat Cottage Cheese
1 cup Unsweetened Applesauce
2 tsp Ground Cinnamon
½ tbs Apple Cider Vinegar
1 tsp Stevia Extract
Directions:
Place all the ingredients in a blender or food processor and blend until smooth.
Pour into a dish, cover with plastic wrap and refrigerate overnight.
Serve the next day with freshly sliced apples, strawberries, graham crackers, or spoons alone!
All images and text ©
.
Can you believe this Healthy Apple Pie Cheesecake Dip recipe requires only 5 ingredients??  I think I'll be making this twice as much now…  hehehe 😉
Here is the recipe's nutrition label:
I didn't expect this recipe to be so low in fat…  it sure didn't taste like it!  I've made this recipe a few times already, but next time I make it I think I'm going to add a few tablespoons of my Cinnamon Roll Almond Butter.  That stuff is damn good.  Not only would it add a buttery rich cinnamon roll flavor and a super creamy texture, but it would incorporate some more healthy fats into the recipe too!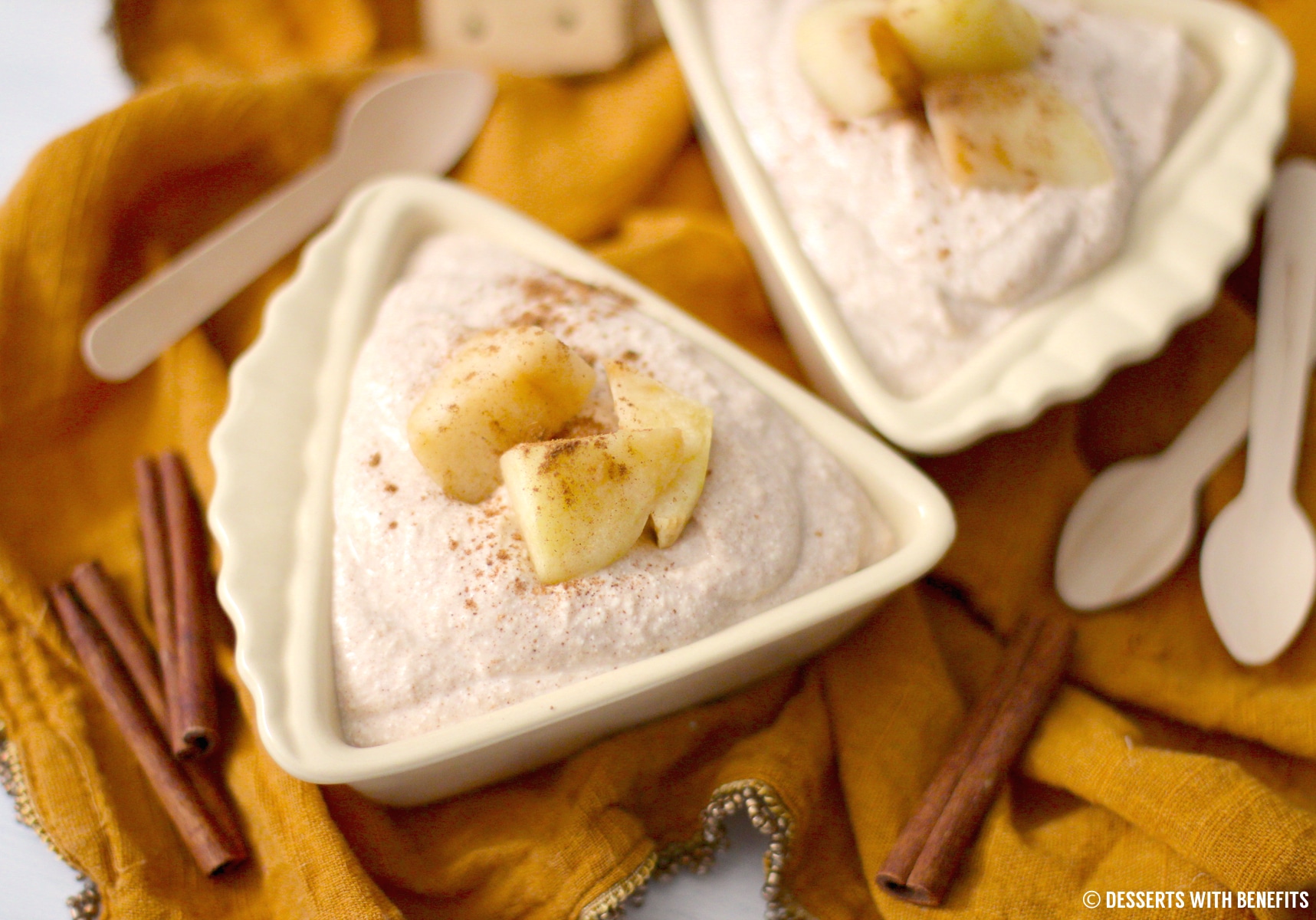 Yeah, I think I'm going to make a new batch right now…  SEE YA 🙂
.
With love and good eats,
.
– Jess
.