Healthy Homemade Gluten-Free Graham Crackers
After making the whole wheat graham crackers I wanted to bake the gluten free version as soon as possible.  And let me tell you, you can't even tell these are wheat-/gluten-free!  These gluten free graham crackers are sweet, crunchy and completely addictive, just like the boxed crackers that you'd find at the grocery store.  Except these are homemade, made with love and care, and are much better for you (made without artificial sweeteners, artificial flavorings, trans fats and preservatives)!
Healthy Homemade Gluten-Free Graham Crackers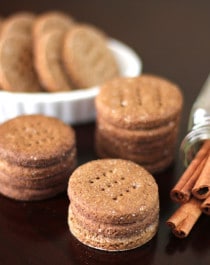 Ingredients:
120g (1 cup) Oat Flour
120g (¾ cup) Brown Rice Flour (plus extra for rolling)
96g (½ cup) Granulated Erythritol (or dry sweetener of choice)
1 tsp Ground Cinnamon
½ tsp Baking Soda
¼ tsp Xanthan Gum
¼ tsp Salt
1 Jumbo Egg
42g (2 tbs) Pure Maple Syrup
42g (2 tbs) Molasses
30g (2 tbs) Unsweetened Applesauce
14g (1 tbs) Grapeseed Oil (or any other neutral oil)
Directions:
Preheat the oven to 375 degrees and line a cookie sheet with parchment paper.
In a medium-sized bowl, whisk together the oat flour, brown rice flour, erythritol, cinnamon, baking soda, xanthan gum and salt.
In a large bowl, whisk together the egg, maple syrup, molasses, applesauce and oil. Dump in the dry ingredients and fold together. Knead the mixture until you get one solid dough ball.
Roll out the dough on a floured surface (I taped down a square of parchment paper onto my counter) until a little less than ¼" thick. Use a cookie cutter to form the cracker shapes and transfer onto the prepared baking sheet. Bake for ~10-12 minutes, then transfer onto a wire cooling rack. Reroll the dough until all the dough is used up.
All images and text ©
.
Can you believe the stats?  These gluten-free graham crackers are both healthy and tasty!
Enjoy!  🙂
.
With love and good eats,
.
– Jess
???
.