Healthy Blueberry Cheesecake Dip
Craving Blueberry Cheesecake but don't have the time (or patience) to bake an entire cheesecake?  Make this 5-minute Blueberry Cheesecake Dip!  It's super thick, creamy, sweet, and refreshing, just like cheesecake batter, but made without the white sugar, eggs, and heavy butter and cream cheese.  One spoonful and you'll be shocked to know it's refined sugar free, low fat, high protein, and gluten free too.

This Blueberry Cheesecake Dip is so easy to make, you'll be digging in in no time at all!
How beautiful is this vibrant blue dip?  The sweet blueberries offset the tart lemon zest and the tangy blended cottage cheese.  It's perfect served alongside some graham crackers or animal crackers, but spoons work too.  I ate this dip straight up…  I got no time to mess with any other dipping utensils other than a spoon  😉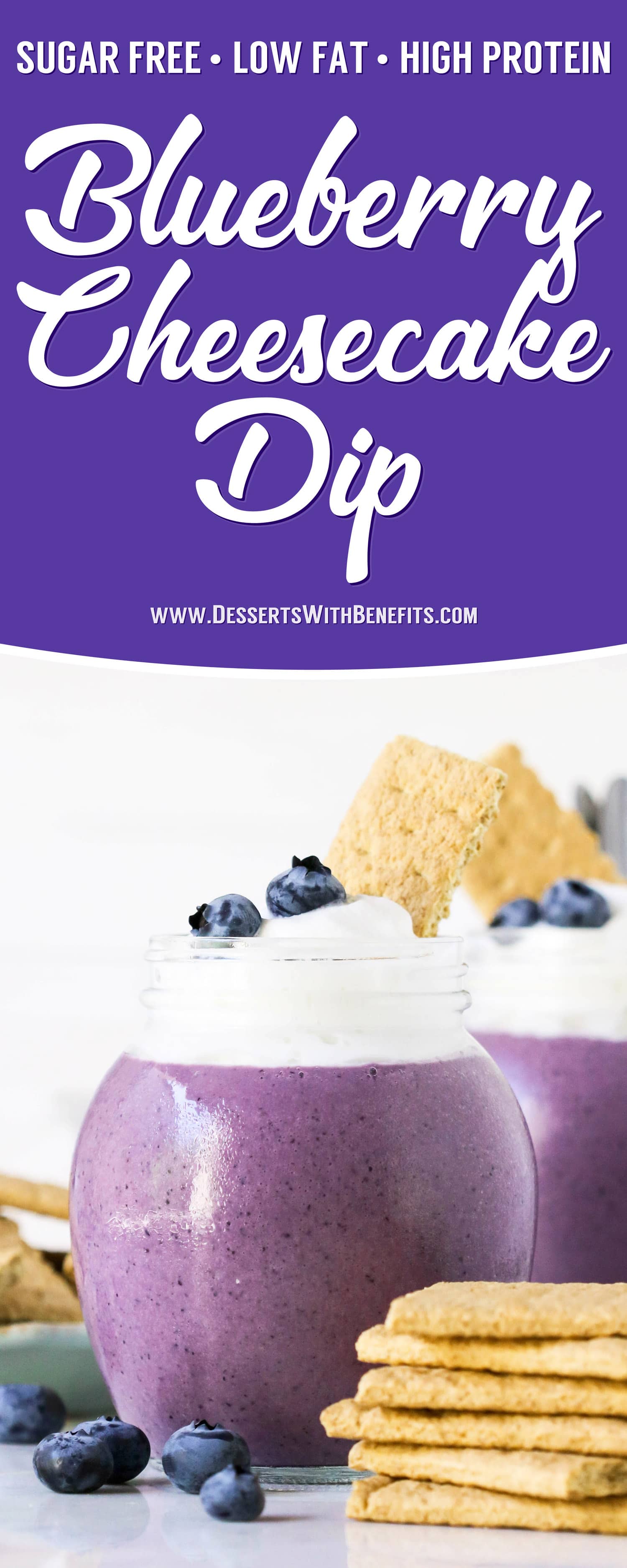 Healthy Blueberry Cheesecake Dip
Prep Time: 10 minutes
Cook Time: 0 minutes
Total Time: 10 minutes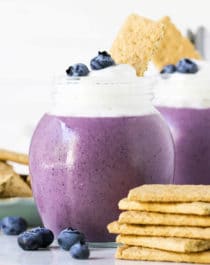 Fat per serving: 1.5
Calories per serving: 90
Ingredients:
16oz Low Fat Cottage Cheese
1 cup Frozen Blueberries, thawed completely and drained of most the excess liquid
1 tsp Lemon Zest
1 tsp Stevia Extract (or 2½ tbs Truvia Spoonable)
1 tsp Vanilla Extract
1 tsp Natural Butter Flavor (optional, but recommended!)
Directions:
Add all of the ingredients to a blender (I used my NutriBullet) and puree until completely smooth.
Serve immediately or refrigerate for later!
All images and text ©
.
.
Here is the recipe's nutrition label:
Pinch yourself if you need to…  because this Blueberry Cheesecake Dip is FOR REAL, and yes, it has just 90 calories and 1.5g of fat per serving!  *jaw drops to floor*
Plus, it's got 9g of protein and no added sugar.  This filling cheesecake batter-like dip will satisfy your sweet tooth without the excess calories, fat, and sugar, typical to its baked cheesecake counterpart.  So go ahead, have an extra serving (or two)!

This Healthy Blueberry Cheesecake Dip is the perfect thing to get you through hump day.  Thursday too.  And can't forget about Friday!  Actually, this Blueberry Cheesecake Dip will get you through ALL the days because you'll definitely be making it on a regular basis  😉
Enjoy!
.
– Jess
.