Healthy Homemade Animal Crackers
These simple and easy 8-ingredient Healthy Homemade Animal Crackers are the ultimate snack! They're so simple, yet so addicting.  They're not overly sweet, but you'll keep coming back for more.
And more.
And more…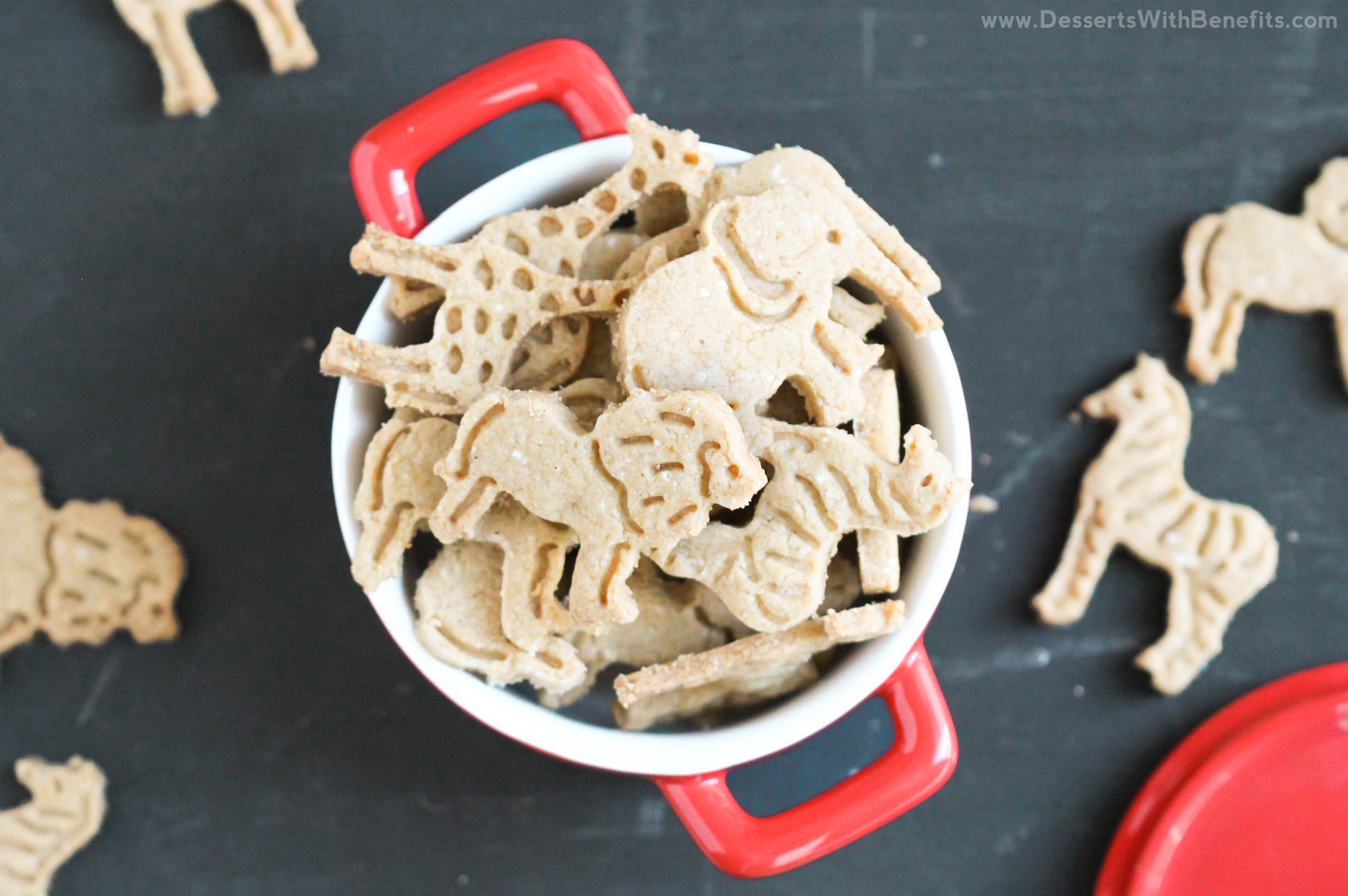 You'd never know these DIY Animal Crackers are whole grain, gluten free, sugar free, dairy free, and vegan!  They sure don't taste like it.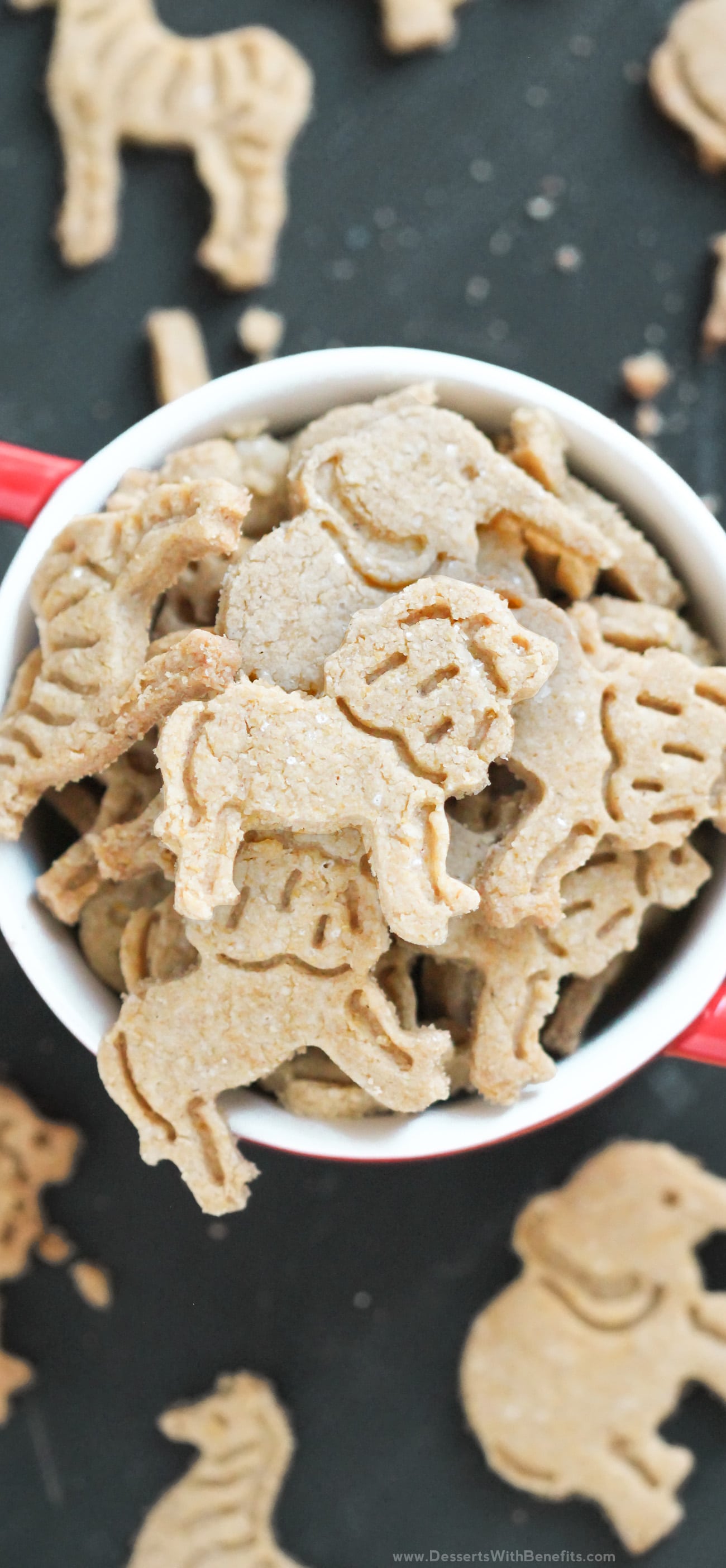 I don't know what it is about Animal Crackers but I can never stop at just one.  Anyone else out there get the same feeling?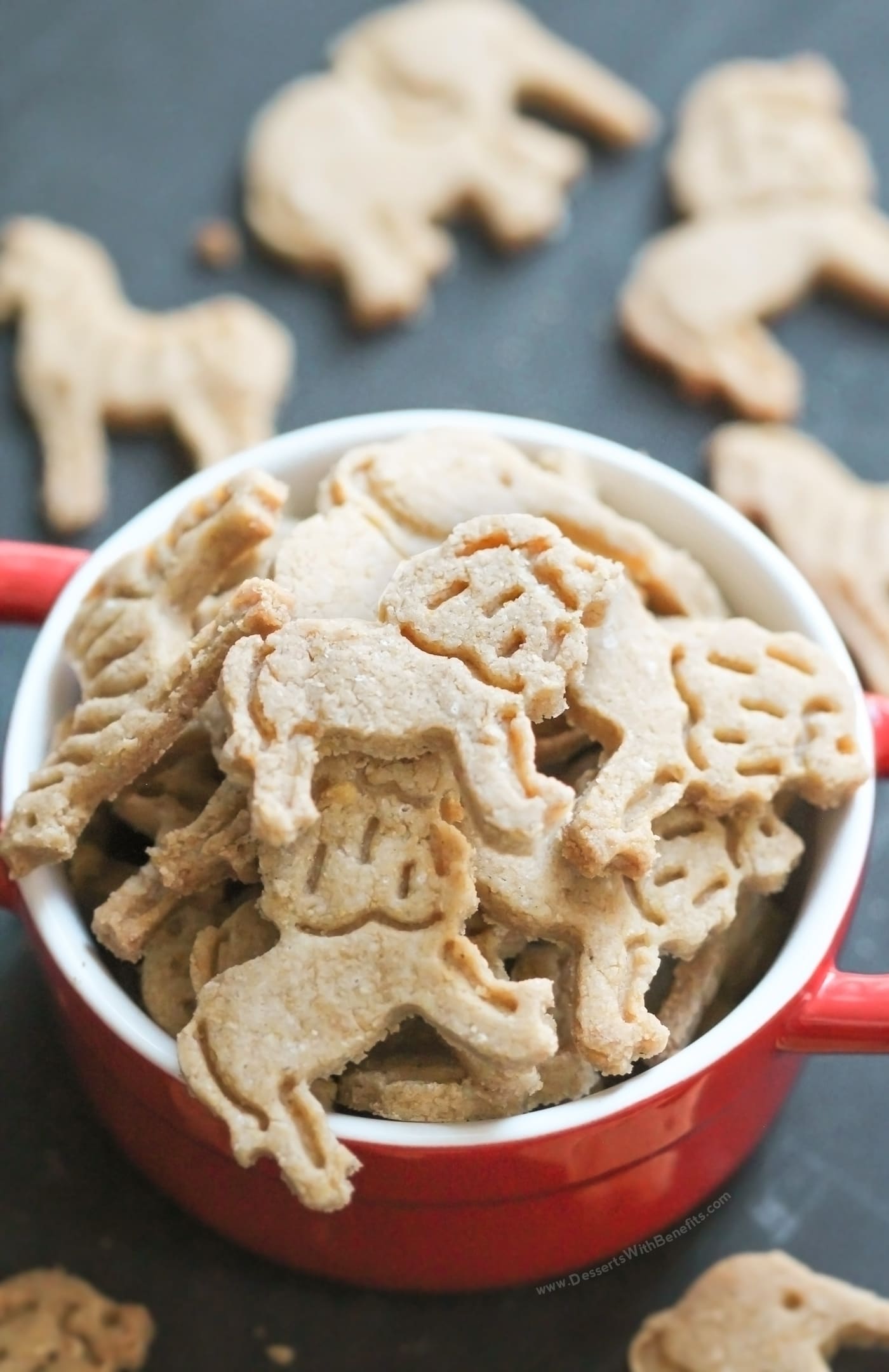 It's probably because Animal Crackers are a little bit salty, a little bit sweet, a whole lotta delicious.  Too bad the storebought versions are made with unhealthy, low-quality ingredients.  This is the ingredient list of Barnum's Animal Crackers:
Enriched Flour, High Fructose Corn Syrup, Sugar, Soybean Oil, Yellow Corn Flour, Partially Hydrogenated Cottonseed Oil, Calcium Carbonate, Baking Soda, Salt, Soy Lecithin, Artificial Flavor.
The unhealthy ingredients are listed in bold.  First of all, we've got "enriched flour," which is basically flour that is stripped of its nutrients and then bleached.  Then we've got both high-fructose corn syrup and sugar, which are highly refined, high calorie, high glycemic, and contain no nutritional value.  Next we've got hydrogenated oil (aka trans fat).  Don't even get me started on the dangers of hydrogenated oil.  Finally, we've got artificial flavor.  Because a synthetic flavoring made by some scientist is so necessary (can you sense my sarcasm?).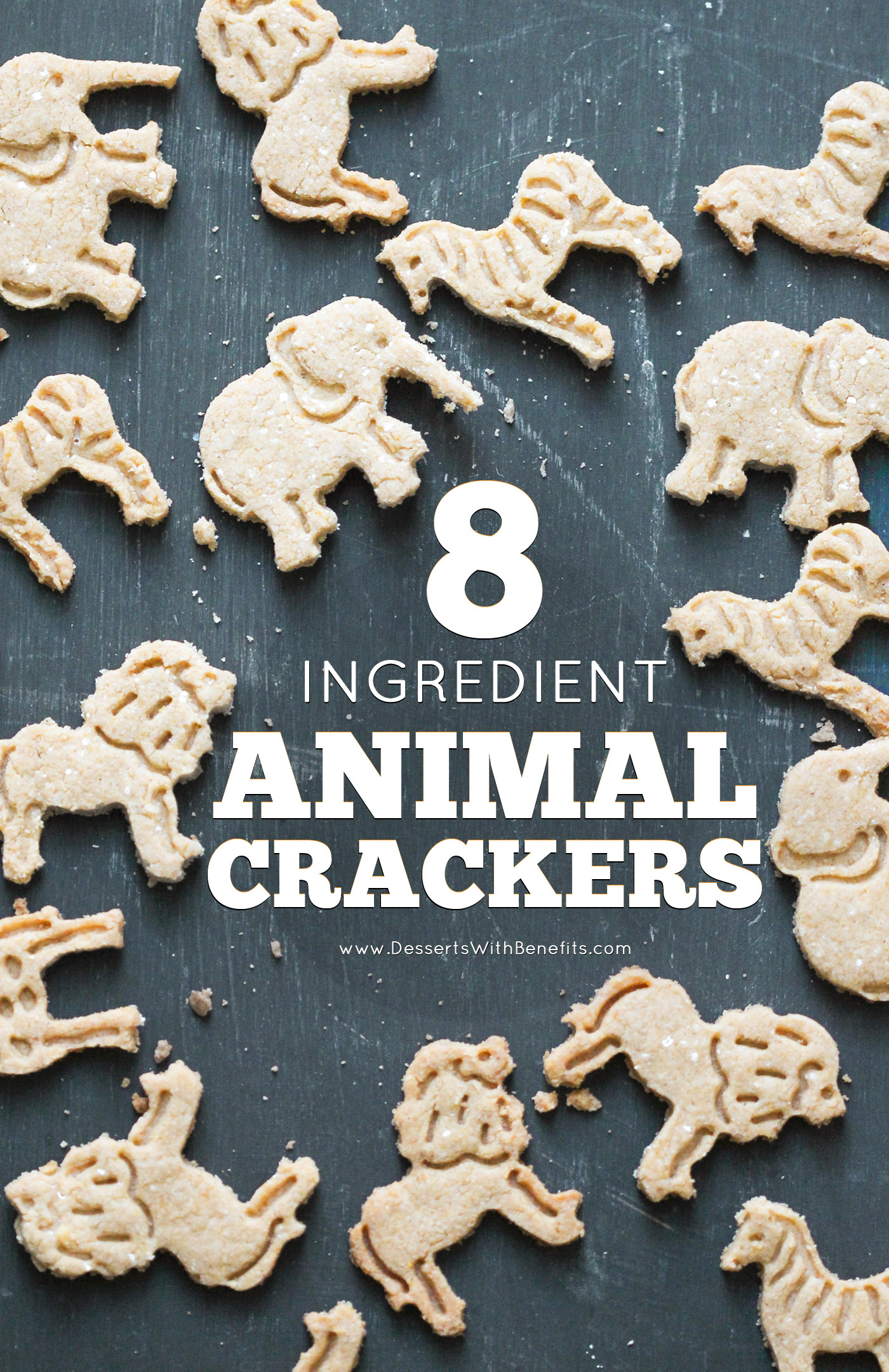 Okay, rant over.  Because now we've got these Healthy Homemade Animal Crackers so snack on!  These cute little crackers are whole grain (no enriched flour here!), sugar free (no high-fructose corn syrup or white sugar whatsoever), and all natural (because no ingredients designed in a lab belong in our food).
I swapped the white flour and corn flour with oat flour and homemade corn flour using Erewhon's organic Corn Flakes.
I swapped the high-fructose corn syrup and sugar with all-natural granulated erythritol and organic stevia extract.
I swapped the soybean oil and hydrogenated oil with coconut oil.
I swapped the artificial flavor with all natural, homemade vanilla extract.
Grinding these corn flakes and using them as a flour is just one way to use them.  They're also great as a breakfast cereal, smoothie bowl topping, addition to trail mix, and crunchy snack!  For now though, I think my favorite way to use 'em is in these Healthy Homemade Animal Crackers.

Healthy Homemade Animal Crackers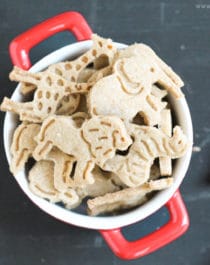 Fat per serving: 5.5
Calories per serving: 120
Ingredients:
120g (1 cup) Oat Flour
90g (½ cup) Ground Erewhon Corn Flakes
96g (½ cup) Granulated Erythritol
1 tsp Double-Acting Baking Powder
¼ tsp Salt
60g (¼ cup) Unsweetened Vanilla Almond Milk, room temperature
56g (¼ cup) Coconut Oil, melted
2 tsp Vanilla Extract
1 tsp Stevia Extract
Directions:
Preheat your oven to 350 degrees Fahrenheit and line 2 cookie sheets with parchment paper.
In a small bowl, whisk together the oat flour, ground corn flakes (should be ~3 cups of corn flakes before grinding), erythritol, baking powder, and salt.
In a stand mixer bowl with beater attachment, add the coconut oil, almond milk, vanilla extract, and stevia extract.  Mix on low speed until completely mixed.
Dump the dry ingredients into the stand mixer and mix until completely mixed (it should be slightly crumbly, but if you grab a handful, it should easily compact into a ball).
Roll ⅓ of the dough in between two silicone baking sheets until ~¼" thick.  Use animal cookie cutters to punch shapes into the dough, then push them out of the cutters onto the prepared cookie sheets.  Keep re-rolling the dough until all the dough is used up.
Bake for ~11 minutes, or until the cookies are golden brown.  Let cool on the pan.  Serve and enjoy!  Keeps for ~5 days.
All images and text ©
.
.
Here is the recipe's nutrition label:

Enjoy!
.
With love and good eats,
.
– Jess
.
This post was sponsored by Erewhon®.  All opinions are mine and mine alone!
Thank you for supporting the brands who keep Desserts With Benefits going 🙂
.