Healthy Red Velvet Cheesecake Dip
This Healthy Red Velvet Cheesecake Dip is rich, decadent, sweet, creamy, flavorful, satisfying, and completely addicting!!  One bite and you'll be hooked.  Oh, but don't you worry, it's guilt-free.  I know you'd never believe me after a spoonful of this red velvet goodness, but this dip is sugar free, low carb, low fat, high protein, AND gluten free.  Ohhhh yeah.  😉
Can you guess the secret ingredient that makes it (naturally) red?
Grab some animal crackers, strawberries, dark chocolate squares, or spoons alone, and let's get DIPPIN!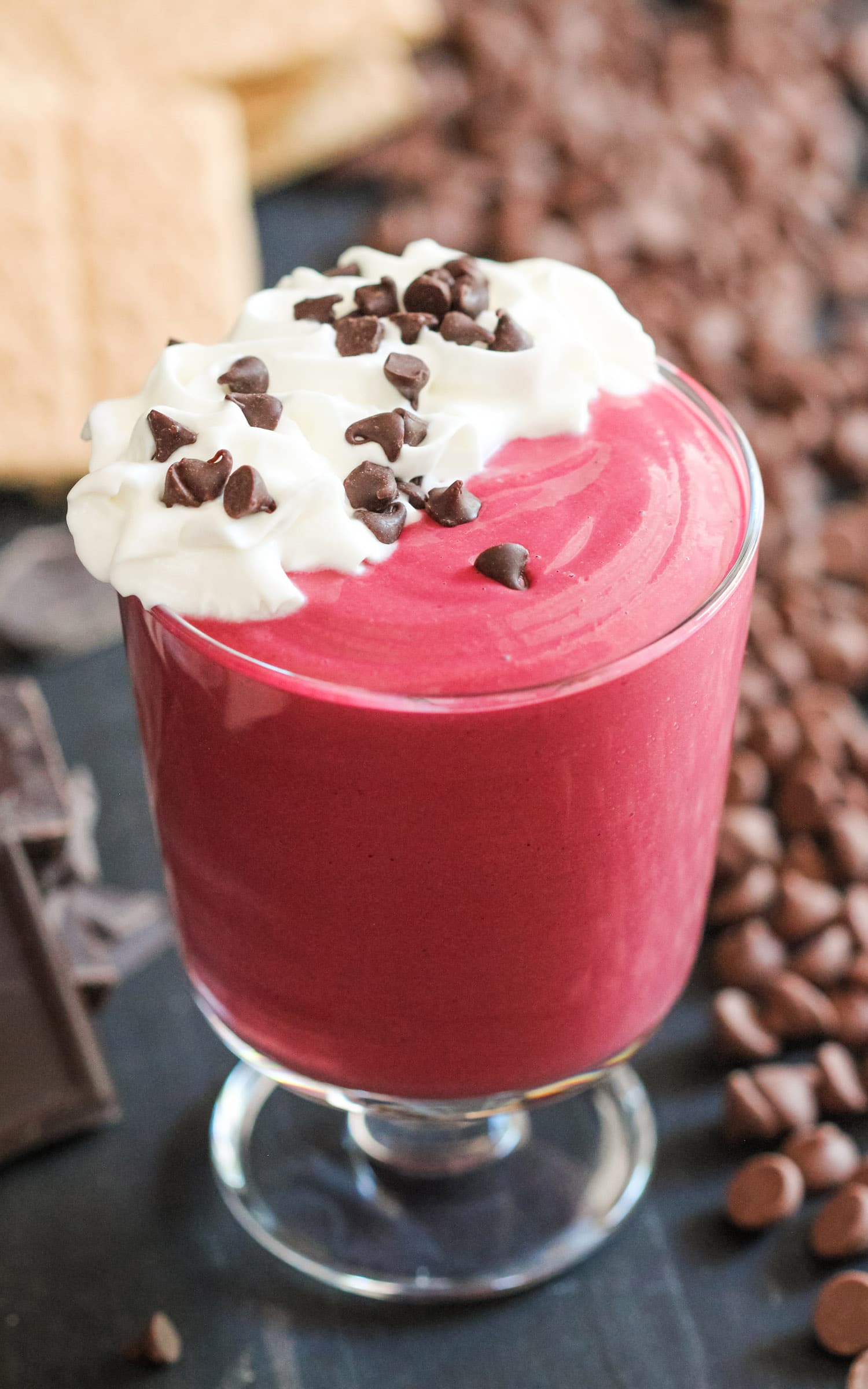 There is no shortage of unhealthy cheesecake dip recipes floating around the internet…  it's time to change that, yes?  Without further ado…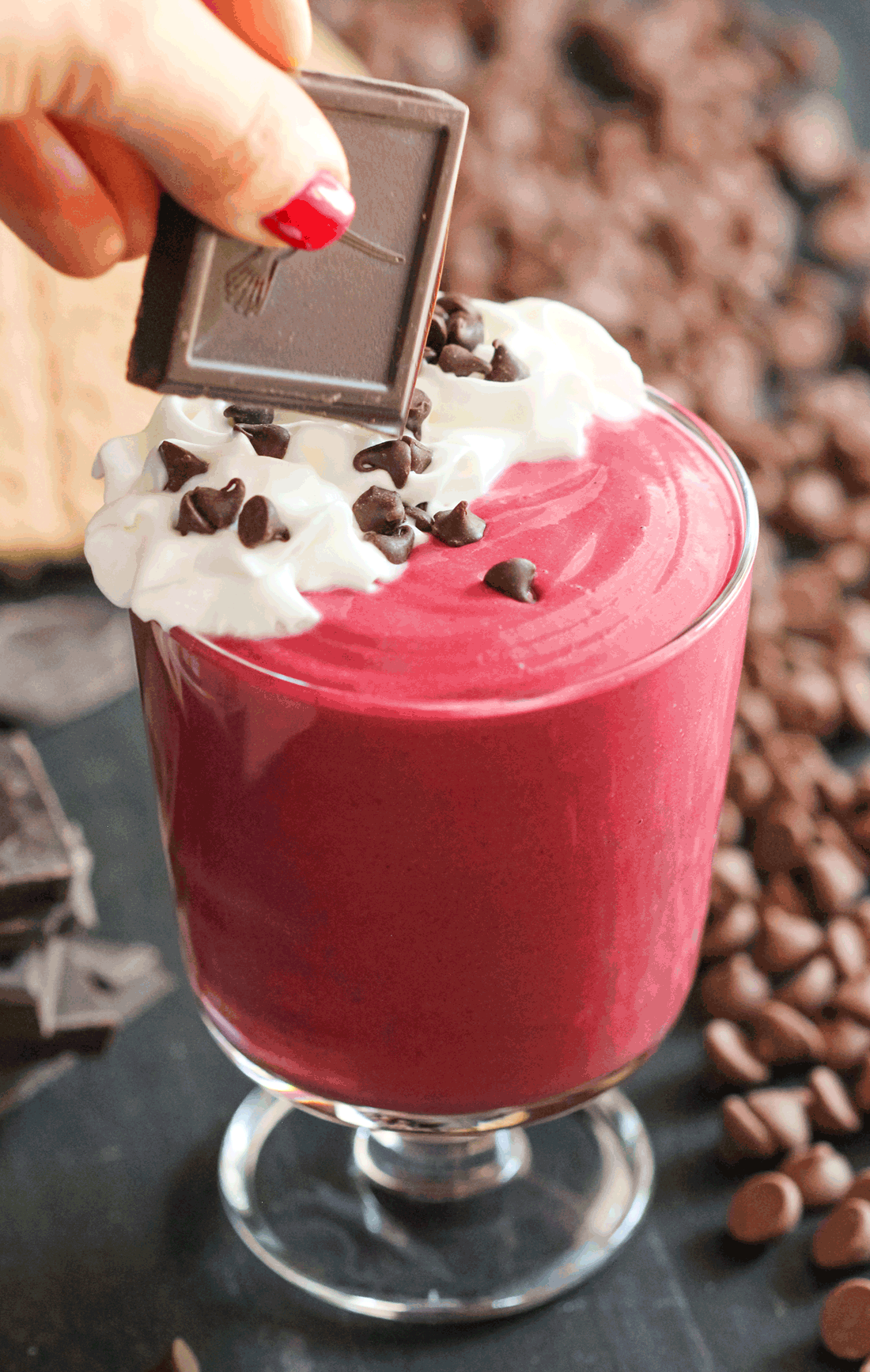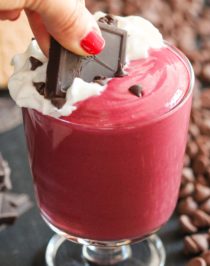 Print Recipe
Pin Recipe
Healthy Red Velvet Cheesecake Dip
This Healthy Red Velvet Cheesecake Dip is rich, decadent, sweet, creamy, flavorful, satisfying, and completely addicting! One spoonful and you'll have a hard time believing this dip is sugar free, low carb, low fat, high protein, AND gluten free!
Instructions
In a blender (I used my

NutriBullet

), add all of the ingredients. Puree until completely smooth and creamy!
Nutrition Facts
Healthy Red Velvet Cheesecake Dip
Amount Per Serving (1 serving = ½ cup)
Calories 80
Calories from Fat 18
% Daily Value*
Fat 2g3%
Cholesterol 10mg3%
Sodium 240mg10%
Carbohydrates 10g3%
Protein 8g16%
Calcium 80mg8%
Iron 1.1mg6%
* Percent Daily Values are based on a 2000 calorie diet.
Surprised at the secret ingredient?  Don't worry, you can't taste the beets at all.  I HATE the flavor of beets so I masked the flavor with Homemade Vanilla Paste, natural butter flavor, and stevia extract.  At first I started with 2 teaspoons of each, gave the mixture a taste, and almost spit it out because I could detect the beets.  I added an extra 2 teaspoons of the flavorings and the dip immediately turned into absolute perfection.
I'm shocked at how amazing the nutrition facts are too.  Compared to the nutrition facts of a typical/unhealthy Red Velvet Cheesecake Dip recipe, my version has:
450 less calories
27g less fat
50g less carbs
33g less sugar
I think my eyes just popped out of my skull.  For the same amount of dip my recipe will save you 450 calories!
And les be real.  Who in the world can only eat a half cup serving of this deliciousness?  WHO CAN RESIST?!  If you have 2 servings (1 cup) — you'll save 900 calories by choosing my healthy version over the competition.  That's crazy.  My jaw is literally on the floor right now.

To make things even better, my recipe contains no refined sugar, no bleached flour, no deadly trans fats, and no artificial food dyes.  Oh, and it contains a VEGETABLE.  Yeah, so you can eat this healthy dip with happy thoughts.  FOR BREAKFAST.  😀
Enjoy!
.
With love and good eats,
.
– Jess
.