Healthy Red Velvet Cookie Dough Dip
This Red Velvet Cookie Dough Dip is deliciously sweet and chocolatey, ultra thick and fudgy, and totally rich and addictive.  One spoonful and you'd never believe that it's actually good for you.
Yup, I said it.  This dip is GOOD FOR YOU!
This Healthy Red Velvet Cookie Dough Dip is not only safe to eat raw (yup, no eggs here), but it's all natural too (no artificial food coloring whatsoever)!  Plus, it's sugar free, high protein, whole grain, gluten free, dairy free, and vegan.
Trust me, it sure doesn't taste like it.  This dip tastes like sin.  PURE SIN I TELL YOU.

So, if you're in the mood for decadence without the sugar, butter, and guilt, then this Healthy Red Velvet Cookie Dough Dip is for you.  It's sweet, it's rich, it's full of flavor…  it doesn't taste nutritious in the slightest way possible.
Oh, and you're in for a real surprise when you read this recipe's ingredient list.  Can you guess the secret ingredient?

Healthy Red Velvet Cookie Dough Dip
Prep Time: 20 minutes
Cook Time: 0 minutes
Total Time: 20 minutes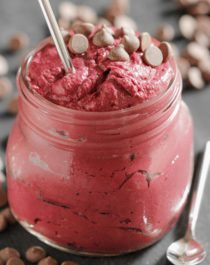 Fat per serving: 8
Calories per serving: 250
Ingredients:
Directions:
In a blender or food processor (I used my Vitamix), add the beans, milk, beet puree, almond butter, vanilla paste, butter flavor, and stevia extract. Puree until completely smooth.  Pour into a large bowl.
To the bowl, add the protein powder, oat flour, and flaxseed.  Whisk together until completely combined.
Cover with plastic wrap and refrigerate overnight.  Serve the next day with graham crackers, animal crackers, chocolate crackers, fresh fruit, chocolate squares, or spoons alone!
All images and text ©
.
Can you believe it?  There's A VEGETABLE in our dessert!  But don't be scared, you don't taste it.  I absolutely despise the flavor of beets and I didn't taste them one bit in this.  This Healthy Red Velvet Cookie Dough Dip tastes just like any other cookie dough dip — it's sugary sweet (but without the refined white sugar), it's buttery rich (without the hormone-filled butter), and it's fudgy and doughy in texture (but without the bleached white flour).
I am honestly kinda shocked at how addicting this dip is.  I could most definitely eat this stuff for breakfast, lunch, dinner, and dessert.  For a week straight.  Maybe even 2 weeks.  😉
I could NOT stop eating it.  Whether it was with graham crackers or all by itself with my finger a spoon…  it's just SO. GOOD.
Thankfully, this dip is 100% healthy and nutritious, unlike the typical unhealthy recipes floating around the internet.  Just check out the recipe's nutrition label below:
Say WHHAAAAAAT??  A Red Velvet Cookie Dough Dip packed with a whopping 20g of protein, 7g of fiber, and NONE of the added sugar??
I'll take it.  I'll take it ALL, thank you very much.  😉
Oh, and guess what.  This Healthy Red Velvet Cookie Dough Dip is eggless.  No eggs = lick the spoon (and bowl) all you want!  Now if that's not winning at life, I don't know what is…

Do today right and make this Healthy Red Velvet Cookie Dough Dip for yourself!  Because every day should involve some sort of healthy dessert  🙂
Enjoy!
.
With love and good eats,
.
– Jess
.