Healthy Homemade Whole Wheat Graham Crackers
My family is quite small, and by small I mean there are four of us.  Yes, four… my mom, my dad, my older sister and then me.
While I attend university across the country from my family, my sister is also in college while completing an internship.
While my father works full-time and drives a long commute every day, my mother constantly runs errands and keeps each of our lives in order.
Even though school has ended for the summer, we still have hectic schedules and family time doesn't come around very often… family time isn't "penciled in" like an appointment or checkup.  Family is the most valuable thing one should cherish, but oftentimes it isn't made a priority.
This may sound silly, but I truly realized this when I was baking these Healthy Homemade Whole Wheat Graham Crackers.
The fragrant scent was literally bursting out of the oven, to the point where I just wanted to rip them out of the oven halfway through and eat them in partially baked form!  But I was patient.
The aroma was so enchanting that it drew everyone in the house together in the kitchen.  And what a comforting feeling it was–something sweet baking in the oven, the family all together, chatting away in anticipation for the soon-to-come treat.  Standing there in the kitchen with my family, I stood back.  This was an experience I found to be rare, an experience very worthwhile.  We all have jam-packed schedules filled right to the brim, but it would mean so much if we took the time to be with the people we love and care about, even if it's only for a couple of minutes.
Get ready a little faster, hug a little longer, and leave a little later.  Every second counts.  Make these Healthy Homemade Whole Wheat Graham Crackers, and make some memories  🙂
Healthy Homemade Whole Wheat Graham Crackers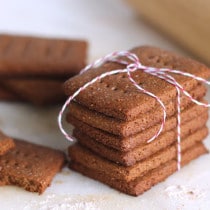 Ingredients:
90g (¾ cup) Whole Wheat Flour
180g (1½ cups) Whole Wheat Flour
48g (¼ cup) Sucanat
1 tsp Ground Cinnamon
½ tsp Baking Soda
¼ tsp Salt
42g (2 tbs) Agave Nectar or Pure Maple Syrup
42g (2 tbs) Molasses
30g (2 tbs) Unsweetened Applesauce
28g (2 tbs) Walnut Oil (or any other neutral oil)
1 tbs Unsweetened Vanilla Almond Milk (or milk of choice)
1 tsp Vanilla Extract
Directions:
Line a cookie pan with parchment paper and place a large Silpat on your counter.
In a small bowl, add the ¾ cup of whole wheat flour, set aside.
In a medium-sized mixing bowl, whisk together the 1½ cups whole wheat flour, sucanat, cinnamon, baking soda and salt.
In a small bowl, whisk together the agave, molasses, applesauce, oil, milk and vanilla extract. Pour this over the dry ingredients and fold together.
Dust the Silpat with the rest of the reserved flour and knead the dough. Once you form a ball, let the dough rest for 10 minutes.
Heat the oven to 350 degrees Fahrenheit. Roll the dough using a rolling pin to about ⅛" thick.  Slice crackers using a pizza cutter and use a spatula to lift each square onto the prepared pan. Dock the dough with a fork, then bake for ~14-16 (baking time depends on size of crackers, just keep watch and take the crackers out when the edges have browned).
Slide the parchment paper onto a wire cooling rack and let cool completely.
Because everyone slices their crackers differently, this nutrition label may not be accurate for you.  I made the label for the first batch of crackers I made (which made 22 large crackers), but in the next batch I got 34.  Overall though, this is a nutrition label I can be proud of and the ingredient list is 100% natural and healthy.
Looking for a gluten-free graham cracker recipe?  Here it is!
Looking or a gluten-free and vegan graham cracker recipe?  Here ya go!  🙂