Healthy Lemon Cheesecake Bars
It's springtime, so can someone please tell me why I still have four cans of pumpkin lying around??
Seriously.  I am so behind.  But I definitely made up for it with these Lemon Cheesecake Bars.  Every bite is like a wave of freshness–so tasty, so fresh, so lemony!  You would never actually guess that this is good for you, though.  I mean, they're too sweet and flavorful to be nutritious…  and they're definitely too rich and creamy to be diet-friendly…  right?
Wrong.  The ingredient list of this cheesecake is much healthier than any storebought kind!  And that's the thing I love about healthy food–it can taste great!
Healthy Lemon Cheesecake Bars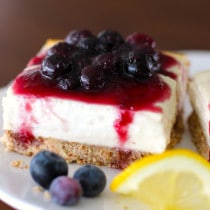 Ingredients:
Almond Crust:**
350g (2½ cups) Chopped Almonds, roughly chopped
40g (¼ cup) Brown Rice Flour
½ tsp Cinnamon
¼ tsp Salt
14g (1 tbs) Coconut Oil
Cheesecake:
16oz Fat Free Cream Cheese, room temp
16oz (2 cups) Plain, Nonfat Greek Yogurt
84g (¼ cup) Honey or Pure Maple Syrup
24g (3 tbs) Arrowroot Starch
1 tsp Lemon Flavor
1 tsp Stevia Extract
64g (2 scoops) Vanilla Whey Protein Powder
1 tbs Lemon Juice
Directions:
For the Crust:
Preheat oven to 350 degrees Fahrenheit and line a brownie pan with tin foil (I'm sure parchment paper will work).
In a blender or food processor, blend the almonds until it turns into a moist flour (the more you blend, the more the natural oils will come out and help bind the crust).
Add the brown rice flour, cinnamon and salt and blend again. Transfer mixture to a bowl and mix in the coconut oil (I used my hands). Transfer to the pan and flatten. Bake for ~15 minutes. Let cool.
For the Cheesecake:
In a stand mixer with whisk attachment, whip the cream cheese and yogurt. Add the honey, arrowroot starch, lemon flavor and stevia extract, then whip again. Finally, add the protein powder and lemon juice and whip one last time.
Pour the mixture over the crust and bake for ~40 minutes, or until the center is firm and edges pull away from the sides of the pan. Let cool completely before slicing (refrigerating the cheesecake before slicing is best).
Notes: