Healthy Strawberry Cheesecake Dip
This Healthy Strawberry Cheesecake Dip is creamy, smooth, satisfying and jam-packed full of fresh strawberry flavor.  It's literally like cheesecake in the form of a dip!  Perfect for serving with gluten-free graham crackers, whole strawberries, sliced bananas, or fingers spoons alone 😉
Because what's better than cheesecake…  made dippable…  and HEALTHY?!?  Ohhhh yessss.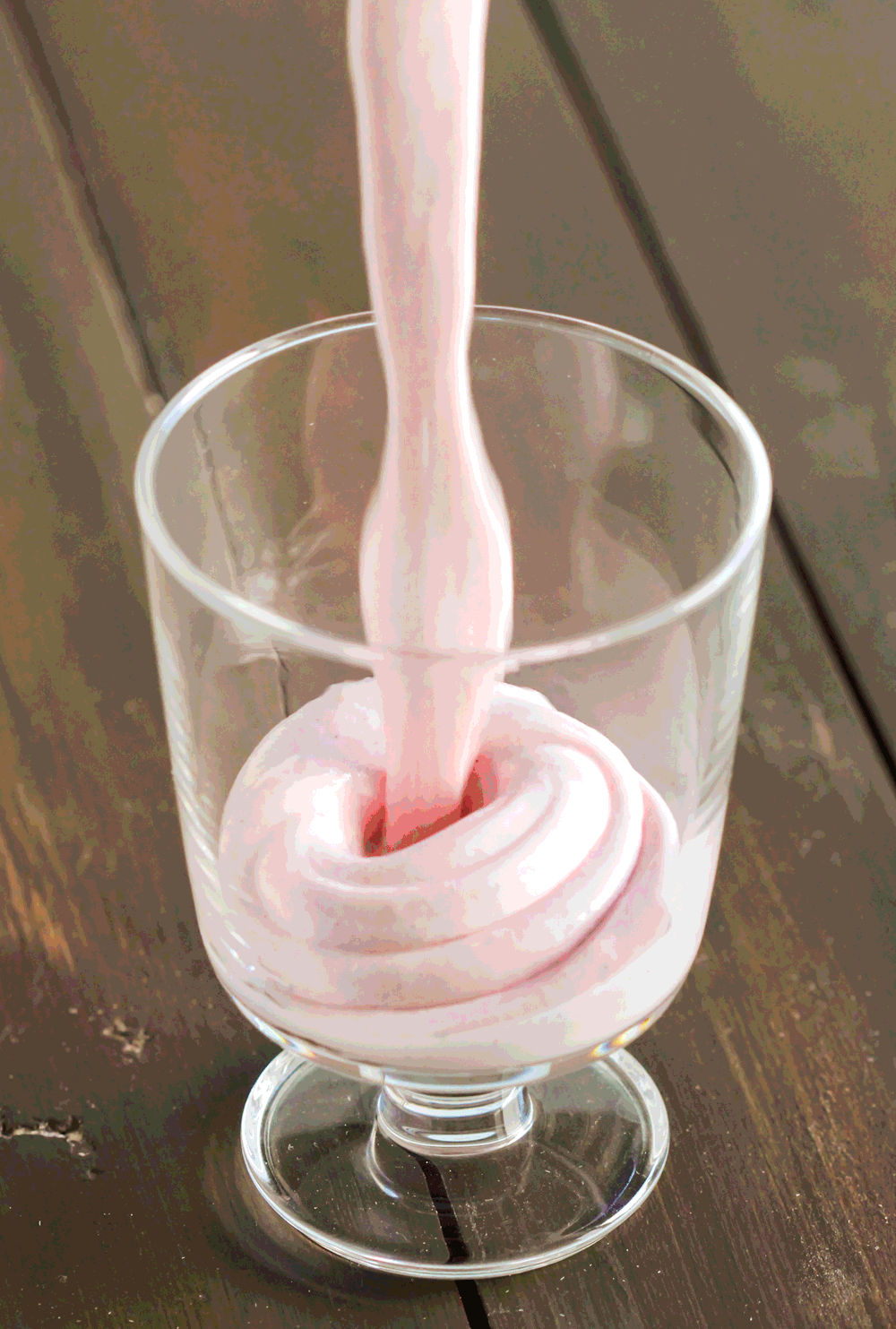 This dip is preeetty darn incredible.  It's super simple, doesn't require any baking, and takes just a few minutes to make.  You'll be ready to dig in in mere minutes!  The total opposite compared to regular baked cheesecakes, which can take hours to prepare, bake, cool, and chill.  Oh, and no silly water baths needed either.
Nuh-uh, this is a no-nonsense recipe.  Just a quick and easy dessert that's perfect for any time of day.  Breakfast included 😉
I think it's about time to serve dessert for breakfast, don't ya think?

This Healthy Strawberry Cheesecake Dip is refined sugar free, low carb, low fat, high protein, gluten free, and all natural.  Now that's some serious strawberry lovin' right there!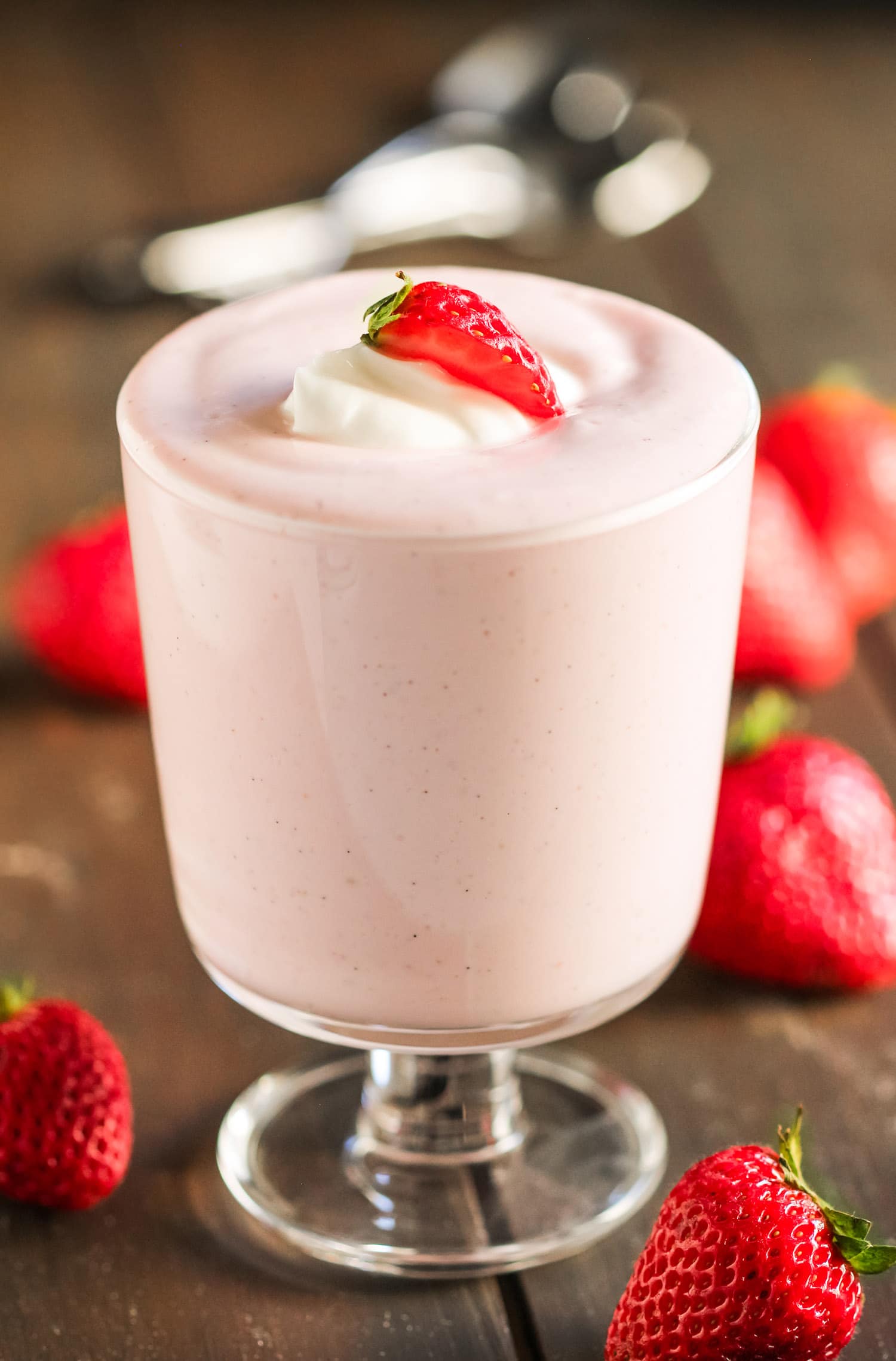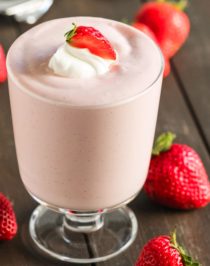 Print Recipe
Pin Recipe
Healthy Strawberry Cheesecake Dip
This Healthy Strawberry Cheesecake Dip is creamy, smooth, satisfying and jam-packed full of fresh strawberry flavor. It's cheesecake in the form of a dip! Perfect for serving with graham crackers, whole strawberries, sliced bananas, or spoons alone. You'd never know it's sugar free, low carb, low fat, high protein, and gluten free too!
Instructions
*Wash your strawberries, cut the greens off, and puree in a food processor. Pour the puree out of the processor and into a bowl. Measure ⅔ cup of the puree and place back inside the food processor (you can drink any leftovers!).

Add the rest of the ingredients to the food processor and blend until smooth, scraping down the sides of the bowl if necessary.

Scoop the dip into bowls and serve with

gluten-free graham crackers

, whole strawberries, sliced bananas, mini chocolate chips, or spoons alone.
Nutrition Facts
Healthy Strawberry Cheesecake Dip
Amount Per Serving (1 serving = ½ cup)
Calories 70
Calories from Fat 14
% Daily Value*
Fat 1.5g2%
Cholesterol 10mg3%
Sodium 440mg19%
Carbohydrates 7g2%
Protein 9g18%
Vitamin C 20.6mg25%
Calcium 80mg8%
* Percent Daily Values are based on a 2000 calorie diet.
I'm really likin' the short and simple ingredient list!  I know cottage cheese might sound like a strange ingredient to use in a dessert but it's just as versatile as cream cheese, ricotta, or yogurt.  It has a very neutral flavor so you can pretty much do anything you want with it.  The strawberries add sweetness, the vinegar (or lemon juice) adds that unique tanginess kin to cheesecakes, and the vanilla paste rounds out the overall flavor and brings everything together.
If you're looking for a quick and easy healthy treat, look no further.  You have found the one!!  I can't believe this has only 70 calories per serving…  seriously.  It tastes like it's stuffed with calories and fat.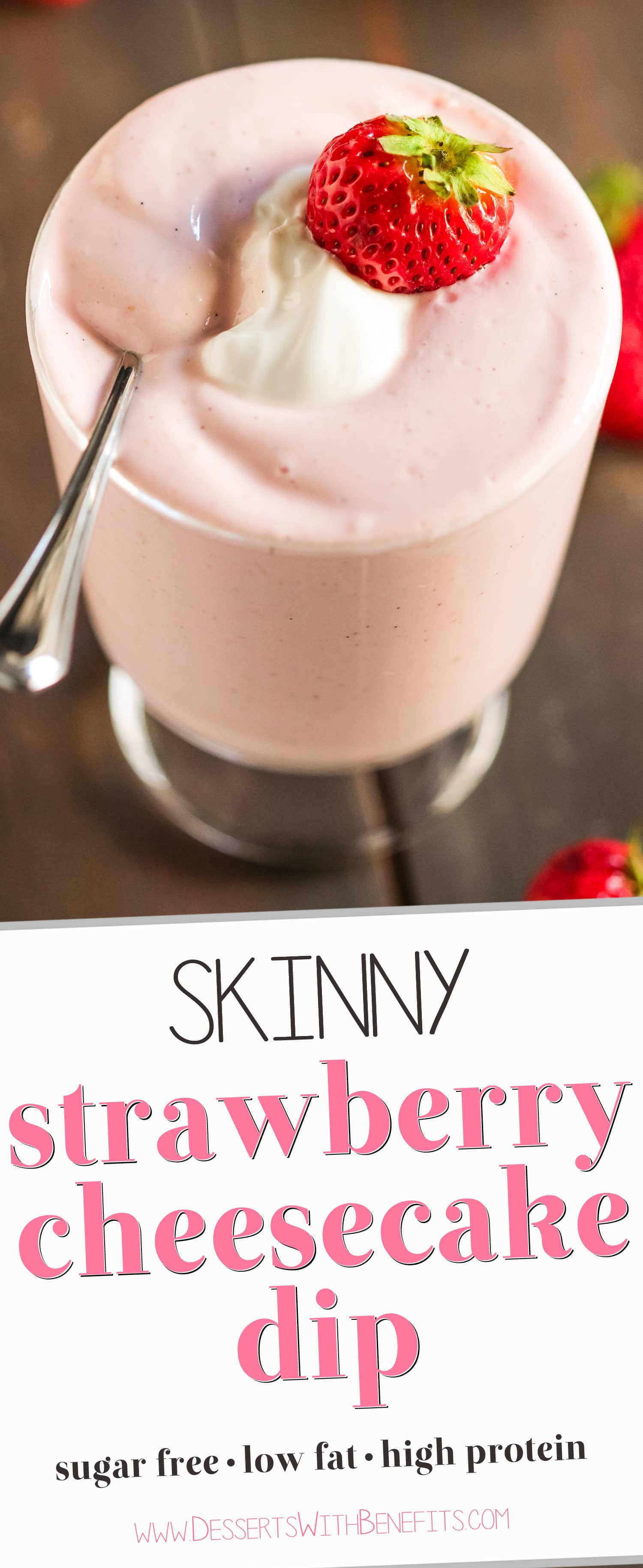 Enjoy!
.
With love and good eats,
.
– Jess
.