Healthy Homemade Salted Marcona Almond Butter
3-ingredient Healthy Homemade Salted Marcona Almond Butter — rich, creamy and so much more flavorful than regular almond butter!  It's hard to believe it's all natural, sugar free, low carb, keto, paleo, and vegan!  No hydrogenated oils or trans fats whatsoever!
I feel like it's been forever.  Since I made a nut butter, I mean.
On the other hand, it hasn't been forever since I've finished a jar or two eaten some… aka, this morning.  So when I snuck a peek at my pantry nut shelf — yes I have a nut shelf — I saw a container of Marcona almonds sitting there.
Marcona almonds are incredibly addicting, especially when they are roasted, salted and eaten straight out of the container.  They are so crunchy and flavorful I knew they would make for a superb nut butter.  I mixed the Marconas with plain almonds because they were suuuper salty (that's why they're so addicting, right??).  I just wanted a hint of salt in the nut butter and that's what I got.  This Salted Marcona Almond Butter is super thick and creamy and has a flavor that beats any regular almond butter by a long shot!
Healthy Homemade Salted Marcona Almond Butter
Prep Time: 20 minutes
Cook Time: 0 minutes
Total Time: 20 minutes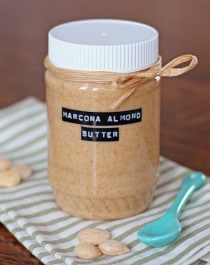 Ingredients:
Directions:
In a food processor, add all of the ingredients. Pulse until crumbly and flour-like, then grind constantly until smooth and buttery, scraping down the sides of the bowl as needed (depending on the processor you use, this could take anywhere from 5-10 minutes).
Pour the mixture into jars, seal tightly, and refrigerate to store.
All images and text ©
.
Just a hint of salt, Salted Marcona Almond Butter!  Because this is a dessert blog, after all  😉
.
With love and good eats,
.
– Jess
.