Healthy Matcha Cake with Matcha Frosting
This healthy Matcha Cake is so light and fluffy, it only makes sense to top it with a thick, sweet, and rich Matcha Frosting.  It doesn't taste guilt free, sugar free, low fat, high protein, or whole grain at all!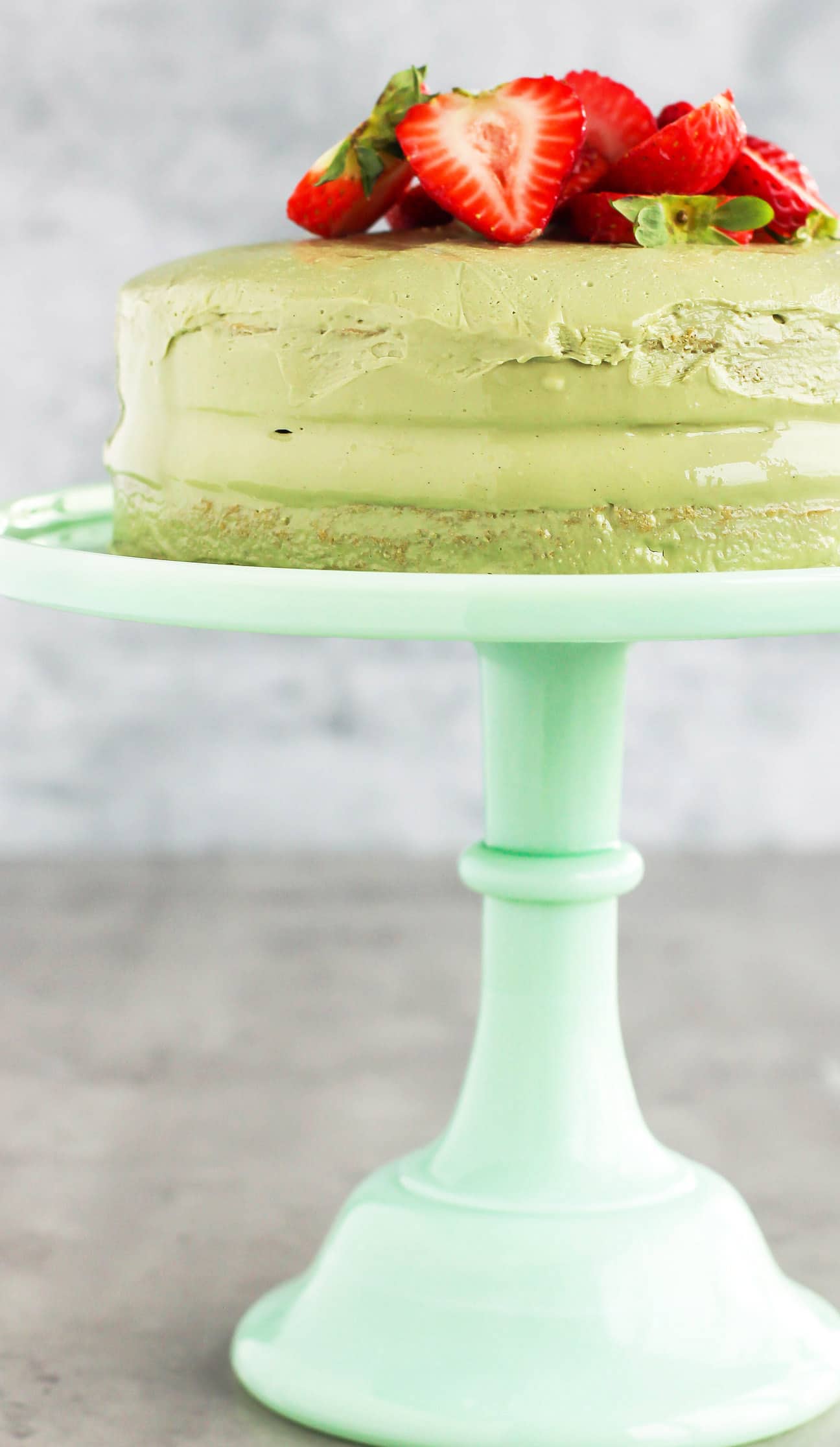 When I was in high school I went vegan for about a year.  I loved how it was a challenge.  And surprisingly, I loved tofu.  Strange, right?
The most memorable moment for me during that year was going to Barnes & Noble to buy some vegan cookbooks.  My favorite cookbook at the time was Vegan Cupcakes Take Over the World.  It was filled with every sinful carby confection imaginable.  I probably baked my way through the entire cookbook in a span of 2 months.
I found that with every recipe I baked, I wanted to eat the entire batch!  Not just two cupcakes, and not three…  the ENTIRE. BATCH.
At the time, I didn't know why I felt that way.  But after learning more about nutrition and doing some research, I finally discovered the reason behind me wanting to eat ALLLL the cupcakes:  they were nutritionally unbalanced!
Most recipes call for processed all-purpose flour, lots of sugar, and vegan "butter."  Just a few things your tastebuds love and your abs hate.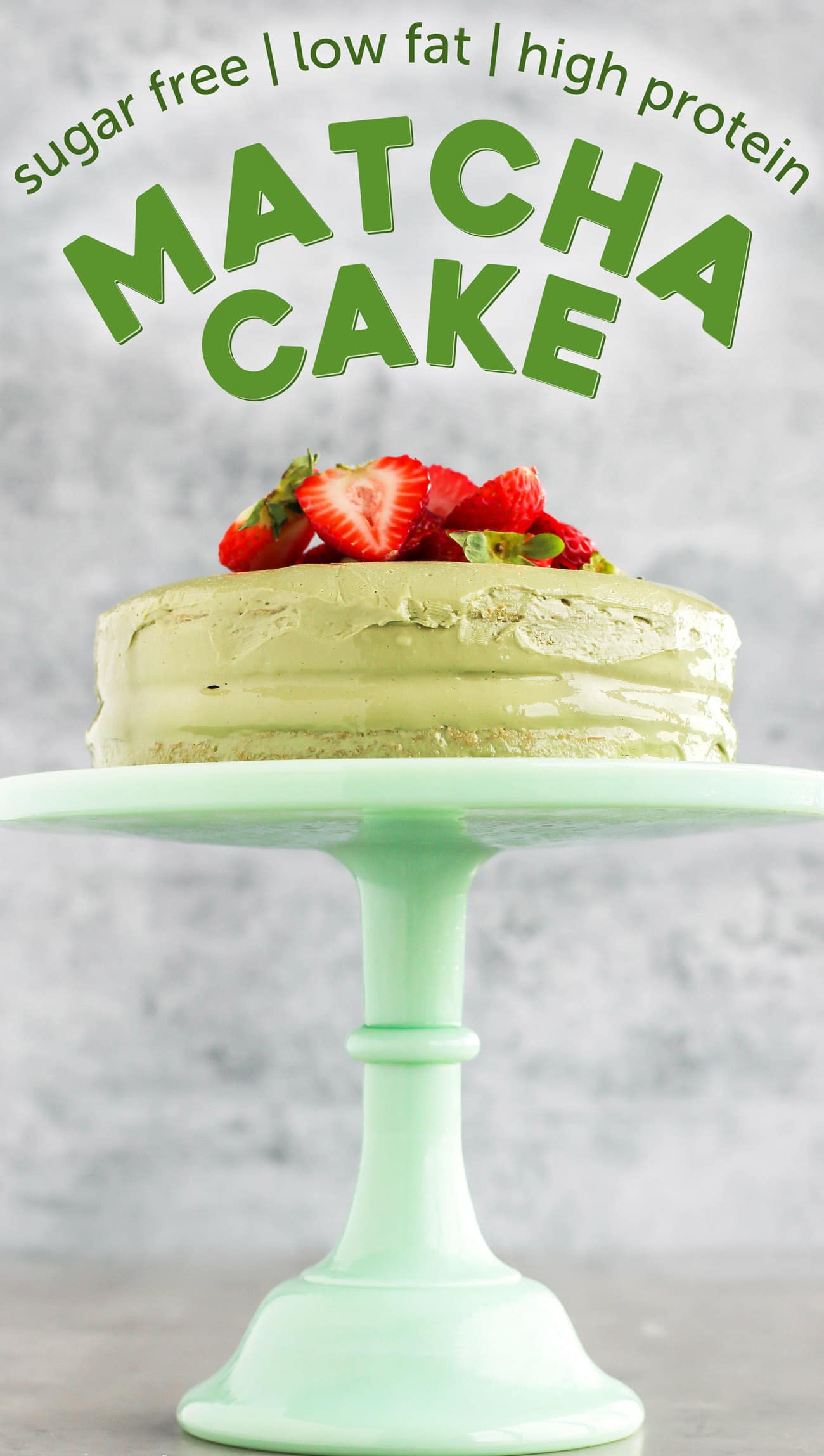 My favorite recipe from the book was their Matcha Cupcakes.  I decided to remake it.  Only this time, healthier.  I replaced the:
• white flour with whole wheat flour + protein powder
• canola oil with applesauce
• sugar with granulated erythritol + stevia extract
I also added more vanilla extract and almond extract for flavor, plus some extra matcha powder for a more vibrant green color.
Compared to the original recipe, this healthier Matcha Cake has fewer calories, less fat, less sugar, more fiber, and more protein!
And you know what that means?  Unlike the original recipe, THIS Matcha Cake will make you fuller faster, and keep you full for a longer period of time.  You'll actually feel satisfied after one slice of cake, rather than the entire thing!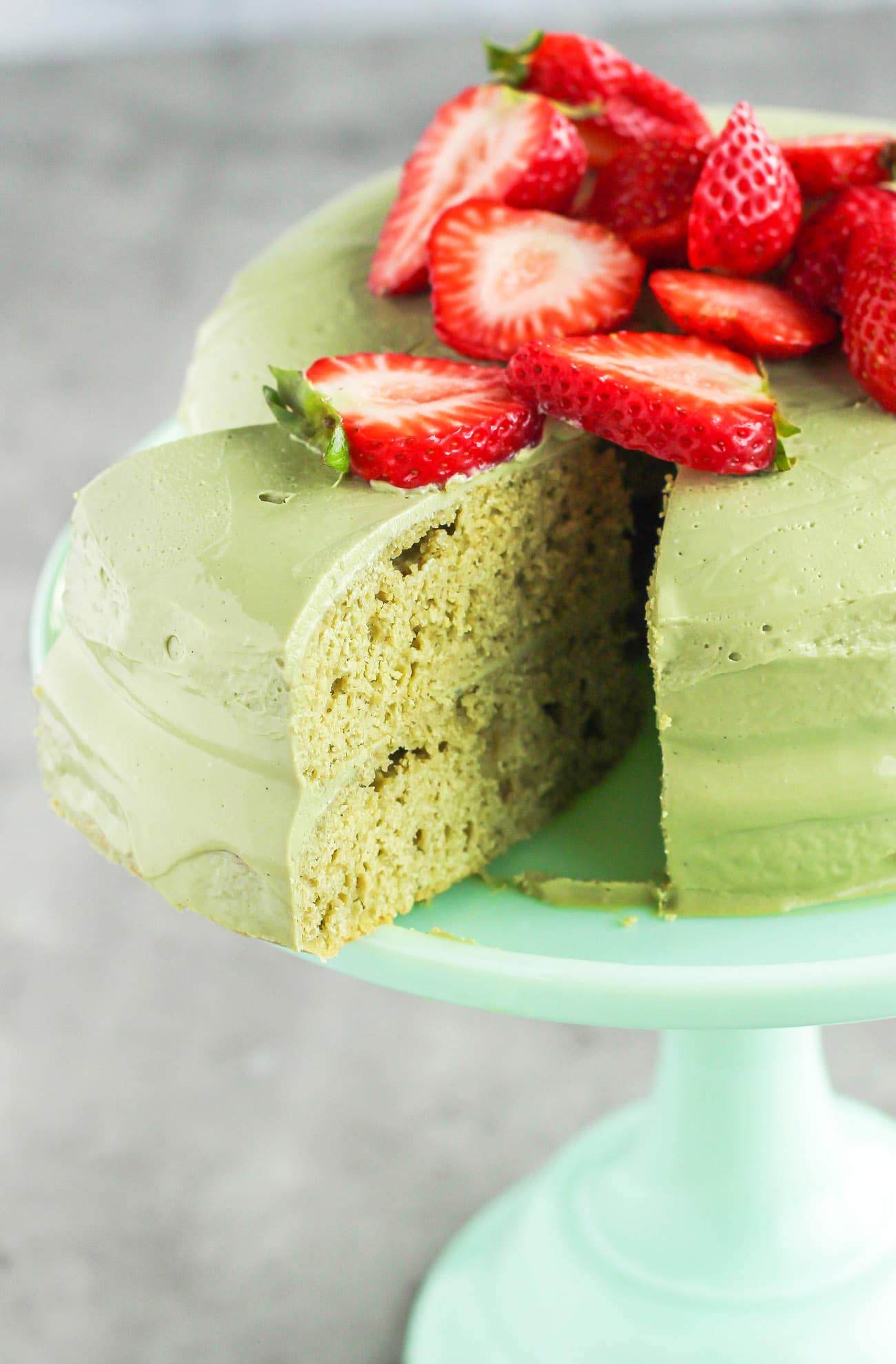 Don't you just love the green color of both the cake and frosting??  I find it strangely appetizing…  there's something 'bout that green-on-green action!
This healthy Matcha Cake is light, fluffy, and moist.  You'd never know it's 100% whole wheat, sugar free, low fat, and packs a punch of protein!
And how could I forget the FROSTING?!?  The sweet and creamy and deliciously rich FROSTING!
Just like the cake, the frosting is naturally colored a beautiful green from matcha green tea and matcha green tea alone.  No artificial food colorings here!  It may call for a strange grouping of ingredients, but I promise you, it's just as smooth and creamy as those prepackaged tubs of Pillsbury frosting.
Of course, you're free to frost the cake however you please — Vanilla Cream Cheese Frosting (maybe with a tablespoon of matcha added?), Vanilla Protein Frosting, Chocolate Protein Frosting, Strawberry Frosting, etc.  🙂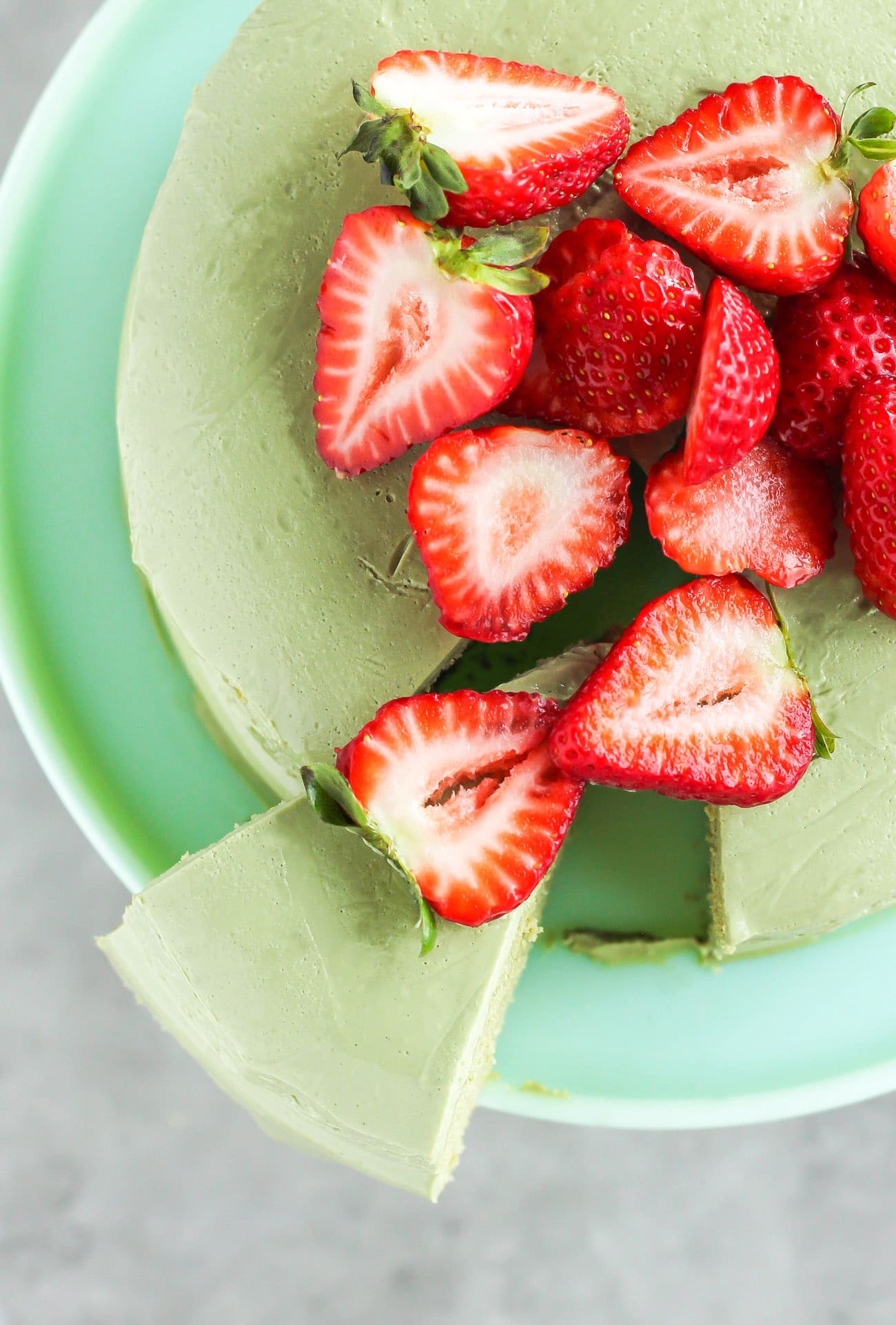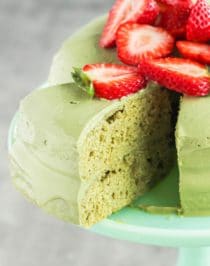 Print Recipe
Pin Recipe
Healthy Matcha Cake with Matcha Frosting
Instructions
For the Cake:
Preheat the oven to 325 degrees and spray two 8" cake pans with cooking spray.

In a small bowl, whisk together the whole wheat flour, starch, baking powder, baking soda, and salt.

In a large bowl, whisk together the Greek yogurt, eggs, applesauce, vanilla extract, stevia extract, and almond extract.  Whisk until smooth.  Then whisk in the erythritol, protein powder, and matcha powder. Whisk until smooth.

Dump the dry ingredients over the wet ingredients and whisk together until JUST mixed through. Be careful not to overmix!

Pour the batter evenly between the two pans. Bake for ~24 minutes, or until the surface of the cakes spring back when tapped.  Let cool completely.
For the Frosting:
In a high-speed blender (I used my NutriBullet), add the cottage cheese and cream cheese. Blend until smooth.

Add the vanilla paste, stevia extract, and almond extract, and blend again.

Add the protein powder and matcha powder and blend until smooth. If it's too thick to blend, scrape it all into a bowl and whisk by hand, or use a hand mixer. Cover the bowl with plastic wrap and refrigerate until chilled throughout.

Frost the cake, refrigerate for ~1 hour for the frosting to firm, then slice, serve, and enjoy!
Nutrition Facts
Healthy Matcha Cake with Matcha Frosting
Amount Per Serving (1 slice = 1/10th of cake (does not include frosting)
Calories 160
Calories from Fat 23
% Daily Value*
Fat 2.5g4%
Cholesterol 90mg30%
Sodium 225mg10%
Carbohydrates 26g9%
Protein 8.5g17%
Vitamin A 100IU2%
Vitamin C 2.5mg3%
Calcium 90mg9%
Iron 1.4mg8%
* Percent Daily Values are based on a 2000 calorie diet.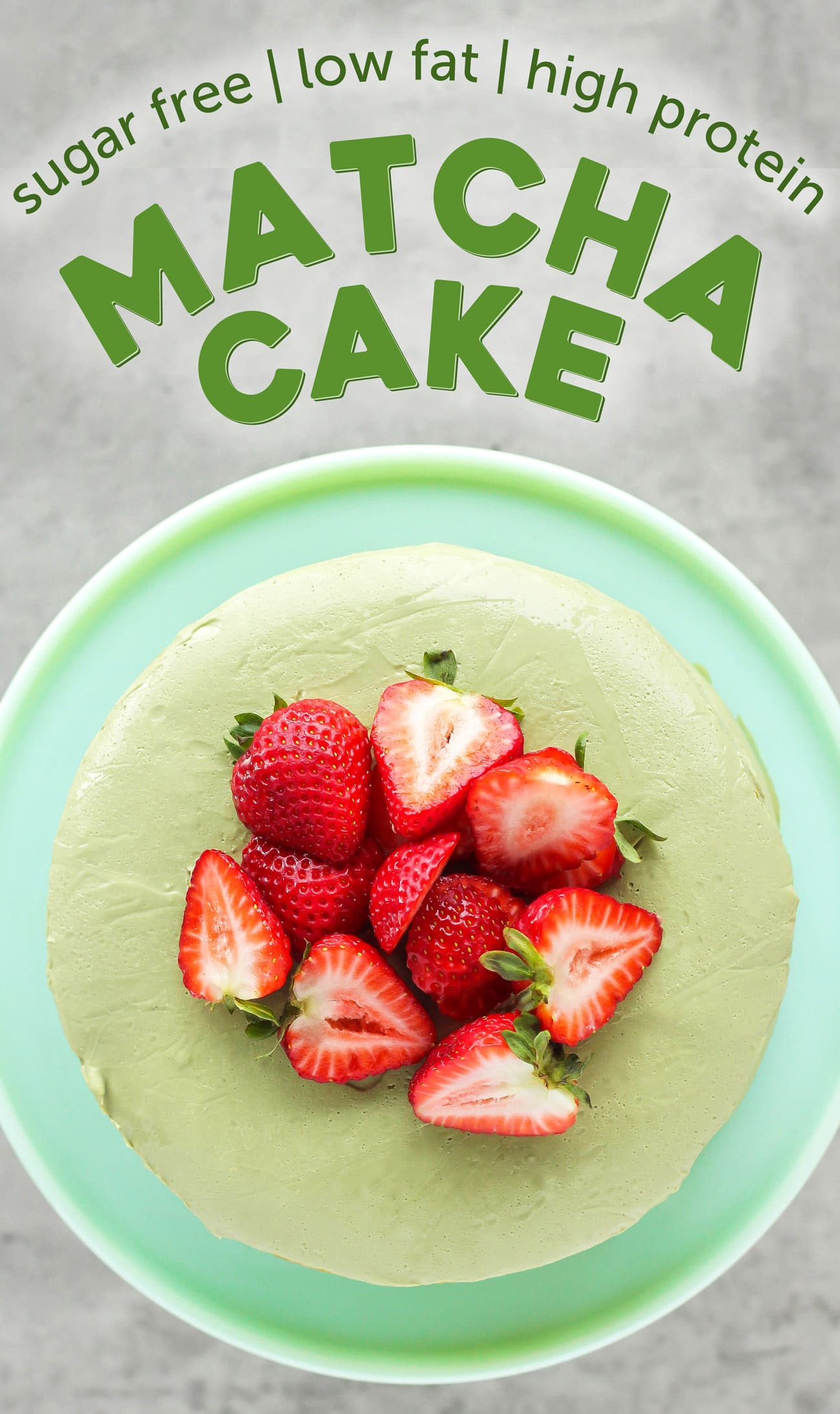 Enjoy the green!
.
With love and good eats,
.
– Jess
.