Healthy Matcha Green Tea Cake with Matcha Frosting
When I was in high school I went vegan for about a year.  I loved how it was a challenge and surprisingly, I loved tofu (strange, right?).  The most memorable moment for me during that year was going to Barnes & Noble to buy some vegan cookbooks.  My favorite cookbook at the time was Vegan Cupcakes Take Over the World, as it was filled with every sinful carby confection imaginable.
But I found that with every recipe I baked from that book, I wanted to eat the entire batch!  After learning more about nutrition and food in school I discovered the reason behind me wanting to eat all the cupcakes: they were nutritionally unbalanced!  Most of the recipes called for processed all purpose flour, lots of sugar and vegan "butter."  Just a few things your abs don't like very much…
And that's why I made my own version of their Matcha Cupcakes — this Healthy Matcha Green Tea Cake with Matcha Frosting!  I made it whole wheat and added some protein powder (ooh, and then a rich, sweet frosting).  Don't you just love the green color?  I find it strangely appetizing…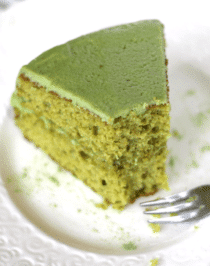 Print Recipe
Pin Recipe
Healthy Matcha Green Tea Cake with Matcha Frosting
Instructions
For the Cake:
Preheat the oven to 325 degrees and spray two 8" cake pans with cooking spray.

In a large bowl, whisk together the whole wheat flour, matcha, starch, protein powder, baking powder, baking soda, and salt.

In a blender, add the yogurt, silken tofu (drained), applesauce, agave, oil, vanilla, stevia, butter flavor, and almond extract. Puree until smooth.  Pour over the dry ingredients and fold together until mixed through, being careful not to overmix.

Pour batter into the prepared pans and bake until surface springs back when tapped (~30 minutes).  Flip cakes onto a wire cooling rack and let cool completely.
For the Frosting:
In a medium-sized bowl, stir together the coconut oil, agave, matcha, and stevia until a thick green paste.

Stir in the whey protein.  Frost the cake.  It helps to use a sheet of wax paper to smoothen it out.  Slice and serve!
Nutrition
Serving:
1
slice
,
Calories:
420
kcal
,
Carbohydrates:
656
g
,
Protein:
14
g
,
Fat:
16
g
,
Saturated Fat:
10
g
,
Sodium:
240
mg
,
Fiber:
4
g
,
Sugar:
27
g
,
Vitamin C:
2
%
,
Calcium:
4
%
,
Iron:
10
%
I am really proud of this frosting.  Even though it looks like hummus at first and is annoying to spread, it has a similar taste and texture to those unhealthy Pillsbury frostings…  this one is just a little on the green side  😉
Compared to the Green Tea Cupcakes from the Vegan Cupcakes Take Over the World Cookbook, my Matcha Green Tea Cake has fewer carbs, less sugar, more fiber, and more protein.
Which makes this cake will keep you satiated for a longer period of time.  You'll actually feel satisfied after one slice rather than an entire batch of cupcakes!
So fluffy.  So sweet.
Enjoy the green!
.
With love and good eats,
.
– Jess
.