Healthy Cake Batter Ice Cream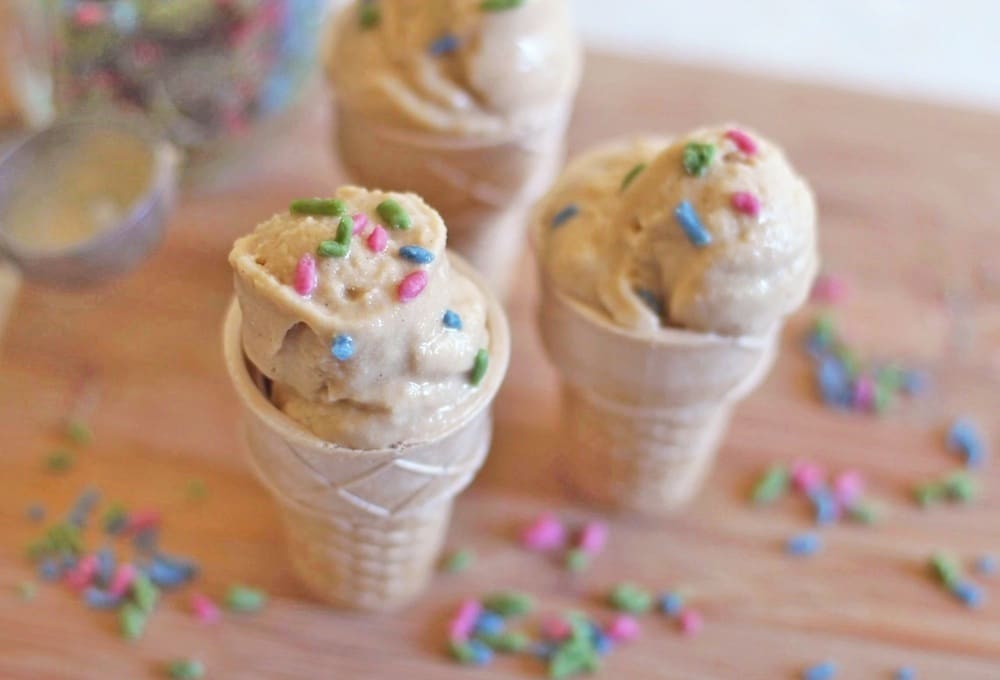 Where there is one ice cream, there is another ice cream…  because there is no such thing as too much ice cream!  Okay, for real though, we finished that Cherry Garcia Frozen Yogurt in less than 24 hours…
*whistles and looks away*
I was brainstorming ice cream flavor ideas and I glanced at my Homemade Rainbow Sprinkles sitting in an adorable little mason jar.  I needed to use it.  When "Cake Batter" popped into my head my eyes shot wide open and I stuck my ice cream machine bowl in the freezer.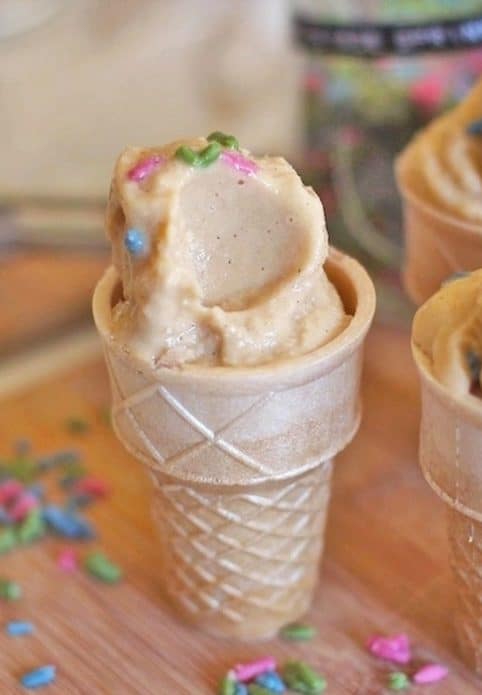 This healthy Cake Batter Ice Cream is incredibly flavorful, soft and smooth.  The flavor was just like cake batter:  vanilla-y and buttery and sweet!
But this ice cream recipe is better than any other ice cream you would find because it doesn't contain heavy cream, egg yolks, high fructose corn syrup, refined sugar, artificial flavorings and artificial colorings.  This healthy Cake Batter Ice Cream recipe is low in fat, low in sugar, eggless, high protein and vegan (but you would never know it)!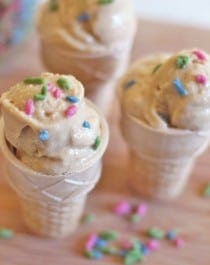 Print Recipe
Pin Recipe
Healthy Cake Batter Ice Cream
Can't choose between ice cream or cake? Have BOTH with this healthy Cake Batter Ice Cream recipe! It's low fat, sugar free, high protein, and vegan!
Instructions
In a blender, add the almond milk, vegetable glycerine, vodka, vanilla paste, stevia extract, almond flavor, and butter flavor. Blend until smooth.

In a small bowl, whisk together the protein powder, starch, xanthan gum, baking soda, and salt.  With the blender running, slowly add in the dry ingredients.  Blend until smooth.

Place the frozen ice cream maker attachment onto the stand mixer and turn on the "stir" speed. Pour ice cream mixture into the ice cream bowl and churn until soft-serve consistency.

Transfer the ice cream into a freezer-safe dish. Cover and freeze until it's the texture you prefer (~3-5 hours). Serve and enjoy!
Nutrition Facts
Healthy Cake Batter Ice Cream
Amount Per Serving (1 serving = ½ cup)
Calories 90
Calories from Fat 18
% Daily Value*
Fat 2g3%
Sodium 170mg7%
Carbohydrates 13g4%
Protein 4g8%
Vitamin A 200IU4%
Calcium 200mg20%
Iron 0.7mg4%
* Percent Daily Values are based on a 2000 calorie diet.
OH. MY. GOODNESS!!!!  Only 90 calories and 2g of fat per serving?  YASSSS.  Compared to Ben & Jerry's Cake Batter Ice Cream, my version has:
⅓ the calories
14g less fat
0mg cholesterol
14g less carbs
22g less sugar (my recipe doesn't have any sugar added)
Ehem, now you can have second or third or fourth helpings without feeling bad at all  😉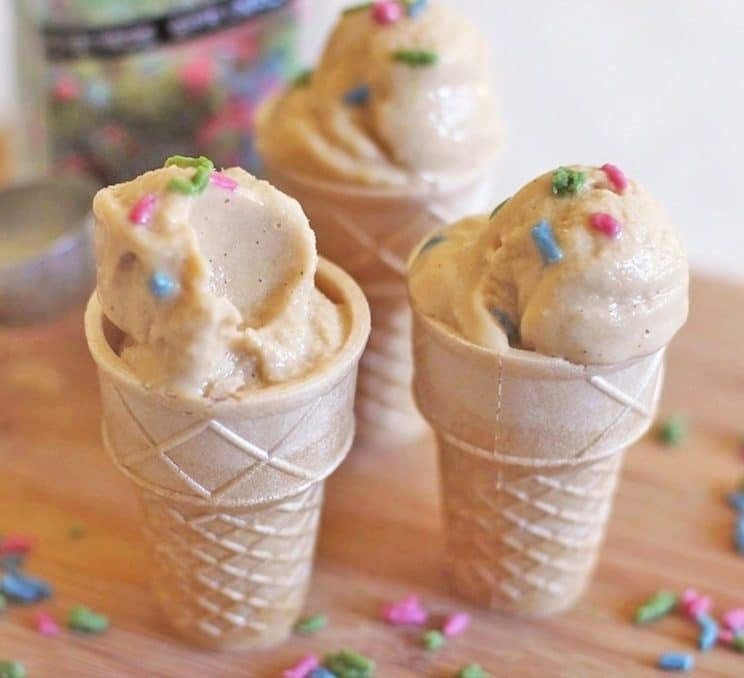 Enjoy!
.
With love and good eats,
.
– Jess
.