Healthy Cake Batter Ice Cream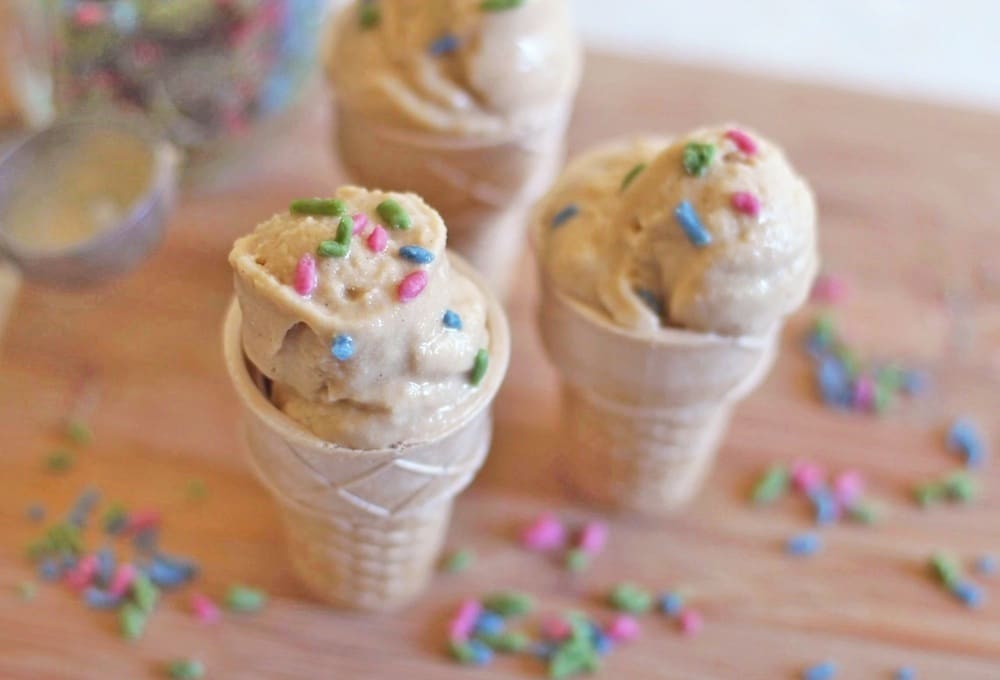 Where there is one ice cream, there is another ice cream…  because there is no such thing as too much ice cream!  Okay, for real though, we finished that Cherry Garcia Frozen Yogurt in less than 24 hours…
*whistles and looks away*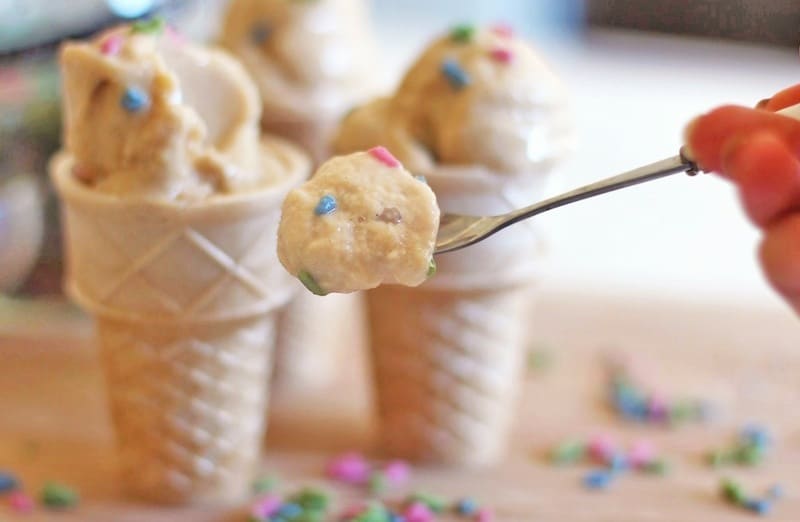 I was brainstorming ice cream flavor ideas and I glanced at my homemade rainbow sprinkles sitting in an adorable little mason jar.  I needed to use it.  When "Cake Batter" popped into my head my eyes shot wide open and I stuck an ice cream bowl in the freezer.
This Cake Batter Ice Cream is incredibly flavorful, soft and smooth.  The flavor was just like cake batter:  vanilla-y and buttery and sweet!  But this ice cream recipe is better than any other ice cream you would find because it doesn't contain heavy cream, egg yolks, high fructose corn syrup, refined sugar, artificial flavorings and artificial colorings.  This Cake Batter Ice Cream recipe is low in fat, low in sugar, eggless, high protein and vegan (but you would never know it!)
Ingredients
3+1/2 cups Unsweetened Vanilla Almond Milk*
74g (1/4 cup) Vegetable Glycerine
1 tbs Whipped Cream Flavored Vodka (other vodkas will work)
1 tbs Vanilla Paste (I used homemade)
2 tsp Stevia Extract
2 tsp Almond Flavor
1 tsp Butter Extract
43g (2 scoops) Vanilla Brown Rice Protein Powder (I used SunWarrior)
20g (2 tbs) Corn Starch (preferably non-GMO)
1/4 tsp Xanthan Gum
1/4 tsp Baking Soda
1/4 tsp Salt
Instructions
Freeze your ice cream bowl for 24+ hours.
In a stand mixer bowl with whisk attachment, add the almond milk, glycerine, vodka, vanilla paste, stevia, almond flavor and butter extract. Mix on low.
In a small bowl, whisk together the protein powder, starch, xanthan gum, baking soda and salt.
Slowly add the dry ingredients into the mixing stand mixer one spoonful at a time. Increase mixer speed to medium/high and whisk for ~1 minute.
Turn stand mixer off, take the whisk attachment off the mixer and place inside the bowl (to keep it from falling over, I leaned it against a spatula inside the bowl). Freeze the stand mixer bowl+whisk for ~1.5 hours.
Put whisk back on the stand mixer and whisk mixture on medium speed for ~1 minute.
Pour the mixture into the ice cream bowl and churn for ~10-15 minutes, or until it looks like soft serve ice cream.
Scoop ice cream into a container and freeze ~2-3 hours, or until firm throughout. Serve immediately!
Notes
*Other milks might work here just fine. Next time I make this I'm going to try light or full-fat coconut milk.
This ice cream is very soft and melts quickly, so eat up!
This recipe is: low fat, low sugar, gluten free, vegan!
https://dessertswithbenefits.com/cake-batter-ice-cream/
www.DessertsWithBenefits.com
OH.  MY.  GOODNESS!!!!  My recipe has ONE THIRD the calories of the Ben & Jerry's ice cream, with only 2g of fat, zero cholesterol and no added sugar.  Seriously.
Ehem, now you can have second or third or fourth helpings without feeling bad at all  😉