Healthy Cherry Garcia Frozen Yogurt
Cherry Garcia Ice Cream — the infamous Ben & Jerry's frozen dessert described as cherry ice cream with cherries and chocolate flakes.  While the flavor might be well known, its ingredients and nutrition label is often overlooked.  With heavy cream as its first ingredient and sugar as both its third and fifth ingredients, we all know that a quart of that ice cream in our freezer would be pretty dangerous for a ravenous sweet tooth.  It's like leaving a shopaholic at a mall with a $10,000 universal gift card…  we will eat the tub of ice cream and the shopaholic will buy enough to run the mall dry.
Ben and Jerry knew this, so they made Cherry Garcia Frozen Yogurt — basically the same as the ice cream but with the heavy cream swapped out for yogurt and even MORE sugar pumped into every serving (sugar is listed FOUR times in the frozen yogurt's ingredient list while it's listed TWICE in the ice cream).
Fourteen tubs of Cherry Garcia later, it was time for me to make a HEALTHY Cherry Garcia Frozen Yogurt recipe on my own.  Greek yogurt creates a thick and creamy texture, and high quality flavor.  What used to be a high fat/high sugar treat is now a low fat/low sugar/high protein dessert that can be eaten without feeling guilty of consuming half a cup of refined sugar in one sitting!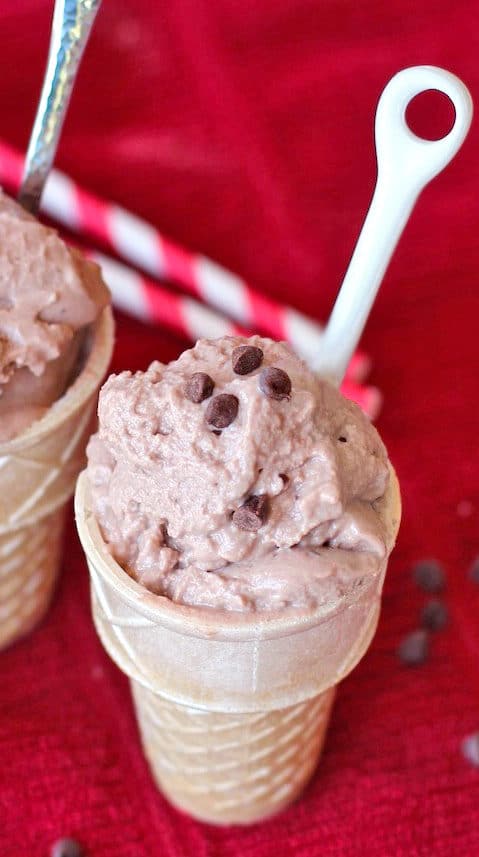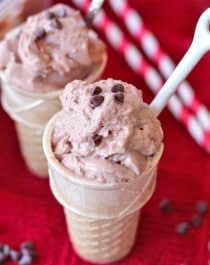 Print Recipe
Pin Recipe
Healthy Cherry Garcia Frozen Yogurt
Finally, a HEALTHY Cherry Garcia Frozen Yogurt recipe! This healthier homemade version of the classic is low fat, low sugar, high protein, and gluten free!
Instructions
In a stand mixer bowl with whisk attachment, add the yogurts, vodka, stevia extract, and cherry extract.

In a small bowl, whisk together the corn starch, cocoa, xanthan gum, baking soda, and salt.  With the stand mixer running, slowly add in the dry ingredients.  Whip until smooth.

Place the frozen ice cream maker attachment onto the stand mixer and turn on the "stir" speed. Pour ice cream mixture into the ice cream bowl and churn until soft-serve consistency.

Transfer the ice cream into a freezer-safe dish. Cover and freeze until it's the texture you prefer (~3-5 hours). Serve and enjoy!
Nutrition Facts
Healthy Cherry Garcia Frozen Yogurt
Amount Per Serving (1 serving = ½ cup)
Calories 130
Calories from Fat 18
% Daily Value*
Fat 2g3%
Cholesterol 3mg1%
Sodium 140mg6%
Carbohydrates 17g6%
Protein 9g18%
Calcium 80mg8%
* Percent Daily Values are based on a 2000 calorie diet.
Just to prove how much healthier my homemade Cherry Garcia Frozen Yogurt is I decided to do a little nutrition label showdown!  In the recipe box above is my recipe's nutrition label and right here is Ben & Jerry's Cherry Garcia Fro Yo nutrition label.
My Healthy Cherry Garcia Frozen Yogurt is low fat, low sugar, high protein, and all natural.  Oh, and you can take a second or third helping without feeling bad about anything.  You won't be putting your body through a turbulent sugar rush and sugar crash and you'll consume ingredients that you have actually heard of!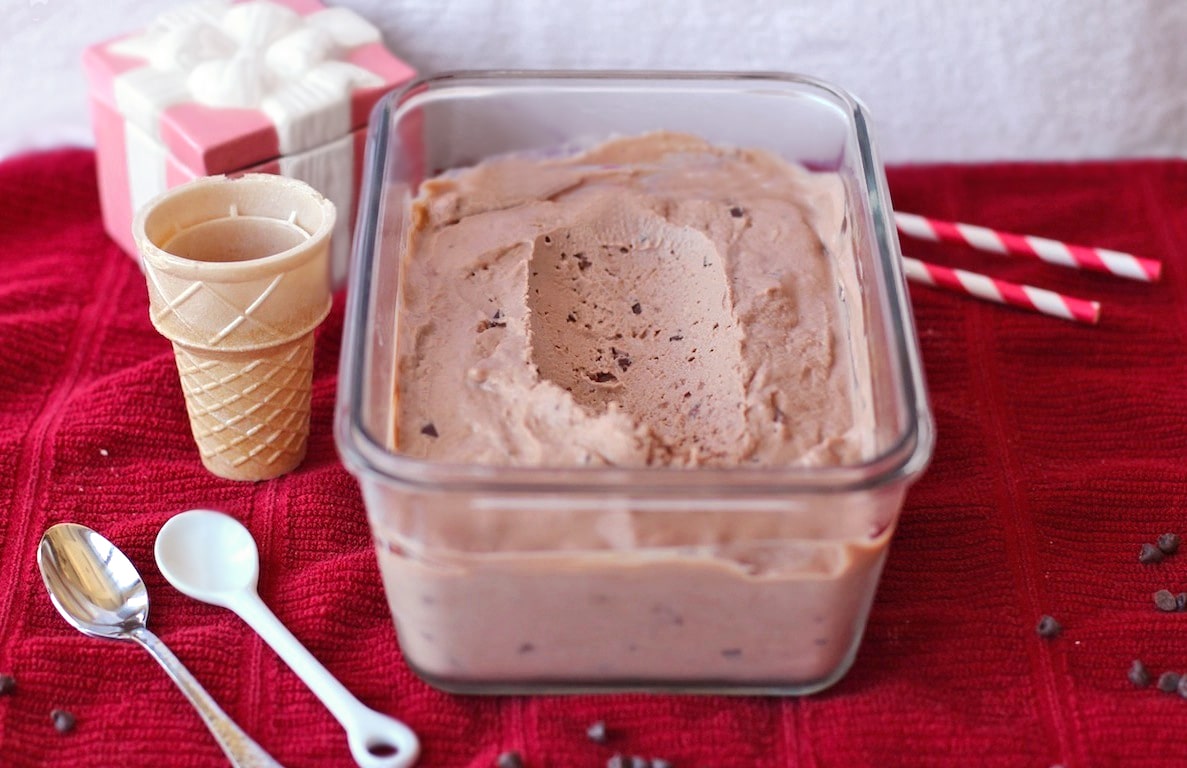 .
With love and good eats,
.
– Jess
.