Healthy Peach Mango Frozen Yogurt
I'm having a blast with my best bud, Mr. Ice Cream Maker.  We've been hanging out a lot lately, I think I've made about seven batches of ice cream in the last month?
Wow.  We ARE joined at the hip (or is that the freezer door?)
Something good always happens when we hang out.  Like this Healthy Peach Mango Frozen Yogurt, for example.
This Peach Mango Frozen Yogurt is perfectly sweet, uber smooth and creamy, the little chunks of peaches and mango add a mouthwatering textural component, and oh yeah, it's good for you too!
Like I said.  It's healthy.  So that means we can pile a few more scoops into our bowl  😉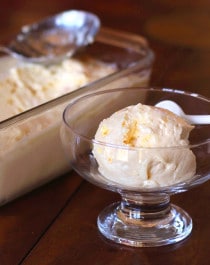 Print Recipe
Pin Recipe
Healthy Peach Mango Frozen Yogurt
Want a guilt-free snack? Then make this healthy Peach Mango Frozen Yogurt recipe! It's low sugar, low fat, high protein, eggless, and gluten free!
Instructions
In a stand mixer bowl with whisk attachment, add the yogurts, vodka, sweetener, and mango extract. Whisk until smooth.

In a small bowl, whisk together the corn starch, xanthan gum, baking soda, and salt.  With the mixer running, slowly add in the dry ingredients.  Whip until smooth.

Place the frozen ice cream maker attachment onto the stand mixer and turn on the "stir" speed. Pour ice cream mixture into the ice cream bowl and churn until soft-serve consistency.

Transfer the ice cream into a freezer-safe dish. Cover and freeze until it's the texture you prefer (~3-5 hours). Serve and enjoy!
Nutrition Facts
Healthy Peach Mango Frozen Yogurt
Amount Per Serving (1 serving = ½ cup)
Calories 110
Calories from Fat 9
% Daily Value*
Fat 1g2%
Sodium 140mg6%
Carbohydrates 15g5%
Protein 8g16%
Vitamin A 100IU2%
Vitamin C 3.3mg4%
Calcium 100mg10%
* Percent Daily Values are based on a 2000 calorie diet.
Wondering how my Healthy Peach Mango Frozen Yogurt compares to typical ice cream?  Here's the nutrition label for Ben & Jerry's Peach Cobbler Ice Cream.

My healthy Peach Mango Frozen Yogurt has HALF the calories and DOUBLE the fun!
Mostly because you can grab a second helping but also because the recipe is good for you and you are doing your body a favor.  With only 110 calories, 1g of fat and 8g of protein, that kind of equates to the ultimate guilt-free summer treat!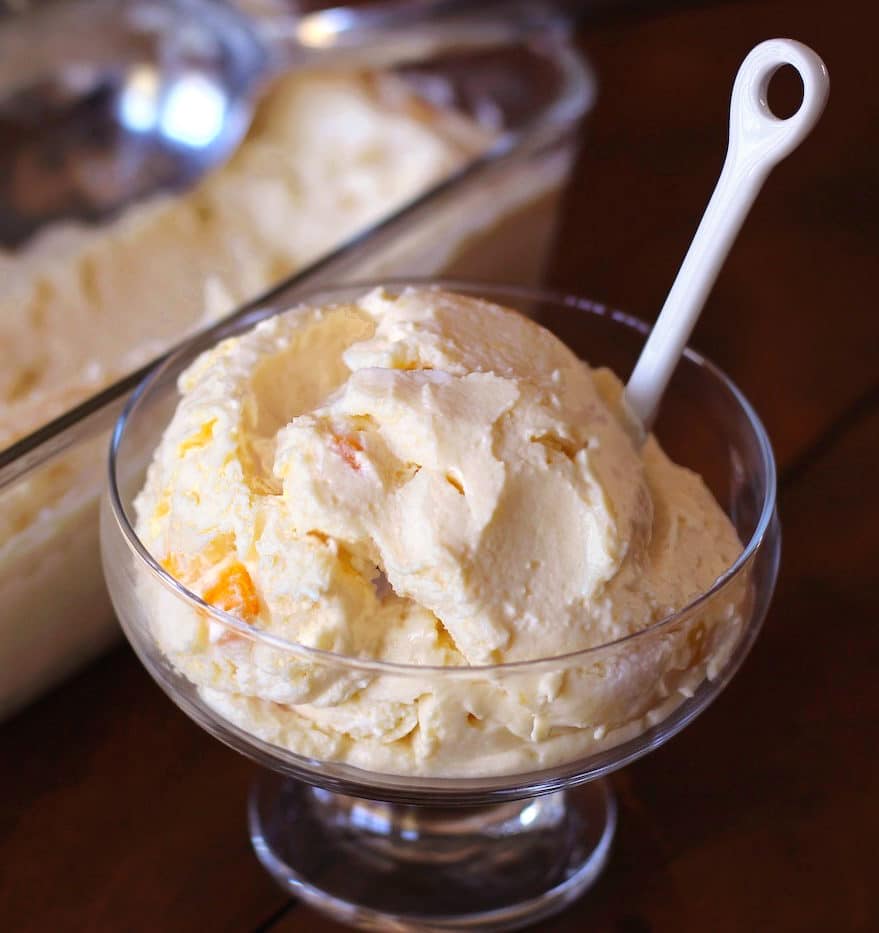 Observe the ULTRA creaminess.  You gotta make this ASAP!
PS:  Try the Homemade Cherry Garcia Fro Yo too  🙂
.
With love and good eats,
.
– Jess
.