Healthy Cake Batter Smoothie
I think it's about time we all admit that we loooove eating raw cookie dough and licking the spoon (and bowl) after making a cake.  And cake batter?  That stuff is the bomb.
So let's drink some cake batter without the risk of getting salmonella from the raw eggs, and without the guilt of consuming extra/useless calories from the refined sugar and bleached flour!
This thick and creamy smoothie is a secretly healthy treat, but you would never know that after your first sip!
Healthy Cake Batter Smoothie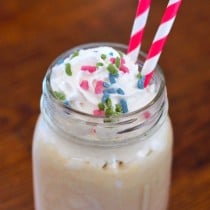 Ingredients:
1 cup Yogurt**
½ cup Unsweetened Vanilla Almond Milk
¼ cup Oat Flour
4 packets Natural Sweetener (stevia, Truvia, etc.)
⅛ tsp Salt
½ tsp Vanilla Extract
⅛ tsp Almond Extract
¼ tsp Natural Butter Flavor
All Natural Whipped Cream, for topping (I used Soyatoo Rice Whip)
1 tsp Homemade Rainbow Sprinkles, for topping
Directions:
Place all the ingredients in a blender and puree for 30 seconds (add some ice if you want it super thick and frosty).
Pour into a serving glass, top with the whipped cream and sprinkles, and enjoy!
Notes:
**I used a vanilla almond yogurt sweetened with fruit juice only, not sugar. However, this yogurt company went under and is no longer in production 🙁 ... you can use whatever yogurt you like -- coconut, soy, dairy, etc., just make sure it doesn't have any sugar added!
This recipe is wholesome, nutritious and high in fiber so it will keep you full and satisfied for hours.  It's so healthy you can make it for lunch, dessert and even breakfast.  Or at least I sure made it for breakfast  😉
This was so good, I kind of maaaybe possibly chugged it…
It's not my fault, it was so sweet and creamy and sinful tasting!  I couldn't help myself, and I bet you won't be able to either  😉
Sooo. Goood!