Healthy Funfetti Pancakes
These sweet and buttery, fluffy and delicious, HEALTHY Funfetti Pancakes are secretly all natural, refined sugar free, low fat, high protein, high fiber, gluten free and dairy free!
Yes, this is real life.  No, you're not dreaming 😍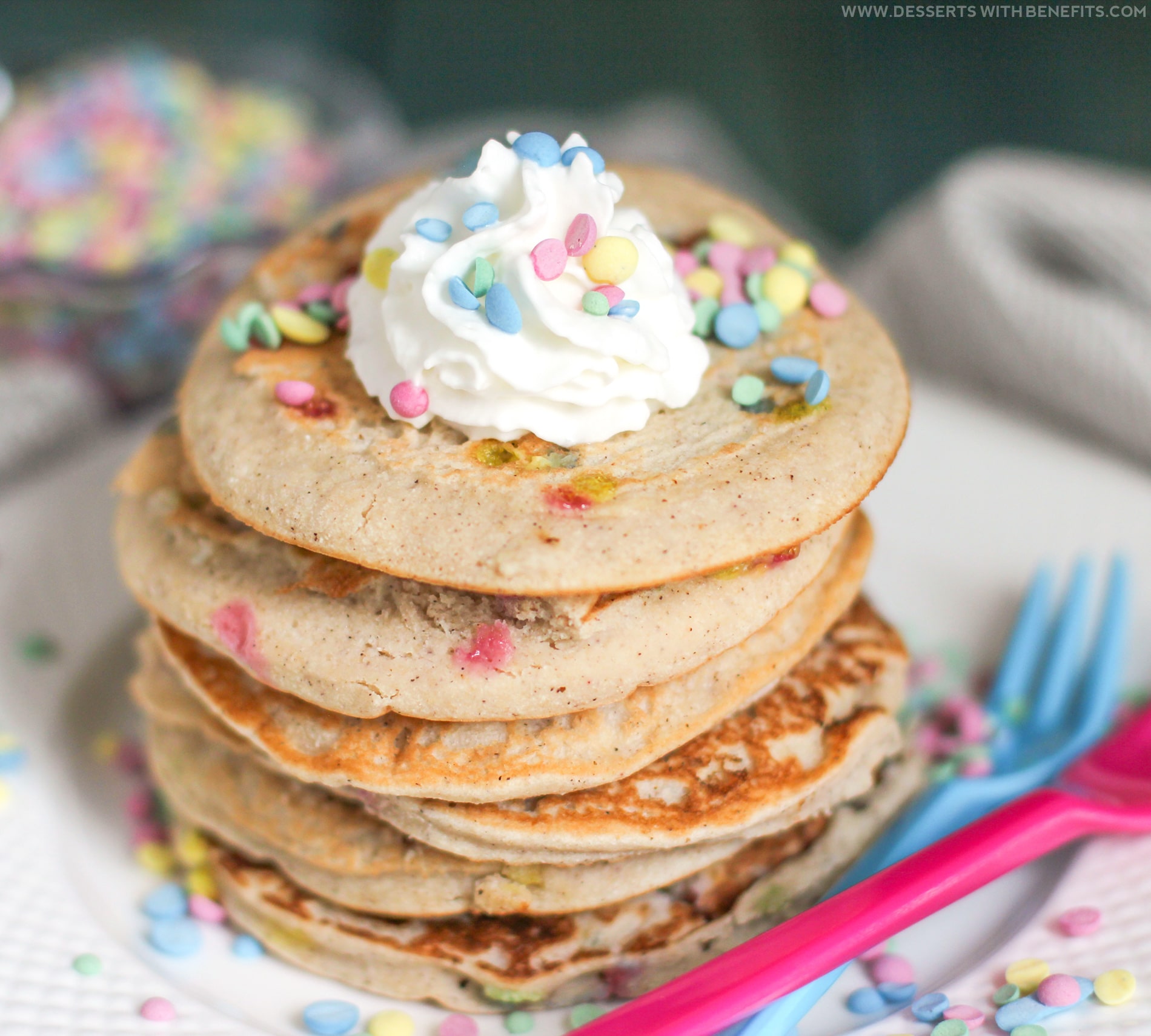 I had to make FIVE batches of these pancakes in order to finally make it to this successful (and mighty glorious) recipe, but all that time and recipe testing was SO so worth it.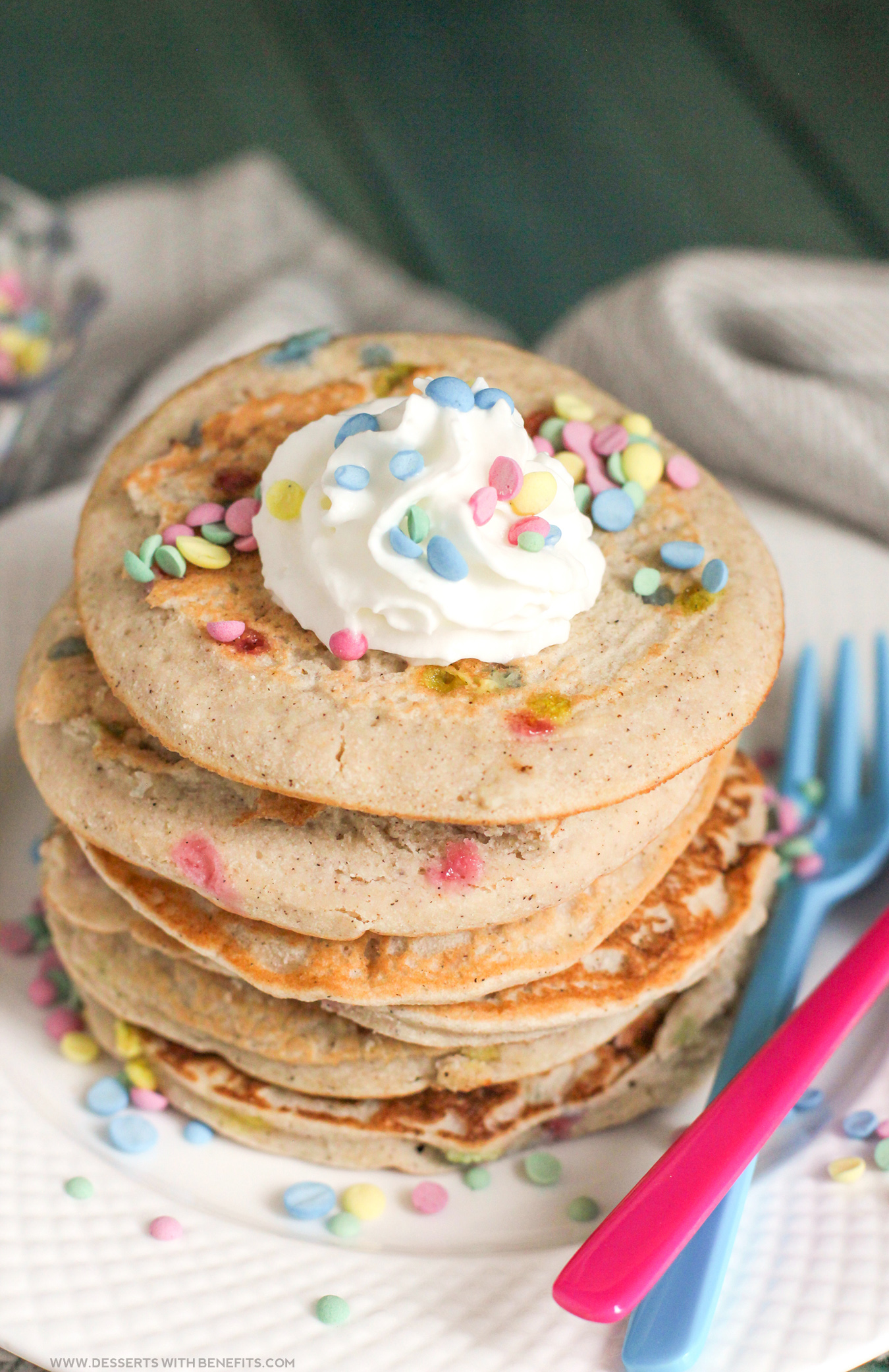 The first batch was really tender but it had no structure.  With a drizzle of pure maple syrup, the pancakes nearly disintegrated into moist crumbs with every forkful.  I eventually had to eat the mush with a spoon.  I mean, it was absolutely delicious, but way too delicate to be considered pancakes, and far too inconvenient when you're ravenous in the morning.
The second batch was just as tasty as the first batch but it was super gooey in the middle, despite being cooked for what seemed like forever.
The third batch was a little too moist in the center yet again, causing me to overcook them (aka burn them).  Oops!
The fourth batch was tasty, tender, and structurally sound, yet a little too thin for my taste.  I like fluffy and puffy pancakes.  Thicker is better in my opinion.
Finally, the fifth (and final) batch came along.  These Healthy Funfetti Pancakes are fluffy and puffy, sweet and buttery, and 100% addicting…  now THAT'S how I like my pancakes!  They're soft and cake-like, exactly like Funfetti Cake but in pancake form.  It's seriously hard to believe these are all natural, refined sugar free, low fat, high protein, high fiber, gluten free and dairy free!  I'm convinced someone dumped butter and sugar into the batter when I wasn't looking 😳
*makes skeptical face*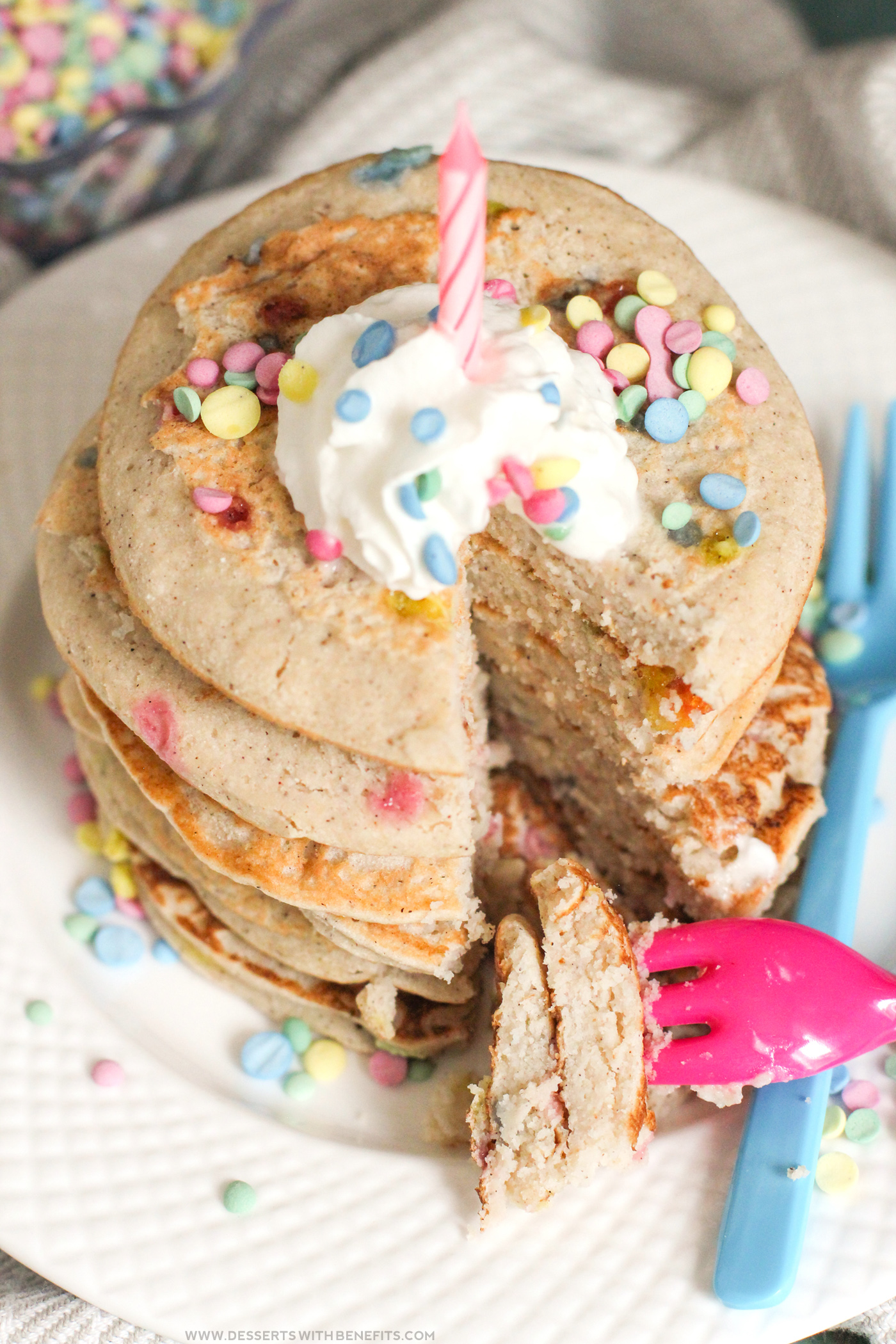 Healthy Funfetti Pancakes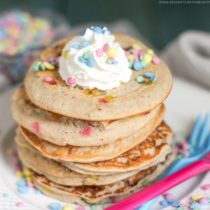 Ingredients:
Directions:
Spray a nonstick griddle with cooking spray and place over medium heat.
In a small bowl, whisk together the sorghum flour, coconut flour, baking powder, sweetener, and salt.
In a large bowl, whisk together the almond milk, egg white, vanilla extract, butter flavor, and almond extract.  Dump the dry ingredients over the wet ingredients and whisk vigorously.
Gently stir in the rainbow confetti JUST until mixed throughout (don't overmix, otherwise the confetti will probably melt into the batter).
Scoop ~¼ cup of the batter onto the griddle.  Cook until bubbles appear on the surface of the pancake and the edges appear dry.  Flip and cook the other side. Continue this until all the batter is used up.
Serve immediately with fresh berries, natural whipped cream (be careful, some brands contain hydrogenated oils! I use Soyatoo Rice Whip) and more Homemade Rainbow Confetti!
Notes:
The recipe above is my revised recipe.  I originally posted a Funfetti pancake recipe back in 2014 but felt like it could use some work on the texture and flavor (the pancakes were a bit on the thin side and had a slightly eggy taste).   Just in case you wanted to see the previous recipe and/or the changes I made, I'm providing the old recipe here:
⅔ cup Unsweetened Vanilla Almond Milk
123g (½ cup) Unsweetened Applesauce
2 Large Organic Eggs
2 Large Organic Egg Whites
1 tsp Vanilla Extract
1 tsp Natural Butter Flavor
28g (¼ cup) Coconut Flour
1 tsp Homemade Metamucil
1 tsp Double-Acting Baking Powder
5 packets Natural Sweetener (stevia, Truvia, etc.)
⅛ tsp Salt
1 tbs Natural Rainbow Sprinkles
Be sure to follow @DessertsWithBenefits on Instagram!  If you try this recipe, make sure to snap a picture of it, tag me @DessertsWithBenefits, and hashtag #DessertsWithBenefits.  I'd love to see it and feature you on #FanFaveFridays!
.
Unlike the typical (unhealthy) Funfetti Pancake recipes out there, this recipe contains zero trans fats, no synthetic food dyes, no artificial flavorings, no white sugar, and no bleached white flour 🙌
.
Here is the recipe's nutrition label:
Healthy fats, complex carbs, lots of fiber and tons of protein.  This is the kind of breakfast we can feel good about indulging in 👌🍴

You can always count on a stack of these Healthy Funfetti Pancakes for a fast, filling, energizing breakfast (or dessert or lunch or dinner 😎)
.
– Jess
🎂🍴💕
.