Healthy Funfetti Shortbread Cookies
Healthy Funfetti Shortbread Cookies — simple, sweet, buttery, and delicious.  You'd never know these are sugar free, gluten free, dairy free, and vegan!
To me, Shortbread Cookies are served at classy affairs with tea, biscuits, and people who wear fancy clothes (a stark contrast to me, as I wear pajamas and/or yoga pants for about 99.9% of my life).  I was craving my Healthy Shortbread Cookies for some reason (hmmm, I wonder why…  BECAUSE THEY'RE SO DAMN GOOD, THAT'S WHY), but wanted to make a fun and exciting, not so "formal" new flavor.  I opened my fridge and saw a little jar of Homemade Rainbow Confetti.
FUNFETTI SHORTBREAD COOKIES IT IS!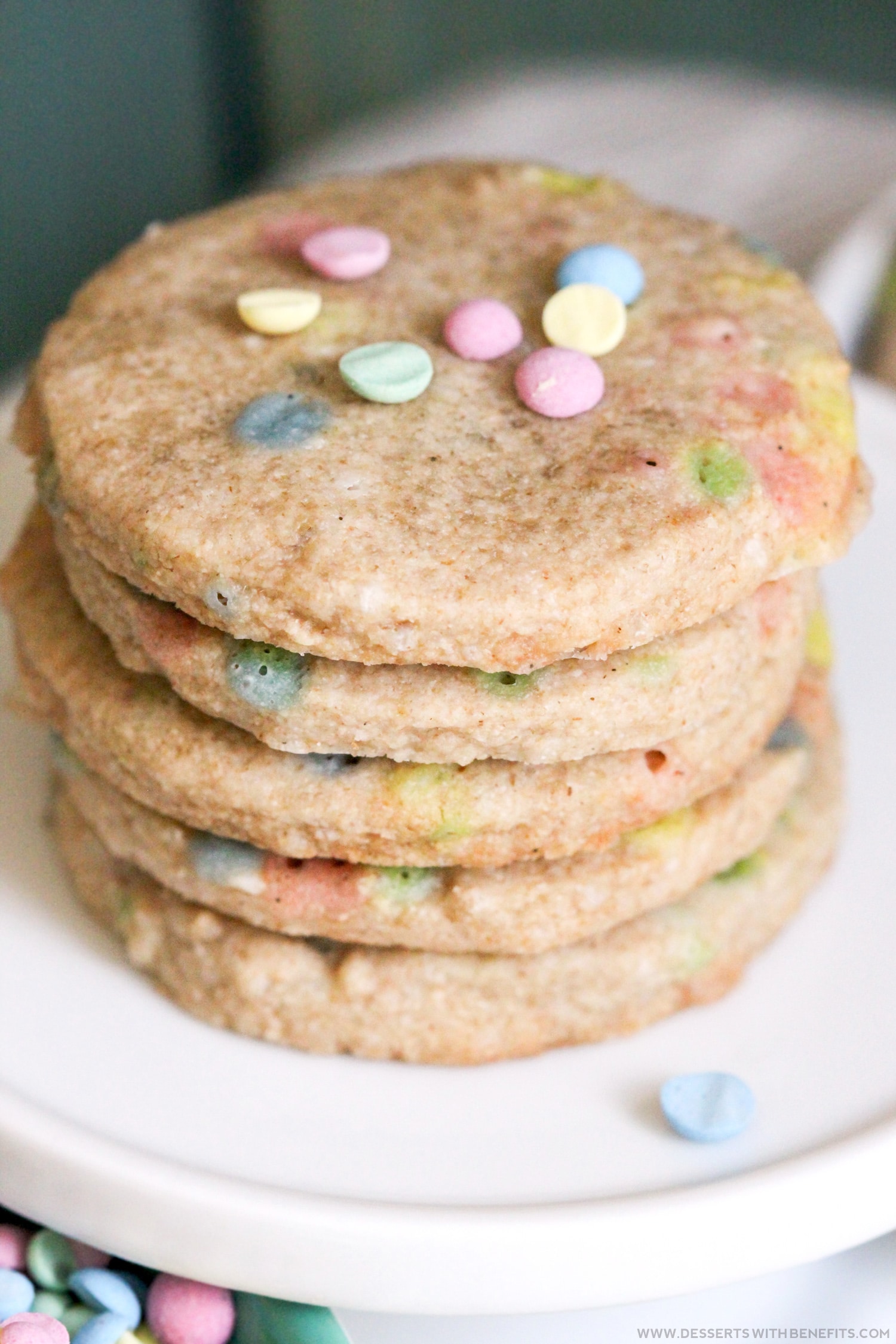 And boy, was that a good decision.  These Healthy Funfetti Shortbread Cookies are buttery rich and satisfyingly sweet.  I could eat these for breakfast, lunch, and dinner.
And I may have…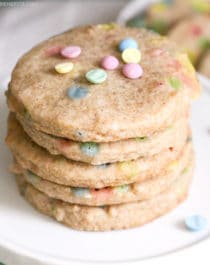 Healthy Funfetti Shortbread Cookies
Cuisine:
Cookies & Crackers
Instructions
Preheat your oven to 350 degrees Fahrenheit.

In a small bowl, whisk together the oat flour, erythritol, baking powder, and salt.

In a stand mixer bowl with beater attachment, add the coconut oil, almond milk, vanilla extract, butter flavor, and stevia extract.  Mix on low speed until completely mixed.

Dump the dry ingredients into the stand mixer and mix until completely mixed.  Cover the bowl and refrigerate for 1 hour.

Roll ⅓ of the dough in between two

silicone baking sheets

until ~½" thick.  Sprinkle ⅓ of the rainbow confetti onto the partially rolled out dough, then roll again in between two silicone baking sheets, this time until it's ~⅛" thick.  Use a 2" circle cookie cutter to punch circles into the dough.  Peel away the dough surrounding the circle shapes, putting the dough back into the stand mixer bowl, and transfer the silicone sheet with the circles onto a cookie tray.

Bake for ~12 minutes, or until the cookies are golden brown around the edges.  Carefully transfer the silicone sheet onto your counter or a wire cooling rack to cool completely.  Keep re-rolling the dough and baking until all the dough is used up.
Recipe Notes
To store, keep cookies in an airtight container at room temperature for up to 3 days.
Nutrition Facts
Healthy Funfetti Shortbread Cookies
Amount Per Serving (3 cookies)
Calories 140
Calories from Fat 81
% Daily Value*
Total Fat 9g 14%
Sodium 90mg 4%
Total Carbohydrates 12g 4%
Protein 2g 4%
* Percent Daily Values are based on a 2000 calorie diet.
.
Here is the recipe's nutrition label:
Even with the added Rainbow Confetti, these Healthy Funfetti Shortbread Cookies come in with less calories, less fat, and less sugar for the same serving size (3 cookies) than Keebler's Sandies Classic Shortbread, which has 240 calories, 13.5g fat, and 10.5g sugar.
That's what I call a win-win-win.

If you've made my Classic Shortbread Cookies, then you know full well how simple, yet addicting, they are.  But these?  Daaaaang, these are dangerously addicting.
Don't say I didn't warn ya  😉
.
– Jess
.