Healthy Lemon Shortbread Cookies
Healthy Lemon Shortbread Cookies — simple, sweet, buttery, and lemony fresh delicious!  You'd never know these are sugar free, gluten free, dairy free, and vegan!
When you're craving the crumble and richness of Shortbread Cookies, but want a little more oomph in flavor, add some lemon zest to the cookie dough and voila!  You've "oomphed" up this shiz to da MAX.  No offense to my other Shortbread Cookie recipes (I'm lookin' at you Matcha Green Tea Almond and Funfetti), but these have got to be my absolute FAVORITE flavor yet.  While I love all the flavors the same, these Healthy Lemon Shortbread Cookies hold a special place in my heart.
When I was younger — and just as chocolate-obsessed as I am now — I never really liked citrusy desserts.
Why suck on a sour lemon when you can have sweet and creamy Milk Chocolate??  I must have asked my sister this on a weekly basis.  My sister has never had much of a sweet tooth (SACRILEGIOUS, I know), but would always always always be down to eat something sweet if it had lemon in it.  Being the younger sister, I always looked up to my big sister.  If she would eat a lemony dessert, I would eat it too (and try to like it, despite hating citrus at the time).  I'd take a bite of that Lemon Bar or Key Lime Pie that she was eating and fake a smile, just so I could be closer to my big sis in that special moment.
Nowadays, I not only appreciate citrusy sweets, I absolutely love 'em!  And I think it's because those fond memories of eating desserts with my sister flood in whenever I get a taste of lemon, lime, or grapefruit.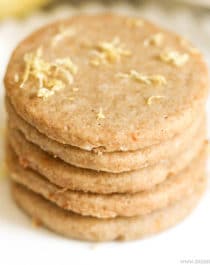 Healthy Lemon Shortbread Cookies
Cuisine:
Cookies & Crackers
Ingredients
180g

(1½ cups )

Oat Flour

96g

(½ cup)

Granulated Erythritol

1

tsp

Double-Acting Baking Powder

¼

tsp

Salt

112g

(½ cup)

Coconut Oil, melted

60g

(¼ cup )

Unsweetened Vanilla Almond Milk, room temperature

4

tsp

Lemon Zest

2

tsp

Vanilla Extract

2

tsp

Natural Butter Flavor

1

tsp

Stevia Extract
Instructions
Preheat your oven to 350 degrees Fahrenheit.

In a small bowl, whisk together the oat flour, erythritol, baking powder, and salt.

In a stand mixer bowl with beater attachment, add the coconut oil, almond milk, lemon zest, vanilla extract, butter flavor, and stevia extract.  Mix on low speed until completely mixed.

Dump the dry ingredients into the stand mixer and mix until completely mixed.  Cover the bowl and refrigerate for 1 hour.

Roll ⅓ of the dough in between two

silicone baking sheets

until ~⅛" thick.  Use a 2" circle cookie cutter to punch circles into the dough.  Peel away the dough surrounding the circle shapes, putting the dough back into the stand mixer bowl, and transfer the silicone sheet with the circles onto a cookie tray.

Bake for ~12 minutes, or until the cookies are golden brown around the edges.  Carefully transfer the silicone sheet onto your counter or a wire cooling rack to cool completely.  Keep re-rolling the dough and baking until all the dough is used up.
Nutrition Facts
Healthy Lemon Shortbread Cookies
Amount Per Serving (3 cookies)
Calories 140
Calories from Fat 90
% Daily Value*
Total Fat 10g 15%
Sodium 80mg 3%
Total Carbohydrates 10g 3%
Protein 2g 4%
* Percent Daily Values are based on a 2000 calorie diet.
.
Here is the recipe's nutrition label:
Made without the white flour, white sugar, butter, and shortening, these Healthy Lemon Shortbread Cookies won't weigh you down.  Even though they're sweet and buttery rich, they're very light and refreshing.
Enjoy!
.
With love and good eats,
.
– Jess
.