Healthy Red Velvet Cake Donuts with a Chocolate Fudge Glaze
Red Velvet Cake + Donuts  =  Red Velvet Cake Donuts
Red Velvet Cake Donuts + Desserts with Benefits  =  HEALTHY Red Velvet Cake Donuts!
Okay, now it's confession time.  So, I took a donut off the wire rack as the donuts were cooling, and it goes without saying that I ate it in a flash.  But it was missing something…
Chocolate.  Duh.
So I quickly whipped up a three-ingredient Chocolate Fudge Glaze, and what a good choice that was.
These donuts taste like they are packed with sugar when they are actually sugar-free.  They are soft, moist and cake-like yet they are all natural, whole grain and made without butter and oil.  The glaze is thick and rich yet it is guilt-free and totally delicious.  Enjoy!
Healthy Red Velvet Cake Donuts with a Chocolate Fudge Glaze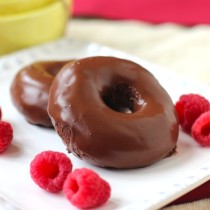 Ingredients:
Donuts:
123g (½ cup) Roasted Beet Puree (see Directions)
¼ cup Unsweetened Vanilla Soy Milk
101g (~½ cup) Egg Whites, fresh
48g (¼ cup) Homemade Vanilla Sugar (or dry sweetener of choice)
2 tbs Natural Red Food Coloring
7g (½ tbs) Grapeseed Oil (or any other neutral oil)
2 tsp Stevia Extract
2 tsp Vanilla Extract
1 tsp Natural Butter Flavor
16g (2 tbs) Organic Corn Starch
15g (3 tbs) Unsweetened Regular Cocoa Powder
¼ tsp Salt
60g (½ cup) Oat Flour
51g (6 tbs) Sweet White Sorghum Flour
1 tsp Baking Powder
Frosting:
1 cup Powdered Erythritol
3 tbs Unsweetened Dutch Process Cocoa Powder
6 tbs Unsweetened Vanilla Soy Milk
Directions:
For the Roasted Beet Puree:
Preheat the oven to 400 degrees Fahrenheit.
Rinse and gently scrub 2 medium beets, then individually wrap them in foil.
Place the beets on a jelly roll pan and bake for 1 hour, or until a fork pierces through the center of the beets with ease. Carefully unwrap the beets and let cool for 30 minutes.
Scrape off the beet skins (they should peel off easily) and chop into chunks. Add the beet chunks to a food processor and purée until completely smooth.
For the Donuts:
Preheat the oven to 350 degrees Fahrenheit and spray 2 donut pans with cooking spray.
In a large bowl, whisk together the beet puree (room temp), soy milk, egg whites, vanilla sugar, food coloring, oil and extracts.
Whisk in the corn starch, cocoa powder and salt.
In a small bowl, whisk together the oat flour, sorghum flour and baking powder.
Slowly add the dry ingredients to the wet ingredients while whisking. Once all is incorporated, whisk the batter vigorously to eliminate any clumps.
Scoop the batter into the prepared donuts pans and bake ~20 minutes, or until the surface of the donuts spring back when tapped.
Flip the donuts onto a wire cooling rack and let cool completely before frosting.
For the Frosting:
In a medium-sized bowl, whisk together the erythritol and cocoa powder.
Stir in the soy milk (should be fudgy and not too thick and not too runny)
Dunk the donuts in the frosting, one by one, and let the donuts sit on a cookie sheet lined with a Silpat silicone mat.
Refrigerate for 20-30 minutes, or until fudge frosting has firmed up a little bit.  Serve!
I was wondering what the nutrition stats would be like for this recipe so I made a nutrition label.  Prepare to be pleasantly surprised!
Yup, 90-calorie donuts with only 2g fat, plus 3g of fiber and 4g of protein.  Because the calorie content and fat content for these donuts are so low, that means you can dump on a bunch of extra toppings!  For some texture and extra flavor I topped my donuts with mini dark chocolate chips.  Oh, and please don't roll your eyes at me, but I had a couple donuts for breakfast.  I sliced the donuts in half, kind of like how you would slice a bagel, and spread on some Homemade Chocolate Almond Butter.
To.  Die.  For!
Can you believe these donuts are naturally colored, naturally flavored, 100% healthy and still have amazing flavor?  It's hard to believe, but it's true!