Healthy Red Velvet Smoothie
Healthy Red Velvet Smoothie?!?  Oh yes, my loves.  This thick and creamy, sweet and addictive, rich and chocolatey smoothie is…  hiding a vegetable.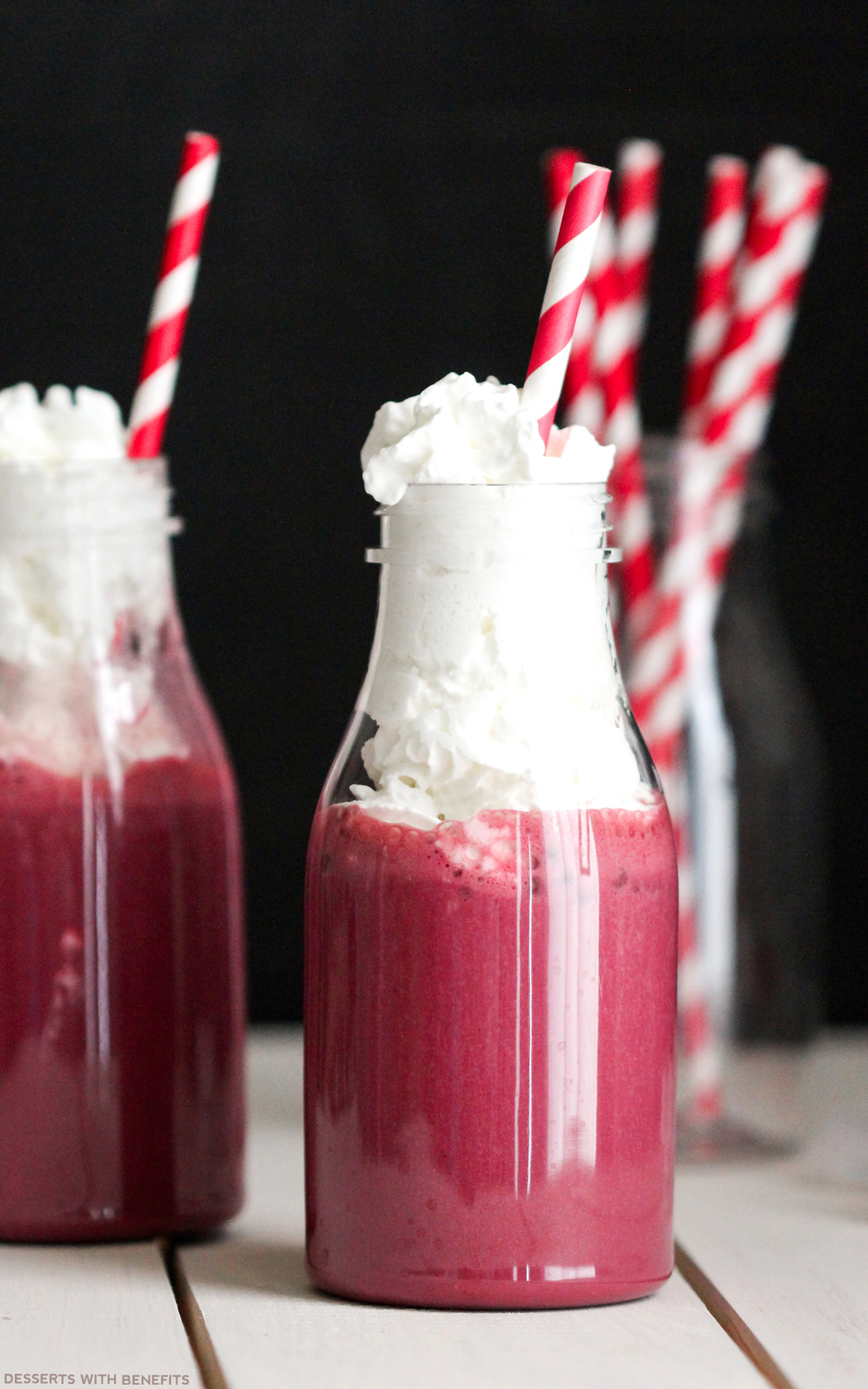 BEETS.
*gasps* 😱
Don't worry though, one sip and you'd never know it.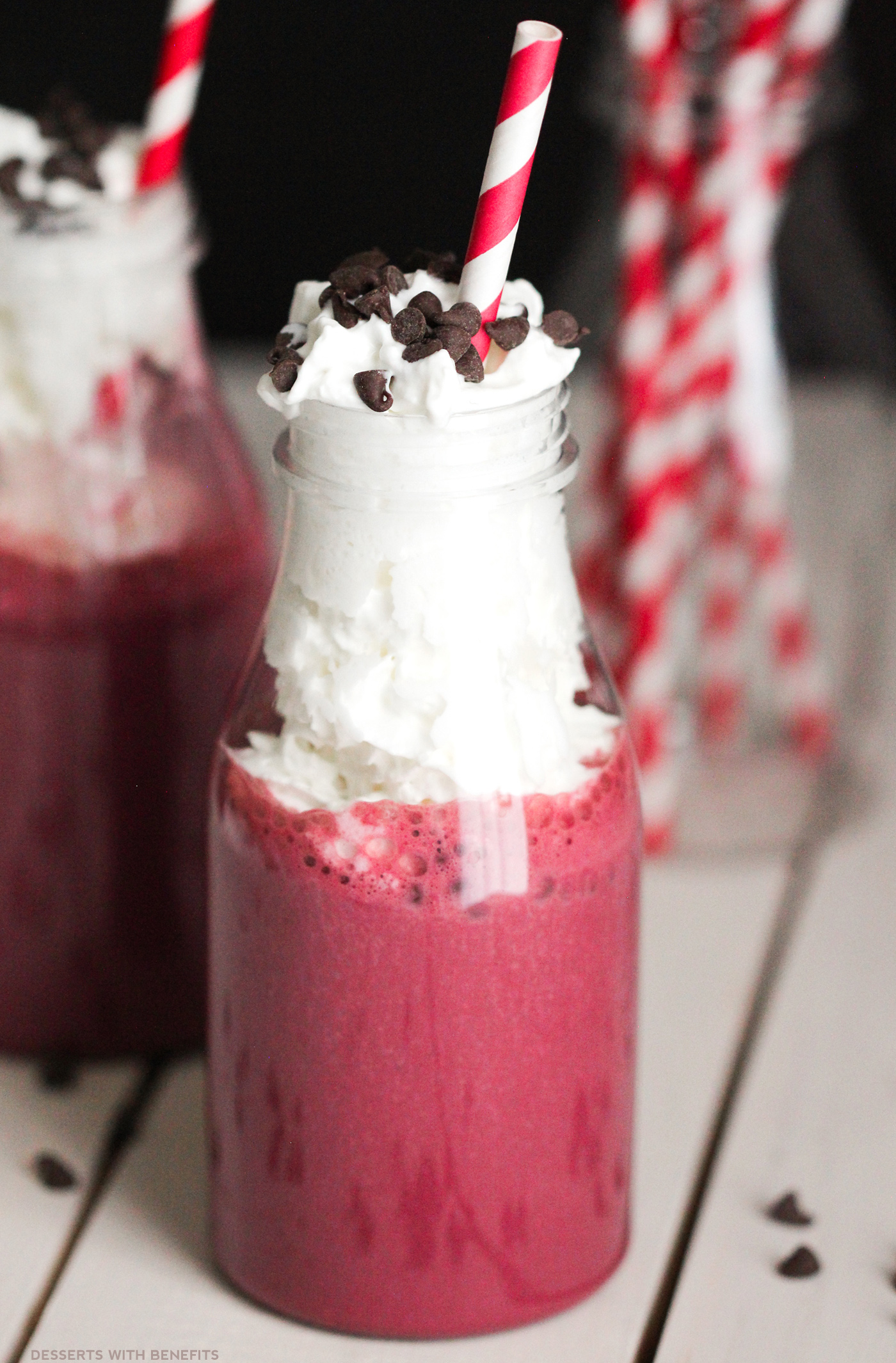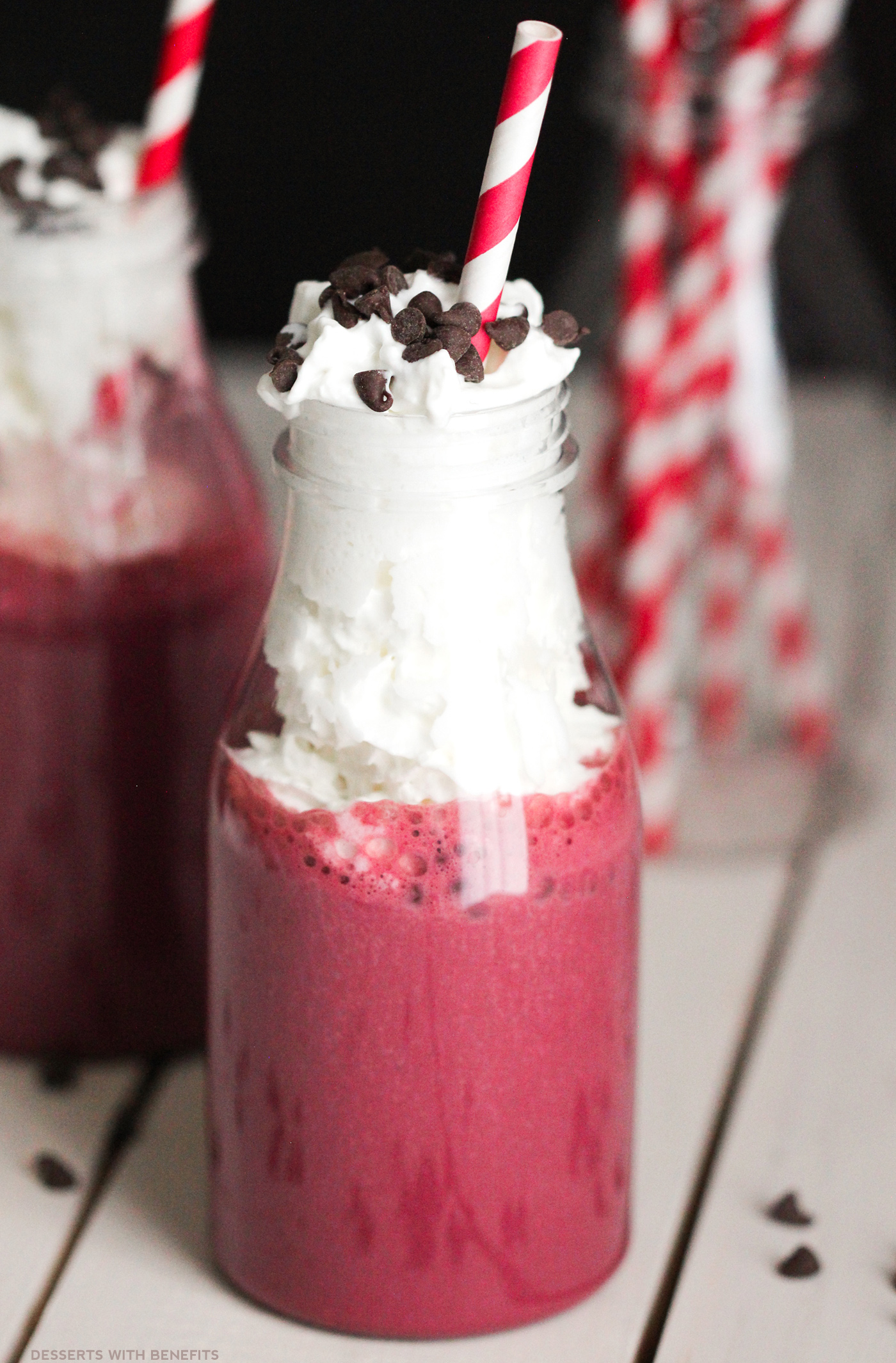 Rather, one sip and you'll be addicted.  It's nice and chocolatey, not beet-y in the slightest.  I'd know, because I absolutely despise the taste of beets.  I use oven-roasted beets in very single Red Velvet recipe on this blog.
For a few scientific reasons, oven-roasted beets seem to be the best option in comparison to raw grated beets, canned beets, and those vacuum-sealed cooked beets.  In my experience, oven-roasted beets provide the most vibrant red color and the least earthy/grassy beet flavor.
Win-Win.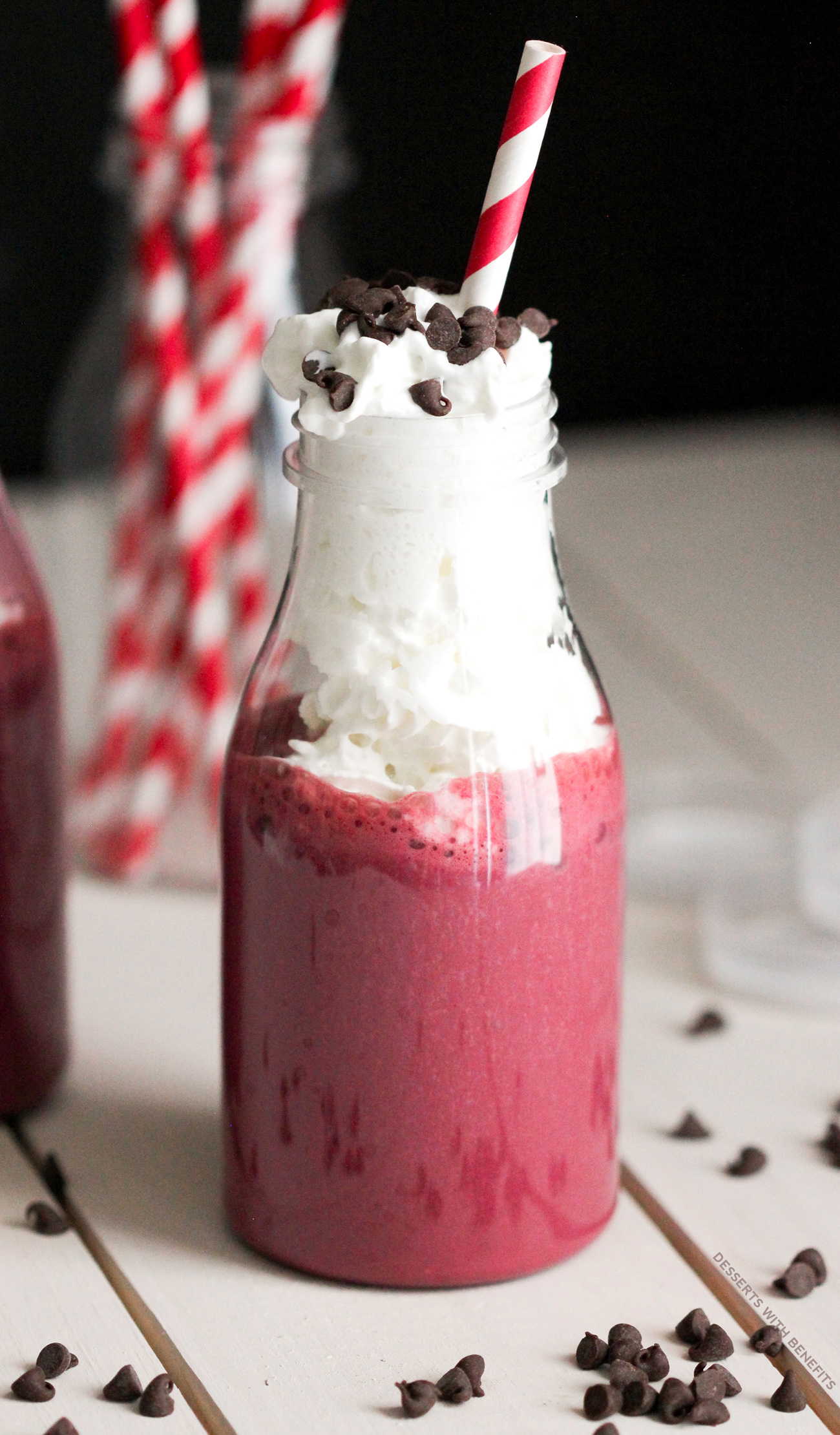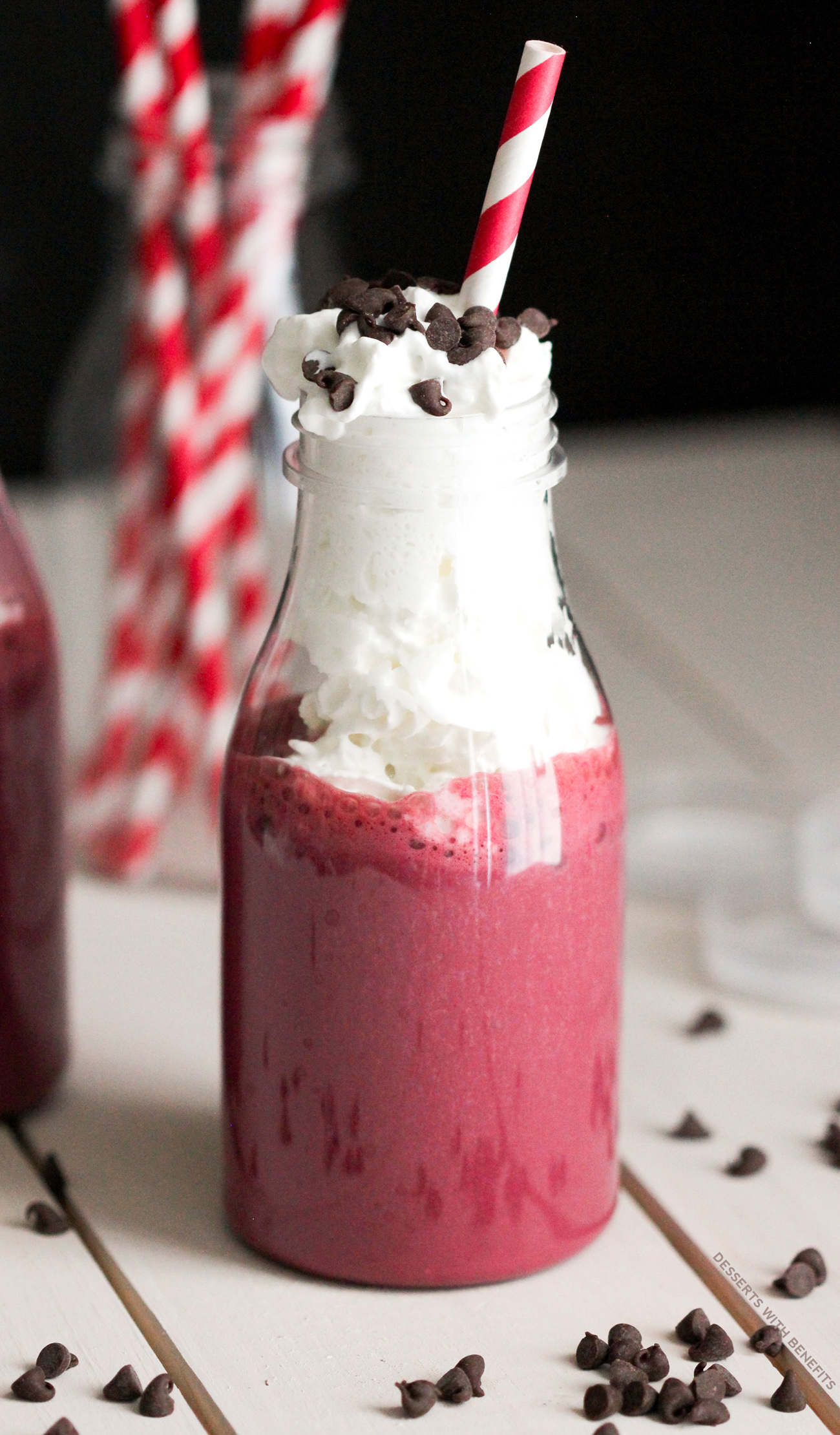 Since I make so many Red Velvet desserts in my kitchen (glorious healthy dessert factory?), and since roasting off beets takes a minimum of 1 hour, I like to make a GIANT batch of roasted beets, puree them, and freeze the puree in ice cube trays.  The next day, I'll portion all the frozen beet cubes into 130g servings (½ cup of beet puree when thawed) and place each portion in an individual sandwich baggie to store in the freezer.  This way, whenever a Red Velvet craving strikes (which is at least, like, once a week), I'M PREPARED! 🤓
That's basically where I found myself a few days ago.  Craving Red Velvet and ANYTHING Red Velvet.  And that, my friends, is how this Healthy Red Velvet Smoothie came to be! 🙌
But also because I got the chance to collaborate with Thermos® brand and try out their brand spankin' new shaker bottle.
I'm kind of a huge pro at using (and collecting) shaker bottles.  The bigger the better.  I like big protein shakes and I cannot lie  😜
When it comes to shaker bottles, I have a checklist:
Must hold at least 24oz
Must be BPA-free
Must be dishwasher-safe (because I'm lazy like that)
Must be easily portable
CANNOT LEAK
Thermos passed my little test with flying colors.  I shook my shake like a wild animal and did any of this Red Velvet Smoothie magic seep out?  Nuh-uh.  And thank goodness, because that would be a huge pain in the arse to clean up.  I was actually kinda surprised at how sturdy and of phenomenal quality the shaker bottle was.  My favorite feature is the flip-up loop on the lid to make it easy to carry around.
No offense to my other shaker bottles with short lifespans, but I think I will stick with Thermos for the long haul 👌
If you want the chance to win this Thermos® Shaker Bottle for yourself, just enter the contest on their Facebook page right now!
This Healthy Red Velvet Smoothie doesn't taste good for you AT. ALL. 😍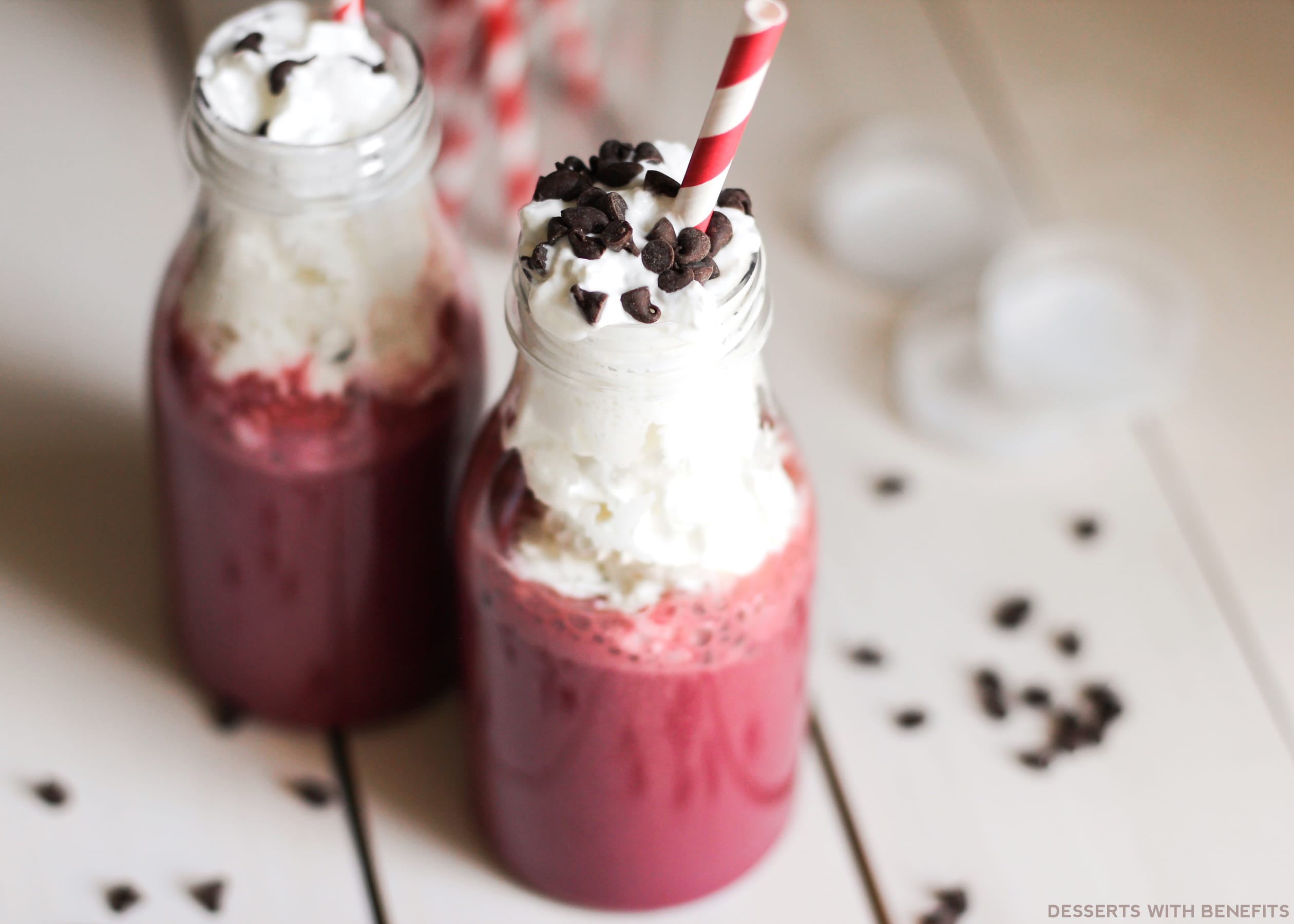 Healthy Red Velvet Smoothie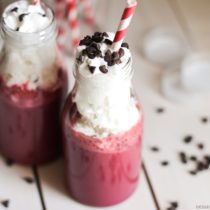 Ingredients:
1 cup Unsweetened Vanilla Almond Milk
½ cup Plain, Nonfat Greek Yogurt
¼ cup Roasted Beet Puree (see this post for Instructions)
1 scoop (32g or ⅓ cup) Chocolate Whey Protein Powder
Directions:
Add all of the ingredients to the Thermos Shaker Bottle in the order the recipe is listed in.  Attach the lid, then SHAKE SHAKE SHAKE!
Enjoy!
Notes:
For a vegan version, replace the Greek Yogurt with your favorite Plain Vegan Yogurt, and the Whey Protein with your favorite Vegan Chocolate Protein Powder (mine is Brown Rice Protein Powder).
Be sure to follow @DessertsWithBenefits on Instagram!  If you try this recipe, make sure to snap a picture of it, tag me @DessertsWithBenefits, and hashtag #DessertsWithBenefits.  I'd love to see it and feature you on #FanFaveFridays!
.
Here is the recipe's nutrition label:
Yes.  Red Velvet decadence for only 250 calories and 4.5g fat!  Plus, 4g of fiber and a whopping 39g of KICKASS PROTEIN 💪
But really now, this smoothie is super filling because it's packed with fiber, complete protein, and an oh-so sneaky vegetable.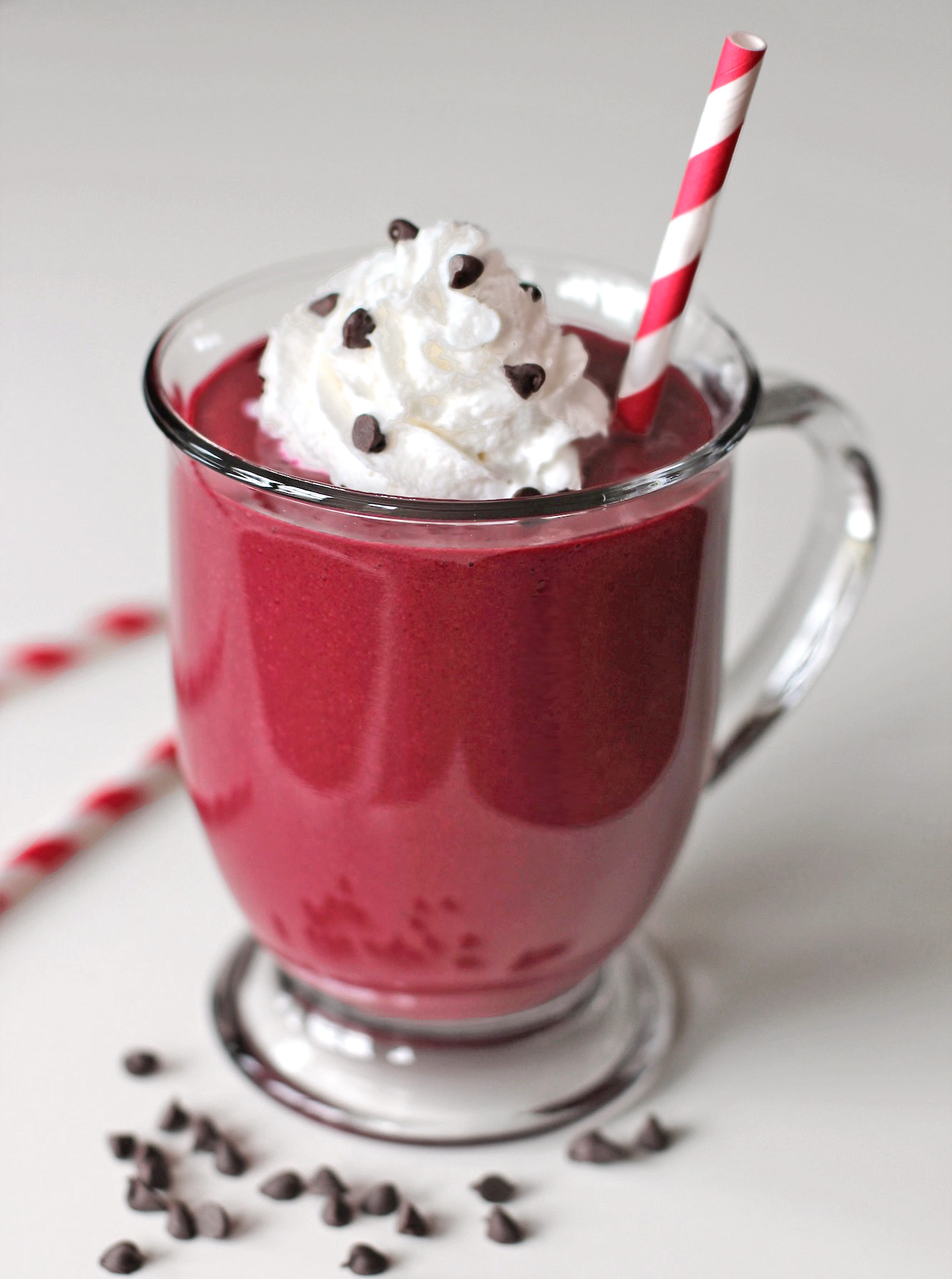 This is the (just as delicious) vegan version of the recipe 👆
.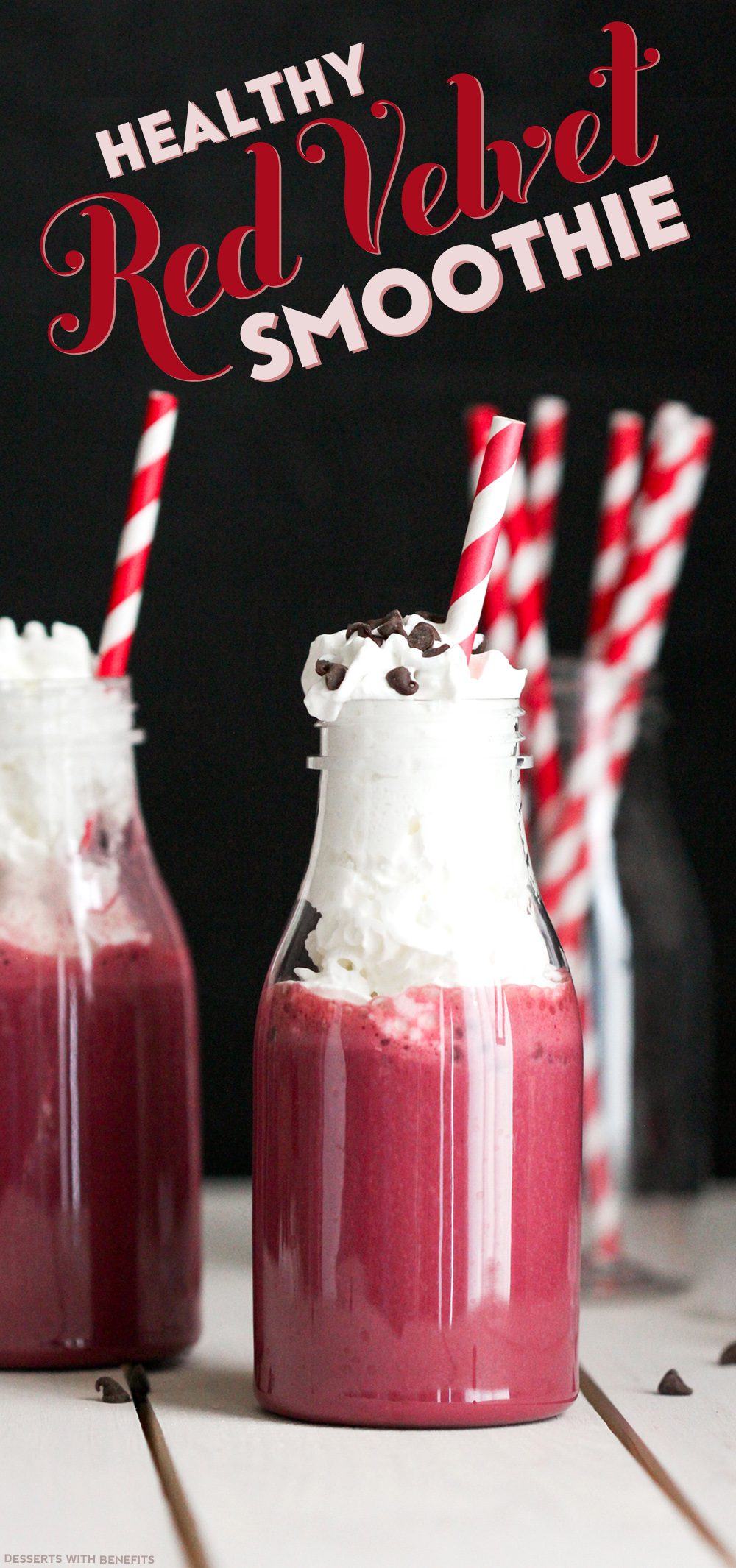 Stay updated with the Thermos brand and follow them on Facebook, Twitter, Instagram and Pinterest ☺️
Enjoy the recipe y'all!
.
– Jess
🎂🍴💕
.