Healthy Red Velvet Smoothie
Healthy Red Velvet Smoothie??  Oh yes.  This thick and creamy, sweet and addictive, rich and chocolatey smoothie is sugar free, low carb, low fat, high protein, AND gluten free.
Oh, and it's hiding a vegetable too!!
BEETS.
*gasp*
Don't worry though, one sip and you'd never know it  😉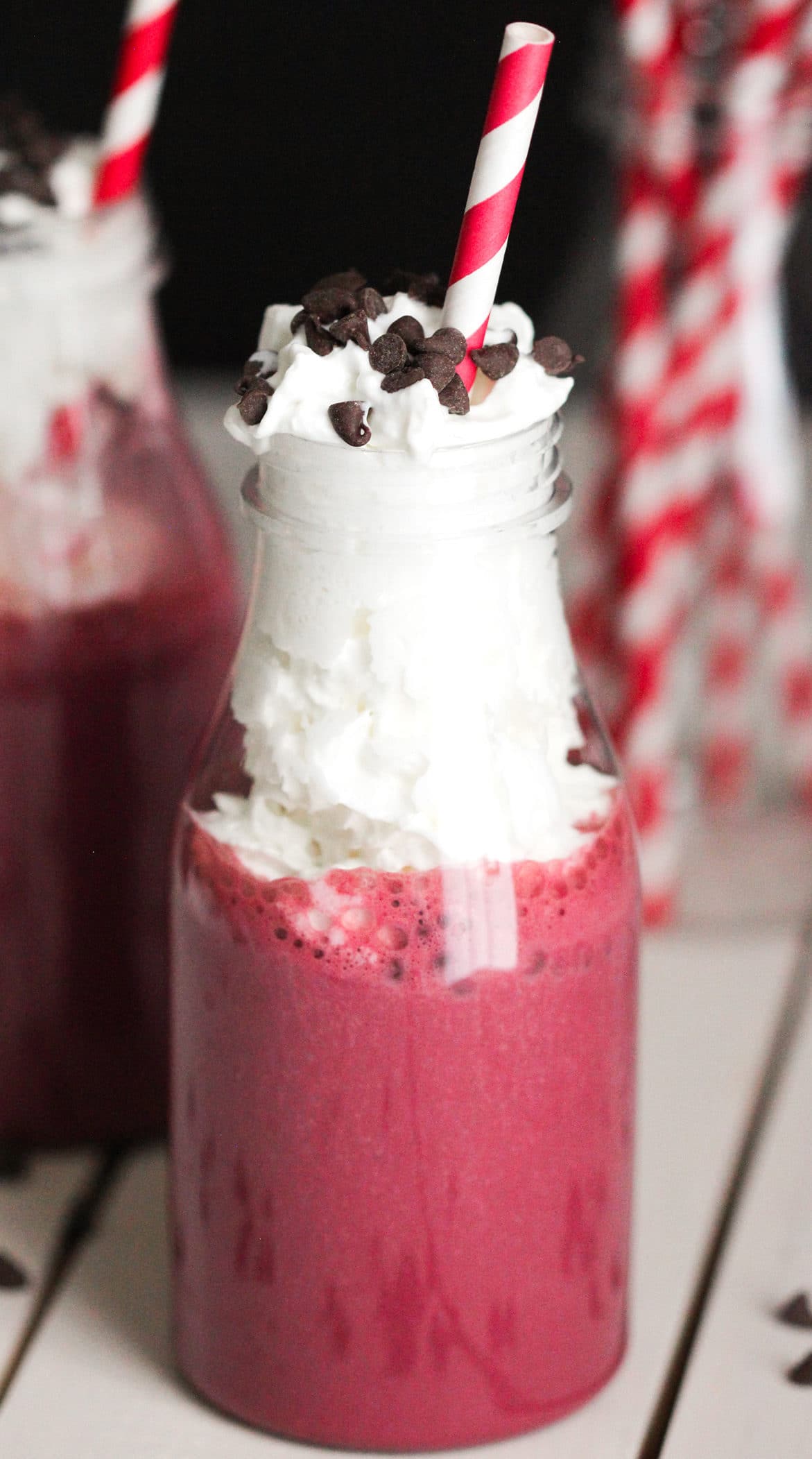 Rather, one sip and you'll be addicted.  It's nice and chocolatey, not beet-y in the slightest.  I'd know, because I absolutely despise the taste of beets.  I use oven-roasted beets in very single Red Velvet recipe on this blog.
For some unknown, scientific reasons, oven-roasted beets seem to be the best option in comparison to raw grated beets, canned beets, and those vacuum-sealed cooked beets.  In my experience, oven-roasted beets provide the most vibrant red color and the least earthy/grassy beet flavor.  Win-Win.
Since I make so many Red Velvet desserts in my kitchen/glorious healthy dessert factory, and since roasting off beets takes a minimum of 1 hour, I like to make a GIANT batch of roasted beets, puree them, and freeze the puree in ice cube trays.  The next day, I'll portion all the frozen beet cubes into 130g servings (½ cup of beet puree when thawed) and place each portion in an individual sandwich baggie to store in the freezer.  This way, whenever a Red Velvet craving strikes (which is at least, like, once a week), I'M PREPARED!
That's basically where I found myself a few days ago.  Craving Red Velvet and ANYTHING Red Velvet.  And that, my friends, is how this Healthy Red Velvet Smoothie came to be!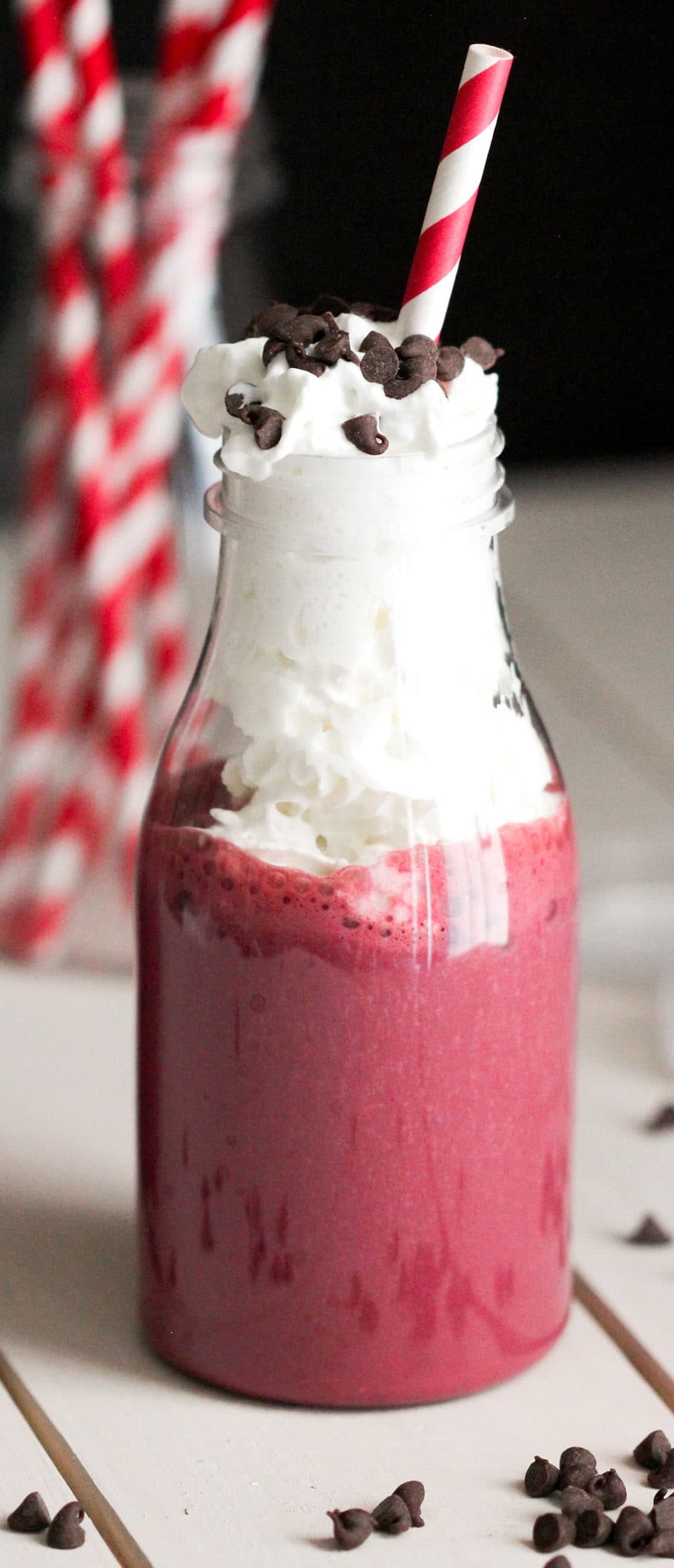 Healthy Red Velvet Smoothie
Prep Time: 10 minutes
Cook Time: 0 minutes
Total Time: 10 minutes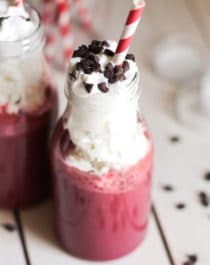 Fat per serving: 4.5
Calories per serving: 250
Ingredients:
Directions:
Add the ingredients to a shaker bottle in the order the recipe is listed in (a blender works too!).  Attach the lid, then SHAKE SHAKE SHAKE!
Enjoy!
Notes:
For a vegan version, replace the Greek Yogurt with your favorite Plain Vegan Yogurt, and the Whey Protein with your favorite Vegan Chocolate Protein Powder (I like Brown Rice Protein Powder).
All images and text ©
.
.
Here is the recipe's nutrition label:
Yes.  Red Velvet decadence for only 250 calories and 4.5g fat!  Plus, 4g of fiber and a whopping 39g of KICKASS PROTEIN.  This Healthy Red Velvet Smoothie doesn't taste good for you AT. ALL.  But really now, this smoothie is super filling because it's packed with fiber, complete protein, and that oh-so sneaky vegetable  😉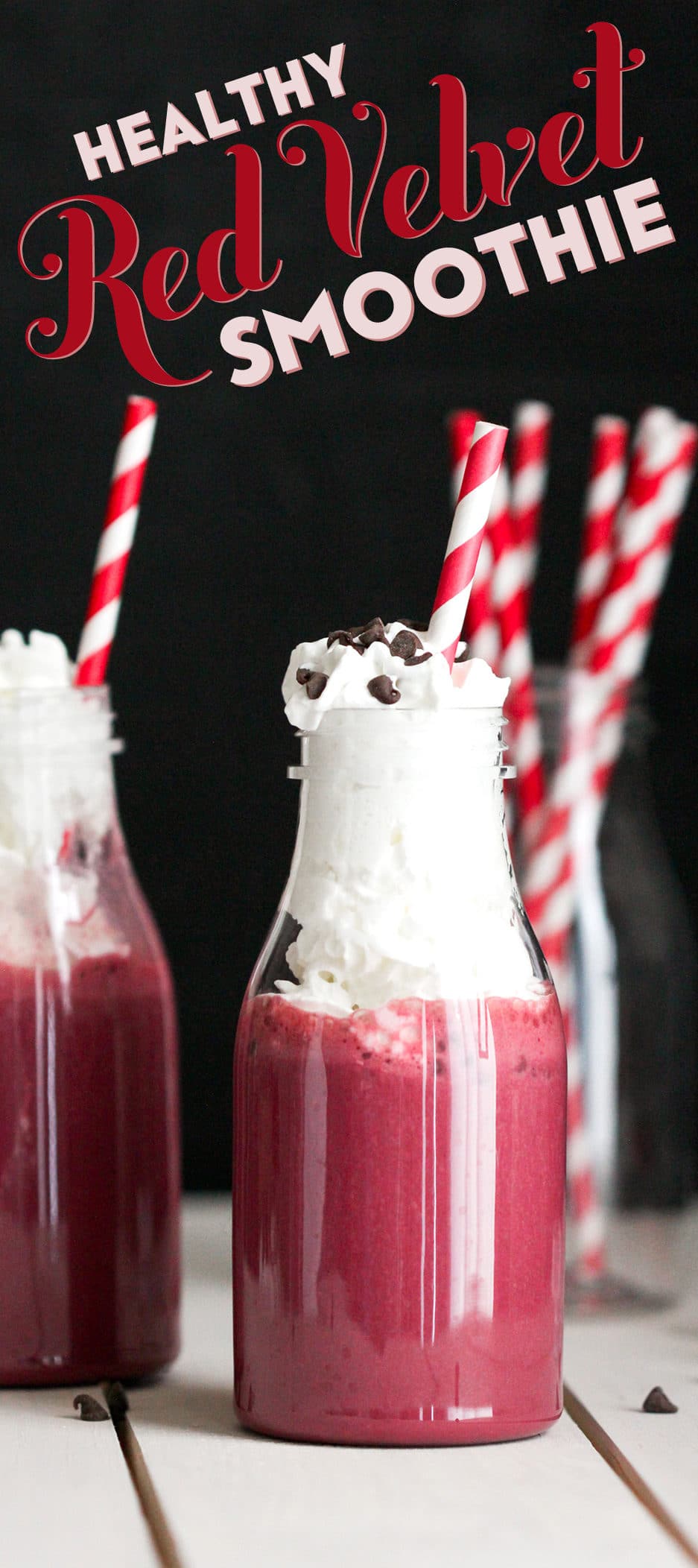 Enjoy!
.
With love and good eats,
.
– Jess
.