Healthy Chewy Peanut Butter Oatmeal Cookies
I've always had trouble healthifying cookies because cookies always contain ingredients I don't use, in large quantities, such as butter, sugar, and white flour.  But ALAS, I have finally perfected the recipe for these Healthy Chewy Peanut Butter Oatmeal Cookies!  These secretly guilt-free cookies are refined sugar free, gluten free, dairy free, eggless, and vegan, but you would never ever EVER suspect it.
These Chewy Peanut Butter Oatmeal Cookies don't taste healthy at all.  They're flavorful, rich, and decadent, and practically bursting with peanut butter essence with every whiff, and obviously, every bite.
Each bite is full of sweetness and an addicting chewy texture.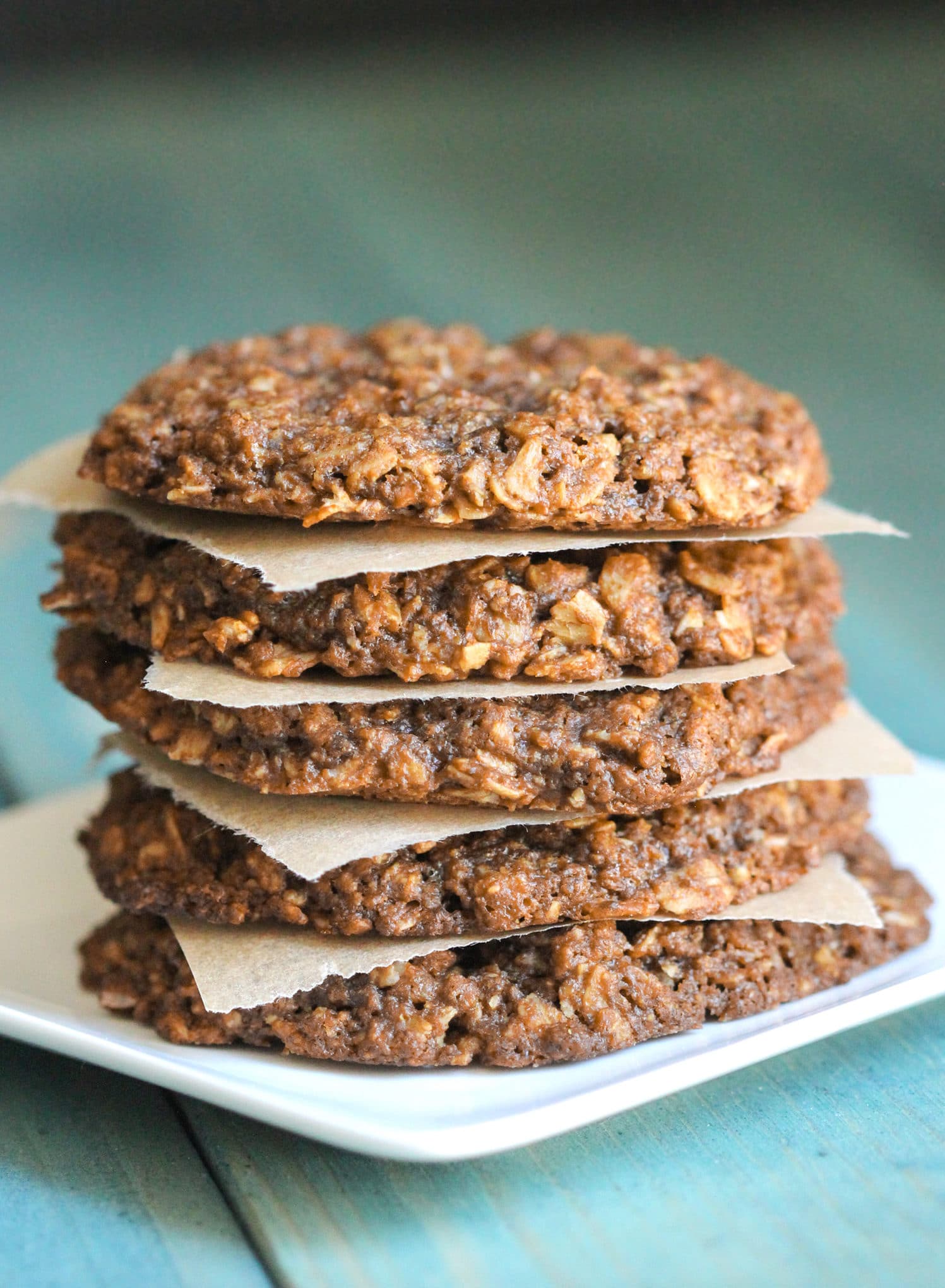 It takes some serious self restraint to stop at one.  That's why I never do 😉
After a taste of these Healthy Chewy Peanut Butter Oatmeal Cookies, I fell in love.
It's hard not to love a big ol' cookie.  When it comes to cookies, we can all agree on one thing:
BIGGER = BETTER!
Am I right or am I right?  Yes, I'm right.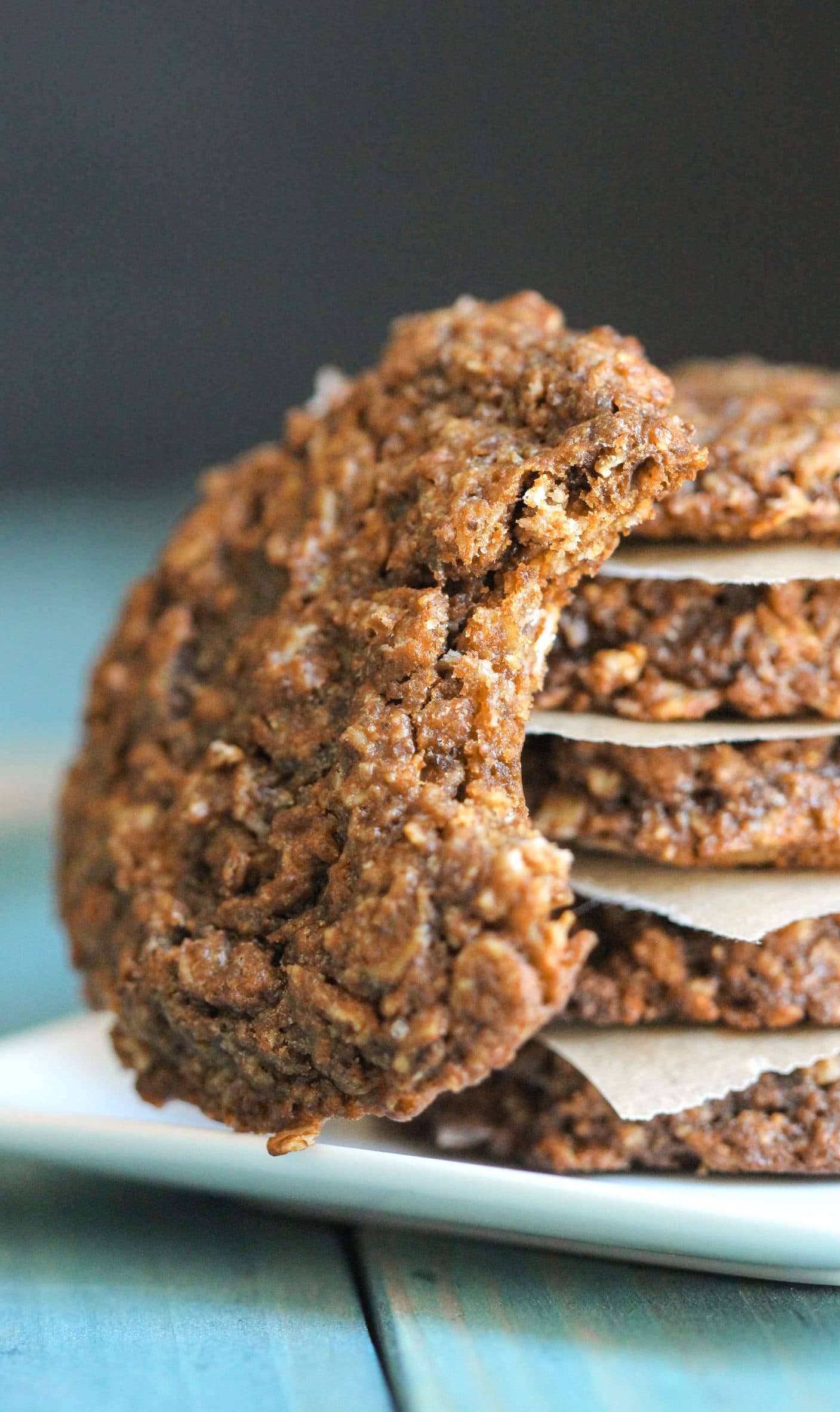 Healthy Chewy Peanut Butter Oatmeal Cookies
Prep Time: 18 minutes
Cook Time: 12 minutes
Total Time: 30 minutes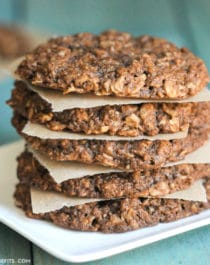 Fat per serving: 10
Calories per serving: 150
Ingredients:
13g (2 tbs) Ground Flaxseed
10g (1 tbs, packed) Corn Starch
6 tbs Unsweetened Vanilla Almond Milk
128g (½ cup) Natural Peanut Butter
49g (3½ tbs) Coconut Oil, melted
28g (4 tsp) Molasses
1 tsp Vanilla Extract
½ tsp Stevia Extract
144g (1½ cups) Old Fashioned Rolled Oats
96g (½ cup) Granulated Erythritol
½ tsp Double Acting Baking Powder
½ tsp Baking Soda
¼ tsp Salt
Directions:
Preheat your oven to 350 degrees Fahrenheit and line 2 cookie sheets with parchment paper.
In a stand mixer bowl fitted with a beater attachment, add the flax, starch, and almond milk.  Mix on low speed until fully combined.  Add the peanut butter, coconut oil, molasses, vanilla extract, and stevia extract.  Mix again until fully combined.
In a large bowl, stir together the oats, erythritol, baking powder, baking soda, and salt.  Dump the dry ingredients into the stand mixer bowl and mix until fully combined, scraping down the sides of the bowl if necessary.
Scoop the cookie dough onto the prepared cookie sheets (I used a black size 30 scooper/disher).  Flatten the cookie dough mounds slightly, then bake for ~12 minutes.  Let cookies cool, then serve and enjoy!
Notes:
Keeps in an airtight container at room temp for up to ~4 days.
Note that these cookies are somewhat delicate, so they won't stand being in an overstuffed purse for a snack later that day.  Oh, how do I know that?  Gosh, I don't know…  😉
All images and text ©
.
.
Here is the recipe's nutrition label:
Quite a few cookies went "missing" as they cooled on the counter.  Who stole my cookies?!?  I'm at a loss because I'm home alone with a full stomach, and cookie crumbs on my hands.
But no worries, whoever ate them (wink wink) shouldn't feel guilty one bit — these Chewy Peanut Butter Oatmeal Cookies are 100% natural, healthy, and of course, damn delicious!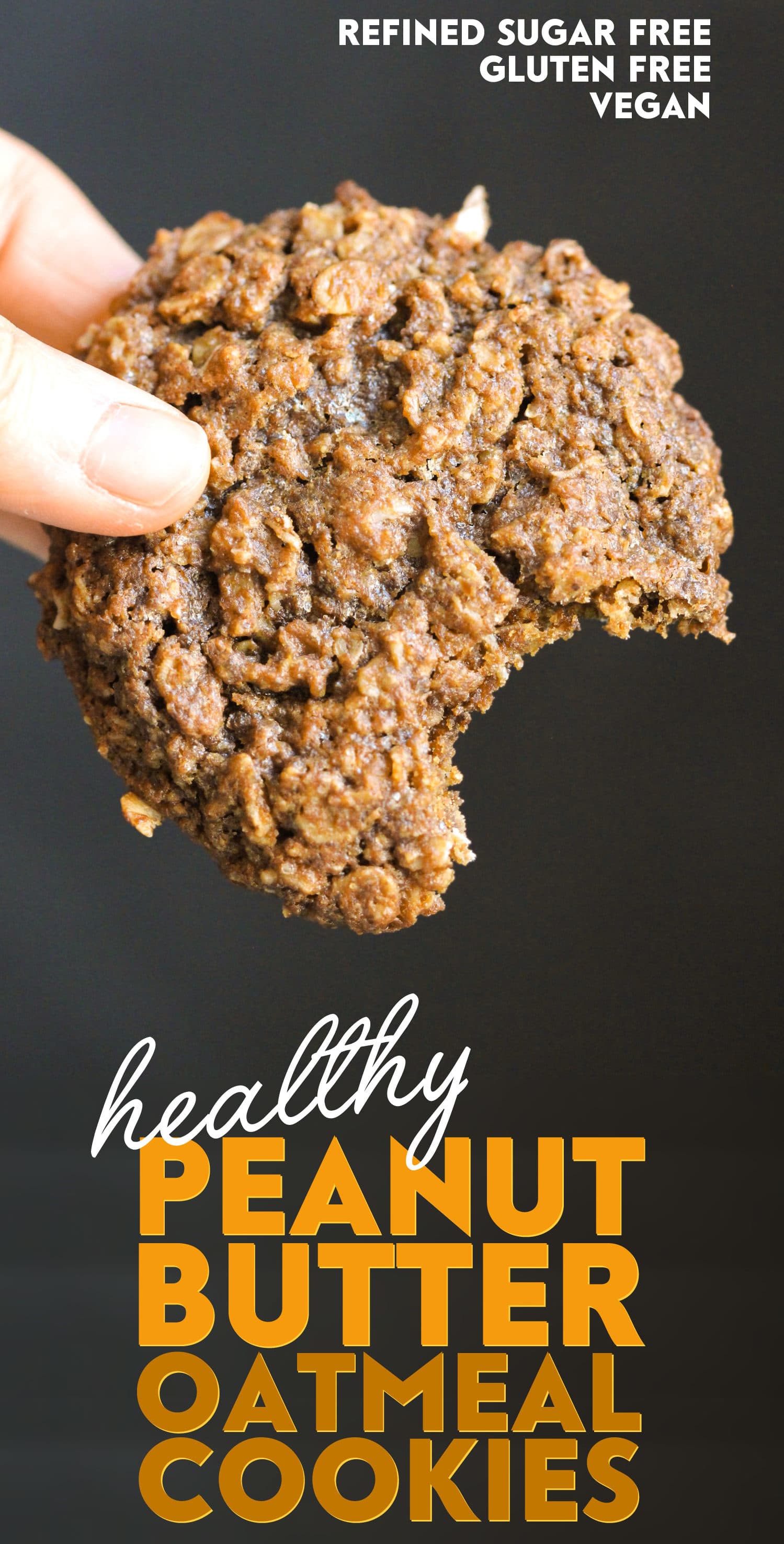 Enjoy!
.
– Jess
.
What kind of cookie do you prefer?  Thick, thin, chewy, crispy, jumbo, mini, etc.?
.