Healthy Nutella Chip Oatmeal Cookies
These secretly Healthy Nutella Chip Oatmeal Cookies are sweet, chewy, addicting, and PACKED FULL of chocolatey-hazelnutty goodness.  You'll be in utter shock when you taste these because they don't taste healthy — not in the slightest.  Awwww yissss!
These Nutella Chip Oatmeal Cookies are refined sugar free, gluten free, dairy free, and vegan.  It's literally magic in the form of a cookie.
Remember those Healthy Nutella Baking Chips from Tuesday?  Well, those aren't just for snacking, they can be used in baked goods too.  And, obviously, they make amaaaazing cookies.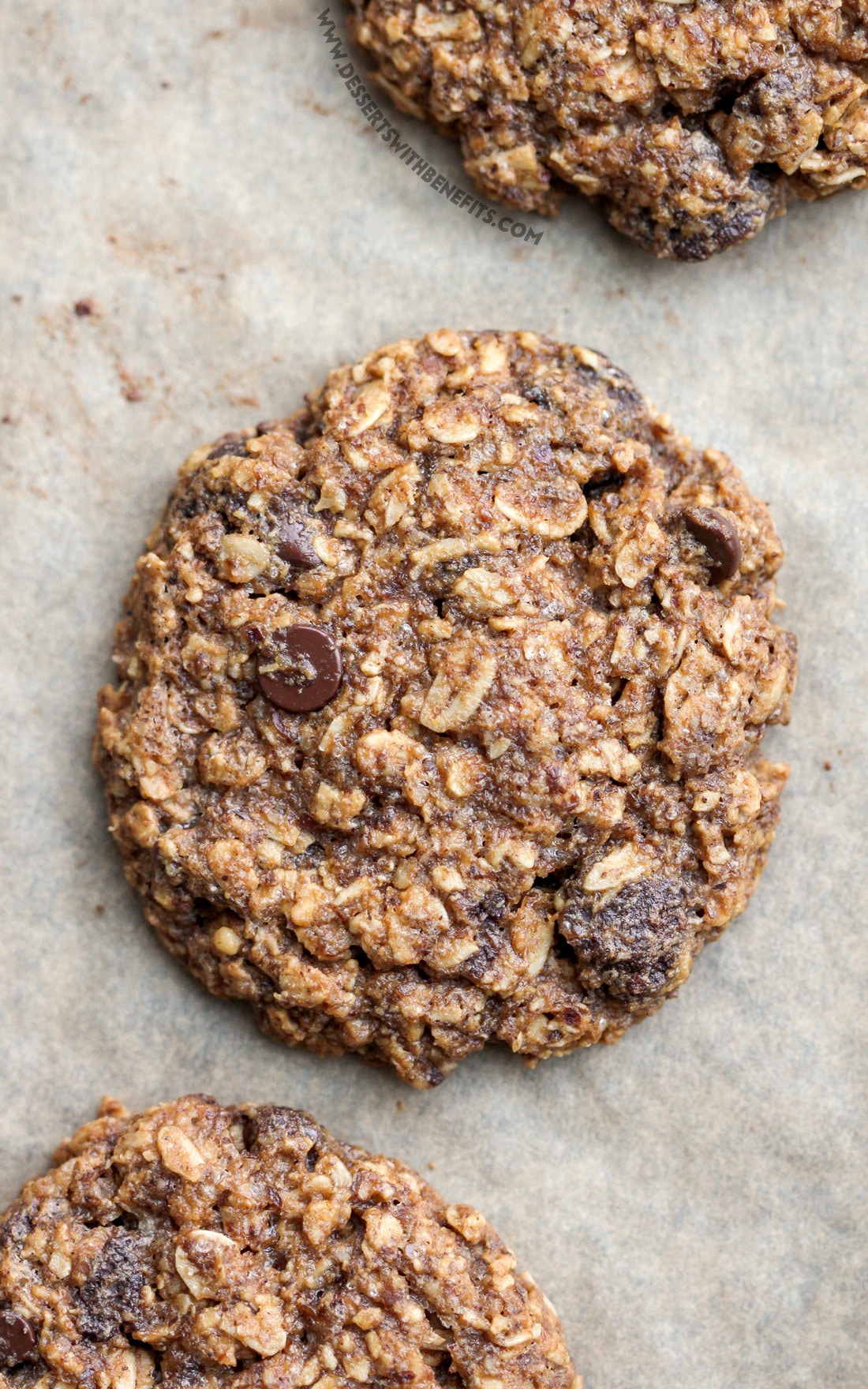 After making four batches of my Chewy Peanut Butter Oatmeal Cookies (IN A SINGLE WEEK, might I add), I was on a cookie roll.  Cookies are addicting.  Once I had a taste of the good life I wanted more and more and more.
Since those Nutella Baking Chips were screaming my name, I decided to swap out the "peanut butter" for "chocolate-hazelnut" flavor.  It took a few batches to get these cookies right.  All of the batches tasted amazing, but it came down to the texture.  The first batch hardened into rocks the day after baking.  The second batch didn't spread out as much as I'd hoped.  The third batch seemed to dry out the next day.  And finally, the fourth batch came along.  Each cookie, no, each BITE, has got a punch of flavor.  You get the hazelnuttiness, you get the chocolate, and you get the sweetness, all in a soft and chewy, yet hearty, oat-filled cookie.
So yeah, slide those Oatmeal Raisin Cookies to the side and make these Nutella Chip Oatmeal Cookies instead.  These bad boys are showstoppers.
These are pure comfort in a healthy package.
It's love in cookie form.
These Nutella Chip Oatmeal Cookies make everything right in the world.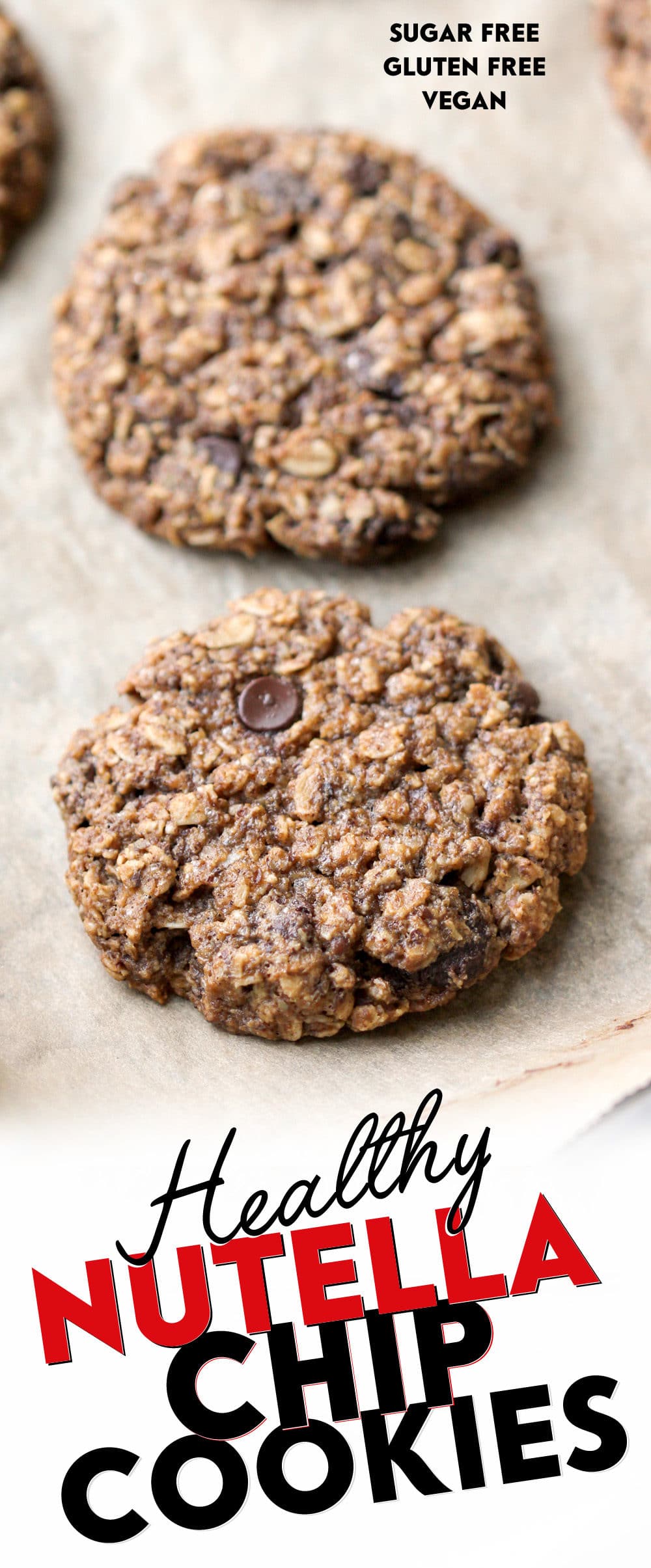 Healthy Nutella Chip Oatmeal Cookies
Prep Time: 30 minutes
Cook Time: 15 minutes
Total Time: 45 minutes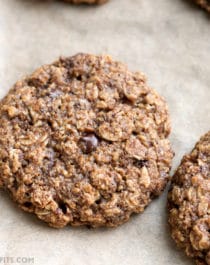 Fat per serving: 9
Calories per serving: 140
Ingredients:
Directions:
Preheat your oven to 350 degrees Fahrenheit and line 2 cookie sheets with parchment paper.
In a stand mixer bowl fitted with a beater attachment, add the almond milk, hazelnut butter, melted coconut oil, flax, molasses, vanilla extract, and butter flavor.  Mix on low speed until completely mixed through.  Turn off the mixer while you prepare the dry ingredients.
In a large bowl, stir together the oats, erythritol, oat flour, baking powder, baking soda, and salt.  Dump the dry ingredients into the stand mixer and mix until incorporated.
Dump in the Nutella Baking Chips and chocolate chips and mix one last time.
Scoop the dough onto the prepared cookie sheets (I used a black size 30 scooper/disher).  Roll the dough into balls, then flatten into patty shapes.  Bake for ~13-14 minutes.  Let cool on a wire cooling rack, then serve and enjoy!
Notes:
Store the cookies in an airtight container at room temperature for up to 4 days.
All images and text ©
.
.
Here is the recipe's nutrition label:
These Healthy Nutella Chip Oatmeal Cookies are best served nice and warm.  They're soft and chewy already, but when they're warm, the chocolate gets all fudgy and melty, and it really brings out the flavor of the hazelnuts.  Just pop a cookie in the microwave for a few seconds and BAM!  You've got yourself a "freshly baked" cookie.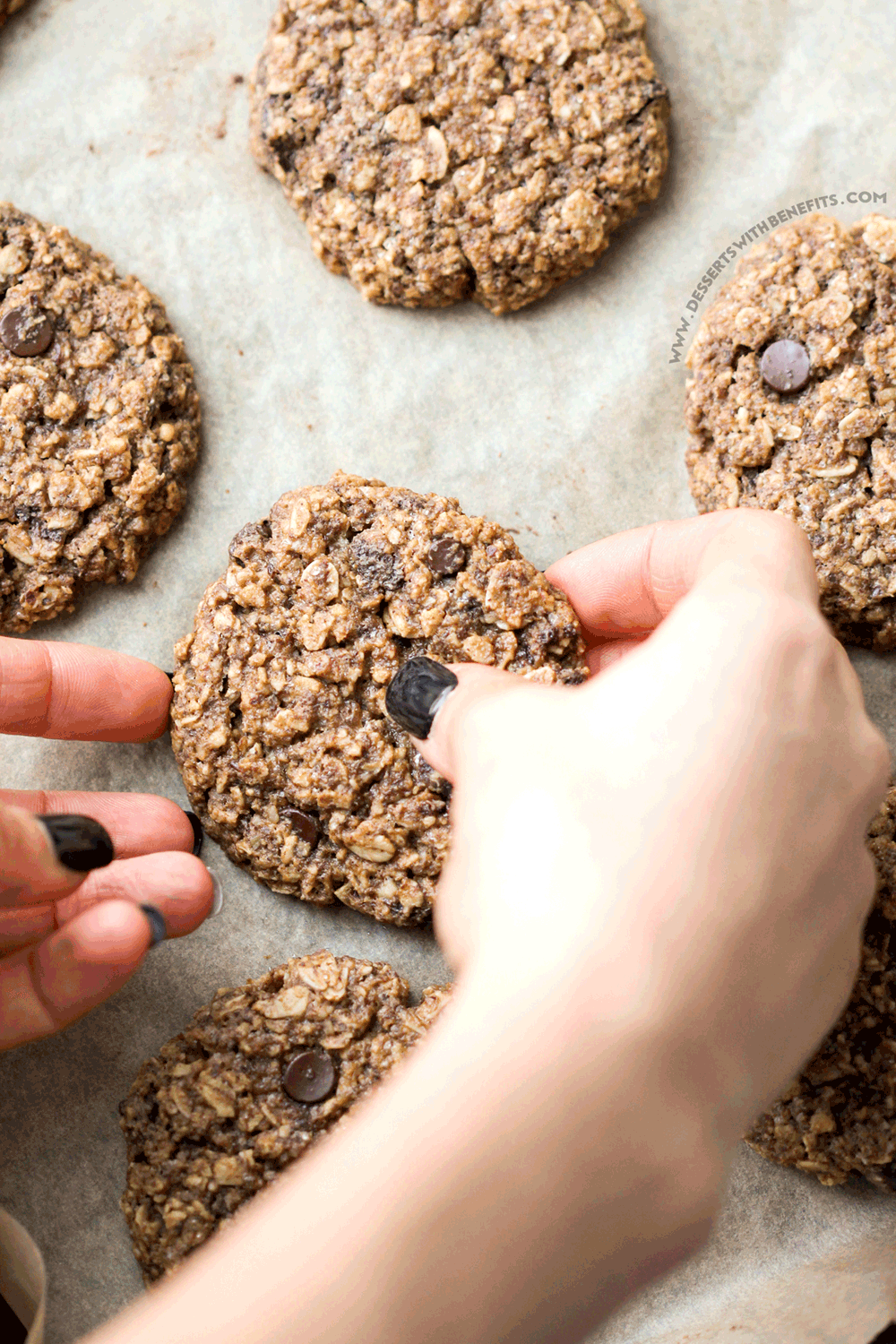 I will definitely be making these Healthy Nutella Chip Oatmeal Cookies again and again and again.  They taste exactly like the cookies I used to buy at the grocery store — super sweet, buttery, and unhealthy…  but they're not!  These cookies are refined sugar free, gluten free, and vegan.
Just trust me, these taste like pure sin.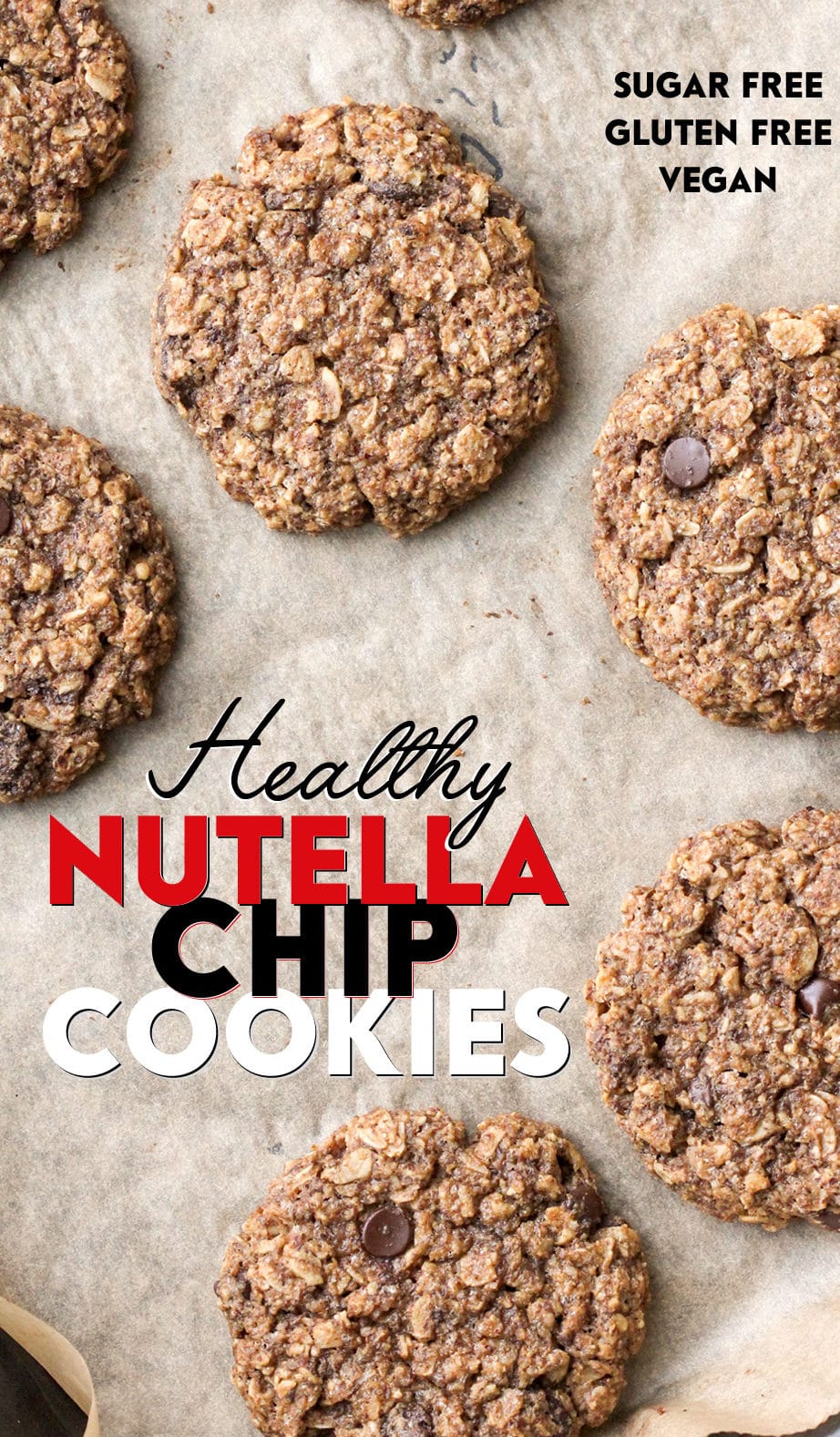 Enjoy!
.
– Jess
.