Healthy Banana Muffins
Are you ready for these Healthy Banana Muffins?  Like, seriously.  ARE YOU READY??  Can you even handle this goodness?  Because I'm not sure if you can take it and all their glory…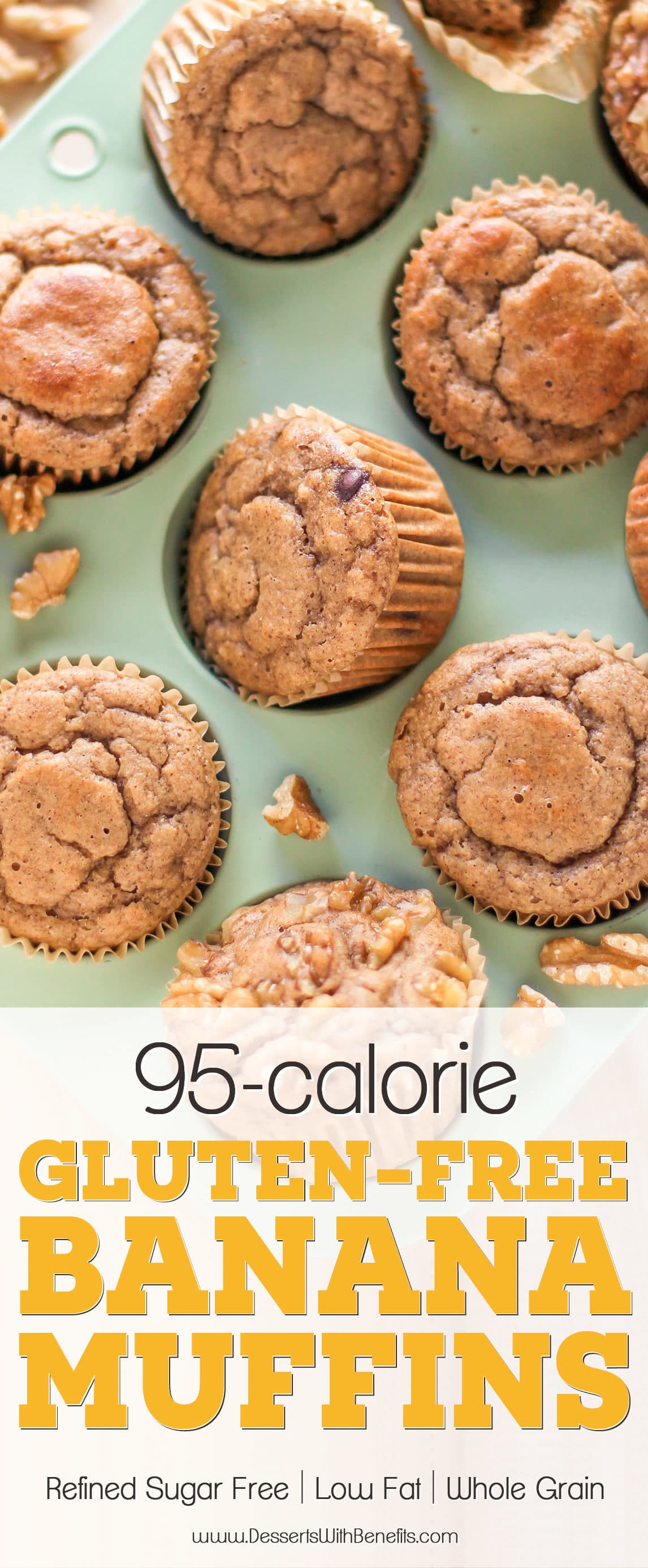 These are the ULTIMATE Healthy Banana Muffins.  They're SO fluffy, SO moist, and SO sweet.  They're packed to the brim with banana flavor.
They're literally like individual, portion-sized Banana Breads (which we all need because, let's be honest, no one can stop at just ONE slice of a damn good Banana Bread).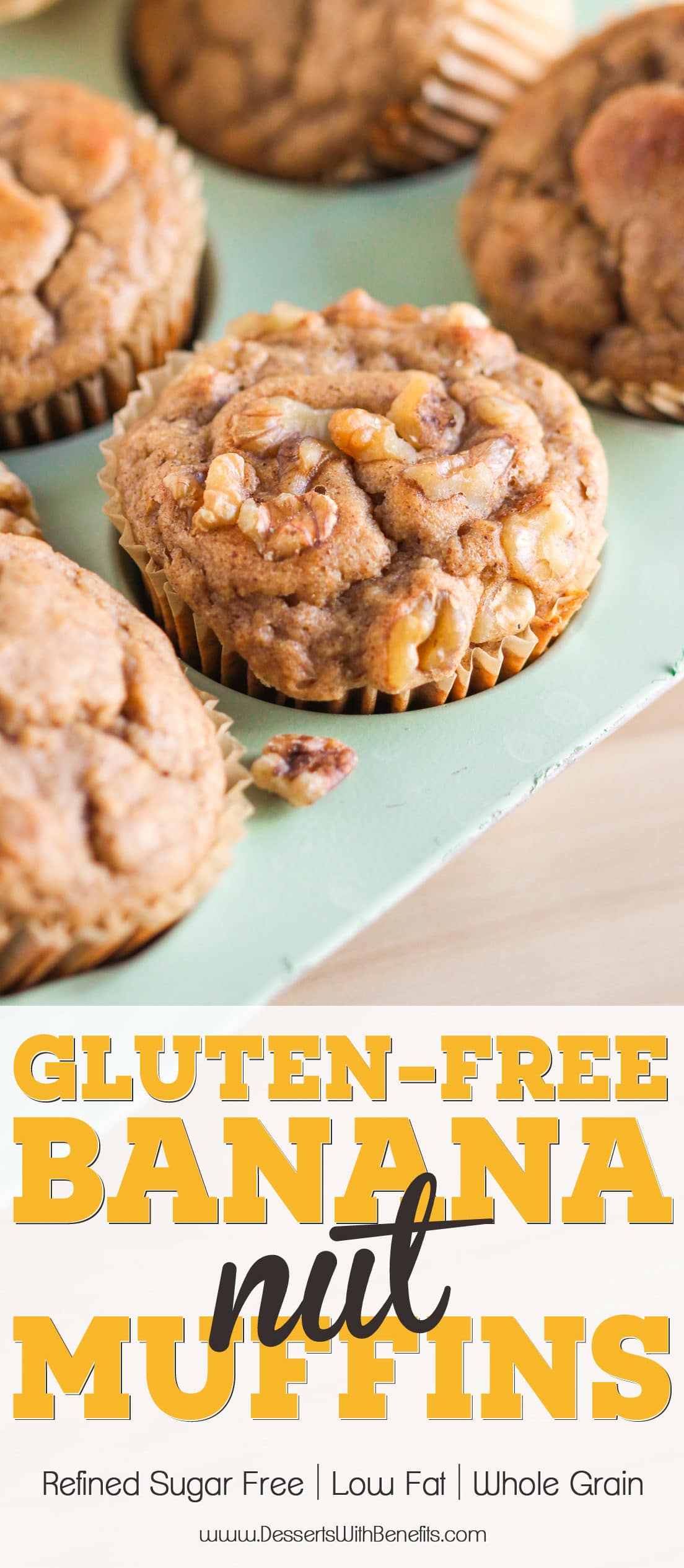 One bite and you'd never guess that these are good for you.  Yes, my peeps.  These little bebe muffins contain NO butter, NO oil, and NO added sugar, but they still manage to be super moist and sweet!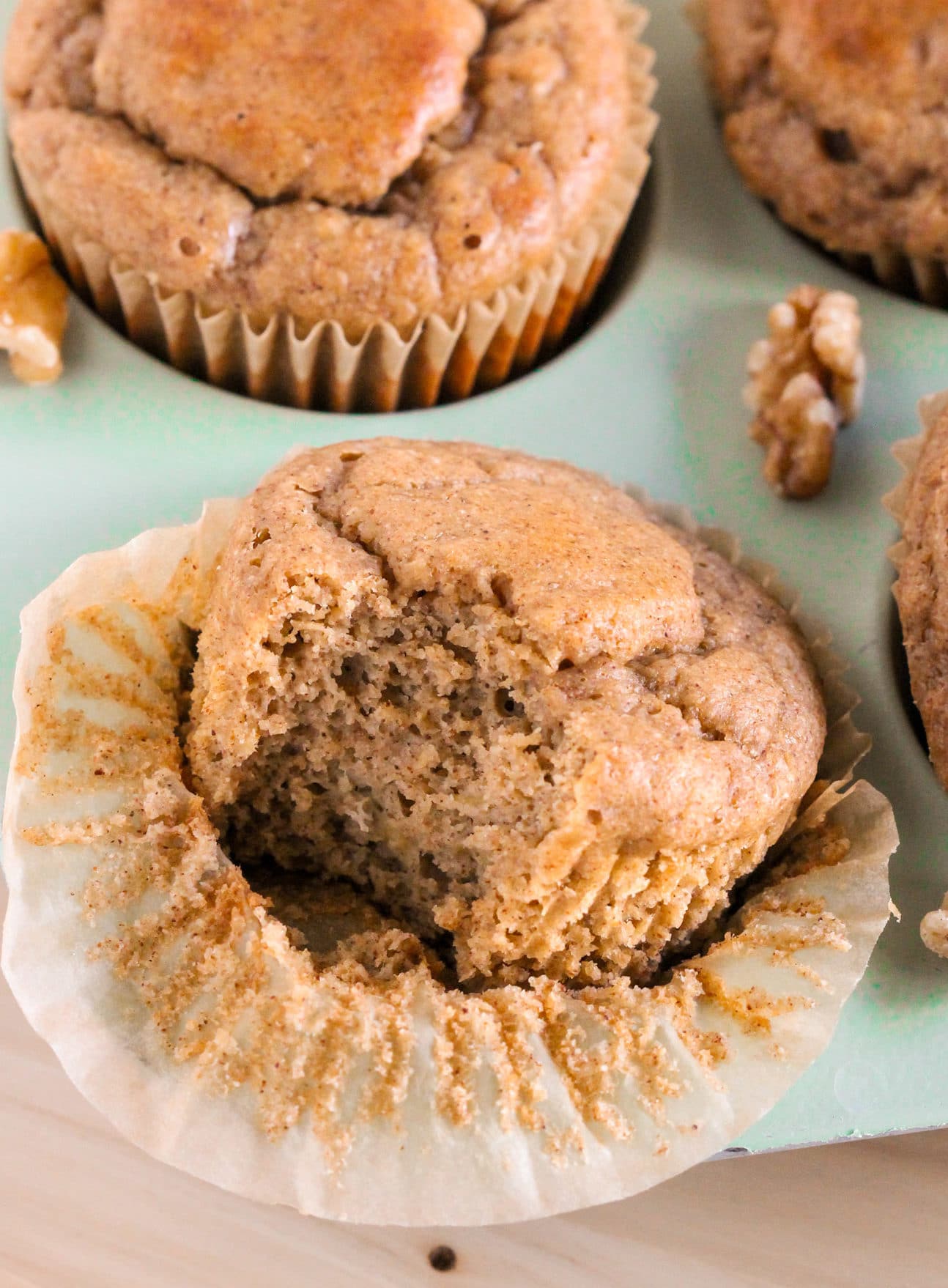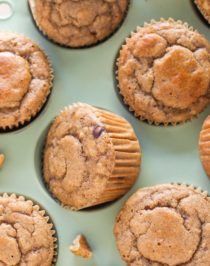 Print Recipe
Pin Recipe
Healthy Banana Muffins
These Healthy Banana Muffins are low calorie (just 95 calories per muffin!), low fat, refined sugar free, gluten free, AND dairy free, but they definitely DO NOT taste like it!
Ingredients
136g

(1 cup)

Sweet White Sorghum Flour

120g

(1 cup)

Oat Flour

96g

(½ cup)

Granulated Erythritol

(or dry sweetener of choice)

4

tsp

Double-Acting Baking Powder

1

tbs

Ground Cinnamon

¼

tsp

Salt

1⅓

cups

Unsweetened Vanilla Almond Milk

350g

Mashed Bananas

(~3 bananas)

128g

(½ cup)

Roasted Almond Butter

3

large

Eggs

1

tbs

Vanilla Extract

1½

tsp

Liquid Stevia Extract
Instructions
Preheat the oven to 350 degrees Fahrenheit.  Line 2 standard cupcake pans with parchment paper liners.

In a medium-sized bowl, whisk together the sorghum flour, oat flour, erythritol, baking powder, cinnamon and salt.

In an electric stand mixer bowl fitted with a whisk attachment, add the almond milk, bananas, almond butter, eggs, vanilla extract, and stevia extract.  Mix on medium-low speed until the mixture is completely even.

Turn the mixer off and dump in the dry ingredients.  Return mixer to medium-low speed and mix until the ingredients are fully incorporated.  Scrape down the sides of the bowl if necessary.  Add any optional mix-ins here, such as chopped walnuts or chocolate chips!

Use a large ice cream scoop to portion the batter into the prepared cupcake pans.  Bake for ~24 minutes, or until the surface of the muffins form a light crust and spring back when tapped.  Transfer the muffins to a wire cooling rack to cool completely.  Store in a tightly sealed container in the fridge for up to 5 days.
Nutrition Facts
Healthy Banana Muffins
Amount Per Serving (1 muffin)
Calories 100
Calories from Fat 36
% Daily Value*
Fat 4g6%
Cholesterol 25mg8%
Sodium 115mg5%
Carbohydrates 12g4%
Protein 4g8%
Vitamin C 1.7mg2%
Calcium 100mg10%
Iron 0.7mg4%
* Percent Daily Values are based on a 2000 calorie diet.
These Healthy Banana Muffins are low calorie (just 95 calories per muffin!), low fat, refined sugar free, gluten free, AND dairy free, but they definitely DO NOT taste like it!
Compared to HALF of a Banana Nut Muffin from Costco, one of my Healthy Banana Muffins has:
220 less calories
12g less fat
29g less carbs
14g less sugar
Did your jaw just drop?  You could eat THREE of my healthified muffins and still have less calories than HALF of a Costco muffin.  That's insane.
And as you can see, this recipe makes quite a few muffins.  24 to be exact.  Thankfully, these are freezer-friendly so you don't have to have two dozen delicious goodies offering themselves up to you every time you step into the kitchen!  You could also be generous and give them to friends and family, but trust me, you'll probably wanna keep these all to yourself.
I told my boyfriend that I baked a bajillion muffins and I'm preeeetty sure he would've left me for good had I not shared with him.  So sadly, I didn't get to keep all 24 to myself.  HE was definitely the selfish one in that situation, right???  😉

You've gotta make a batch of these "NO-WAY-THESE-ARE-HEALTHY-BANANA-MUFFINS"  🙂
Enjoy!
.
With love and good eats,
.
– Jess
.