Healthy Banana Bread No Bake Energy Bites (+ Video!)
What's got Banana Bread flavor in a bite-sized package?  These Banana Bread No Bake Energy Bites, I tell ya!
These Banana Bread-flavored orbs of deliciousness are super soft, fudgy, sweet, and delicious, it's seriously hard to believe they're raw, vegan, and gluten free, with no added sugar (or pounds and pounds of dates).  Oh, and they require only seven ingredients to make — woot woot!
Thanks to Nuts.com for sponsoring this post, and thank YOU for supporting the brands that keep Desserts With Benefits going!  All opinions are mine and mine alone.

A couple months ago I talked about how my workload has been a bit heavier than usual and that I've been dealing with more "adulty" things than I'm used to.  Hey, give me a break, sometimes I forget I'm twenty-five and feel more like I'm eighteen  😉
First and foremost, I should mention that I've been keeping a secret from you for the last few months…  I'M REVAMPING MY DIY PROTEIN BARS COOKBOOK!
Like, new photography, improved recipes, and a completely overhauled design.  I revamped my cookbook a couple years ago but still wasn't 100% happy with the look of it, so this time around I hired a professional.  Let's just say it looks fan-freaking-tastic, and it should be ready by April.  Oh, and my designer is also making a pretty PDF version.  I couldn't be more excited, and I hope you are too  🙂
Second, I got a BRAND. NEW. CAR.  Literally five days ago!  I mentioned on Instagram that my old car was a piece of "junk" (censored version here on the blog 😉 ) and needed new tires.  I had been looking at getting a new car since January — choosing the right model, budgeting, that fun stuff — and finally pulled the trigger a couple weeks ago when I got a call from the dealership saying a car with all my specifications was being brought in.  It was scheduled to be delivered March 28th but came in a week and a half early, sooooo I've been driving a brand spankin' new car these last few days and LOVIN' IT.
Seriously, upgrading from manual, roll-up windows to automatic everything (even a push-to-start) has been a game changer.  I drove my old piece of junk for five years so all this fancy new stuff (cruise control, buttons on the steering wheel, Apple CarPlay, etc.) is taking some getting used to, but I ain't complaining.
My biggest dilemma right now is deciding on whether or not to get another "@DessertsWithBenefits" bumper sticker.  I had one on my last car and it's surprisingly good advertising — I got a ton of DM's and followers on Instagram from people who saw me out and about!

Third, I finally decided that I'd renew my apartment lease instead of move.  Even though my kitchen is tiny, it gets amazing lighting, I love my permanent photography setup, prop shelves, and desk/work area, and the complex location is amazing.  I'm right next to all my favorite gyms and grocery stores…  #priorities  😉
Fourth, remember when I mentioned I was starting my third cookbook?  Well, I decided to put that on hold until I can get a better handle on my workload.  Why start an intense project when I'm already working for four companies AND myself?  I pour my heart and soul into my cookbooks, and anything less than that wouldn't be worthy of publishing.  As excited as I was for this new cookbook, it will have to wait.  I'm slowly but surely getting to know my limits.
What falls in these limits?  Anything that tastes like Banana Bread, that's for sure  😉
These Banana Bread-flavored No Bake Energy Bites are soft, chewy, perfectly sweet, and 100% addicting.  One bite and you'll be hooked.
Unlike your typical no bake energy bites recipe, this is made completely without dates and is sweetened entirely from bananas alone!
As the recipe's base, I used a mixture of sprouted almonds and sprouted pumpkin seeds from Nuts.com.
Sprouted nuts and seeds are soaked in water for 24 hours and then dried.  Sprouting makes nuts and seeds easier to digest by breaking down their naturally occurring phytic acid and enzyme inhibitors, allowing you to absorb the vitamins and minerals more freely.  But most importantly, they are deeeeelicious, rich, and buttery.
Next, I used gluten-free rolled oats.
Oats add a comforting, hearty flavor, and also help bind these energy bites together.  They also happens to add a ton of fiber, complex carbs, and nutrition.  The combination of the almonds, pumpkin seeds, and oats also creates a complete protein.  These energy bites are the perfect snack!
Next up, we've got freeze-dried bananas plus a fresh banana.
The fresh banana helps bind all of the ingredients together, while the freeze-dried bananas add banana flavor without the excess moisture of a fresh banana, allowing these energy bites to form into balls and hold their shape.  You might wanna stock up on an extra bag (or two) of those freeze-dried bananas because they make for a delicious snack  😉
Finally, we add cinnamon, vanilla extract, and salt.
It wouldn't be Banana Bread-flavored without these!  The cinnamon adds warmth and spice, and the combination of vanilla and salt rounds out the overall flavor, providing the perfect balance of salty and sweet.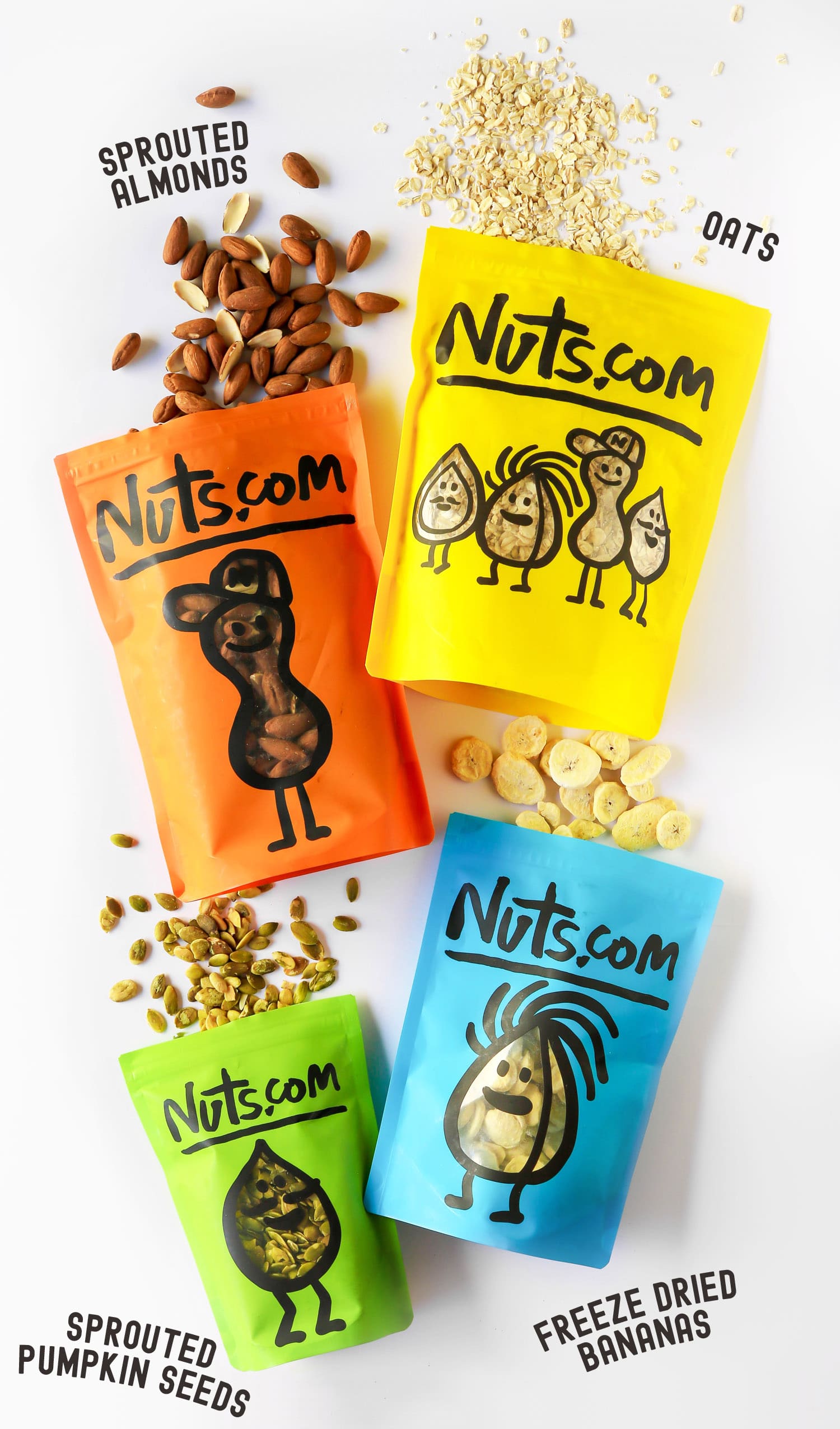 These Banana Bread No Bake Energy Bites are soft, fudgy, sweet, and delicious, it's hard to believe they're raw, vegan, and gluten free, with no added sugar!  They're fast and easy to make with only seven ingredients required.
Satisfy your banana bread cravings the healthy way with this no bake energy bites recipe!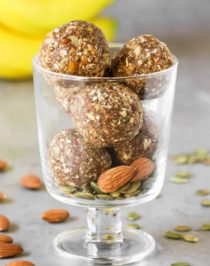 Print Recipe
Pin Recipe
Banana Bread No Bake Energy Bites
These 7-ingredient Banana Bread No Bake Energy Bites are fudgy, sweet, and delicious, it's hard to believe they're raw, vegan, gluten free, and refined sugar free too!
Instructions
In a

food processor

, add all of the ingredients.  Process until the nuts are ground up and the ingredients are completely combined.  Mixture should stick together like cookie dough.

Use a cookie scoop to portion the mixture out onto a cookie sheet.  Roll the scoops between your palms to make balls.

Serve and enjoy!  Store in a tightly sealed container in the fridge for up to 1 week.
Recipe Notes
Feel free to add ⅓ cup of Mini Semi-Sweet Chocolate Chips or Raw Cacao Nibs to the recipe!

Enjoy the energy bites y'all!
.
With love and good eats,
.
– Jess
.