Healthy Single-Serving Matcha Microwave Cake with Matcha Protein Frosting (To Celebrate My 23rd Birthday!)
I'm turning 23 today! 😆  WHOOP WHOOP! 🎁🎉🎈
Right now, I'm in California with my family to celebrate.  This is my first time visiting San Francisco and I love it so far 👌
Enough about my birthday.  Let's talk CAKE 🎂🍴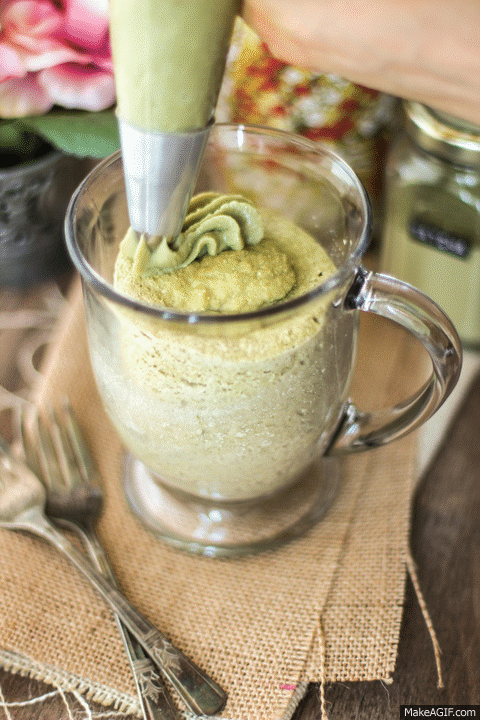 These last few weeks have been really tough on me…  for the most part, physically.
I'm a homebody, not doubt about it.  That's why blogging is the perfect job for me.  I get to sit on the couch in my pajamas and cuddle with Cherry.  Even in college where I walked more than 3 miles every day on campus, I was sitting in my classes and at home.  Now, I'm working at a restaurant.  Out of the blue (to my body), I'm on my feet for 8+ hours a day running around a kitchen.  Because the restaurant needed a large quantity of ice cream for a special event, I worked 7 days a week for 2 weeks straight.  I'm so surprised I didn't curl up on the kitchen floor to cradle my poor little feet.
I'm sorry, I'm done whining.  The point is, I've been so exhausted lately, it's hard for me to stand around in my OWN kitchen to cook and bake.  I just want to preserve my feet, if that makes any sense?  Haha.
Lately, mug cakes have saaaaved my liiiife 🙌
They're healthy, refined sugar free, high protein and gluten free 👌
You guys sure know I love using protein powder time to time.  There are a bajillion different things you can make with protein powder, like smoothies, shakes, muffins, cakes, fudge, ice creams, frostings, etc.  I think my absolute favorite application was probably that Healthy All-Purpose Vanilla Bean Icing recipe.  That's the recipe that I used to inspire the Matcha Frosting you see here.
The Matcha Cake 🍵🎂 alone is interesting and unique, but it needed a little oomph.  And that's exactly what the frosting adds.
OOMPH.
A TON OF OOMPH!
The frosting recipe actually makes ~2x more than what is pictured.  I ended up eating all the frosting you see in the picture with just half of the cake, so I finished off the frosting once I had half of the cake left halfway down the mug.
I love me some furrrosting 😉
And healthy frosting?  Give it ALL to me.  Now.  Like, ASAP.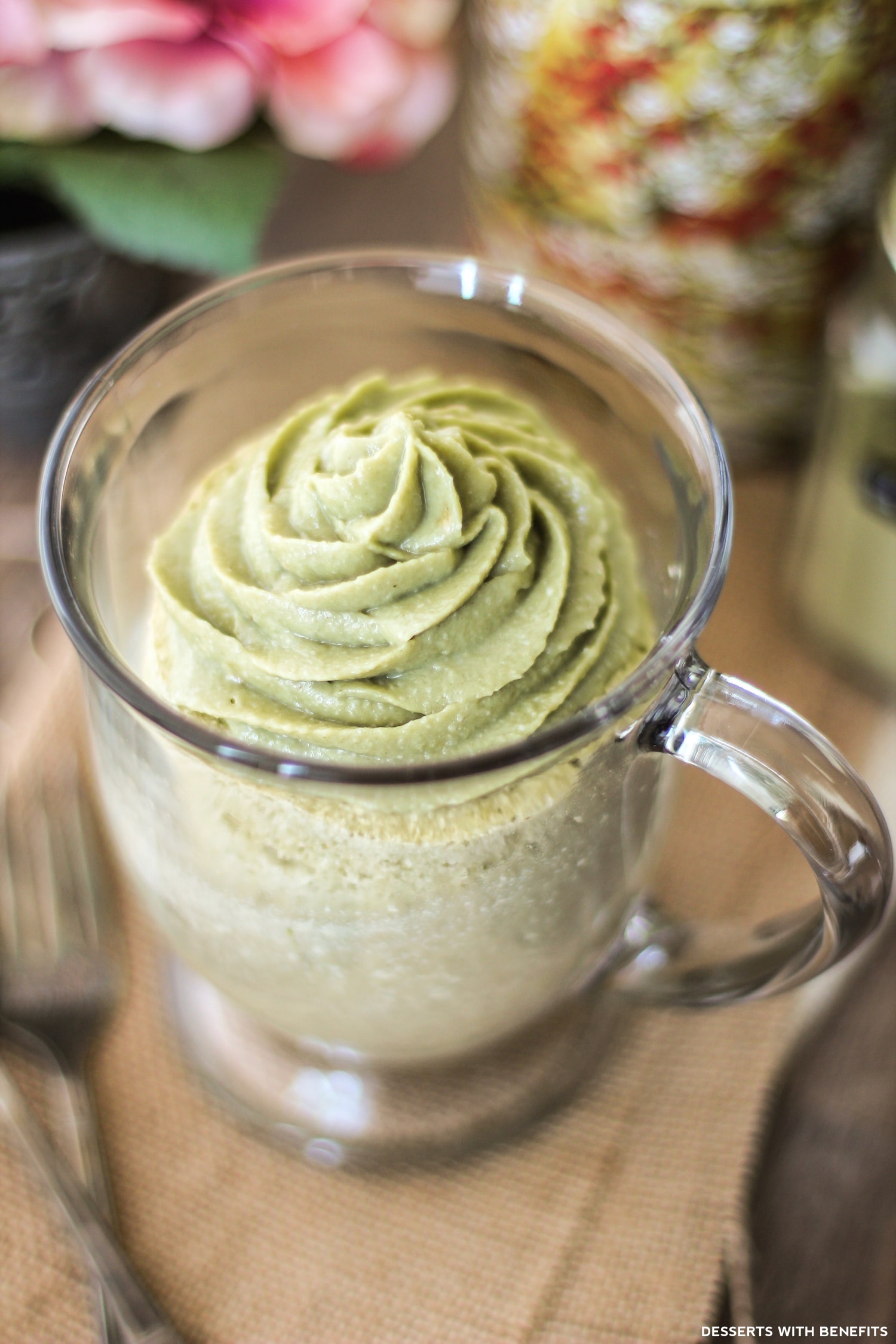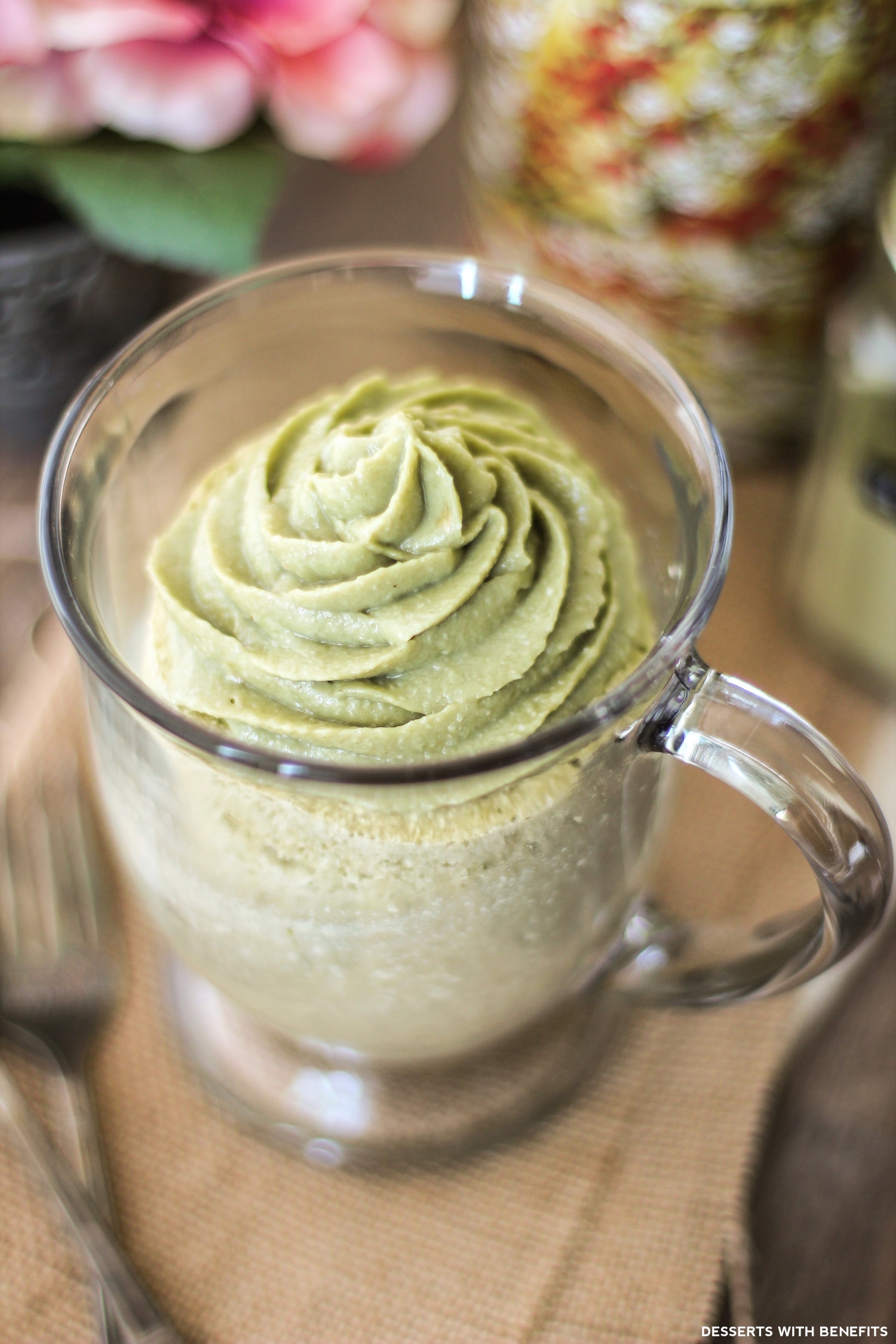 Healthy Single-Serving Matcha Microwave Cake with Matcha Protein Frosting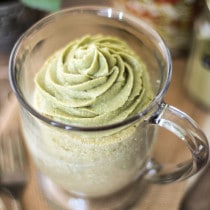 Ingredients:
Cake:
28g (¼ cup) Coconut Flour
1 tsp Organic Matcha Powder
½ tsp Double-Acting Baking Powder
4 packets Sweetener (Truvia, Organic Stevia, etc.)
pinch of Salt
⅓ cup Unsweetened Vanilla Almond Milk
62g (¼ cup) Unsweetened Applesauce
1 Large Organic Egg
1 tsp Vanilla Extract
5 drops Almond Extract
Frosting:
29g (1 scoop) Vanilla Whey Protein Powder
18g (2 tbs) Powdered Erythritol (or ~2 packets Sweetener)
7g (1 tbs) Coconut Flour
1 tsp Organic Matcha Powder
76g (⅓ cup) Plain, Nonfat Greek Yogurt
½ tsp Vanilla Extract
5 drops Almond Extract
Directions:
For the Cake:
In a small bowl, whisk together the coconut flour, matcha powder, baking powder, sweetener and salt.
In a medium-sized bowl, whisk together the milk, applesauce, egg and extracts.  Dump the dry ingredients over the wet ingredients and whisk well.
Pour the mixture into a large mug and microwave for ~4 minutes, or until the surface of the cake springs back when tapped.  Let cool slightly, then enjoy!
For the Frosting:
In a small bowl, stir together the protein powder, powdered erythritol, coconut flour and matcha.
Add the yogurt and extracts and whisk well.  Frost!
Here's the nutrition label for the cake AND frosting together:
That's what I call a balanced, filling breakfast 🙌🍴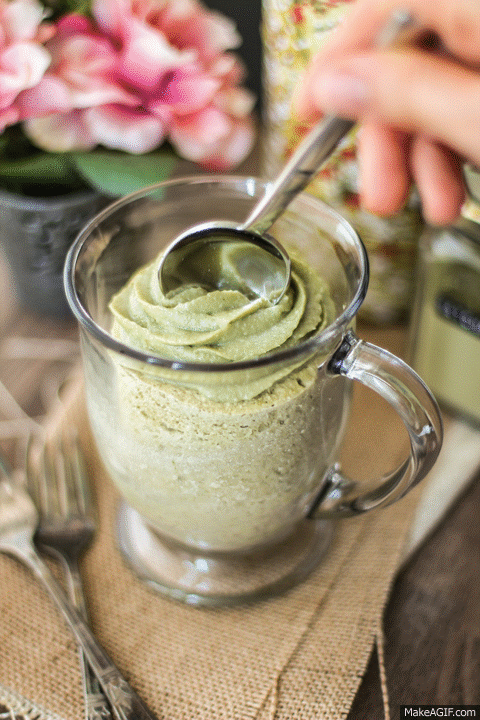 Have an awesome day today!
Hopefully it includes some cake 🎂
Because that's what it means for me 😏💕