Gluten-Free Zucchini Bread with Lemon Cream Cheese Frosting
I know it's only March but I'm really looking forward to the summer months and the lighter, refreshing desserts that come along with it.  You know, the lemony ones and fruity ones?  It's a nice change from the heavier desserts during the holiday season, which tend to be uber rich and chocolatey and sweet.  I mean, those ones are obviously great too.  Sign me up for anything involving chocolate and peanut butter.  But sometimes your body craves things a little lighter.  I thought about making Carrot Cake or Lemon Sugar Cookies, but I wanted to try something new.  And BAM!!  Zucchini Bread popped into my head and I ran to the kitchen to get started.
This Zucchini Bread is just as sweet and fluffy as Banana Bread, but contains a vegetable you can't taste!
Thanks to Truvia® for sponsoring this post, and thank YOU for supporting the brands that keep Desserts With Benefits going!  All opinions are mine and mine alone!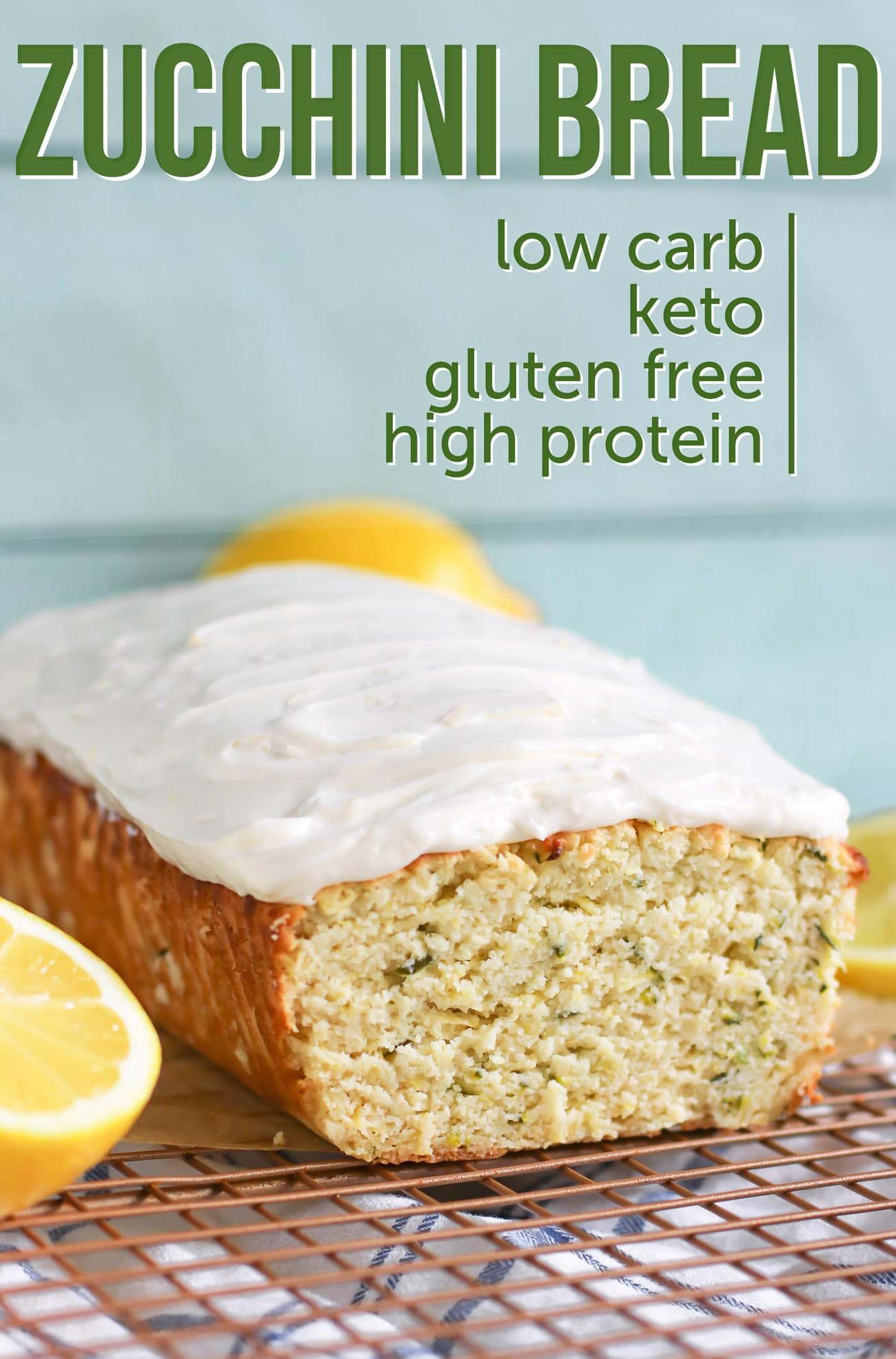 Zucchini Bread is the perfect recipe for people who grow zucchini in their gardens.  I always hear about the overabundance of zucchini people have to deal with because it grows so fast.  But it's also the perfect recipe for people who buy their own zucchini because they live in an apartment (cough cough, me, cough cough).
But really now, the best way to eat zucchini is in dessert form.
😉
Why pound back bowl after bowl full of zucchini or zoodles when this Zucchini Bread exists?!
This gluten-free Zucchini Bread is super easy to make and uses simple ingredients.
We start with coconut flour.  Coconut flour is a low carb, keto-friendly, gluten-free flour that works great in cake!  I've used it quite a few times before (have you made my Vanilla Cake?  It's BOMB!) and wanted to incorporate it here.  Coconut flour is a unique ingredient and absorbs quite a bit of liquid, so it can't be replaced as easy as some other gluten-free flours.
Next we've got Greek yogurt.  Greek yogurt works really well in baked goods because it adds a lot of moisture, similar to butter and oil, but without all the excess calories and fat.  Plus, it adds a healthy dose of protein while keeping the recipe low-carb and gluten free.
We then add a little bit of Truvia.  Truvia Spoonable is a natural sweetener made from the stevia leaf.  It adds sweetness but without the calories, net carbs, and sugar, keeping this recipe on the lighter side.
For flavor, we add both lemon zest and vanilla extract.  The lemon zest brightens up the whole loaf, making this a dessert you could eat at any time of the day.  The vanilla extract brings all of the flavors and ingredients together and rounds it all out to make a balanced treat.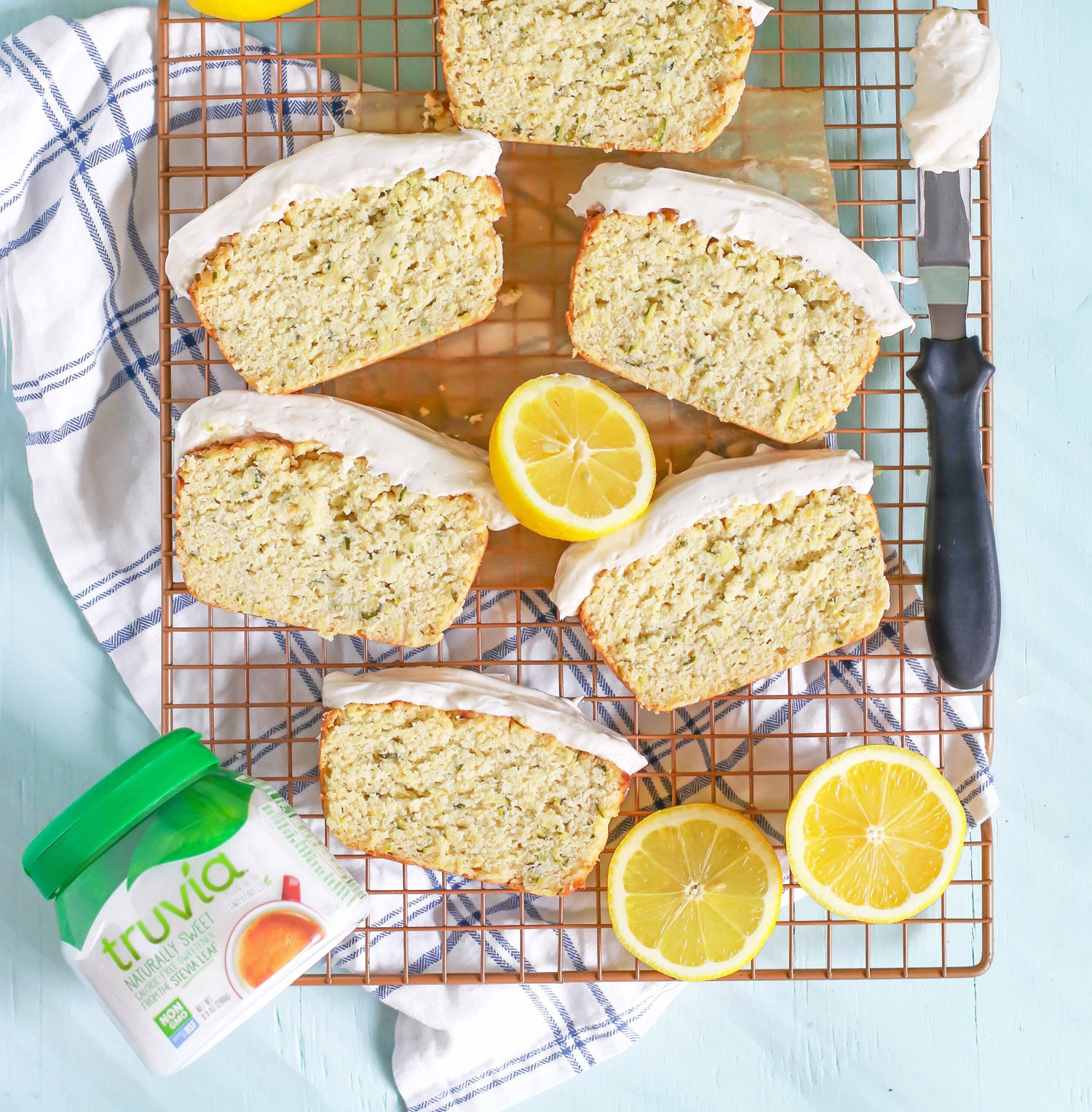 This Zucchini Bread is so soft and moist, just like every cake and sweetbread should be.
One bite and you'll have a hard time believing this Zucchini Bread is low-carb, high protein, keto-friendly, and gluten-free too.
Yes, seriously.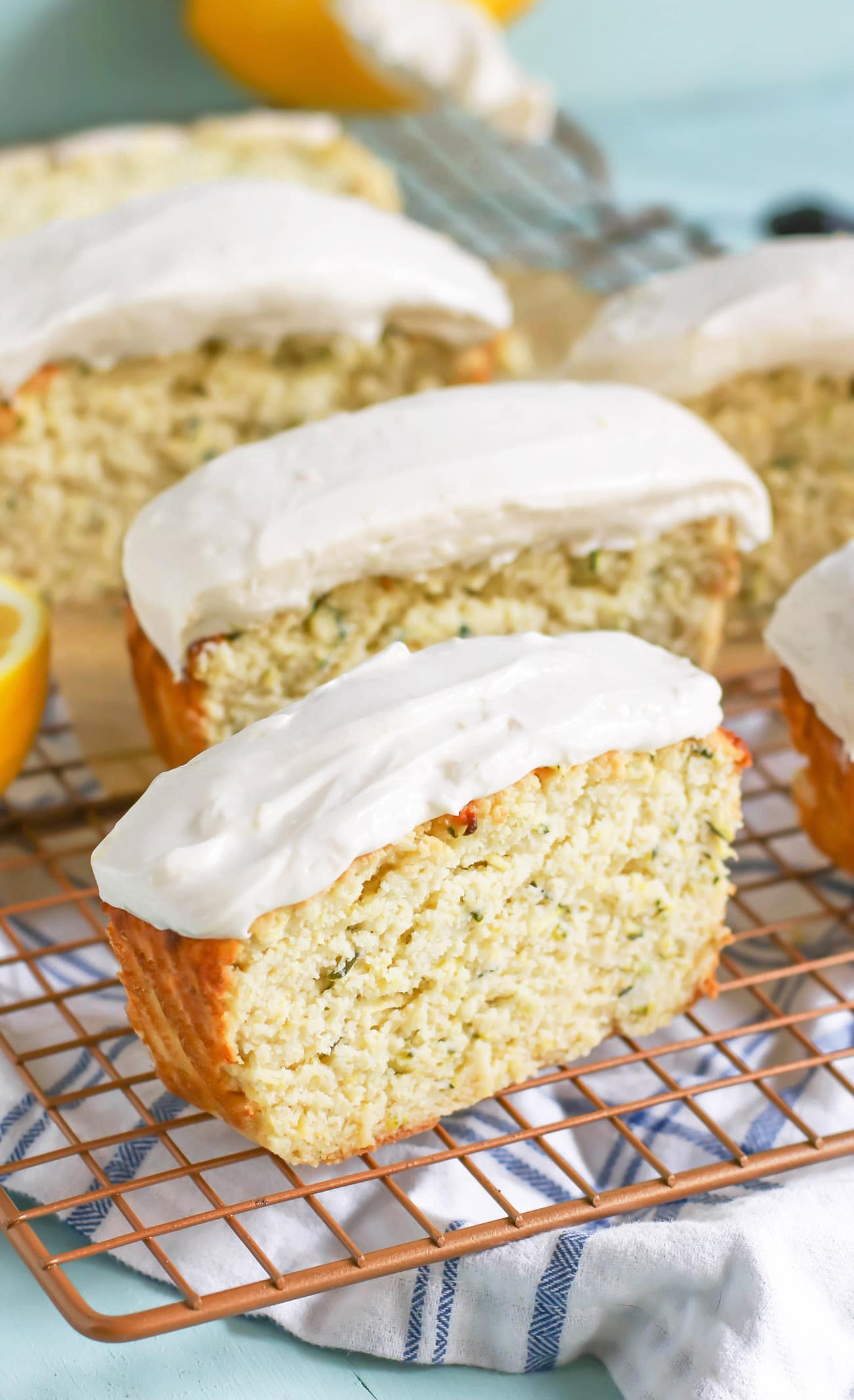 I can't believe a super thick slice of this fluffy and sweet Zucchini Bread has 6x the fiber of traditional Zucchini Bread!  I was full after just one slice.  Now that's a breakfast-worthy dessert if I do say so myself!
This Zucchini Bread is so good, I could eat a slice every single morning.
The loaf is so good on its own, I don't even think the frosting is necessary.  But, you know, if you're like me and will never say no to some extra sweet goodness, go ahead and spread on a thick layer of frosting.  It's the "cherry" on top!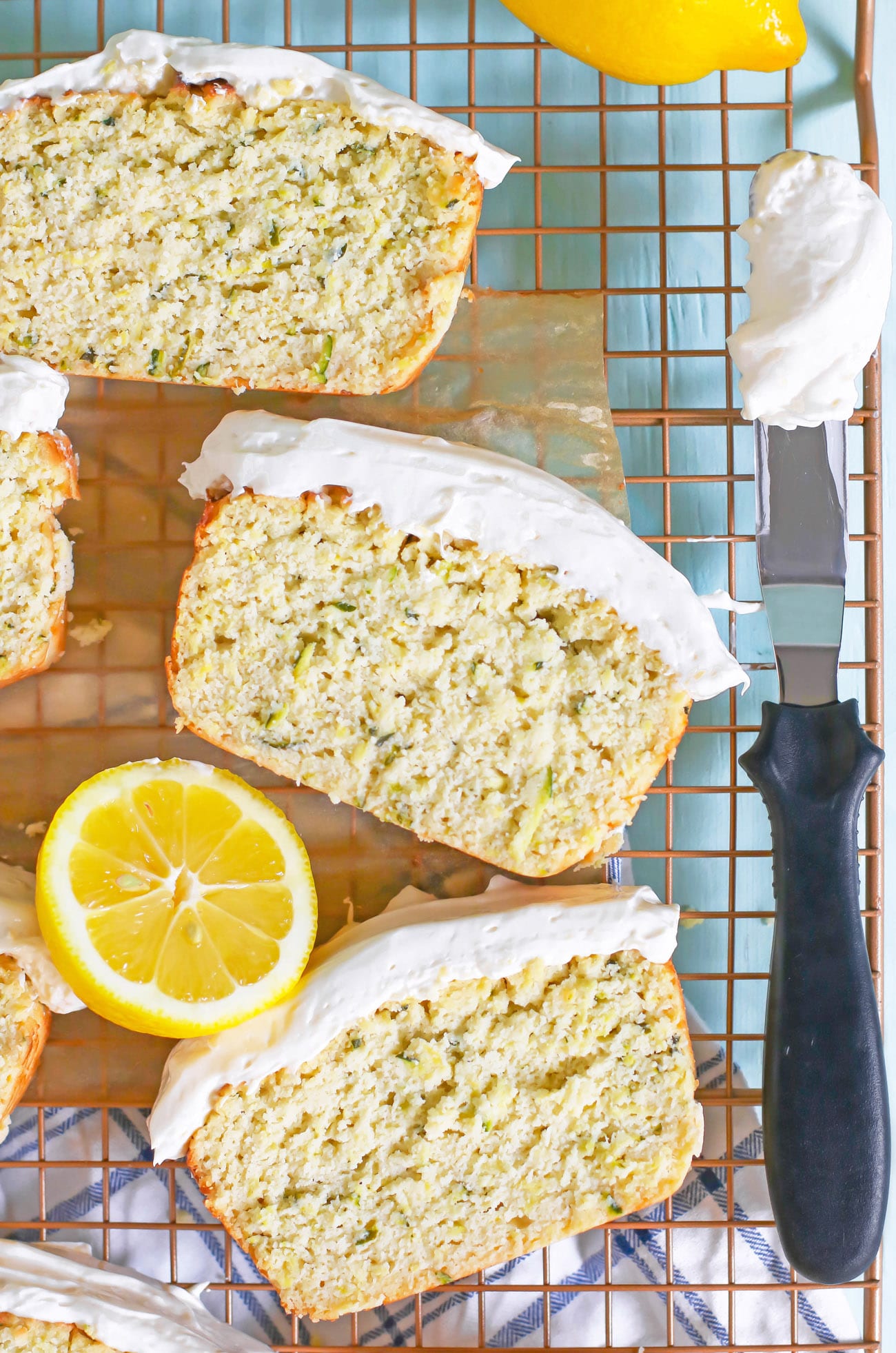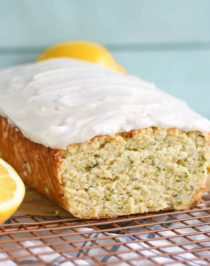 Print Recipe
Pin Recipe
Zucchini Bread with Lemon Cream Cheese Frosting
This low-carb and gluten-free Zucchini Bread is super easy to make and uses simple ingredients! It's soft, moist, and contains a vegetable you can't taste!
Ingredients
Zucchini Bread:
2

Large

Zucchinis

112g

(1 cup)

Coconut Flour

128g

(⅔ cup)

Truvia Spoonable

½

tbs

Double-Acting Baking Powder

¼

tsp

Salt

114g

(½ cup)

Plain, Nonfat Greek Yogurt

4

Large

Eggs

2

tsp

Lemon Zest

¾

cup

Unsweetened Vanilla Almond Milk

2

tsp

Vanilla Extract
Lemon Cream Cheese Frosting:
8

oz

Neufchatel Cream Cheese

(or ⅓ Less Fat Cream Cheese)

¼

cup

Truvia Spoonable

1

tsp

Lemon Zest
Instructions
For The Zucchini Bread:
Preheat the oven to 350 degrees Fahrenheit. Spray a 9x5" loaf pan with cooking spray and line with parchment paper one way for easy removal later.

Cut the ends off of the zucchini and grate them. I used the grater attachment on my food processor! Measure 200g (or 1¼ cups, packed) and set aside.

In a small bowl, whisk together the coconut flour, Truvia Spoonable, baking powder, and salt.

In a large bowl, whisk together the yogurt and eggs. Then whisk in the lemon zest, then the almond milk, then vanilla extract. Dump the dry ingredients into the wet ingredients and whisk until completely combined. Stir in the grated zucchini.

Pour the batter into the loaf pan and spread it out.

Bake for 1 hour and 20 minutes, or until the surface springs back when tapped. Let cool completely in the pan, then transfer to a wire cooling rack to cool completely.
For the Lemon Cream Cheese Frosting:
In a stand mixer bowl fitted with a whisk attachment, add the cream cheese, Truvia Spoonable, and lemon zest. Whisk on high speed until completely smooth.

Frost the cooled loaf. Slice, serve, and enjoy! Store covered in the fridge for up to 5 days.
Nutrition Facts
Zucchini Bread with Lemon Cream Cheese Frosting
Amount Per Serving (1 slice = 1/8th of Zucchini Bread; does not include frosting)
Calories 120
Calories from Fat 41
% Daily Value*
Fat 4.5g7%
Cholesterol 105mg35%
Sodium 220mg10%
Carbohydrates 11g4%
Protein 8g16%
Vitamin A 200IU4%
Vitamin C 5.8mg7%
Calcium 130mg13%
Iron 0.5mg3%
* Percent Daily Values are based on a 2000 calorie diet.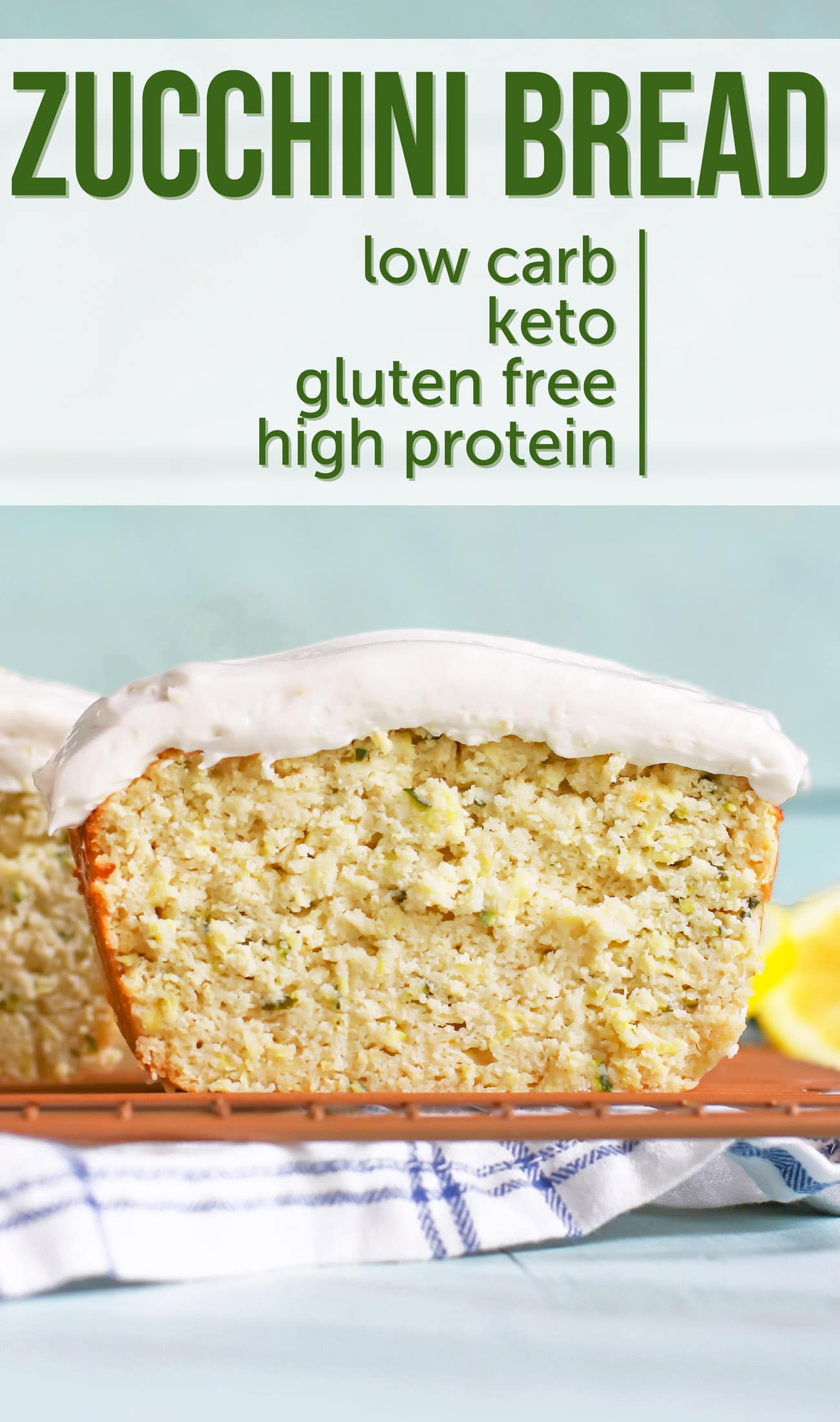 Tell me, what's your GO-TO summertime dessert??
.
– Jess
.