Healthy Matcha Green Tea Fudge DIY Protein Bars (with Video!)
These Healthy Matcha Green Tea Fudge DIY Protein Bars will CHANGE. YOUR. LIFE.
Drizzled with chocolate and secretly packed with protein, healthy fats, complex carbs, fiber, and all natural goodness, these sweet and fudgy, no-bake treats are incredibly unique and totally sophisticated.  This is the perfect recipe to officially announce…  *drum roll please*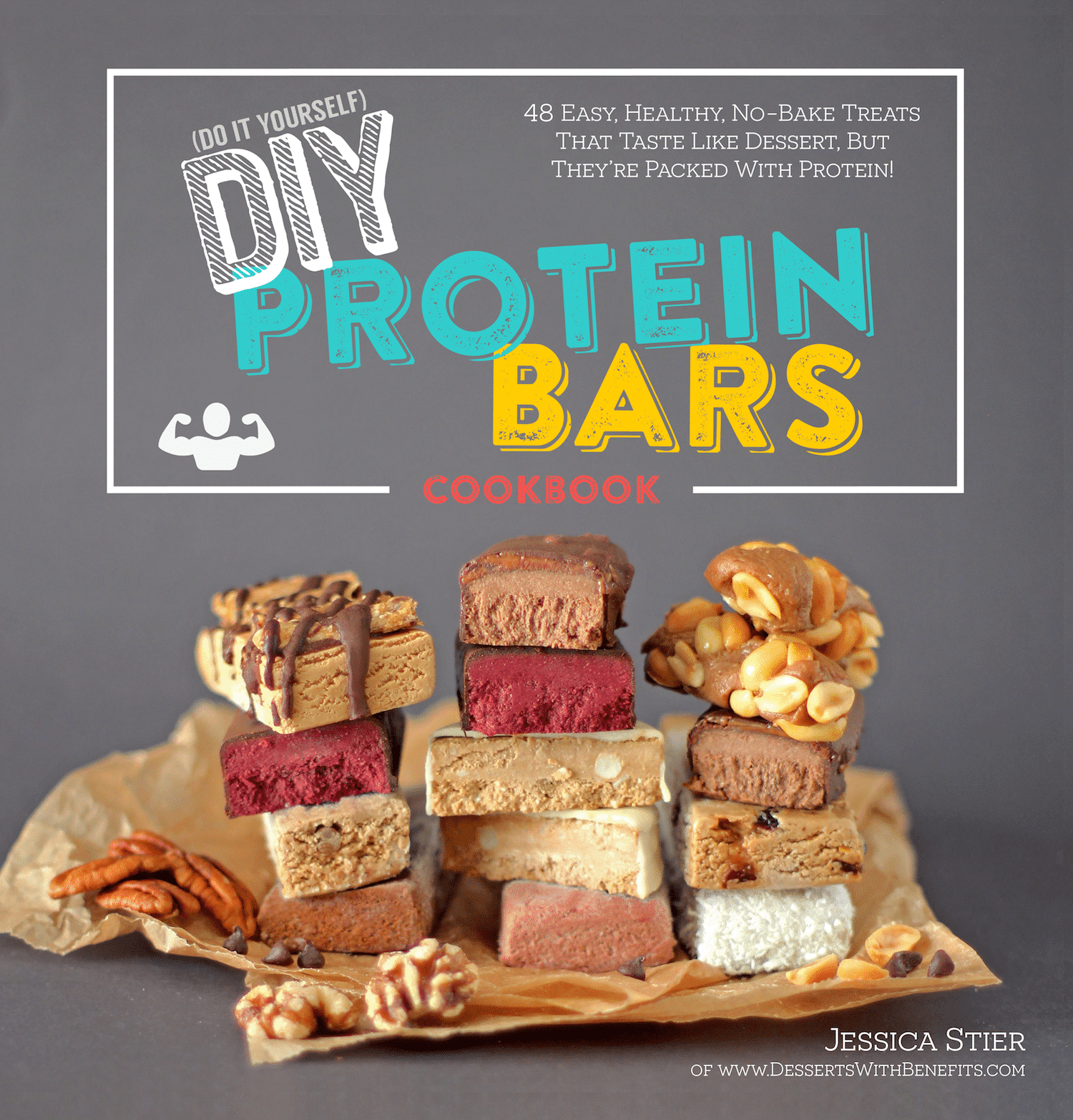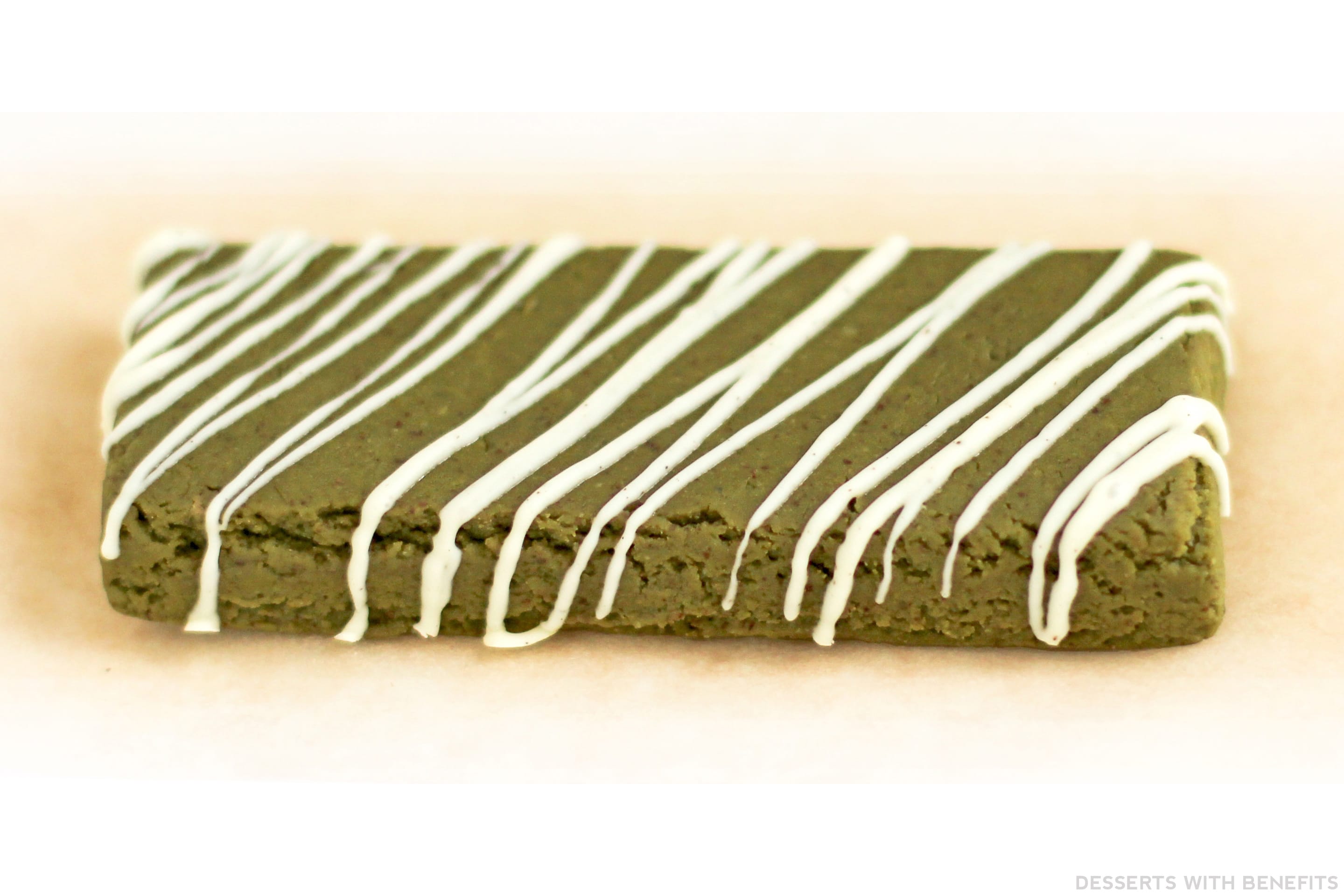 I published DIY Protein Bars (my very first cookbook) late in 2014.  Still in college, not sure how the publication process went.  I was incredibly proud of the 1st edition, but over the years, my photography skills have progressed and my style has changed.
I'm so lucky to have such a large group of responsive and proactive readers who send me pictures of their homemade protein bars, as well as feedback and some recipe modifications that they made to better suit their personal health/fitness goals.  This cookbook got an overwhelmingly, mostly positive response (ya can't please everybody), and its popularity hasn't died down once since it was originally published.
I spent a good chunk of the last few months retesting the books' recipes, rephotographing the bars, and completely redesigning the book's interior.  Lots of work, but so so worth it.  A slow and dreadful process that was only made better by knowing that over 100 protein bars awaited in my freezer, and that I was always able to grab a couple fresh protein bars on my way to work every day.  When it's 3:30am, all my brain can handle is opening the fridge door and grabbing something that's already prepped and ready to go.
Now that the DIY Protein Bars Cookbook [2nd Edition] is now published and available on Amazon, I can sit back, sip on my coffee and munch on some protein bars, relax and reflect.
I could NOT have done any of this without you guys.  I wouldn't have written a cookbook in the first place without so many of y'all asking for me to write one.  I wouldn't have continued on blogging if it wasn't for your love and support.  And I know for a fact that I wouldn't be on the path that I am now without every single one of you being so positive and uplifting and encouraging and kind to me.
THANK YOU, THANK YOU, THANK YOU!!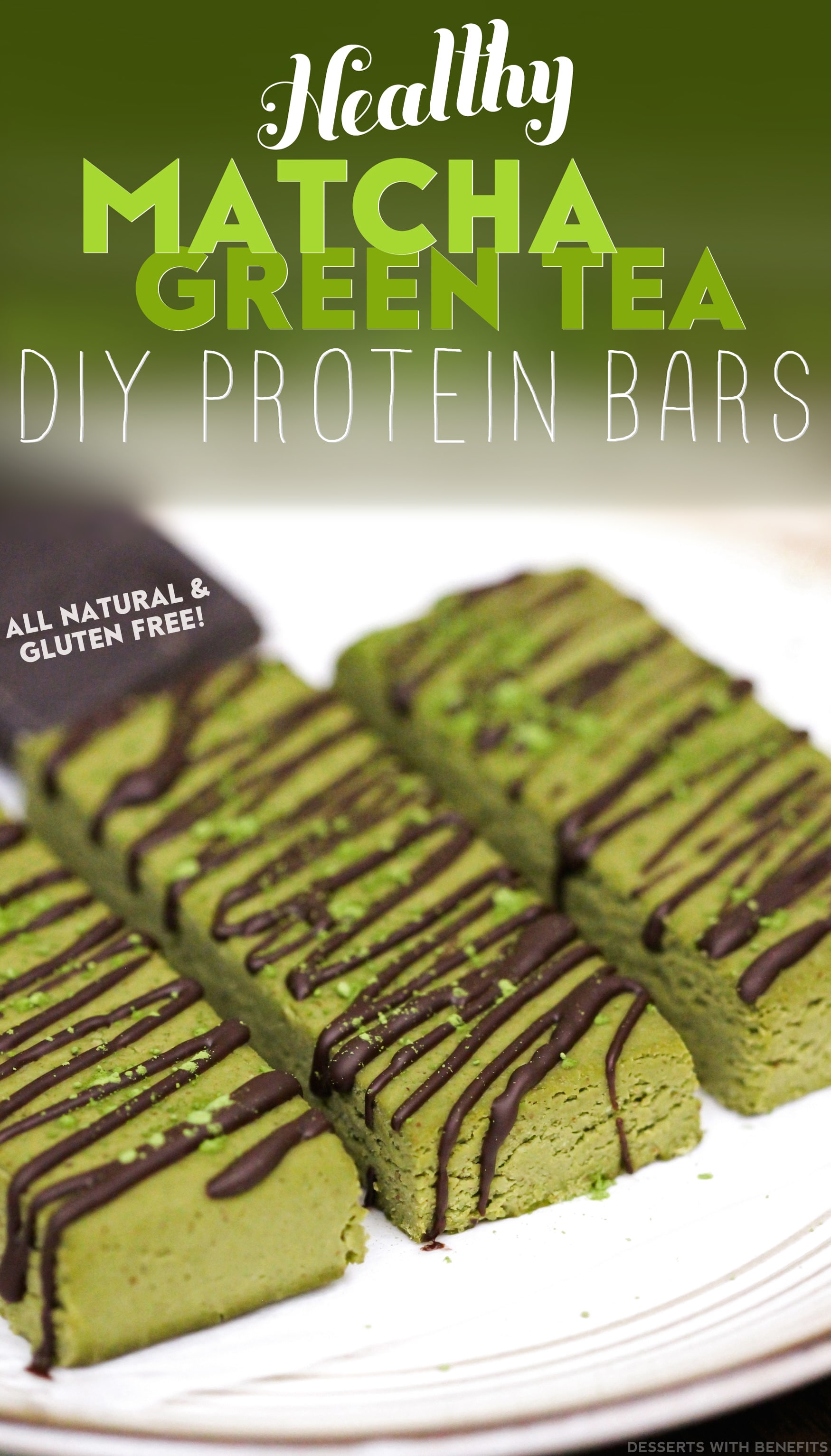 I know a green protein bar is a weird concept to wrap our heads around, let alone eat…  but you gotta admit, they're pretty fascinating, yes?
And once you think about it, people eat green sweets all the time!  Green Lucky Charm marshmallows, green Fruit Loops, pistachio bundt cakes, Granny Smith apples, kiwis, etc.  Matcha ain't so weird after all.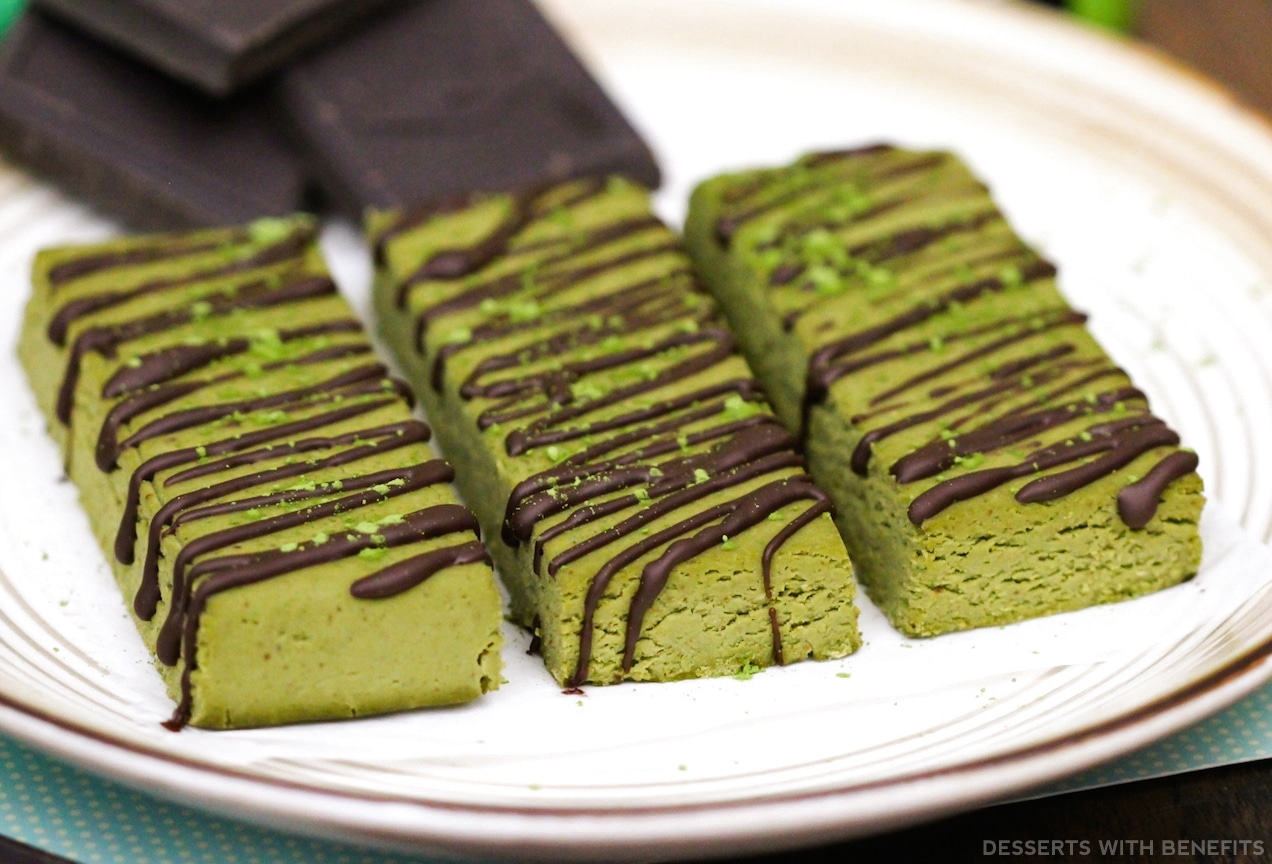 Let's please have a moment of silence to embrace this beautiful chocolate drizzle.  A generous drizzling of chocolate can (and will) make anything taste better.  I must admit, I'm not the biggest fan of matcha's flavor, but I will GOBBLE. THESE. UP.
These Healthy Matcha Green Tea Fudge DIY Protein Bars are fun, easy, and healthy.  They're the perfect snacks to keep on hand for those long and busy work days.  Or any day at all, really.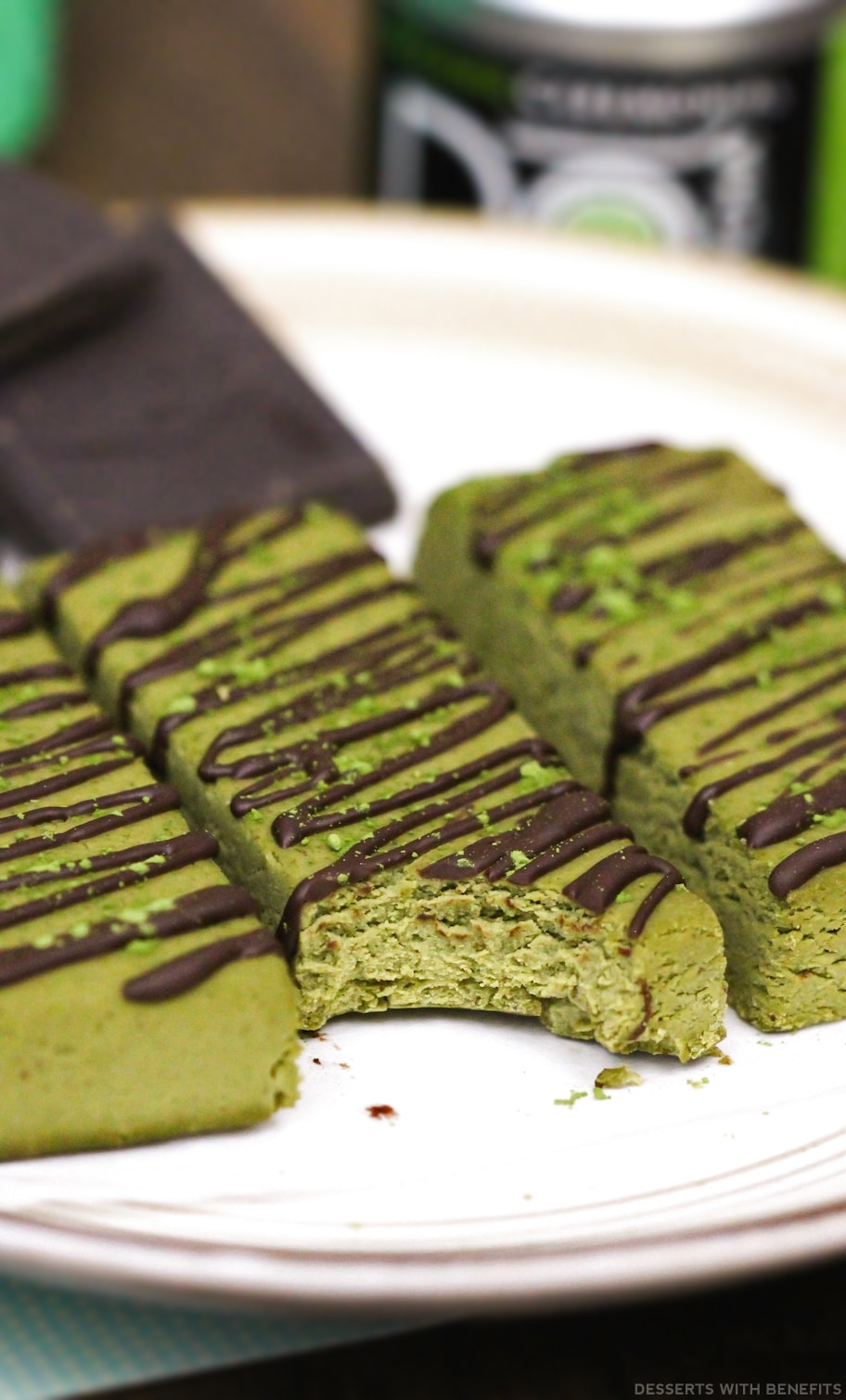 There are so many health benefits to organic green tea and matcha, so I love finding new ways to incorporate them into my diet (I'm not a huge tea-drinker…  my heart belongs to iced coffee).
A few bonuses:  they're surprisingly filling, super easy to make, and 100% nutritious!  Yes, they're naturally green too.  No artificial food coloring here.
I have probably made these protein bars over a dozen or two times.  I've tried these using raw almond butter instead of roasted, I've tried these with extra almond extract, I've tried these with chocolate protein powder and different kinds of chocolate drizzles (white, milk, dark).  The final recipe published in my cookbook is my all-time favorite recipe, made with roasted almond butter for a robust flavor, and white chocolate to mask matcha's natural bitterness.
These bars have all the nice stuff.  Just good and wholesome organic, natural ingredients that are good for the body.  No need for the high-fructose corn syrup, artificial flavorings, synthetic food dyes, or preservatives.  These Matcha Green Tea DIY Protein Bars are damn good and will make our taste buds happy as can be.
Healthy Matcha Green Tea Fudge DIY Protein Bars
Prep Time: 30 minutes
Cook Time: 0 minutes
Total Time: 30 minutes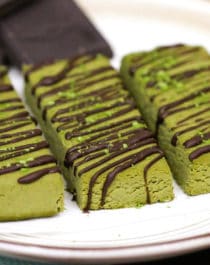 Fat per serving: 8g
Calories per serving: 170
Ingredients:
Roasted Almond Butter
Unsweetened Vanilla Almond Milk
Almond Extract
Oat Flour
Salt
White Chocolate (or your chocolate of choice!)
Directions:
Notes:
I originally wasn't going to share the recipe here because I worked so incredibly hard on publishing DIY Protein Bars.  But, I understand not having a recipe here can be frustrating.  So, I'll meet you halfway…  how does that sound?  I'll show you all the ingredients I use in the recipe.  That way, you can determine on your own whether or not the cookbook is for you!
Do not use whey/egg/casein protein!  The mixture will be gooey and won't solidify.
All images and text © .
.
Here is a video showing how to make these Healthy Matcha Green Tea Fudge DIY Protein Bars:
.
I am so blessed to be a part of such a loving, adoring, and supportive online community.  Here are some of the pictures readers have shared with me on social media and via email of their Healthy Matcha Green Tea Fudge DIY Protein Bar remakes!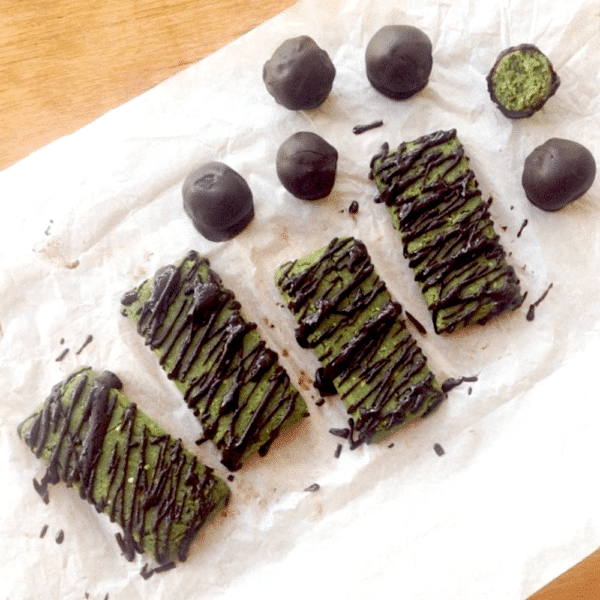 Thanks @sharelgiovana!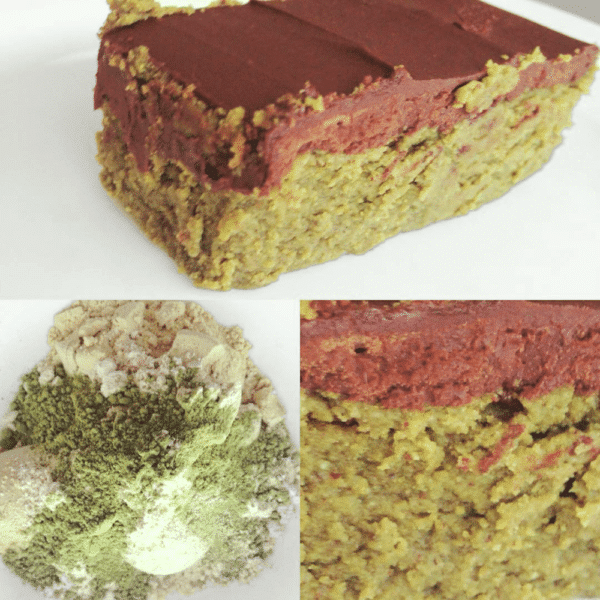 Thanks @komschlies!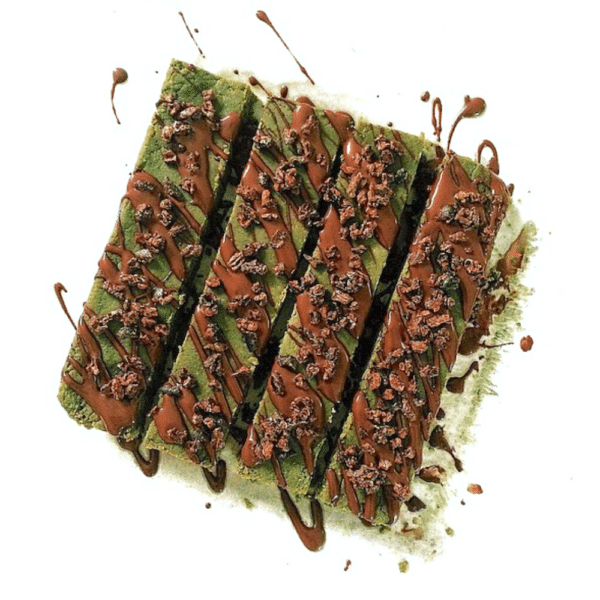 Thanks @foodbabywanders!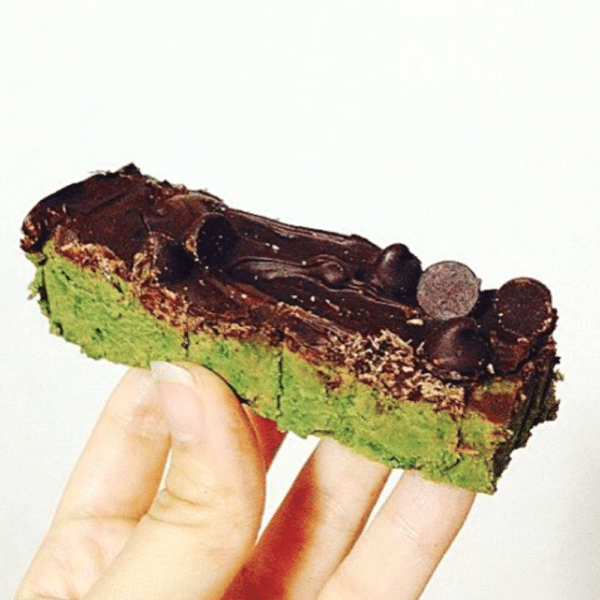 Thanks @brekbp!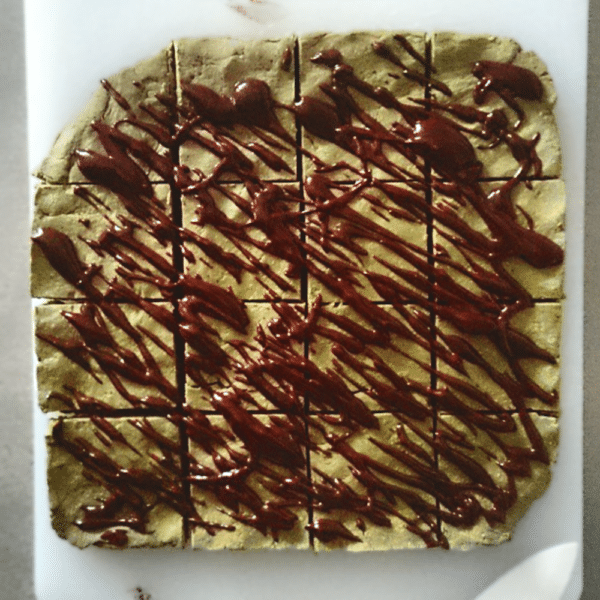 Thanks @_klyne_!
.
Be happy.
Live fully.
Eat protein bars.
.
– Jess
.