Healthy Cinnamon Raisin Peanut Butter Fudge Protein Bars
I looove peanut butter, don't get me wrong, but I have SO much in my pantry and fridge and under my pillow right now that I don't even know what to do with it.  I have three jars of regular peanut butter sitting in my pantry and a bunch of leftover Cinnamon Raisin Chia Seed Peanut Butter waiting patiently for me in the fridge…  hmmm, I might go get me some now, brb…
Nom.
Nom.
Nom, nom, nom.
These Healthy Cinnamon Raisin Peanut Butter Protein Bars are da bomb.
Okay, I'm back!  That Cinnamon Raisin Peanut Butter is so good by itself I just spoon some out of the jar and eat it straight up seven times a couple times throughout the day.  Even though I made Cinnamon Raison Peanut Butter Krispy Treats, and despite making really good friends with my giant peanut butter jar, and although every spoon I own is sitting in the kitchen sink from all the PB jar dunkin', I still have A TON leftover…
So I made protein bars!  Chewy, fudgy, peanut buttery protein bars that taste more like decadent fudge rather than anything actually good for you.
BEHOLD!  The fudginess.  One bite and you will be in love.  This easy, no-bake, low sugar and high protein breakfast/snack/dessert will be on your mind alllll day.
Healthy Cinnamon Raisin Peanut Butter Fudge Protein Bars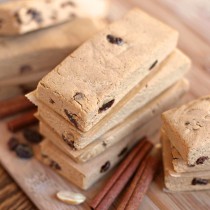 Ingredients:
Directions:
Line an 8" brownie pan with parchment paper both ways and set aside.
In a stand mixer with beater attachment, add the peanut butter, milk, stevia/truvia, cinnamon and salt. Mix on low.
In a small bowl, whisk together the oat flour and protein isolate/protein powder. Stir in the raisins and coat them with the dry ingredients.
Slowly add the dry ingredients to the mixing stand mixer. Mix until fully incorporated and mixture is even.
Take the bowl off the mixer, scoop the dough into the prepared pan, spread/flatten the dough.
Press the peanuts over the flattened mixture.
Cover and refrigerate overnight. Slice and serve!  Keeps for 1 week in the fridge.
I have eaten so much peanut butter lately, it's coursing through my veins.
.
---
.
Like this recipe?  Then you'll LOVE the DIY Protein Bars Cookbook!  With 48 dessert-like protein bar recipes, full-color pages and photos for every recipe, you'll never think twice about buying protein bars from the store again.  See this page for more information on the book, including the Table of Contents, some sneak peaks and sample images.
Order it from Amazon here!