Healthy Matcha Green Tea Fudge DIY Protein Bars (+ Video!)
These Healthy Matcha Green Tea Fudge DIY Protein Bars will CHANGE. YOUR. LIFE.
Drizzle 'em with chocolate for some extra decadence and you've got an incredibly unique, totally sophisticated, sweet and fudge no-bake treat that's secretly packed with protein, healthy fats, complex carbs, fiber, and all natural goodness!
I know a green protein bar is a weird concept to wrap our heads around, let alone eat…  but you gotta admit, they're pretty fascinating, yes?  Once you think about it, people eat green foods all the time!  Green Lucky Charm marshmallows, green Fruit Loops, pistachio bundt cakes, Granny Smith apples, kiwis, etc.  Matcha ain't so weird after all.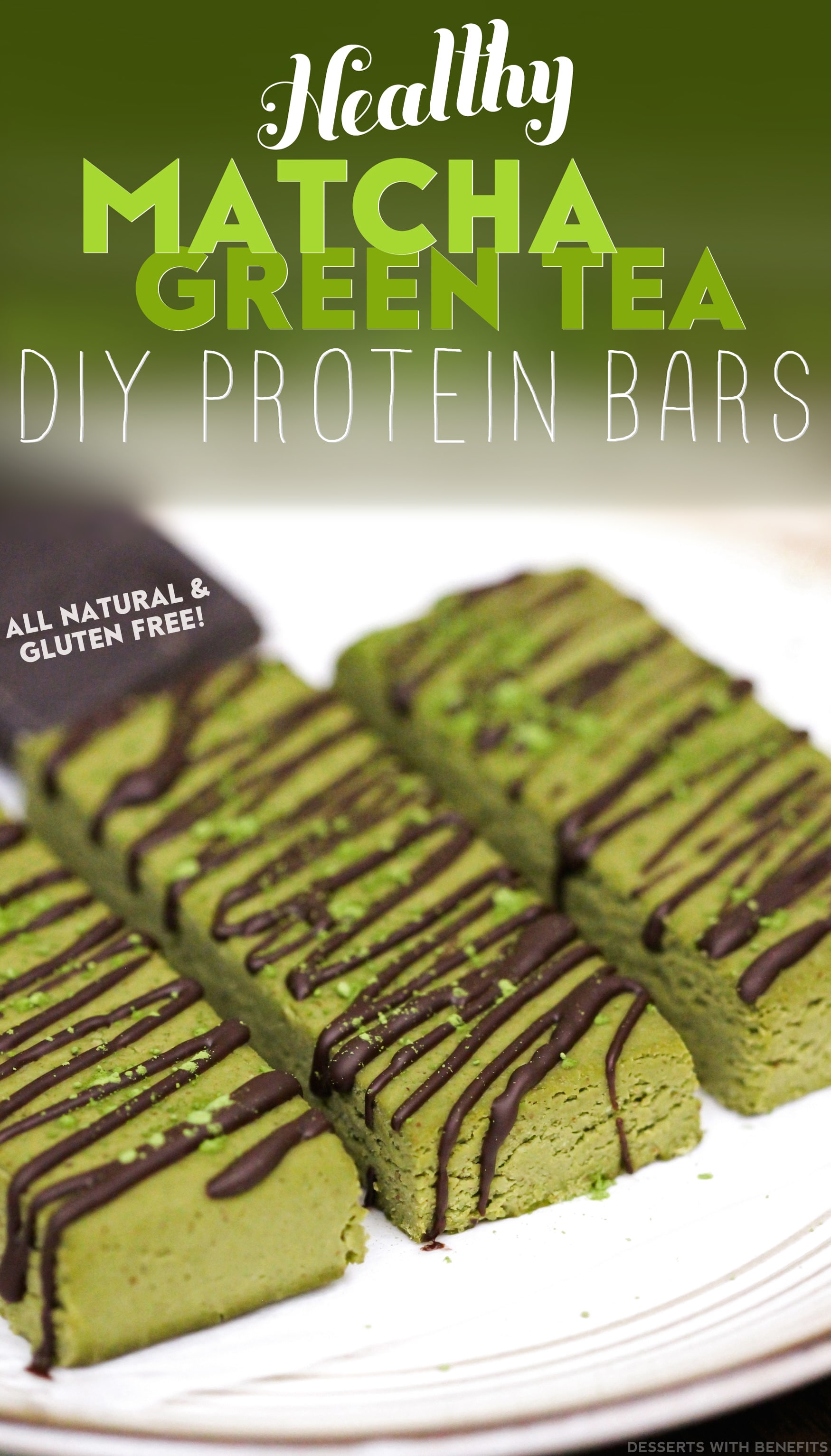 Let's have a moment of silence to embrace this beautiful chocolate drizzle.  A generous drizzling of chocolate can (and will) make anything taste better.  I must admit, I'm not the biggest fan of matcha flavor, but I will GOBBLE. THESE. UP.
These Matcha Green Tea Fudge DIY Protein Bars are healthy, fun to make, and easy to eat.
They make the perfect snacks to keep on hand for those long and busy work days.  Or any day at all, really  😉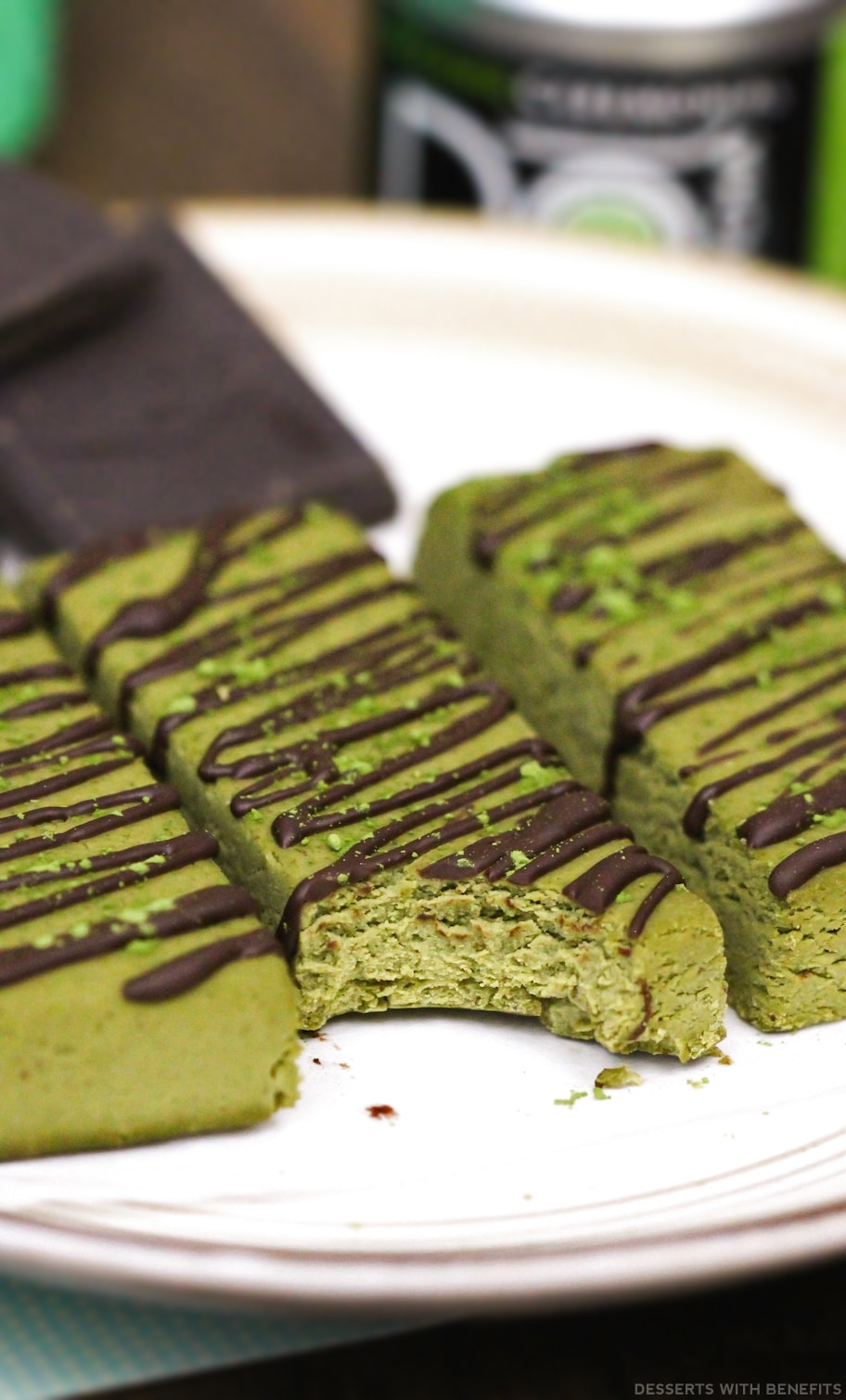 There are so many health benefits to green tea and matcha, I love finding new ways to incorporate them into my diet (I'm not a huge tea-drinker…  my heart belongs to iced coffee).
A few bonuses:  these protein bars are surprisingly filling, super easy to make, and 100% nutritious!  And they're naturally green too.  No artificial food coloring here!
https://www.instagram.com/p/lAb4niChdK/
https://www.instagram.com/p/6csGUhChTB/
I have made these protein bars over three dozen times.  I've used raw almond butter instead of roasted, I've added almond extract, I've tried using chocolate protein powder instead of vanilla, and like to drizzle different kinds of chocolate over the bars (white, milk, dark chocolate, you name it)!  The recipe published in my cookbook is my all-time favorite recipe  🙂
These Matcha Green Tea DIY Protein Bars have all the nice stuff.  Just good and wholesome organic, natural ingredients that are good for the body.  No need for the high-fructose corn syrup, artificial flavorings, synthetic food dyes, or preservatives.  They're so damn good and will make your taste buds happy as can be.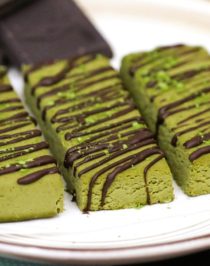 Print Recipe
Pin Recipe
Healthy Matcha Green Tea Fudge DIY Protein Bars
These Matcha Green Tea Protein Bars are unique, sophisticated, and sweet. They're also packed with protein, healthy fats, complex carbs, fiber, and all natural goodness!
Instructions
Line an 8x8" brownie pan with parchment paper. Set aside.

In an electric stand mixer bowl fitted with a beater attachment, add all of the ingredients. Mix on low speed until everything is fully incorporated. Scrape down the sides of the bowl. Mix on medium speed for one last mix. Mixture should be thick and fudgy, like cookie dough.

Scoop the mixture into the brownie pan and flatten it out. Tightly cover the pan with plastic wrap and refrigerate overnight.

Lift the mixture out of the pan. Slice into 12 bars. Feel free to drizzle melted white, milk, or dark chocolate over the bars! Individually wrap the protein bars in plastic sandwich baggies. Store in the refrigerator for up to 1 week or stash them in the freezer.
Recipe Notes
Do not use whey/egg/casein protein!  The mixture will be gooey and won't solidify.
I originally wasn't going to share the recipe here because I worked so incredibly hard on publishing The DIY Protein Bars Cookbook.  But I wanted to provide it here because that way, you can determine whether or not the rest of the cookbook is for you!
Nutrition Facts
Healthy Matcha Green Tea Fudge DIY Protein Bars
Amount Per Serving (1 protein bar)
Calories 150
Calories from Fat 54
% Daily Value*
Fat 6g9%
Sodium 75mg3%
Carbohydrates 9g3%
Protein 14g28%
Calcium 60mg6%
Iron 1.8mg10%
* Percent Daily Values are based on a 2000 calorie diet.
Watch me make these Matcha Green Tea Fudge DIY Protein Bars on camera:
.
I am so blessed to be a part of such a loving, adoring, and supportive online community.  Here are some of the pictures readers have shared with me on social media and via email of their Matcha Green Tea Protein Bar remakes!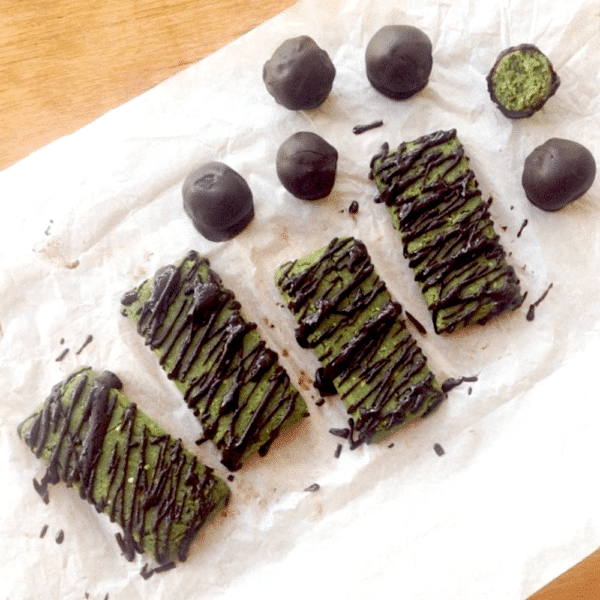 Thanks @sharelgiovana!
.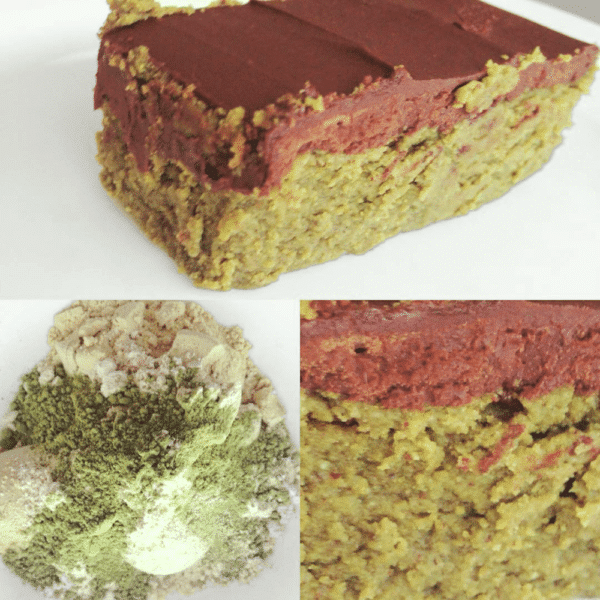 Thanks @komschlies!
.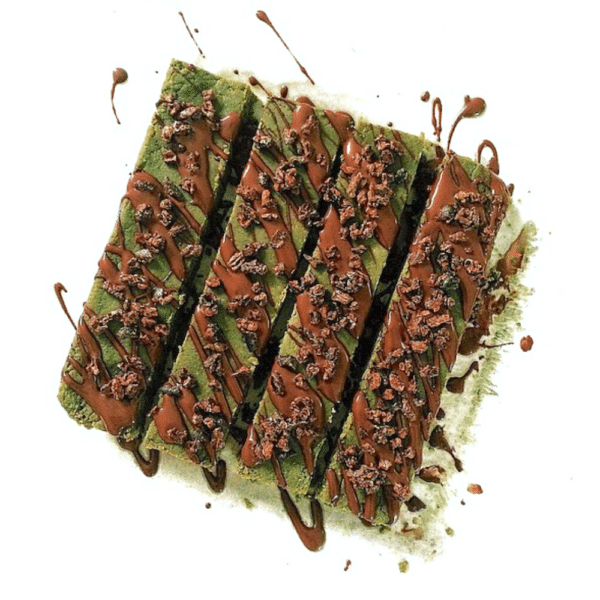 Thanks @foodbabywanders!
.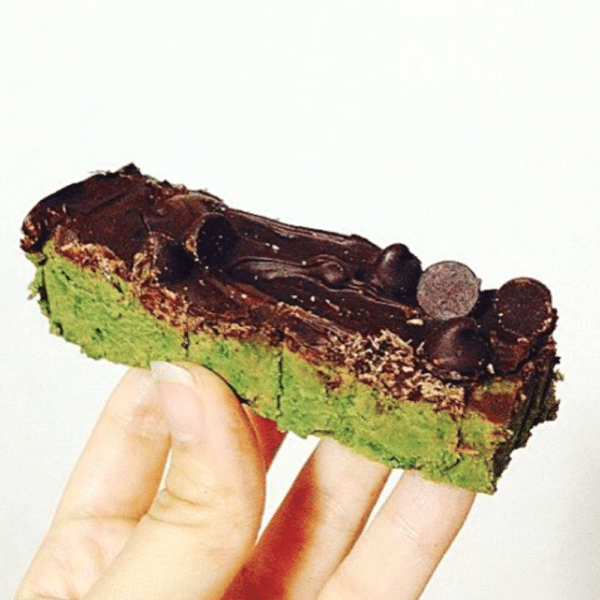 Thanks @brekbp!
.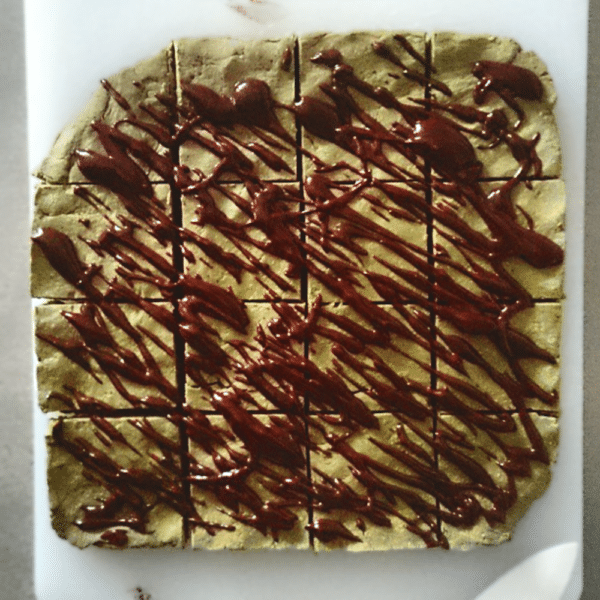 Thanks @_klyne_!
.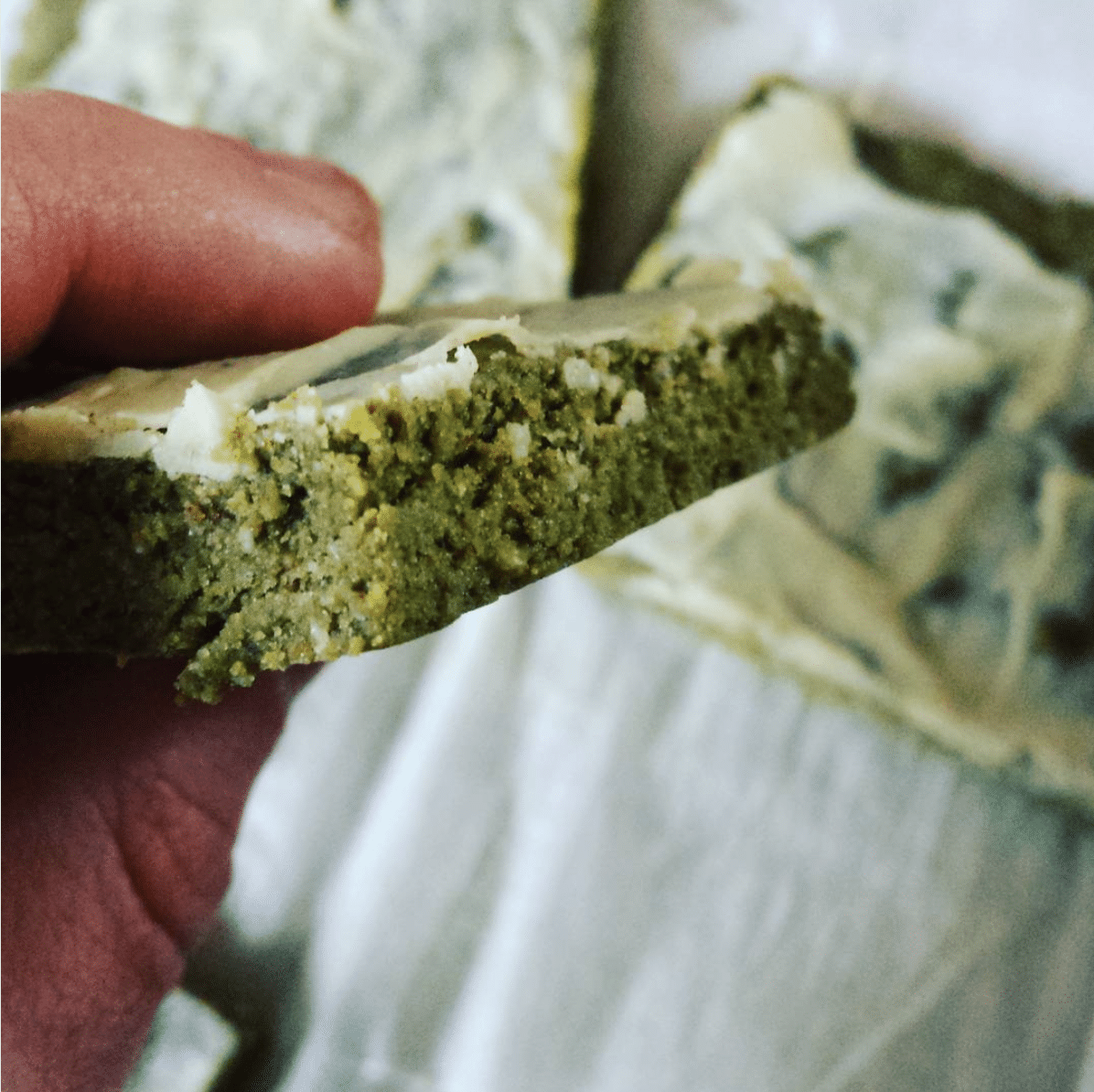 Thanks @veganjuls01!
.
Be happy.
Live fully.
Eat protein bars.
.
– Jess
.