Healthy Cookie Dough Protein Bars (with Video!)
I've always been pretty good about sitting down and setting goals for the new year, but this year is a bit different.  This year has involved a lot more "adulting" than usual — I bought a car, got my own health insurance, and am getting ready to apply for a mortgage (eek) — and haven't had as much time to set aside for myself OR my business.  I'm currently sitting in an airport in Wisconsin and will have to sit here for the next 8 hours (yay).  What better time to think about 2019 goals, right??  Buuuuut I'm procrastinating and would rather help YOU with your health goals.
What do
you

hope to get out of 2019?

Eat better?  Consume less sugar?  Exercise more?  Gain muscle?

I could go for all of the above.

Once I get back to Austin I'm gonna whip up 5 batches of protein bars.  This way I can have a batch (10 bars) in the fridge and 40+ bars in the freezer all set and read to go for breakfasts, grab and go snacks, and sweet nighttime treats.

I always, always, ALWAYS make these Cookie Dough DIY Protein Bars first, then the Peanut Butter Fudge.  I'll probably make my Matcha Green Tea DIY Protein Bars next, then the PB&J and Mocha.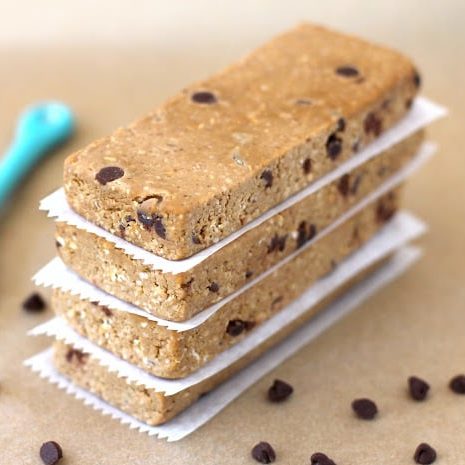 These Healthy Cookie Dough Protein Bars are the perfect snack for when you're craving something sweet and chocolatey, but don't want the excess calories, sugar, and fat that would be in regular cookie dough.
Made with only 7 ingredients and NO baking required, these homemade protein bars will be your new go-to snack when you're running out the door.  Buuuut they're also a good staple to have handy in the fridge when the sweet tooth monster strikes  😉
These are sugar free, gluten free, dairy free, and vegan, with only 190 calories per bar, plus a whopping 17g of protein!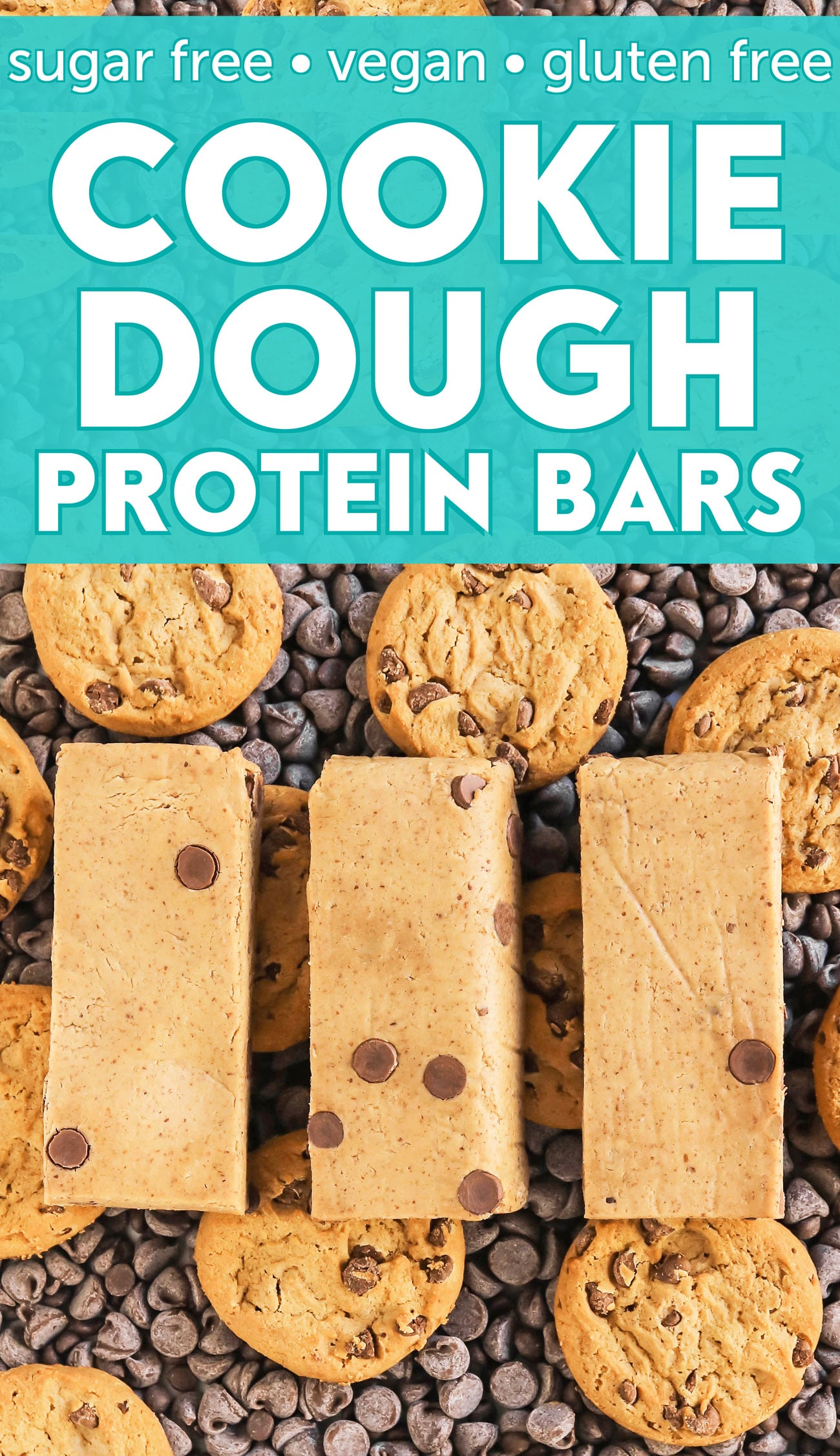 Perfect for the new year and our health goals.  So why not celebrate with a giveaway too??
THREE winners will receive a copy of my DIY Protein Bars Cookbook, a tub of protein powder, and a brownie pan to get you started!
Just wanna make 2019 a little bit easier on ya  😉
DIY Protein Bars Cookbook Bundle Giveaway

I used to eat raw cookie dough by the tub.  THE TUB.  Like, the 36oz tubs…  from Costco.  Yeahhh, those tubs.  I'll let that sink in a little while I cringe at myself.  I'm really surprised that I've never gotten sick with Salmonella…
Now, I'd be lying if I said I didn't miss turning on a movie and plopping myself down on the couch along with a spoon and a good ol' tub of cookie dough…  so I found a solution:  these easy, no-bake Chocolate Chip Cookie Dough Protein Bars!  It's like cookie-dough-meets-protein-bar.  It's like heaven.
These Chocolate Chip Cookie Dough Protein Bars are sweet, buttery, and delicious — just like the cookie dough you'd buy from the store, only these are healthy!
If you are always busy and the on-the-go type, slice the protein bars and store them in plastic sandwich baggies in the fridge.  That way, you can easily grab one (or two!) out of the fridge as you rush out the door.  Oh, and these are also freezer-friendly!  Let 'em thaw for a few hours at room temp and they'll be the perfect consistency when hunger strikes.
When I look at my calendar and I know I'm going to be busy and pressed for time, I'll always make a batch of protein bars.  Knowing that healthy snacks are on hand keeps me sane.  Especially at the busiest and most stressful times…  you know, where all your brain could handle is opening the fridge door and grabbing food that's already prepped and ready to go?  I've been there, you've been there, we've all been there.
When life happens, these Chocolate Chip Cookie Dough Protein Bars will have your back  🙂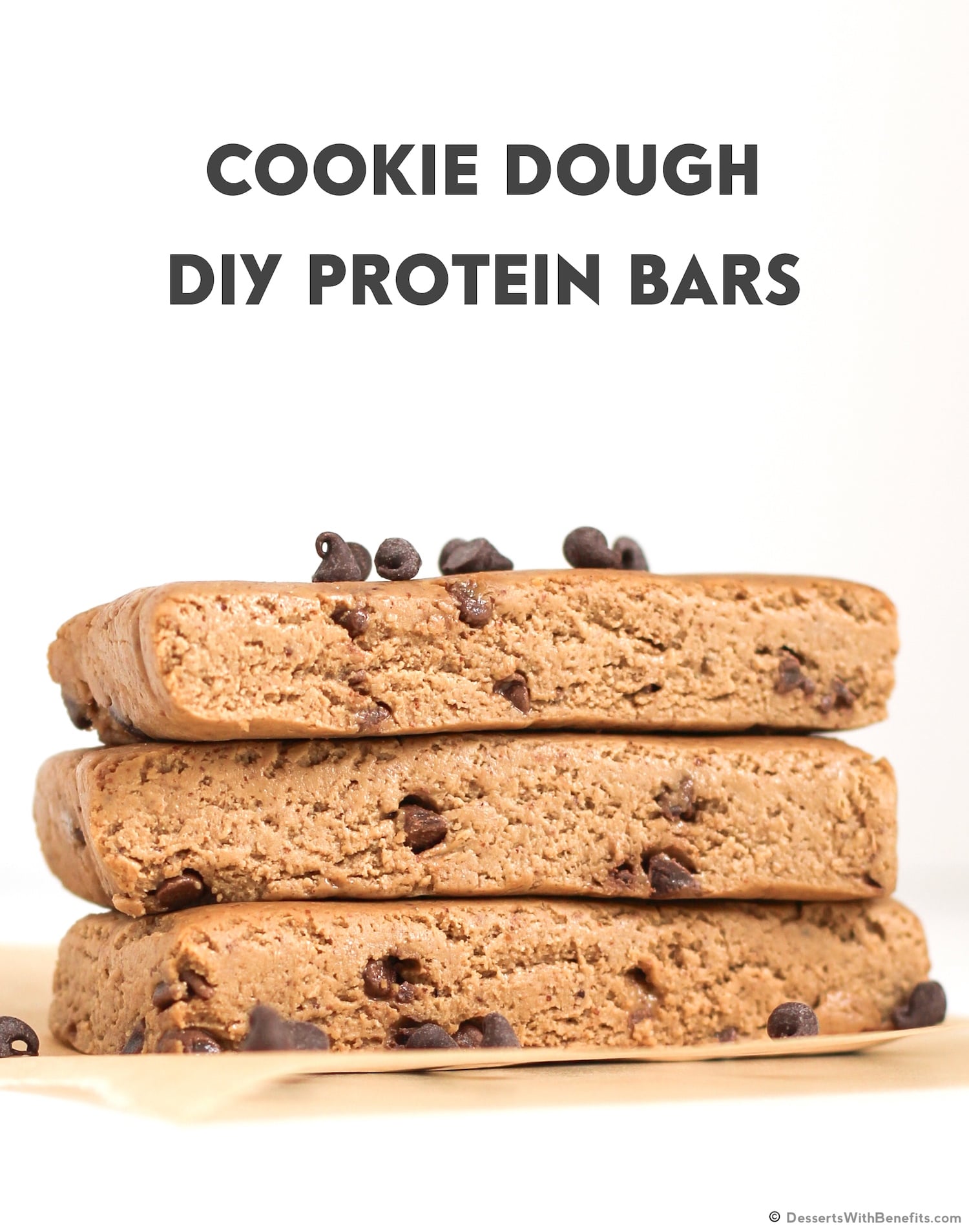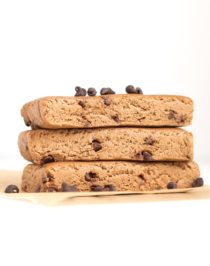 Print Recipe
Pin Recipe
Healthy Chocolate Chip Cookie Dough Protein Bars
These Chocolate Chip Cookie Dough DIY Protein Bars are sweet, buttery, and delicious -- just like the cookie dough you'd buy from the store, only these are healthy!
Instructions
Line an 8x8" brownie pan with parchment paper. Set aside.


In an electric stand mixer bowl tted with a beater attachment, add all of the ingredients. Mix on low speed until everything is fully incorporated.


Scrape down the sides of the bowl. Mix on medium speed for one last mix. Mixture should be thick and fudgy, like cookie dough.


Scoop the mixture into the brownie pan and atten it out. Tightly cover the pan with plastic wrap and refrigerate overnight.

Lift the mixture out of the pan. Slice into 10 bars. Individually wrap the protein bars in plastic sandwich baggies. Store in the refrigerator for up to 1 week or stash them in the freezer.
Nutrition
Serving:
1
protein bar
,
Calories:
190
kcal
,
Carbohydrates:
13
g
,
Protein:
17
g
,
Fat:
8
g
,
Saturated Fat:
1.5
g
,
Sodium:
115
mg
,
Fiber:
4
g
,
Sugar:
0.5
g
,
Calcium:
8
%
,
Iron:
15
%
This Cookie Dough Protein Bar recipe is 1 of 48 protein bar recipes in my DIY Protein Bars Cookbook!
With flavors like Snickerz, Chocolate-Covered Strawberry, Caramel Macchiato, and S'mores, you'll never buy protein bars from the store again.
To learn more about the book and see some sneak peeks, see this page.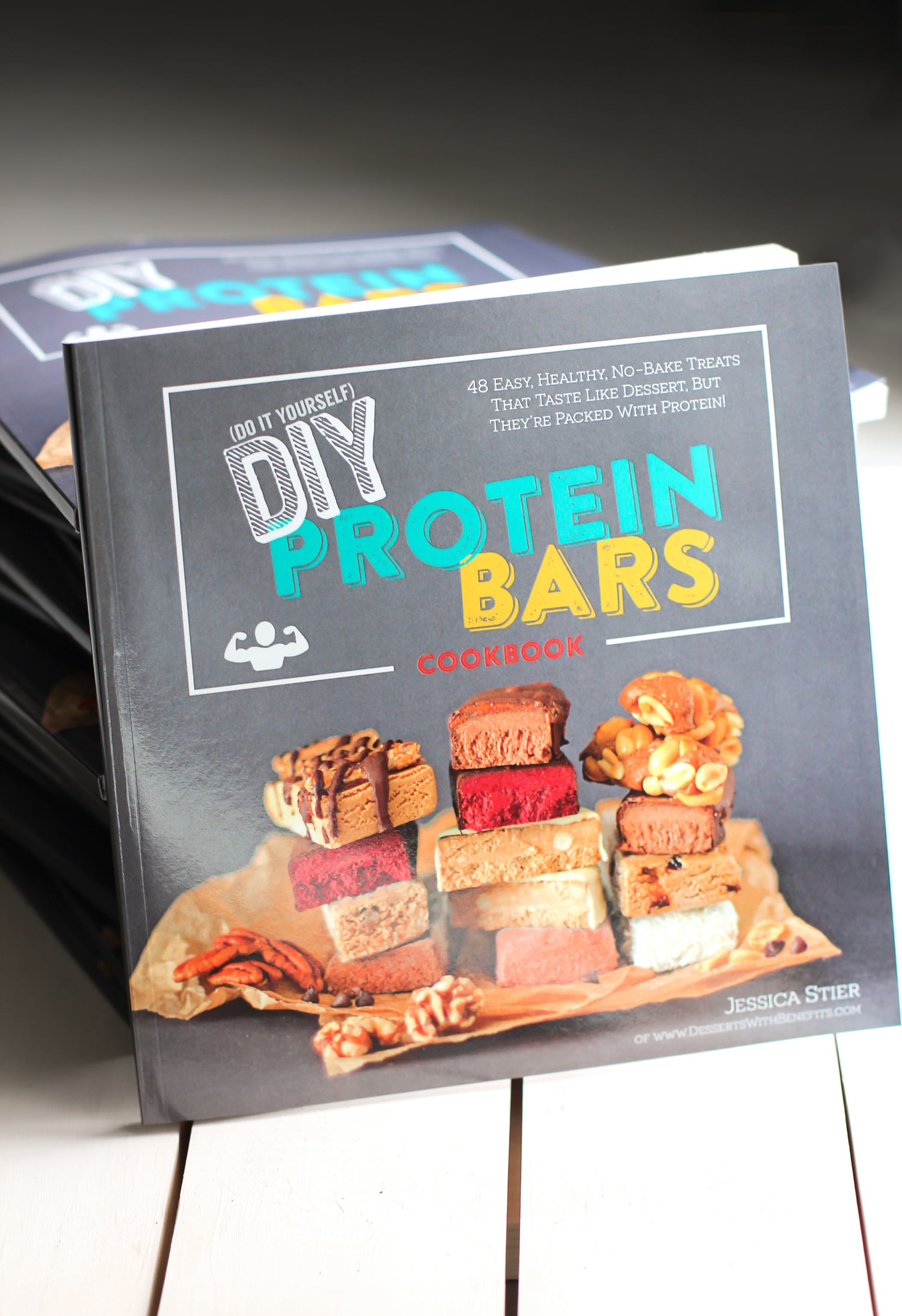 .
These Chocolate Chip Cookie Dough Protein Bars are soft, fudgy, and chewy with the occasional crunch from the mini chocolate chips.  They don't taste healthy in the slightest.  You need to make 'em!
This isn't limited to just protein bars…  you can roll the dough into balls too.  Or you can snack on it straight out of the mixing bowl.  Just keep it in the fridge, you know, for emergency snacks…  emergency snacks that MUST. CONTAIN. CHOOOOCOOLAAATTTEE!!
.
Watch me make these Cookie Dough Protein Bars on camera:
Does this look healthy to you?  Nah, I didn't think so  😉
I'd choose these Cookie Dough DIY Protein Bars over a tub of cookie dough, store-bought protein bars, and junk food of any kind, ANY DAY.  I'm pretty sure you will too  😉
.
Be happy.
Live fully.
Eat protein bars.
.
With love (and healthy dessert),
– Jess
.