Healthy Chocolate Chip Cookie Dough DIY Protein Bars
I'm really surprised that I've never gotten sick with Salmonella.  I used to eat raw cookie dough by the tub.  The 36oz tub.  From Costco.  Yeahhh, those tubs (*cringes*.  I'd be lying if I said I didn't miss grabbing a movie, a spoon, and that good ol' tub of cookie dough, then plopping myself down on the couch to chill.  Ehem.  So I solved that problem by making these Healthy Chocolate Chip Cookie Dough DIY Protein Bars! 🍪💪
It's like cookie-dough-meets-protein-bar.
These protein bars are super sweet, buttery, and delicious, just like the cookie dough you'd buy from the store, only these are healthy! 🙌
If you are the on-the-go type, store each individual bar in a plastic sandwich baggie in the fridge.  That way, you can easily grab one (or two) out of the fridge as you rush out the door.  You can also freeze them!  It will take a few hours to thaw (depends on the temperature outside though), so it's usually the perfect consistency for lunch or a snack 👌
These are chewy with the occasional crunch from the mini chocolate chips.  They don't taste healthy in the slightest.  You need to make 'em ASAP! 😍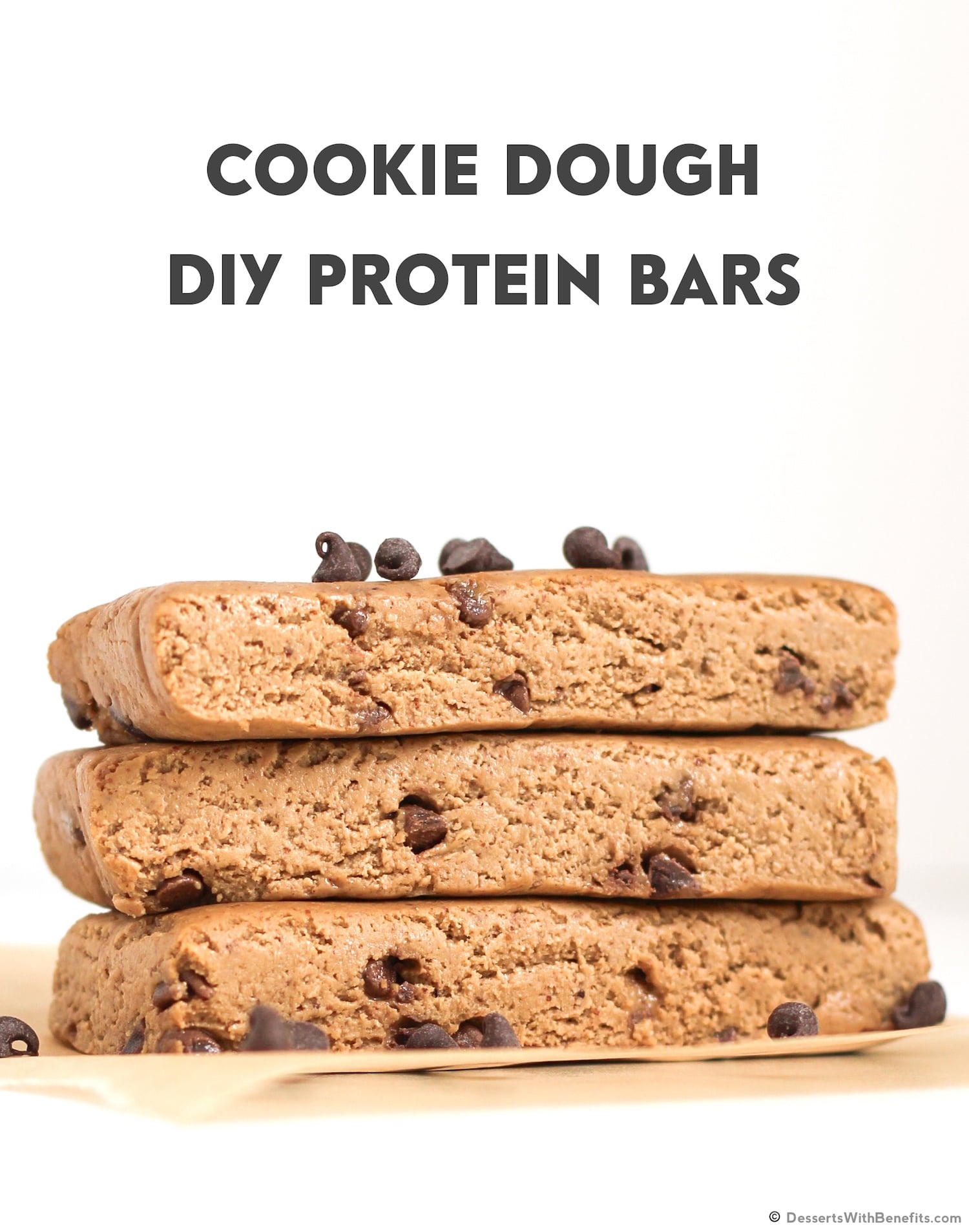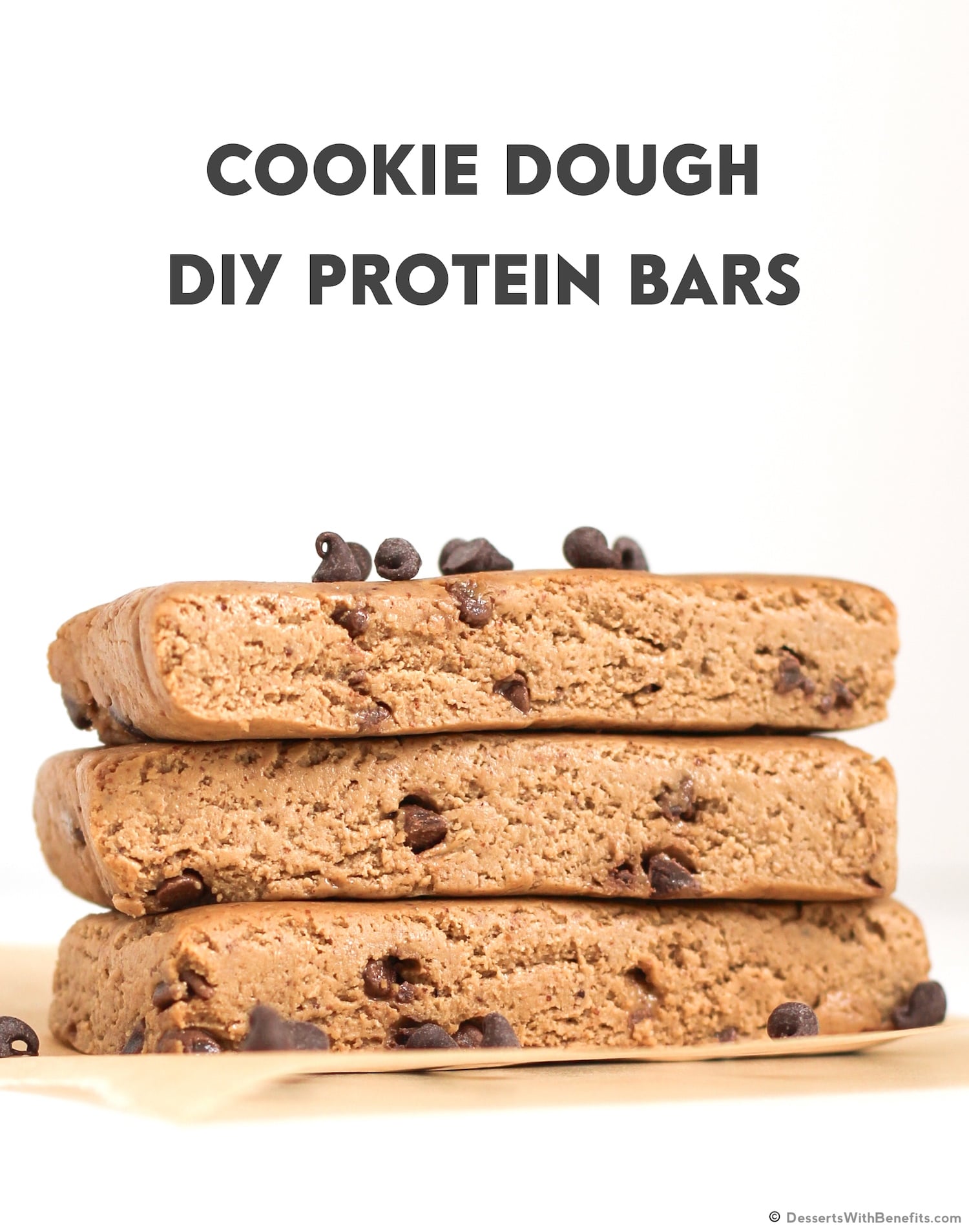 Does that look healthy to you?  I didn't think soooo 😎
Healthy Chocolate Chip Cookie Dough DIY Protein Bars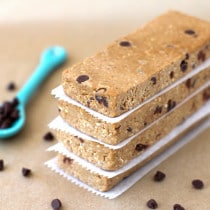 Ingredients:
Roasted Almond Butter
Unsweetened Vanilla Almond Milk
Oat Flour
Salt
Mini Semi-Sweet Chocolate Chips
Directions:
Notes:
I originally wasn't going to share the recipe here because I worked so incredibly hard on publishing 
DIY Protein Bars
.  But, I understand not having a recipe here can be frustrating.  So, I'll meet you halfway...  how does that sound?  I'll show you all the ingredients I use in the recipe.  That way, you can determine on your own whether or not the cookbook is for you!
Do not use whey/egg/casein protein!  The mixture will be gooey and won't solidify.
Be sure to follow @DessertsWithBenefits on Instagram!  If you try this recipe, make sure to snap a picture of it, tag me @DessertsWithBenefits, and hashtag #DessertsWithBenefits.  I'd love to see it and feature you on #FanFaveFridays!
.
Here is a video showing how to make these Cookie Dough DIY Protein Bars:
.
This recipe isn't limited to just protein bars.  You can totally eat the dough straight out of the mixing bowl.  Or just keep it in the fridge.  You know, for emergency snacks…  emergency snacks that MUST. CONTAIN. CHOOOOCOOLAAATTTEE!! 😏🍫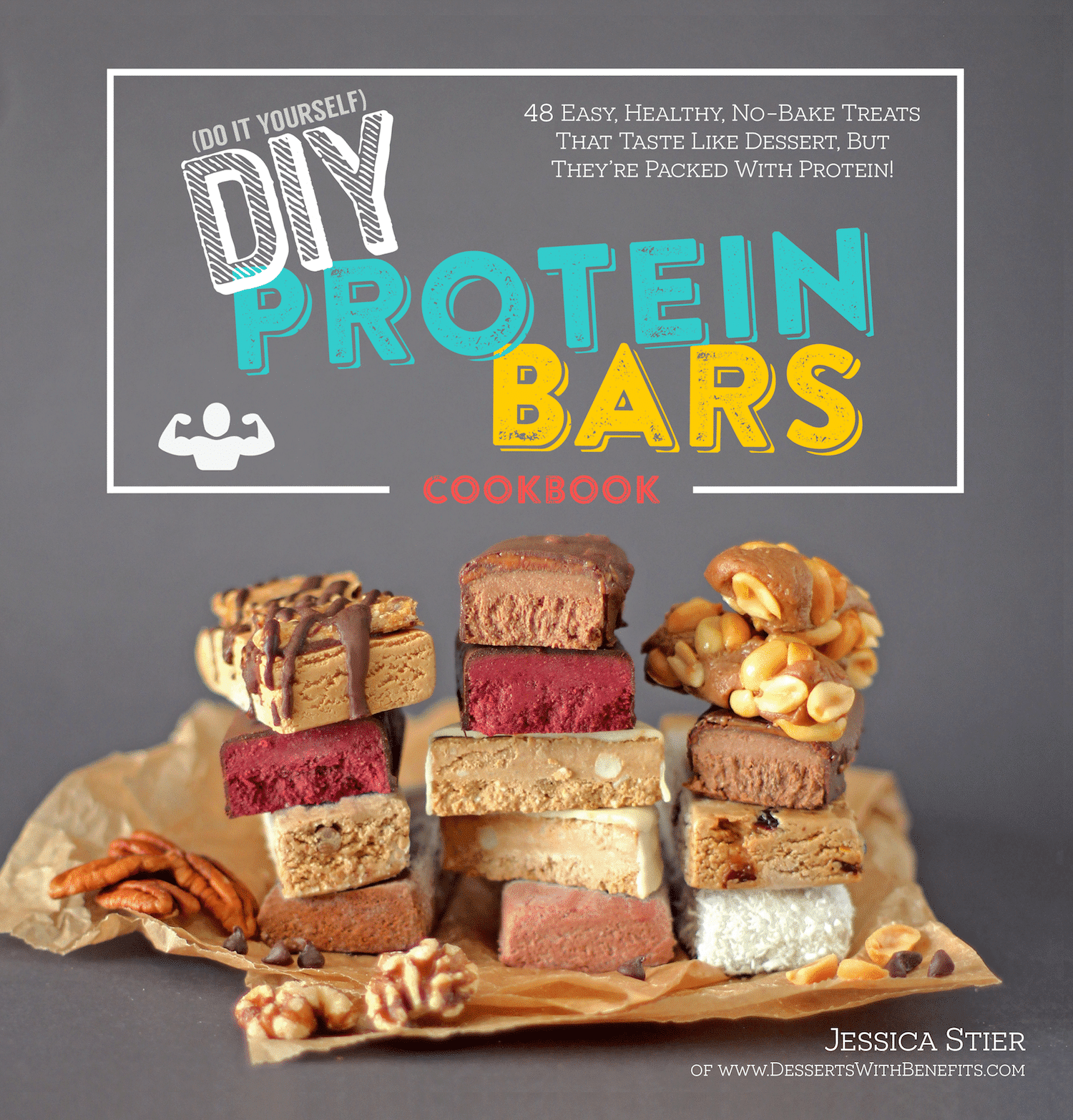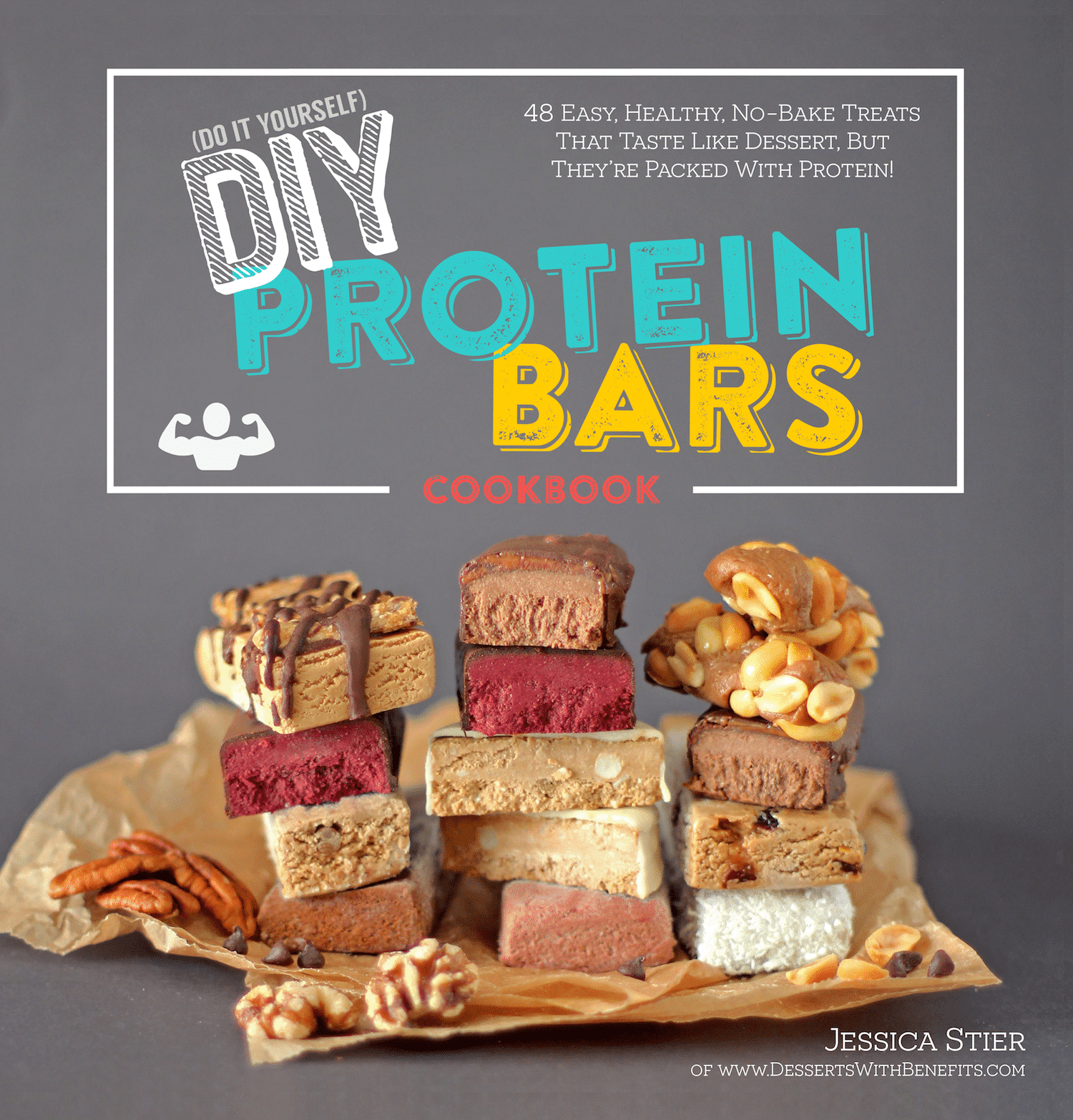 I'd choose these Healthy Chocolate Chip Cookie Dough DIY Protein Bars over cookie dough, storebought protein bars, and junk food of any kind, ANY DAY!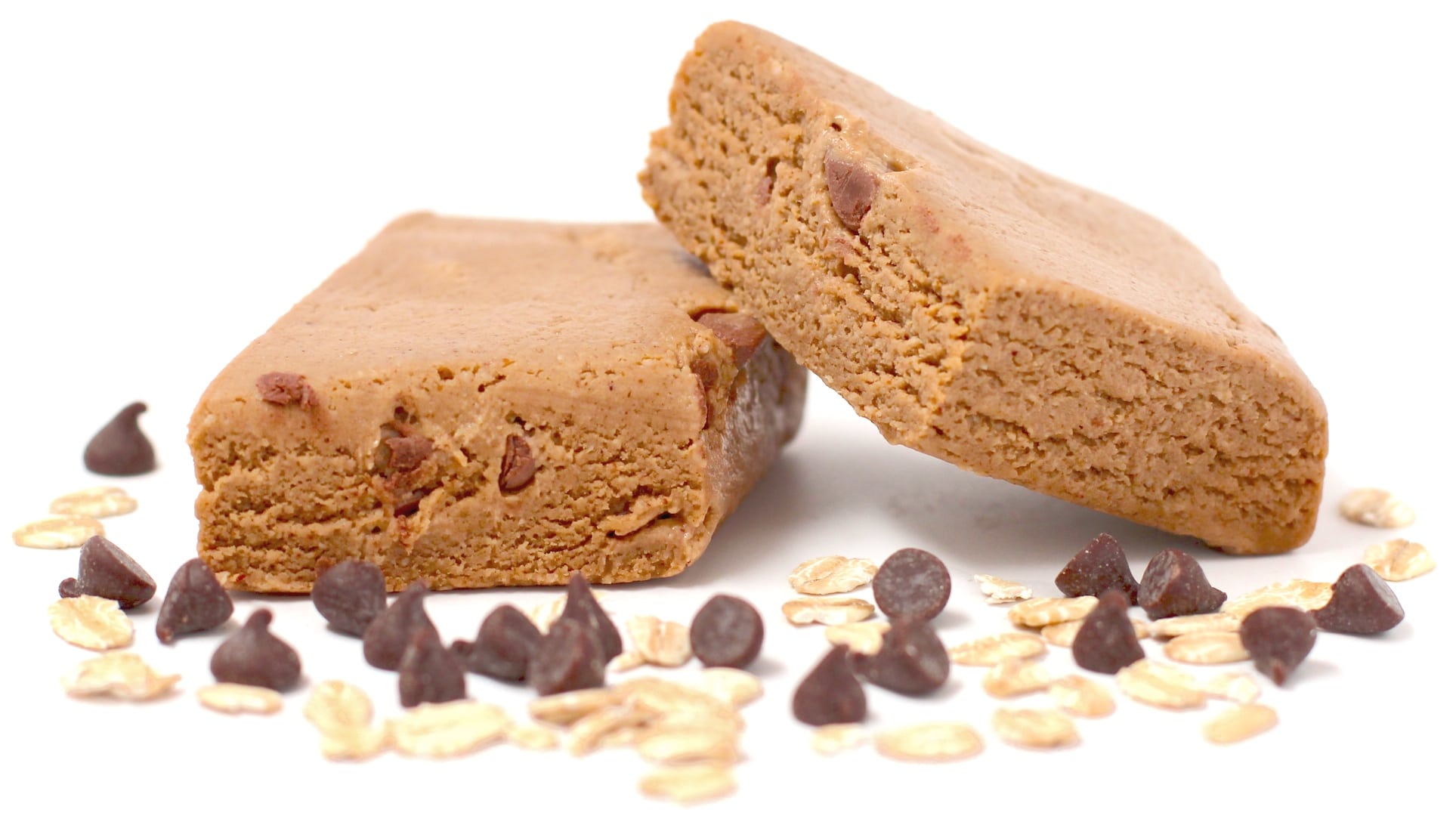 Enjoy!
.
Be happy.
Live fully.
Eat protein bars.
.
With love (and healthy dessert),
– Jess
🎂🍴💕
.