Healthy Lemony Peach Blondies with Peach Frosting
Moist, chewy, and TOTALLY GUILT-FREE Lemony Peach Blondies with Peach Frosting!  Aka, the secretly healthy dessert that can pass off as being full of sugar, flour, and butter, even though it's refined sugar free, gluten free, and vegan!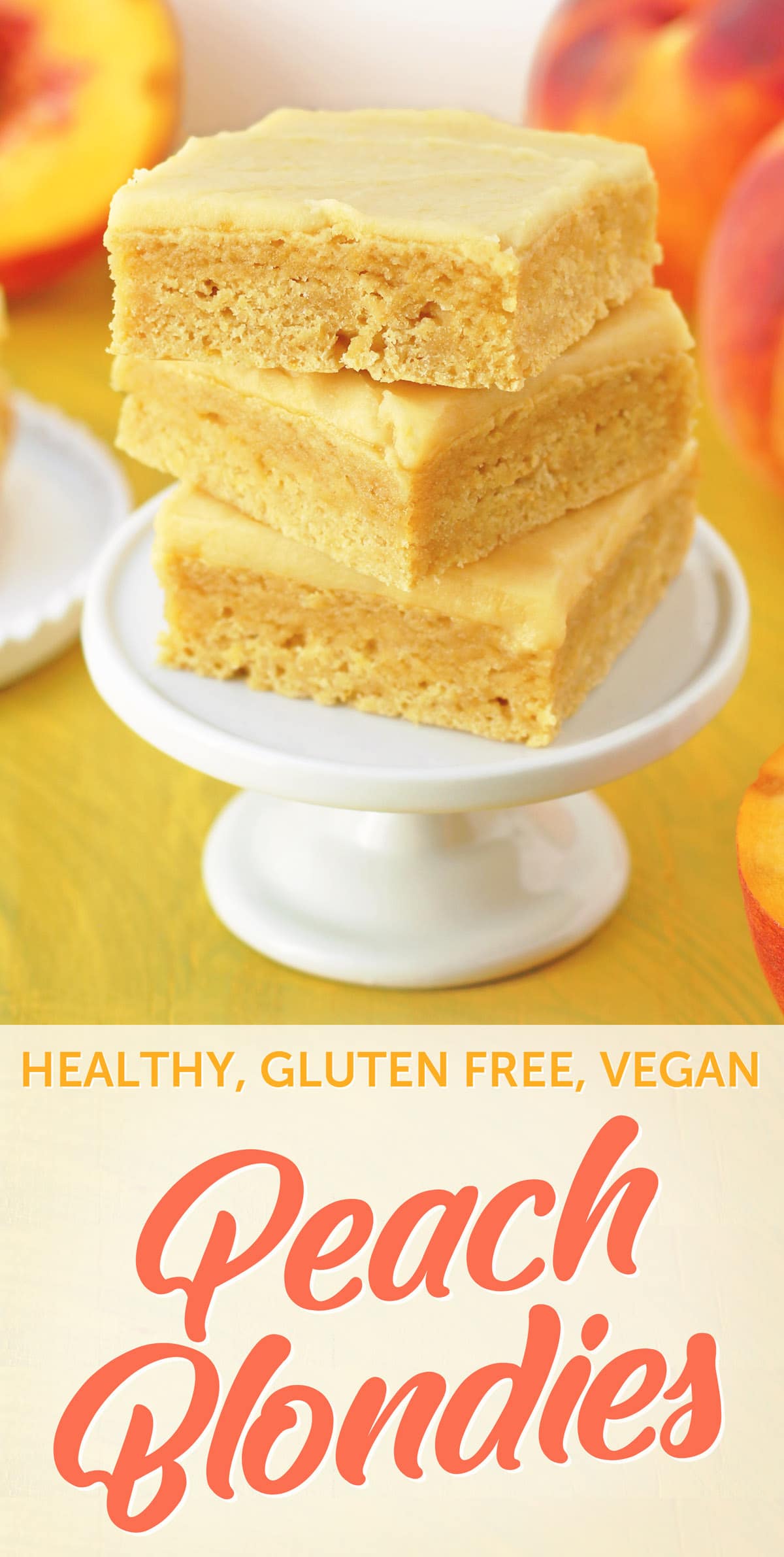 There are certain things in life that seem to capture memorable moments just perfectly.  These blondies?  They're one of 'em.
They re-capture the warm weather and sunny days of summer, even though it's officially Fall.
Each fluffy square of this peachy goodness is full of happiness and comfort.
These chewy Peach Blondies are sweet and undeniably decadent.
While you can try to reminisce about the summer months whenever you like, now you can taste summer all year around.  No need to wait for peaches to be in season, because I made these blondies using canned peaches — just as flavorful and just as nutritious as fresh peaches, but without the wait or hassle.
Aaaaand to be totally honest, I used canned peaches because, well, I never seem to have luck buying fresh peaches.  They're either not sweet enough, not ripe enough, too ripe, or I cut them open like an animal given a butter knife for the first time (I despise those pits!).  I will also never forget a bad experience as a child when I bit into a rotten one…  I will never let that go.  It's just better for me to use canned peaches, I promise you  😉
But, if you'd like to utilize fresh peaches, I would recommend using very ripe peaches, and make sure to peel them.  When pureeing the peaches, look for a nice and silky texture with the viscosity of a smoothie, not super thick like a milkshake.
These Peach Blondies look and taste so incredibly unhealthy.  I mean, look at that thick layer of Peach Frosting!  Every bite is as sweet as can be, with a soothing peachy flavor and refreshing hint of lemon.
It's hard to believe these Peach Blondies have just 160 calories!
Not to mention, each bar has 3g fiber, 4g protein, and zero added sugar (the only sugar in the recipe is naturally occurring sugar from the peaches)!
This is a must-make recipe if you're looking for sweet indulgence without the butter, sugar, and excess calories!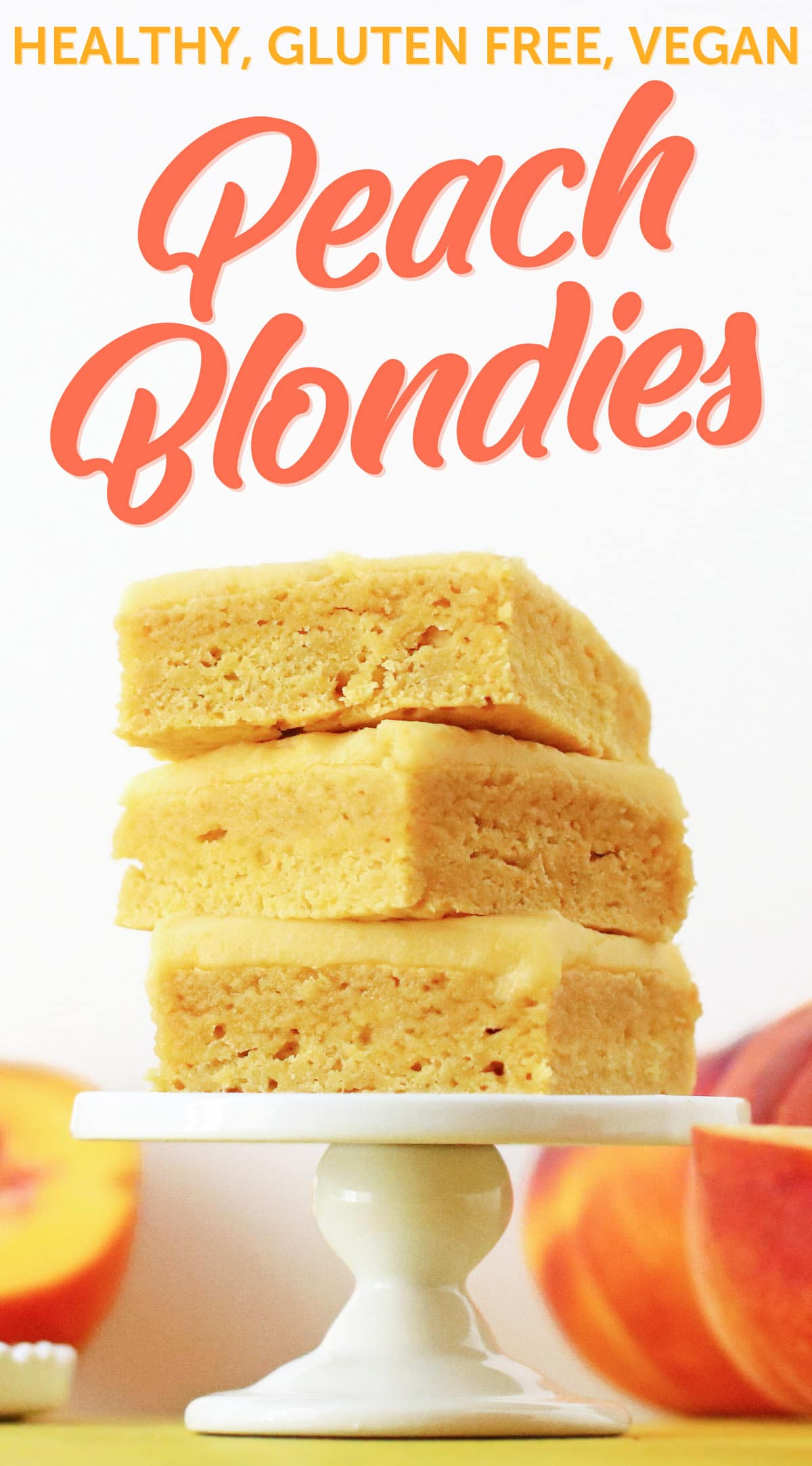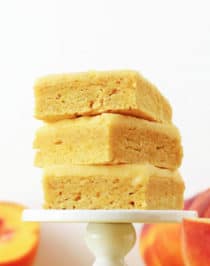 Print Recipe
Pin Recipe
Healthy Lemony Peach Blondies with Peach Frosting
These moist and chewy Lemony Peach Blondies with Peach Frosting could pass off as being full of sugar, flour, and butter, even though they're refined sugar free, gluten free, and vegan!
Instructions
For the Blondies:
Preheat the oven to 350 degrees Fahrenheit and line an 8" brownie pan with parchment paper both ways.

Drain the canned peaches as best you can (just shake the strainer, do not rinse) and puree in a blender or food processor until smooth. Measure 308g (1¼ cups) of the puree and pour into a large mixing bowl. Reserve any extra puree for the frosting!

To the large bowl, whisk in the erythritol, lemon zest, and stevia extract.

In a small bowl, whisk together the brown rice flour, oat flour, baking powder, and salt.  Dump into dry ingredients into the wet ingredients and fold together.

Scoop batter into the prepared pan and spread to the edges. Bake for ~30 minutes, or until the edges have browned and surface is firm when tapped.  Let cool completely.
For the Frosting:
In a large bowl, whisk together the erythritol and peach puree until completely smooth. Spread onto the cooled blondies, then refrigerate for 30 minutes to firm up.

Slice, serve, and enjoy! Store in a tightly sealed container in the fridge for up to 5 days.
Nutrition Facts
Healthy Lemony Peach Blondies with Peach Frosting
Amount Per Serving (1 blondie with frosting)
Calories 160
Calories from Fat 14
% Daily Value*
Fat 1.5g2%
Sodium 130mg6%
Carbohydrates 33g11%
Protein 4g8%
Vitamin A 233IU5%
Vitamin C 2mg2%
Calcium 26mg3%
Iron 1mg6%
* Percent Daily Values are based on a 2000 calorie diet.
Enjoy!
.
With love and good eats,
.
– Jess
.